April 2020 - Vol. 15, No. 4
Top Stories
Tackling COVID-19
K-Staters taking on the challenge to help locally and globally
By Joe Montgomery and Erin Pennington
Kansas State University faculty and staff have been helping local and state efforts to battle COVID-19 by contributing their time and expertise as well as university resources. "As the state's land-grant university, it is K-State's mission to serve our state, nation and world, so it's not surprising to see how K-Staters have stepped up to take on this fight," said Richard Myers, K-State president.
Read more ...

Kansas Wing (KSWG) of the Civil Air Patrol (CAP) delivering personal protective equipment: Lt. Col. Mark Weiss (left), Lt. Col. Danny Philips (rear right), and 2d Lt. Vera Pletcher (front right) deliver PPE from the Strategic National Stockpile to a Kansas county. (CAP Photo by Lt. Col. Roger Eaton)

"Whether in the lab, helping in the community or connecting people globally, K-State is making a difference."

In the battle against COVID-19:

• K-State faculty members are working at the Kansas Department of Health and Environment to help with COVID-19 testing at the department's laboratory in Topeka.

• Labs and colleges across K-State have contributed more than 60,000 items of critical personal protective equipment, or PPE, to the Kansas Division of Emergency Management and the Riley County Emergency Operations Center to distribute to health care professionals at the state and county levels. The items include 58,500 gloves and nearly 1,600 N95 masks. Other contributions include lab coats, testing equipment and safety goggles.

Serving the state
The state made the request for KDHE lab assistance to employees at Kansas Board of Regents universities who are experienced with laboratory procedures. Since these university employees are also all state of Kansas employees, they are allowed to provide qualified services to other state agencies in times of emergencies and are reimbursed. The K-Staters are assisting with logging samples, record-keeping and other routine work so that the trained KDHE staff can focus on the critical work of running COVID-19 tests.

Among the K-Staters at the KDHE lab are Dr. Rob DeLong, associate professor of anatomy and physiology in the College of Veterinary Medicine, and Mark Haub, professor and head of the food, nutrition, dietetics and health department in the College of Health and Human Sciences.

"This is a public health crisis, it's an emergency, so if you have the training and are able to work with these samples and do the work, that's what you're called to do," Dr. DeLong said. "You're called to serve. You have the training and you owe it to your country, to your colleagues, your friends, your state, your neighbors. That's how I felt."

Haub said his service means full-time employees of the lab can get a needed day or two off.

Kansas Wing (KSWG) of the Civil Air Patrol (CAP) unloading personal protective equipment: Lt. Col. Mark Lahan (left), Col. Tim Hansen (front right) and 1st Lt. Don Mansker (rear right) assist in the unloading of a pallet of PPE from the Strategic National Stockpile, ready for delivery to Kansas counties. (CAP Photo by Col. Linette Lahan)

"KDHE employees have been working nonstop for several weeks, so by having fill-in workers, it allows them some time off with their families and to get a break from their high-stress work," he said.

K-State labs also have contributed PPE for health care workers locally and at the state level. The contributions are from colleges, departments and units from across campus. Included in the contributions are testing equipment — reagents and kits — that researchers from K-State's Biosecurity Research Institute in Pat Roberts Hall shared with the KDHE to expand its COVID-19 testing capacity.

"Working with the state, our local Emergency Operations Center leadership and our health providers on campus, we are coordinating contributions of supplies and talent from our research labs to prepare for and meet this crisis head on," said Peter Dorhout, vice president for research. "I'm proud of our K-State Strong community."

One Health
Tools needed to treat animals can help save human lives, which is why the College of Veterinary Medicine is doing what it can to help during the pandemic. Dr. Bonnie Rush, dean of the College of Veterinary Medicine, said U.S. Department Agriculture Secretary Sonny Perdue has asked that those in the veterinary profession and at veterinary colleges share resources with local health organizations in the effort to contain COVID-19.

"Secretary Perdue and the American Veterinary Medical Association developed recommendations for veterinarians to help in this national fight," Dr. Rush said. "We are fortunate to have a teaching hospital, veterinary diagnostic laboratory and research labs with skilled personnel who use common tools for human medicine. I am grateful for the creativity and commitment demonstrated by students, faculty and staff to contribute resources and time to this fight."

Along with College of Veterinary Medicine faculty working at the KDHE lab in Topeka, the college also has made some needed contributions to two local health care facilities.

"We have donated N95 masks to Lafene Health Center and Dr. Dave Hodgson, professor of veterinary anesthesia, prepared needed equipment to transfer a state-of-the-art ventilator to Ascension Via Christi Hospital in Manhattan," said Dr. Elizabeth Davis, interim director of the K-State Veterinary Health Center.

K-State's lab assistance, PPE and lab testing equipment contributions are being coordinated by Marty Vanier, director of the National Agriculture Biosecurity Center and associate director of the Biosecurity Research Institute.

Helping locally

Several K-Staters are providing assistance locally in the fight against the virus.

• Kyle Goerl, medical director at Lafene and a sports medicine and family physician, serves on the executive committee of the MHK COVID-19 Clinical Task Force. This physician-driven group from the Manhattan community came together to address various community needs as they relate to COVID-19 in coordination with the Riley County Health Department, Riley County Emergency Operations Center and local hospitals.

"Various needs we are working to address include the drive-through testing clinic, alternative clinic options for patients with concern for COVID-19, the community hotline, housing needs for people who may have the disease and for those with positive cases, and the collection and distribution of PPE," Goerl said.

• Dr. Mark Weiss, professor of anatomy and physiology, is taking the COVID-19 fight to the air as a lieutenant colonel in the Kansas Wing of the Civil Air Patrol, which has been called to duty by the Kansas Division of Emergency Management. Starting March 20, the Kansas Wing began transporting critical laboratory specimens from rural and remote areas to the division's laboratory in Topeka.

"The Civil Air Patrol was tasked to provide transportation of samples, kits, etc.," Dr. Weiss said. "I performed one transportation mission where I took processing kits from Manhattan to the State Department of Health lab in Topeka."

Boxes of personal protective equipment, or PPE, from the Strategic National Stockpile are loaded into a Civil Air Patrol (CAP) vehicle for delivery to county healthcare workers. (CAP Photo by Capt. Brad Hawthorne)

K-State's efforts also have global reach through its cyber land-grant university leadership and research.

• Two free online forums created by K-State are helping educators and even parents around the nation and world with the transition to remote learning. In its first few weeks, the Keep Teaching: Resources for Higher Ed, created by K-State Global Campus, had more than 1,500 people involved from across the U.S. and from more than 15 countries. Joining this forum is one created by the College of Education for P-12 education, the Remote Learning P-12 community.

• When it comes to treatments for COVID-19, K-State research is on the job. The university has licensed a technology that may lead to the production of an antiviral drug to treat coronaviruses and noroviruses.
CVM continues to offer essential services to Kansas and beyond
The College of Veterinary Medicine at Kansas State University has made accommodations to continue providing the best service possible in animal care and diagnostic services during this time of need. The college's recent actions are in line with recommendations from the American Veterinary Medical Association, the World Organization for Animal Health and the World Veterinary Association, who have collectively identified veterinary services as essential.
Click to read ...

The Veterinary Health Center utilizes a new drop-off "concierge" protocol to help maintain social distancing with pet owners seeking urgent and emergency care for their pets.

In Kansas, most private veterinary practices remain open with new precautionary protocols to protect clients and professional staff.

"Veterinarians serve the public in a variety of capacities beyond animal care, including disease prevention, public health, food inspection and food safety, research on infectious and zoonotic diseases, translational medicine and much more," said Dr. Bonnie Rush, dean of the College of Veterinary Medicine. "Despite COVID-19, we continue to provide services that are deemed essential for our community and the state. We have worked through staffing and personal safety guidelines to protect workers and limit interruption of essential services."

The Veterinary Health Center remains open to provide care for urgent and emergency patients of all species. It has also taken measures to protect the safety of hospital staff and the community by making scheduling adjustments. These adjustments include a drop-off concierge protocol and a new discharge protocol, just to name a few. The full protocol is posted at vet.k-state.edu/vhc/covid-19.html.

"We are making every effort to maintain around-the-clock services for veterinary patients in need," said Dr. Elizabeth Davis, interim center director. "Concurrently, as essential members of our community, we are working to keep students, staff and faculty healthy and safe. The Veterinary Health Center is committed to provision of high-quality, specialized veterinary services and exceptional training for professional students and specialists in training."

Another College of Veterinary Medicine service, the Kansas State Veterinary Diagnostic Laboratory, is providing an added sense of security during a time of uncertainty and unpredictability.

"The lab is maintaining regular operating hours, but with staggered shifts for staff," said Dr. Jamie Henningson, director of the laboratory. "Our services support essential industries and individuals, inside and outside of Kansas, who must continue to operate during this challenging time, which include, but are not limited to, veterinarians, livestock producers, pet owners, rabies testing and the National Animal Health Laboratory Network to detect foreign animal disease or to respond to an outbreak."

For more information and updates, visit the College of Veterinary Medicine website at vet.k-state.edu.
Dr. Jianzhong Yu receives $1.58 million NIH grant to explore pathway for better cancer therapies
By Piper Brandt
New research at Kansas State University is following a unique pathway that could lead to innovative therapies for treating cancer and other human disorders. Dr. Jianzhong Yu, an assistant professor in the College of Veterinary Medicine, recently received a National Institutes of Health R01 Grant totaling $1,580,922 over five years to uncover how an evolutionary pathway may affect tumor development and cancer.
Click to read ...

An illustration of the Hippo pathway. (Designed by Piper Brandt)


The study, "Upstream regulation of the Hippo signaling pathway," will explore the molecular and cellular function of a novel regulator.

Originally discovered in the Drosophila fruit fly, the Hippo pathway is a key regulator of tissue growth in both the fruit fly and mammals. Its dysfunction has been implicated in a wide range of human disorders, including cancer.

"Given the strong link between Hippo pathway dysfunction and human cancer, Hippo pathway represents a clear target for cancer therapy," Dr. Yu said. "The Hippo pathway responds to a variety of extracellular signals such as contact-inhibition and mechanical forces, but the underlying mechanisms remain unclear."

The objective of Yu's study is to answer that question. His group will first characterize a novel key regulator for the Hippo pathway, then determine how it regulates Hippo pathway function, and explore how this regulation affects Hippo pathway function in tissue growth.

"We believe our research will provide a novel mechanistic understanding of how Hippo pathway upstream signals are coordinated," Dr. Yu said. "As we learn more about these functions, we think it will be much easier to learn how to develop new treatments and therapies."
More Headlines
Second-year student receives top exotic animal medicine scholarship
Tori Matta, second-year veterinary student at Kansas State University, was recently chosen for the first place scholarship award of $2,500 from ZuPreem, a Kansas-based manufacturer of food for zoo animals and specialty pets. Eligibility for the scholarship requires being enrolled at a US or Canadian accredited veterinary school.
Click to read ...

Second-year student Tori Matta vaccinates a zebra in Africa.

Student applicants must be entering their second, third or fourth year in 2020 and interested in pursuing specialization in one of the fields of exotic animal veterinary medicine.
Zupreem provides $5,000 overall in annual scholarships to second, third and fourth year veterinary students who want to pursue specialization in one of the four exotic animal fields. The second place award is $1,500 and third place is for $1,000. The first place recipient also receives an all expenses paid trip to 2020 ExoticsCon in Denver, Colorado, scheduled Aug. 29-Sept. 3.
"I learned about this scholarship through the Exotic Animal Medicine Club at K-State," Tori said. "My career aspiration is to become an exotic/zoo/wildlife veterinarian. This scholarship provides a tremendous opportunity to network and learn from professionals in my desired field at the 2020 ExoticsCon. I am fortunate to have amazing mentors such as Dr. James Carpenter and Dr. David Eshar [K-State veterinary faculty] to help me pursue my career goals."
Annual Conference for Veterinarians to go online instead of in-person
Due to concerns with COVID-19 the novel coronavirus, this year's Annual Conference will be held remotely. We recognize that this is a vastly different experience from previous years, but we hope that you will explore this new learning environment for 2020!

Due to the nature of remote learning, we will offer 5 hours of CE on May 31 and 5 hours of CE on June 1. Continue to check our website, https://www.vet.k-state.edu/education/continuing/conferences/annual-con20/index.html, for additional information as it becomes available.

10 hours of CE will be offered during the conference. You will also receive access to additional lectures for free for the months of June and July 2020.

Registration for Annual Conference is now open! Click here to register today.

Please stay tuned for details on class reunions!
University launches online public health graduate certificate
By Grant Guggisberg

Kansas State University is launching an online graduate certificate in public health in fall 2020 designed to provide a pathway for professionals seeking a career in public health. Students completing the certificate will gain knowledge in the five core areas of public health: biostatistics, epidemiology, environmental health, health services administration and social/behavioral sciences.
Click to read ...
Those who finish the certificate online are also eligible to apply to the Master of Public Health program, offered on the Manhattan campus. Each of the 15 credit hours completed for the certificate can count toward the Master of Public Health degree.

"We developed this certificate to allow public health practitioners across the state of Kansas and nationally to update their public health skills, and to give future professionals a pathway into a public health career," said Ellyn Mulcahy, director of K-State's Master of Public Health program. "This graduate certificate will introduce students to important local and global public health issues such as infectious and chronic diseases, poverty, health inequity, and the vital tasks of disease surveillance and data collection."

The 15 credit hour online program offers timely skills in disease surveillance, data collection, communication, leadership and policy-making.

More information on the public health graduate certificate can be found at online.k-state.edu/programs/certificates/graduate-certificates/public-health.html.
Beef Cattle Institute celebrates 100th Cattle Chat Podcast
By Lisa Moser
This conversational format offers practical advice for those involved in the commercial beef industry
BCI Cattle Chat is a 25-30-minute podcast lead by moderator Brad White, BCI director and veterinarian posted its 100th episode on March 27.

Read more ...

Drs. Bob Weaber, Dustin Pendell, Brad White and Bob Larson regularly record podcasts on various issues affecting the beef cattle industry.

The weekly podcast features beef cattle health and management advice from Kansas State experts Bob Larson, veterinarian; Bob Weaber, beef cattle extension specialist; and Dustin Pendell, agricultural economist.

Those four began the podcast in July 2018 to bring together experts from the Kansas State College of Agriculture and College of Veterinary Medicine, White said.

"The goal of the podcast is to effectively communicate relevant, practical information for beef producers and veterinarians through this format," White said.

The format includes 5-8 minute segments on an array of beef cattle topics.

White said their listenership continues to grow and last month there were 5,474 downloads from 26 countries. With an increasing number of listeners, the podcast team continues to receive listener questions from Kansas and around the globe.

"Our team really appreciates the questions from listeners and the feedback we receive on the podcast," White said. "The listener questions allow us to directly address topics important to producers."

He also values the discussions that happen on the podcast, especially the ones with outside guests who join on occasion. Many of these guests are well-recognized experts in their field.

"I enjoy the interaction with our team and guests because everyone has a different perspective and we can discuss many sides of an issue," White said.

To listen to this podcast search for BCI Cattle Chat wherever podcasts are found.
K-State beef cattle experts share tips on preparing bulls for breeding
By Lisa Moser, K-State Research and Extension

Spring bull buying season is an exciting time as cattle producers select bulls that they hope will improve the genetic composition of the herd. However, what many producers may not realize is that they could be bringing home more than just good genetics.
Click to read …

Maintaining a bull in a quarantine is a good herd health practice according to the Beef Cattle Institute experts.

In order to reduce the disease risk in the herd, the experts at the Kansas State University Beef Cattle Institute joined with Kansas animal health commissioner Justin Smith to outline good biosecurity practices for bulls coming to the ranch. This was the topic of discussion of the BCI weekly podcast, CattleChat.
"When you bring a new bull onto the ranch, it is important to put him in isolation both for biosecurity and animal nutrition reasons," said Bob Weaber, beef cattle extension specialist.
Regarding biosecurity, it is important to select a bull that comes from a herd that matches the buyers' cattle health protocols.
Evaluating bull health
K-State veterinarian Bob Larson advised buyers to confirm the bull has completed a breeding soundness exam.
"Even if the bull was examined several months ago, it is worth repeating that exam just prior to the start of the breeding season so you can be assured he is fertile and ready to breed," Larson said.
Another test that Smith recommends is for trichomoniasis, which is a venereal disease in beef cattle that can lead to infertility and early term abortions in pregnant heifers and cows.
"Trichomoniasis is a silent disease because you don't see it until you have open cows or term abortions. It is easy to test for when you are handling the bulls," Smith said.
He encouraged producers to test for this disease at least twice a year in non-virgin bulls.
"Look at your state regulations because some states require that test on bulls at 18 months of age, while other states don't require it until a bull is 24 months old," said veterinarian Brad White.
Another tip White offered related to parasite control.
"It is important that those bulls are well vaccinated and treated for internal and external parasites," he said.
Adjusting bull diets
In addition to a thorough review of a bull's health status, Weaber also advised producers address the bull's nutritional needs.
"Sale bulls are likely coming from a high starch diet and need to be transitioned to a forage-based diet ahead of pasture turnout," he said. "With mature bulls we need to make sure they are in appropriate body condition prior to breeding."
Weaber said research has shown a connection between body condition scores and semen quality. Ideally the bulls that can maintain body condition scores of 5 and 6 tend to score the highest for semen quality.
"Bulls don't typically gain weight during the breeding season, so before turnout is a good time to transition them to a high roughage ration," Weaber said. Often these high roughage diets, consisting mostly of prairie hay or brome hay, are deficient in protein. He recommended supplementing with dry distillers grains and a 20% range cube as a protein supplement.
"They really only need a pound or two of either those two products in addition to dry hay to meet their nutrient requirements," Weaber said.
Larson added: "Producers have to make sure that the bulls are in just the right body condition going into the breeding season because they are going to be walking a long distance and they need to have the energy reserves to be in good condition, while not being over-conditioned."
To listen to this podcast, search for BCI Cattle Chat wherever podcasts are found.
Regular features
Alumni Events, Development and Continuing Education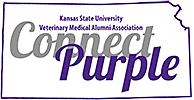 The Veterinary Medical Alumni Association organizes alumni receptions at several of the national annual conferences plus continuing education events and more. This month's section includes the monthly listings of recently departed alumni and links to their obituaries, plus a new link for submitting nominations for Alumni Recognition Awards.
Read more …
Drs.
Jerry and Nancy Jaax to receive K-State Alumni Association's Alumni Excellence Award

Drs. Jerry and Nancy Jaax are new recipients of the Alumni Excellence Award from the K-State Alumni Association.
The K-State Alumni Association will honor Kansas State University alumni Dr. Jerry Jaax and Dr. Nancy Dunn Jaax as the 2020 recipients of the Alumni Excellence Award. They will receive the award at a banquet on Friday, Nov. 6, at the K-State Alumni Center.
The Alumni Excellence Award is an annual award recognizing an alumna or alumnus of K-State whose career, service and achievements exemplify the spirit, values and excellence of the university.
"The Alumni Excellence Award exists to celebrate and showcase our K-State alumni for their contributions to society," said Amy Button Renz, president and CEO of the Alumni Association. "Jerry and Nancy have made the world a better and much safer place because of their research, training and teaching of others and hard work in critical moments. We are thrilled to honor them."
The Jaaxes have a long career in biosecurity, biosafety and high-hazard infectious disease research. As colonels in the U.S. Army Veterinary Corps, both were awarded the Legion of Merit, the Order of Military Medical Merit and numerous other recognitions, awards and commendations.
Dr. Jerry Jaax earned a bachelor's degree in veterinary medicine in 1970 and a Doctor of Veterinary Medicine in 1972. Dr. Nancy Jaax earned a bachelor's degree in veterinary medicine in 1971 and a Doctor of Veterinary Medicine in 1973.
The Jaaxes assisted the military team that led the response to the Ebola virus outbreak in Reston, Virginia, in 1989. Their experience in Reston provided a blueprint on how to keep American responders and workers safe during the Ebola outbreak in 2014. The Reston incident inspired the New York Times No. 1 bestseller The Hot Zone by Richard Preston and a 2019 National Geographic limited mini-series of the same name.
Dr. Jerry Jaax served as K-State's associate vice provost for research compliance and the university veterinarian. Dr. Nancy Jaax served as special projects officer in the Office of Sponsored Research Programs at K-State. Both were instrumental in winning the national competition for the National Bio and Agro-Defense Facility, commonly referred to as NBAF, and in the development of the Biosecurity Research Institute, or BRI, at Pat Roberts Hall. Both are College of Veterinary Medicine Alumni Fellows.
The Alumni Excellence Award is made possible by the generosity of the Curt and Sherry Frasier family of Beloit, Kansas. Both are 1973 graduates of K-State.
NEW - Submit nominations for Alumni Recognition Awards online
See our new online nomination form to nominate a fellow alumnus for one of our many annual recognition awards, presented at the national conferences: VMX, WVC, AVMA and the Annual Conference for Veterinarians. See full details at the link below.
In Memoriam - Recently Departed Alumni (click highlighted names for obituary)
Dr. Leo N Taylor, DVM 1956
March 10, 2020

Dr. George D Suddaby, DVM 1961
Feb. 29, 2020

Dr. Melville L Just, DVM 1964
March 15, 2020

Dr. Edward J Plocharski, DVM 1967
Feb. 2, 2020

Dr. Lacey Tiesmeyer Garrison, DVM 2004
March 15, 2020
Questions about Alumni or CE events?
Contact:
Tony Ballard
Alumni and Events Coordinator
785-532-4833
tballard@vet.k-state.edu
Sarah Keatley
Event Coordinator
785-532-4528
keatley@vet.k-state.edu

The Clinical Nutrition Symposium for Small Animal Veterinarians, sponsored by Hill's Pet Nutrition, is now available online for free! To access the video, register with Continuing Education Online: http://vet.ksu.edu/onlinece/index.aspx. The symposium can be found under the Small Animal icon.
News Ticker
More activities and accomplishments in the College of Veterinary Medicine:
Jayden McCall, first-year DVM program and MPH student, has been awarded an Adel Malak Scholarship, a training program/working internship where Jayden will work alongside a public health veterinarian at a plant operated by the FSIS (Food Safety Inspection Service) starting in summer 2020. He will complete 640 hours of work with FSIS before he graduates with his DVM, and receive $15,000/year for school as a scholarship as well as placement as a Public Health Veterinarian with the USDA FSIS when he graduates.
Dr. Raghavendra Amachawadi presented at the American Society of Animal Sciences 2020 Annual Meeting in Omaha, Nebraska, March 2. He presented, "Impact of in-feed vs. in-water antibiotic administrations on the fecal prevalence and antimicrobial susceptibilities of Campylobacter and Salmonella in piglets" and "Evaluating the route of antibiotic administration and its effect on nursery pig growth performance."
The Frank W Jordan Seminar was held remotely on Sunday, March 22. via Zoom with several DCS faculty presenting, there were up to 214 attendees throughout the course of the day:
Food Animal Antimicrobial Stewardship - Dr. Michael Apley
Antimicrobial Resistance Diagnostic Testing - Dr. Brian Lubbers
Companion Animal Approaches to Stewardship - Dr. Kate KuKanich
Panel Discussion- Dr. Apley, Dr. Lubbers, Dr. KuKanich of K-State among others.
Dr. Sue Nelson presented remotely, "Common Internal and External Parasites in Cats and Dogs That Just Might Gross You Out" for the K-State Olathe Veterinary Medicine Lecture Series on March 25, 2020.
Dr. Megan Niederwerder was an invited speaker at the American Association of Swine Veterinarians Annual Meeting in Atlanta, Georgia. She delivered a talk entitled "Survival and transmission of foreign animal diseases in feed" on March 9. She was also invited to be interviewed for the Global Food Systems Initiative podcast Something to Chew On. Her interview "Welcome to the New Normal - what are viruses and how do they impact the animal and human world with Dr. Megan Niederwerder" can be listened to at: https://www.youtube.com/watch?v=9Q_FbF3eKko
Kudos to Dr. Bruce Schultz who has served as a reviewer for the 2020 Ford Fellowship Program. The Fellowships Office of the National Academies of Sciences, Engineering, and Medicine administers the evaluation of applications in the Ford Foundation Fellowship Programs. These fellowships are highly competitive and are awarded on the basis of recommendations made by the reviewers. In advance of the two-day meeting, reviewers were asked to read 20 or more applications in addition to the readings completed during the onsite meeting. Reviewers were asked to make difficult decisions in selecting a small number of meritorious applicants who will contribute to the diversity of the academic pipeline.
We're expanding our social channels!
Join the College of Veterinary Medicine on LinkedIn and add us to your profile under education and/or employment to help build and engage our online social community! Follow the LinkedIn page here: www.linkedin.com/company/kstatevetmed
New Arrivals/Recent Departures
Click here to see the New Arrivals/Recent Departures at the CVM …
Welcome to:
Megan Coffman, Diagnostic Medicine/Pathobiology, Research Assistant
Stephen Waldron, Veterinary Diagnostic Laboratory, Research Assistant
Laura Meier, Veterinary Diagnostic Laboratory, Research Technician
Farewell to:
Dr. Steven Dritz, Diagnostic Medicine/Pathobiology, Professor
Dr. Raymond Rowland, Diagnostic Medicine/Pathobiology Professor
Dr. Alyssa Comroe, Clinical Sciences, Clinical Assistant Professor
Lifelines is published each month by the Marketing and Communications Office at the College of Veterinary Medicine. The editors are Joe Montgomery,
jmontgom@vet.k-state.edu, and Piper Brandt, pnbrandt@vet.k-state.edu.