March 2020 - Vol. 15, No. 3
Top Stories
COVID-19 UPDATE
Following directives from the administration at Kansas State University, the College of Veterinary Medicine is on limited operations status through the end of the semester as a strategy to minimize the risk of exposing anyone to coronavirus. This means the campus is closed and university activities are canceled or postponed till further notice.
Curriculum for the first three years of instruction is being delivered to students online. Fortunately, most of the laboratory instruction is already completed for the semester. Clinical instruction for fourth-year students in the Veterinary Health Center is limited to pressing/urgent/emergency cases only. The Kansas State Veterinary Diagnostic Laboratory remains operational to ensure continuity of support for NAHLN, Rabies testing, producers and clients.
Kansas State University has created a dedicated COVID-19 web page where more information and updates can be found. The link for this page is also posted on the College of Veterinary Medicine's home page. We will share updates with the public when any new information becomes available.
Faculty
license technology for coronavirus and norovirus compounds
By Erin Pennington
Amid increasing worldwide concern about a novel coronavirus, COVID-19, Kansas State University has licensed a technology through a research collaboration in the College of Veterinary Medicine that may lead to the production of an antiviral drug to treat coronaviruses and noroviruses.
Read more ...
Drs. Yunjeong Kim and Kyeong-Ok "KC" Chang, virologists in the College of Veterinary Medicine, and William Groutas, a medicinal chemist at Wichita State University, have been using National Institutes of Health grants to work on human norovirus therapeutics and recently received an additional $3.7 million grant to develop antiviral drugs to treat Middle East Respiratory Syndrome, better known as MERS human coronavirus. Their work extends to other human viruses that have a similar viral protease, such as rhinoviruses and the newly emerged human coronavirus, COVID-19.



Drs. KC Chang and Yunjeong Kim are seeking to develop an antiviral compound to treat COVID-19.
No antiviral drugs are yet available for human norovirus or coronaviruses, which include SARS, MERS and COVID19.

This could change as a result of a new license agreement between K-State and Cocrystal Pharma Inc., a clinical stage biotechnology company that is discovering and developing novel antiviral therapeutics to further develop certain proprietary broad-spectrum antiviral compounds for the treatment of norovirus and coronavirus infections.

Cocrystal has been grantedan exclusive license to certain antiviral compounds developed by Drs. Kim, Chang and Groutas. The company intends to pursue research and development of theses antiviral compounds, including preclinical and clinical development.

"This licensing agreement provides support to confront the emerging strain of coronavirus with urgency and caution," said Bonnie Rush, dean of the College of Veterinary Medicine at K-State. "The work of our K-State researchers is tremendously challenging and has never been more timely."

Rush said Chang and Kim have collaborated for years on the development of antiviral compounds to combat devastating viral diseases of humans and animals.

Similar to coronaviruses, human norovirus is a major pathogen with 10-21 million cases each year in the U.S. alone. The virus causes gastroenteritis and is also a potential bioterrorism agent because of its ability to cause debilitating illness.

"Our protease inhibitors target a virus protein called 3C or 3C-like proteases, which are essential for virus replication," Kim said. "Other antiviral drugs that have a similar mechanism are HIV protease inhibitors and hepatitis C virus protease inhibitors, but these do not work well against coronavirus."

The licensing agreement was coordinated by K-State Innovation Partners, formerly known as the Kansas State University Research Foundation.

"The team at Cocrystal Pharma moved with a high sense of urgency to finalize the license negotiations," said Bret Ford, director of business development and licensing at Innovation Partners. "We look forward to watching them move with the same sense of urgency to advance our antiviral compounds toward human clinical trials."

This license agreement with K-State advances the company's antiviral programs significantly by providing potent compounds for further development.

"We are incredibly pleased to contract with the Kansas State University Research Foundation as we seek to develop safe and effective antiviral therapies for these viruses," said Sam Lee, president of Cocrystal. "This license agreement opens several development opportunities for us to expand the broad utility of our platform to address significant viruses for which there are unmet medical needs, particularly the COVID-19 coronavirus and norovirus."

The focus of research for Kim, Chang and Groutas has been on human viruses. However, some very important discoveries related to animal viruses such as feline coronavirus have also resulted from their research.

"We were able to utilize our knowledge and resources to develop a protease inhibitor for this animal viral disease along the way," Kim said. "It is very encouraging for this suggests that we are on the right track for our approach and also that we can contribute to improving animal health."
By Piper Brandt
The College of Veterinary Medicine celebrated student research projects with the annual Phi Zeta Research Day on Tuesday, March 3.
Phi Zeta Research Day spotlights the research efforts of graduate students who are working toward a Doctor of Veterinary Medicine, Master of Science, Master of Public Health and/or a doctorate in the College of Veterinary Medicine.
Click to read ...

Students present posters at the annual Phi Zeta Research Day held March 3.
The event is organized by the Sigma Chapter of the Society of Phi Zeta, a professional honors society whose name is based on the Latin word philozoi, which means "love for animals." The chapter's mission is to promote scholarship and research that improves the health and welfare of animals.
Students and faculty began the day with lunch and a keynote address by Dr. Adam Boyko, associate professor in biomedical sciences at the Cornell University College of Veterinary Medicine. The title of the lecture was "Dog DNA: a Journey of Discovery and a Quest for Healthier Dogs."
"Dr. Boyko's keynote speech was thoroughly engaging and highlighted a new and rapidly growing field in veterinary medicine — genetic analysis," said Dr. Nora Springer, assistant professor and president of Phi Zeta. "Several students have mentioned an interest in veterinary genetics as a career option after hearing Dr. Boyko's presentation."

Dr. Adam Boyko, Cornell University, gives the keynote address on his work with DNA investigations in dogs.
Dr. Boyko's research focuses on genomic investigation of dogs as a model of genetic disease and evolutionary genetics. One aspect of this work is understanding the evolution and genetics of village dogs, the semi-feral pariah dogs found in much of the world today.
The keynote lecture was followed by a formal poster session and oral abstract presentations by undergraduate, graduate and postgraduate researchers affiliated with the college.
"Phi Zeta Day showcases the depth and breadth of research in the College of Veterinary Medicine," Dr. Springer said. "It's also a wonderful opportunity for veterinary students, graduate students and house officers to practice their presentation skills in a supportive environment. We hope that research opportunities during veterinary, graduate and postdoctoral training inspires incorporation of research in their future careers."
Oral presentations
Applied/Clinical Science category awardees:
First place — Zackery Bieberly, third-year veterinary student, for "Long acting injectable methadone for post-operative analgesia."
Second place — Tera Brandt, third-year veterinary student, for "Insulin expression patterns in canine insulinomas."
Third place — Alyson Fitzgerald, fourth-year veterinary student, for "Detecting and Quantifying Marijuana Metabolites in Serum and Urine of Dogs Affected by Marijuana Toxicity."
Basic Science category awardees:
First place — Chandramouli Kondethimmanahalli, research associate, for "Proteomics analysis reveals distinct protein expression in infectious and replicative forms of Ehrlichia chaffeensis."
Second place — Naveen Jonnalagadda, master's student in biomedical science, for "Antibacterial Effects of Equine Adipose Mesenchymal Stromal Cell Derived Exosomes against Escherichia coli and Staphylococcus aureus."
Third place — Swetha Madesh, master's student in biomedical science, for "The canine host appears to serve as a sentinel species for tick-borne diseases caused by Anaplasma, Ehrlichia and Borrelia pathogens impacting human health in the USA."
Poster presentations
Applied/Clinical Science category awardees:
First place — Daniel Madden, master's student in biomedical science, for "Development of a Novel Lateral Flow Assay for Detection of African Swine Fever Virus Antigen in Whole Blood."
Second place — Joshuah Klutzke, fourth-year veterinary student, for "Evaluation of Hematocrit in Juvenile Dogs Presenting for Routine Ovariohysterectomy or Neuter."
Third place — Brandt Skinner, master's student in biomedical science, for "Isolation and Characterization of Two Anaplasma marginale Isolates from a Kansas Beef Cattle Herd."
Basic Science category awardees:
First place — Yvonne Wikander, master's student in biomedical science, for "Prevalence of Cytauxzoon felis carriers in the domestic cat population of eastern Kansas, a preliminary report."
Second place — Sarah Krueger, third-year veterinary student, for "Evaluation of Amblyomma americanum vector competence for Anaplasma marginale."
Third place, three-way tie —

Adrienne Wright, doctoral student in physiology, for "Genetic and replication analysis of highly virulent Feline Calicivirus isolate, KS-2019"
Brandon Verkinderen, third year veterinary student, for "Effect of kinase inhibitor treatment on Rift Valley Fever Virus replication."
Deepa Upreti, doctoral student in physiology, for "Water extract from Euglena gracilis prevents lung carcinoma growth in mice via attenuation of myeloid-derived suppressor cells and granulocyte populations."

Dr. Harish and Ved Minocha present the Minocha Scholarship to Changin Oh, doctoral student in pathobiology; Ana Stoian, doctoral student in pathobiology; Yin Wang, research assistant and doctoral student in pathobiology.
Special awards and scholarships
Benjamin Kurz Research Scholarship: Marissa Komp, second-year veterinary student.
Miller Pathology Scholarship Award: Keith Lewy, fourth-year veterinary student.
Dr. Harish C. and Ved K. Minocha Scholarship: Changin Oh, doctoral student in pathobiology; Ana Stoian, doctoral student in pathobiology; Yin Wang, research assistant and doctoral student in pathobiology.
Zoetis Research Award for Excellence in Research by a Faculty Member: Dr. Mike Sanderson, diagnostic medicine and pathobiology professor.
ASR Ganta Graduate Award: Krishani Perera, doctoral student in pathobiology.

Dr. Frank Blecha, left, presents the Zoetis Research Award for Excellence in Research to Dr. Mike Sanderson.
Second-year student receives international veterinary scholarship
Emily Eppler, second-year veterinary student from Manhattan, is one of 54 veterinary students selected from around the world to receive a $5,000 scholarship supported through a partnership between Merck Animal Health and the American Veterinary Medical Foundation (AVMF).
Click to read ...

Second-year student Emily Eppler is a recipient of a Merck/AVMF Scholarship for 2020.
The recipients, who study at colleges in India, Canada, the Caribbean islands and several U.S. states, are either second- or third-year students and are planning a career in companion animal or large animal medicine.
"I feel blessed to be one of the recipients of the 2020 Merck Animal Health Scholarship," Eppler said. "This scholarship will help relieve some of the financial strains as I progress through the second-year veterinary curriculum at Kansas State University's College of Veterinary Medicine. It is inspiring to know that the American Veterinary Medical Foundation and Merck Animal Health are investing in my goal of becoming a small animal orthopedic surgeon."
"Whether they're helping to keep pets healthy or aid in ensuring a safe, high-quality protein supply, veterinarians play a critical role not only within the animal health industry, but also within society," said Scott Bormann, senior vice president, North America, Merck Animal Health, in a prepared statement.
The scholarships will provide financial assistance to students to support their educational and professional goals and opportunities, according to Karen Davis, chair, AVMF board of advisors.
Award recipients from U.S. and international veterinary schools accredited through the AVMA were selected based on academic excellence, financial need, leadership and area of interest within the profession.
More Headlines
CVM discontinuing GRE requirement for admissions
By Cheyenne Swoope
The college is dropping the Graduate Record Examination as a requirement of its application process beginning with the 2020-2021 application cycle. At the January 2020 faculty meeting, voting constituents elected to adjust the admissions procedures, including elimination of the GRE as a requirement of the college's comprehensive application process.
Click to read ...
Dr. Callie Rost, assistant dean for admissions, led the discussion amongst the members of the admissions committee. Faculty members on the committee represent each of the three departments in the college: anatomy and physiology, clinical sciences, and diagnostic medicine and pathology. The committee explored options that ultimately led to a unanimous agreement for the removal of the GRE scores from the application process, both as a requirement and as a consideration.
"The K-State College of Veterinary Medicine takes a tremendous amount of pride in our student success," Dr. Rost said. "We look for ways to continuously improve upon the veterinary medical profession, and we believe that factors such as veterinary experience, community engagement and situational awareness can be better predictors for the adjustments that are necessary to be successful in our professional program than standardized scores."
Dr. Rost said the admissions committee found the GRE to be a poor predictor of academic success, acclimation and adjustment to the rigor of the professional program. The GRE has traditionally failed to provide meaningful documentation of a positive correlation between scores and pass rates for the North American Veterinary Licensing Examination. Furthermore, Rost said empirical evidence suggests the GRE has historically been biased toward certain contemporaries.
"We feel the time is right to reconsider the selection parameters for our admissions process," Dr. Rost said. "Given the college's mission for diversity, inclusivity and excellence in the classroom, we believe this is a step in the right direction for our program, our students, our graduates and for the entire veterinary medical profession."
New research improves understanding of nanomedicine for cancer treatment
By Piper Brandt
A new study from researchers with the CVM reports the current progress and limitations of using nanoparticle-based drug formulations to treat cancer. Nanoparticles — tiny particles between 1 and 100 nanometers in size — can be used to deliver medication directly to cancer cells.
Read more ...

Yi-Hsien Cheng, left, and Zhoumeng Lin, authors of the study, used a modeling and simulation approach to research the efficiency of nanomedicine for cancer treatment..
The researchers' study, "Meta-analysis of nanoparticle delivery to tumors using a physiologically based pharmacokinetic modeling and simulation approach," was recently published in the journal ACS Nano. Lead author was Dr. Yi-Hsien Cheng, a postdoctoral researcher in the lab of Dr. Zhoumeng Lin, assistant professor of anatomy and physiology and faculty member of the Institute of Computational Comparative Medicine in the College of Veterinary Medicine; Dr. Dr.Lin; and former K-State researchers Drs. Chunla He, Jim Riviere and Nancy Monteiro-Riviere. Riviere and Monteiro-Riviere are university distinguished professors emeriti of the college.
This method may provide an alternative to traditional chemotherapy drugs, which can kill healthy cells in addition to cancer cells.
"Nanoparticles can be engineered to have different physicochemical and biological properties, such as different shapes, sizes, charges and surface coatings, to provide a multifunctional platform for diagnosis and targeting therapy," Dr. Cheng said. "Examples include, but are not limited to, self-assembled polymeric micelles and liposomes that can be encapsulated with anticancer drugs to enhance tumor targeting and on-site drug releasing."
In the last 15 years, a large amount of research has been devoted to the design of nanomedicines with different physicochemical properties that have higher cancer therapeutic indices. Many of these nanomedicines have been shown to be effective in reducing tumor size, but very few formulations have been approved for human use.
"To improve our understanding of cancer nanomedicine, we need to know the current progress of the delivery efficiency of nanoparticles to the tumor site, and the key factors that determine nanoparticle tumor delivery efficiency," Dr. Lin said.
Dr. Lin and his co-authors used a physiologically based pharmacokinetic, or PBPK, modeling and simulation approach to analyze 200 pharmacokinetic studies, which involve 376 datasets that cover a wide range of nanomedicines.
By using the PBPK modeling and simulation approach, Lin and his team found mean and median delivery efficiencies, at the last sampling time point, of only 2.23% and 0.76% of the injected dose, respectively. The mean and median delivery efficiencies were 2.24% and 0.76% of injected dose at 24 hours, and were decreased to 1.23% and 0.35% of injected dose at 168 hours, respectively, after intravenous administration.
These results show the efficiency of nanomedicine used for cancer treatment has room for improvement. If only a small percentage of the injected nanoparticles get delivered to the tumor, they cannot work as efficiently as they were designed to be.
"These surprisingly low tumor delivery and cancer cell targeting efficiencies suggest the importance of examining key physicochemical and pharmacokinetic determinants of nanoparticle disposition within the tumor microenvironment," said Dr. Riviere, the founding director of the Institute of Computational Comparative Medicine.
"While there is great potential of nanomedicine in treating cancer and there has been some progress in the past two decades, it is important to review the current progress and identify knowledge gaps to guide future studies," said Dr. Monteiro-Riviere, the founding director of the Nanotechnology Innovation Center of Kansas State.
"It is a challenge to systemically analyze hundreds of datasets from different studies with different study designs using different nanoparticles, but PBPK modeling makes this analysis possible because it is a mechanism-based modeling approach that considers the physiology of the organism and the physicochemical and pharmacokinetic properties of the nanoparticles in the analysis," Dr. Lin said. "PBPK models also have the advantage of robust extrapolation capability, across species, exposure doses, routes and duration."
College
launches one-year master's degree program in biomedical science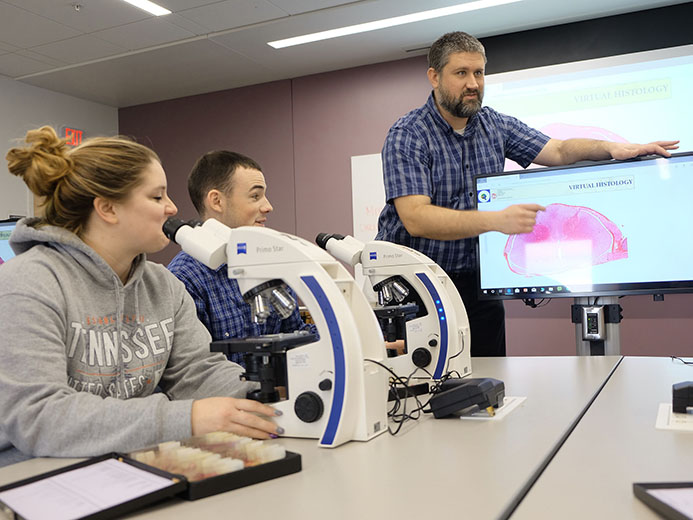 Students interested in professional health careers now have an option to earn a master's degree that can be completed in one calendar year. The College of Veterinary Medicine at Kansas State University has announced the launch of a new one-year master's degree in biomedical science.
Click to read ...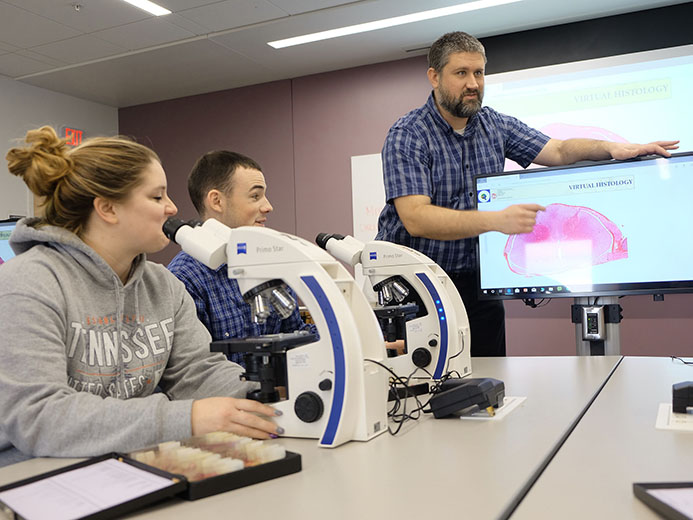 Dr. Matthew Basel, clinical assistant professor, points out cellular structures to veterinary students in the Microanatomy Laboratory at Kansas State University. He says this lab will be one of several world-class facilities available to students in the college's new one-year master's in biomedical science program.
This three-semester program is the first of its kind in Kansas and is specifically designed to bridge the gap between undergraduate and postgraduate studies.

"Often students are not sure what their future holds," said Matthew Basel, clinical assistant professor and associate director of the program. "The pre-professional one-year master's program is designed to introduce students to the biomedical field and prepare them for professional school. During the program, students will take advanced courses in a wide range of biomedical sciences, including anatomy, physiology, histology and pharmacology."

The program will be featured at the All-University Open House Saturday, April 18, on the Manhattan campus. Drop by 308 Trotter Hall and meet with faculty from the program.

Hosted in the anatomy and physiology department, the pre-professional one-year master's program in biomedical science is a non-thesis, coursework-based master's degree that can be completed in 12 months. Typically a master's degree program takes about two years to complete. This program starts during the summer session and is completed at the end of the following spring semester.

All students earning a master's degree at Kansas State University must complete a "culminating experience" that will be determined by the student in concert with his or her graduate committee. Culminating experiences include either an intellectually creative project, a final report or a culminating examination.

"We believe the best place to prepare for professional school is at a professional school where students can interact with professors who understand the program," Basel said. "Students will take courses designed to have the same rigor as any other professional health school and have access to world-class facilities. Students will start in the summer semester with an intensive introduction to anatomy and physiology, followed by courses in the fall and spring."

Along with Basel, course coordinators include Pradeep Malreddy and Cathy K. Sparks, who both teach anatomy courses in the veterinary college.

"There are no specific admission requirements for this program, as we would like to serve a wide range of potential students," Malreddy said. "We do have some suggested guidelines for students that we think will help them be more likely to succeed. We recommend a bachelor's degree in a biomedical science-related field, a minimum 2.5 or higher overall grade point average and at least a 2.8 grade point average in their higher-level science courses or the last 45 hours of bachelor's degree studies."

For a full description of the program, the admission requirements and application procedures, go to vet.k-state.edu/education/graduate/one-year-masters/admissions.html.
Classes for the one year master's program are scheduled to start on June 8. Application is made through the Graduate school at Kansas State University, while the one-year master's program in biomedical science is administered through the College of Veterinary Medicine.


News from the Center for Emerging Animal and Zoonotic Animal Diseases
By Bill Felber
A new diagnostic test developed by CEEZAD researchers, in collaboration with Silver Lake Research Compact, to fight the spread of African Swine Fever is getting important attention within the animal health community. Dr. Juergen Richt, Director of CEEZAD, was interviewed Feb. 24 in Washington by Elaine Reyes of China Global Television Network (CGTN).
Click to read …
CEEZAD plays role in a newly developed pen-side test for ASF

Dr. Juergen Richt appears on the China Global Television Network to talk about African swine fever virus.
The two discussed CEEZAD's role in the development of mitigation strategies for African Swine Fever, an illness of swine that is causing billions of dollars in damage to the Chinese pork industry.
They also discussed CEEZAD's role in development of the point-of-care Pencheck test (www.penchecktest.com) to diagnose ASF. Dr. Richt told Reyes that this new diagnostic tool "could be a game-changer" in the effort to improve rapid, easy-to-use, and cheap pen-side diagnostic tests for ASF.
The United States Animal Health Association's Feb. 26 bulletin also highlighted CEEZAD's role in development of the PenCheck™ test for ASF.
Dr. Richt and the CEEZAD team conducted an independent clinical evaluation of the accuracy of PenCheckTM. That evaluation found the test's sensitivity to be 95.5 percent, with a specificity of 99.3 percent. In the sensitivity tests, PenCheckTM correctly identified 21 out of 22 pigs with moderate to severe symptoms of African swine fever. In the specificity tests, PenCheckTM was found to be very dependable. In 144 pigs with no prior exposure to ASF, PenCheckTM correctly determined 143 pigs did not carry the virus.
ASF is widespread in Africa, eastern Europe and Asia, and has caused billions of dollars in damage in China, the world's largest pig producer.
Silver Lake Research Corporation makes and manufactures PenCheckTM, a low-cost rapid African swine fever test on the market. PenCheckTM can be easily administered pen-side with results in just 20 minutes, to help prevent the spread of the deadly ASF virus. African swine fever has killed tens of millions of pigs across Asia and Europe, with an enormous and costly impact on the global pork market.
"It is remarkable to put together a rapid test like PenCheckTM so quickly; in fact, it is almost unheard of," says Erik Serrao, vice president of Sales and business development at Silver Lake Research Corporation. "PenCheckTM can help save millions of pigs around the world. We wanted to make it as easy as possible to test and remove any infected animals to prevent further damage."

Regular features
Alumni Events, Development and Continuing Education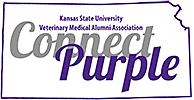 The Veterinary Medical Alumni Association organizes alumni receptions at several of the national annual conferences plus continuing education events and more. This month's section includes the monthly listings of recently departed alumni and links to their obituaries, plus a new link for submitting nominations for Alumni Recognition Awards.
Read more …
NEW - Submit nominations for Alumni Recognition Awards online
See our new online nomination form to nominate a fellow alumnus for one of our many annual recognition awards, presented at the national conferences: VMX, WVC, AVMA and the Annual Conference for Veterinarians. See full details at the link below.
In Memoriam - Recently Departed Alumni (click highlighted names for obituary)
Dr. John A. Stanberry, DVM 1953
Feb. 5, 2020
Dr. Karl Ross Hansen, DVM 1960
Feb. 8, 2020

Questions about Alumni or CE events?
Contact:
Tony Ballard
Alumni and Events Coordinator
785-532-4833
tballard@vet.k-state.edu
Sarah Keatley
Event Coordinator
785-532-4528
keatley@vet.k-state.edu
News Ticker
More activities and accomplishments in the College of Veterinary Medicine:
The Kansas State University Veterinary Health Center Dispensary announced it now has two technicians certified in Technician Product Verification (TPV). Joyce Nietfeld, CPhT (Pharmacy Manager) and Molly Carstenson, B.S., CPhT, CSPT (Compounding Manager) have both passed their national exam for this credential. The TPV Certificate demonstrates their skill in safeguarding patients from dispensing errors and expresses their commitment to excellence as pharmacy technicians. The dispensary is elated to be able to bring this level of training, service and safety to its patients. Both Joyce and Molly completed a 15 hour training program, which is a requirement to be eligible to sit for the national examination.
Alex Zabiegala, class of 2022, was awarded the prestigious AVMA/AVMF 2nd Chance Award. This will allow her to conduct research this summer with Dr. KC Chang. Last summer, Alex was a member of our Veterinary Research Scholars Program (VRSP), and with this funding she will be able to participate in VRSP for a second summer. She will receive funding ($6,000) as a stipend and for travel to the National Veterinary Scholar Symposium in San Diego in July. Alex is also interested in pursuing a Ph.D. in feline virology with Dr. Chang.
Anatomy and Physiology Ph.D. students, Andrew Curtis and Miriam Martin, presented their research at the American Society of Animal Science Midwest Meeting, as well as at Cattlemen's Day. Andrew presented research on "A Subcutaneous Anaplasmosis Vaccine Implant" and Miriam presented on "An Assessment of the Diagnostic Sensitivity and Specificity of Pain Biomarkers in Cattle Using ROC Curves."

Andrew Curtis and Miriam Martin present research posters at the American Society of Animal Science Midwest Meeting.

Dr. Megan Niederwerder was an invited speaker at the Michigan Professional Pork Producers Symposium in Lansing, Michigan, on Feb. 20, where she delivered two talks. The titles of her talks were "Gut Microbiome and Respiratory Health" and "Risk of Foreign Animal Disease in Feed." Dr. Niederwerder was also recently featured by BioNexus KC on it's "Expert Exchange" page to talk about seeking ways to prevent swine epidemics:
The 2020 Dog N Jog 5K & 10K and 1-mile Pup Trot originally scheduled Saturday, April 4 has been canceled!
EquiFest of Kansas is one of the largest equine trade shows in the Midwest. It has been held in Topeka since 2016 but was held in Salina this year. The breed exhibitions featured more than 12 different breeds and associations. There were many workshop speakers, arena demonstrations, and a horse judging competition during the event. Drs. Katie Delph and Dylan Lutter provided live demos. Drs. Chris Blevins and Jason Grady attended/helped with the event along with Alison Brunner, Jamie Maike, veterinary assistants; Westley Daily, veterinary nurse; Ashley VanMeter, nurse supervisor; and fourth-year students Ashley Anderson and Nicole Hansen.

From left: Dr. Jason Grady, Jamie Maike, Nicole Hansen, and Ashley Anderson.

The AAVMC Competency-Based Veterinary Education (CBVE) Working Group was presented with the AAVMC Presidential Award for Meritorious Service at the AAVMC Annual Conference in Washington, D.C., for the recognition of their service to the CBVE Working Group. Dean Bonnie Rush is pictured at far left.
This year, 36 participants completed the 2019-2020 AAVMC Leadership Academy. They participated in three face-to-face meetings in Indianapolis in September, at Texas A&M in December and in Washington, D.C. in March, as well as peer mentoring calls and activities. The program was comprehensive and included speakers on adaptive leadership, emotional intelligence, effective teams, strategic thinking in disruptive times, conflict management, fundraising and development, resilience and well-being, as well as communication, media and advocacy training. Seven ACVP diplomates among the 36 participants are photographed below.

From left: Drs. Jamie Henningson, Tim Snider, Oklahoma State University; Krista La Perle, Ohio State University; Amanda Fales-Williams, Iowa State University; Marilène Paquet, Université de Montréal; Pompei Bolfa, Ross University; and Melinda Wilkerson, St. George's University.
Technician Internships offered at KSVDL for Summer 2020
Explore a Career in Veterinary Diagnostic Medicine
Are you looking to gain more experience in veterinary diagnostic medicine or explore your career options?
The Kansas State Veterinary Diagnostic Laboratory (KSVDL) is offering multiple paid technician internships for Summer 2020. This competitive program offers individuals the opportunity to gain experience and training within the KSVDL, as well as observe career possibilities in our laboratories first-hand.
The technical internships are open to both students and non-students. This includes individuals enrolled in universities, community colleges, certificate programs and technical schools as well as recent graduates and individuals looking to expand their career options.
To apply, please submit the following items with the subject line: Summer Internship Opportunities at KSVDL
letter of interest
resume
letter of recommendation
Applications must be submitted to:

Dr. Barbara Lutjemeier
blutjeme@vet.k-state.edu
913-522-4183

Dr. Sasha Thomason
sthomason@vet.k-state.edu
785-340-5046

Shawna Fitzwater
sshawna@vet.k-state.edu
785-473-6539
New Arrivals/Recent Departures
Click here to see the New Arrivals/Recent Departures at the CVM …
Welcome to:
Taylor Growcock, Veterinary Health Center, Veterinary Assistant
Tyler Doerksen, Veterinary Diagnostic Laboratory, Research Assistant
Alishah Harris, Veterinary Health Center, Client Services Assistant
Joshua Willix, Diagnostic Medicine/Pathobiology, Research Associate
Farewell to:
Dr. Ryane Englar, Clinical Sciences, Clinical Assistant Professor
Kimberly Malo, KSVDL, Client Services Assistant
Robert Mugabi, Diagnostic Medicine Pathobiology, Associate Scientist
Lifelines is published each month by the Marketing and Communications Office at the College of Veterinary Medicine. The editors are Joe Montgomery, jmontgom@vet.k-state.edu, and Piper Brandt, pnbrandt@vet.k-state.edu.