February 2020 - Vol. 15, No. 2

Top Stories
Staff Council hands out High Five and more!
By Piper Brandt
What's better than a free lunch? How about special recognition from your peers along with the chance of being chosen for a special award.
This was the case for a select group of 23 employees in the College of Veterinary Medicine (CVM) at the end of January.
Read more ...

From left, Joel Sanneman, Xiaorong Shi, Rhonda Steele, Dave Hoffman and Nick Hemphill were chosen as recipients of the CVM Staff Council's Commitment to Excellence Award.
From this group of nominees, eight awardees were honored and presented with one of three different awards at an all-college staff luncheon.
The luncheon was hosted by the CVM Staff Council, who represent all unclassified and university support staff in the college. Established in 2017, one of the main priorities of the Staff Council was to acknowledge staff members for their contributions to the college's mission.

Drs. Katie Reif, Raghu Amachawadi and Chuck Dodd celebrate the successful nomination of Sun Johnson for the Culture, Collegiality and Compassion Award.
Gina Scott, computer information specialist and chair of the Staff Council, said one way the council chose to promote staff is through a Staff Awards program, which was launched in 2018.
"The purpose of the staff awards is for us to take the opportunity to recognize the hard work of our CVM staff," Scott said. "It gives us a chance to say thank you and that we appreciate their contributions to the college. Recognizing the accomplishments of others brings a sense of family to our college. Part of the awards include a cash prize to confirm our commitment to supporting our people."
"As we enter our second year of Staff Council Awards, it is evident this initiative will become a time-honored tradition," said Dr. Bonnie Rush, dean of the veterinary college. "It is a pleasure to honor our hard-working and committed staff, and we intend to continue the Staff Council awards for many years."

Randy Juracek receives a surprise visit from Dean Bonnie Rush, who located him in the VHC to present the High Five Award.
The award categories are High Five Award; Culture, Collegiality and Compassion Award; and Commitment to Excellence Award. Nominations can be submitted by any faculty, staff or administrators in the college, but must be accompanied by at least two letters of support.
"It is important for everyone to look around and see the good that is being done by the people you work with and to take the time to acknowledge that," Scott said. "All of those that are nominated receive the packet that was submitted for the nomination. To read what others have to say about what you do is very uplifting. Winning is great, but if you have been nominated, you should consider yourself a winner."

Late to the ceremony, but not overlooked, Gina Jensen was the sixth overall recipient of the Commitment to Excellence Award, shown here with Dr. Kate KuKanich, who nominated Gina for the award.
The recipients are as follows:
High Five Award: Randy Juracek, radiation therapy technologist. Presented to an employee who has gone above and beyond in enhancing one or more components of the College of Veterinary Medicine's mission of Exceptional Teaching, Impactful Research, Outstanding Service and Extraordinary Graduates.
Culture, Collegiality and Compassion Award: Sun Johnson, custodial specialist. Presented to an employee who enhances a feeling of belonging for all of the College of Veterinary Medicine and creates a more inclusive environment while enhancing the College of Veterinary Medicine's mission of Exceptional Teaching, Impactful Research, Outstanding Servic and, Extraordinary Graduates.
Commitment to Excellence Award: Presented to six employees who have gone beyond in enhancing one or more components of the College of Veterinary Medicine's mission of Exceptional Teaching, Impactful Research, Outstanding Service and Extraordinary Graduates.
Recipients:
Nick Hemphill, radiologic technologist in the Veterinary Health Center.
Dave Hoffman, recruitment coordinator and advisor to the CVM ambassadors.
Joel Sanneman, confocal facility manager in the department of anatomy and physiology.
Xiaorong Shi, research assistant in the department of diagnostic medicine/pathobiology.
Rhonda Steele, project assistant in the Veterinary Diagnostic Lab.
Gina Jensen, junior surgery laboratory manager in the department of clinical sciences.
Diagnostic team develops new method to improve food safety
By Piper Brandt
Researchers recently developed a faster, more efficient method of detecting Shiga toxin-producing E. coli, or STEC, in ground beef, which often causes recalls of ground beef and vegetables.
The new method developed by Dr. Jianfa Bai and colleagues requires only a day to obtain confirmatory results using a new system called the partition-based multi-channel digital polymerase chain reaction system, or dPCR.
Click to read ...

From left: Colin Stoy, technician; Dr. Lance Noll, senior scientist; Elizabeth Porter, lab manager; Dr. Jianfa Bai; Ying Wang, Ph.D. candidate; Junsheng Dong, visiting scholar; Nanyan Lu, bioinformatician; and Cong Zhu, pre-DVM student; Dr. Xuming Liu, research assistant professor.

"The traditional gold standard STEC detection, which requires bacterial isolation and characterization, is not amenable to high-throughput settings and often requires a week to obtain a definitive result," said Dr. Bai, section head of molecular research and development in the Kansas State Veterinary Diagnostic Laboratory (KSVDL). "We believe the new digital PCR detection method developed in this study will be widely used in food safety and inspection services for the rapid detection and confirmation of STEC and other foodborne pathogens," said Dr. Jamie Henningson, director of the KSVDL.
When ingested through foods such as ground beef and vegetables, STEC can cause illnesses with symptoms including abdominal pain and diarrhea. Some illnesses caused by STEC may lead to kidney failure and can be life-threatening.
"Some E. coli strains do not produce Shiga toxins and thus do not affect human health as much," said Dr. Xuming Liu, research assistant professor. "Because cattle feces and ground beef can contain harmless or less pathogenic E. coli along with STEC, the most commonly used PCR cannot identify pathogenic E. coli strains in a complex sample matrix."
The new dPCR test was developed for research and food safety inspections that require shorter turnaround and high throughput, without sacrificing detection accuracy.
"While the current, commonly used testing method is considered to be the gold standard, it is tedious and requires many days to obtain results that adequately differentiate the bacteria," said Dr. Gary Anderson, director of the International Animal Health and Food Safety Institute at the K-State Olathe campus.
The study, which describes the test design and results, is titled "Single cell-based digital PCR detection and association of Shiga toxin-producing E. coli serogroups and major virulence genes." It was published in the Journal of Clinical Microbiology and currently can be accessed at https://jcm.asm.org/content/early/2020/01/02/JCM.01684-19.
Funding for this study was provided by the Kansas State Veterinary Diagnostic Laboratory, and no extramural funding was used. The digital PCR technology for co-detection and association of multiple genes is covered by US Patent No. 10,233,505 assigned to the Kansas State University Research Foundation with the principal investigators Drs. Bai, Liu, and Anderson.
Uncovering a new function in protein biology of E. coli
The conventional wisdom behind the biological activity of a group of E. coli bacterial proteins has been upturned due to new research at Kansas State University's College of Veterinary Medicine.
Dr. Philip Hardwidge, a microbiologist and biochemist, and Dr. Samir El Qaidi, postdoctoral associate, published the results of their newest investigations in the article "An intra-bacterial activity for a T3SS effector" in Scientific Reports.
Click to read ...

From left: Congrui Zhu, Kamrul Hasan, Dr. Philip Hardwidge, Dr. Samir El Qaidi and Kristina Eichhorst.
"Bacterial pathogens interact with cells in their infected mammalian hosts by using what microbiologists call a type III secretion system, or T3SS, to inject virulence proteins into host cells," Dr. Hardwidge said. "In some strains of E. coli, the proteins that are secreted by the T3SS help the pathogen combat the host's immune system and contribute to diarrheal disease. Previously, the T3SS effectors were thought to be inactive within the bacterium and only function in the host cells. While performing mass spectrometry experiments in collaboration with Dr. Nichollas Scott at the University of Melbourne, Australia, we unexpectedly obtained data suggesting that one of these T3SS effectors might actually be active within the bacterium."
"I'm really proud of the work performed by Dr. El Qaidi," Dr. Hardwidge said. "He took advantage of an unexpected observation, designed several clever experiments to test hypotheses about what might be happening, and conducted technically challenging bacterial genetics and biochemical experiments to confirm this new activity."
Dr. Hardwidge said he and Dr. El Qaidi also investigated the same effects in Salmonella and C. rodentium, which are other bacteria that cause intestinal infections and diarrhea.
"We believe this is the first example of a T3SS effector functioning within both the bacterium and within the host cell," Dr. El Qaidi said. "This is important because it causes us to rethink whether this group of proteins has additional function beyond what has been classically studied. We now wish to understand both the extent to which the example we discovered might be common to other T3SS effectors in other organisms and also explore how these proteins may affect important aspects of bacterial physiology."
The project was supported by grant number AI127973 from the National Institute of Allergy and Infectious Diseases (NIAID) to Dr. Hardwidge and by National Health and Medical Research Council of Australia (NHMRC) project grants (APP1100164) to Dr. Scott. Dr. Hardwidge's team also collaborated with Dr. Brian Geisbrecht in the K-State Department of Biochemistry and Molecular Biophysics.
More Headlines
Study develops new vaccine method to fight cattle disease
By Piper Brandt
Researchers at the Kansas State University College of Veterinary Medicine, in collaboration with Iowa State University, have developed a new vaccine delivery platform to produce long lasting protection against anaplasmosis infections.
Bovine anaplasmosis, caused by the blood-borne parasite, Anaplasma marginale, is the most prevalent tick-transmitted disease of cattle worldwide and causes significant disease loss to beef producers in the United States.
Read more ...

Andrew Curtis and Dr. Hans Coetzee helped develop the new vaccination method, which comes in the form of an ear implant.
"Currently, the most common strategy to control anaplasmosis is to provide mineral containing the antibiotic chlortetracycline to cattle on pasture. This practice has raised concerns about the potential emergence of antimicrobial resistance in bacteria that may pose a risk to human and animal health," said Andrew Curtis, doctoral graduate research assistant in the laboratory of Dr. Hans Coetzee, professor and head of the anatomy and physiology department. "Although there is an experimental vaccine available to control anaplasmosis, this has not been evaluated in published research studies and requires multiple injections."
The objective of the study was to develop a single-dose implant platform that provides long-term immunity against anaplasmosis infections by releasing vaccine contents over an extended period of time.
This new single-dose vaccine, which is administered in the back of the ear, has been shown to provide protection against clinical anaplasmosis for up to two years, and could potentially help make anaplasmosis control more accessible and convenient to livestock producers.
The study, titled "Rapid Communication: Development of a subcutaneous ear implant to deliver an anaplasmosis vaccine to dairy steers," is published in the Journal of Animal Science. It can currently be accessed at
Research exposes risks for possible spread of classical swine fever and pseudorabies through feed
Newly published research from the CVM provides the first investigation into how feed and feed ingredients may be playing a role in the spread of two swine viruses of global significance.
"Classical swine fever virus (CSFV) and pseudorabies virus (PRV) are two of the top four transboundary animal diseases of importance to swine," said Dr. Megan Niederwerder, lead researcher and assistant professor in diagnostic medicine and pathobiology.
Click to read ...

New research at Kansas State University examines the potential risk for transmitted swine disease viruses through the importation of feed exposed to transpacific shipping conditions. Stock image by Vidar Nordli-Mathisen on Unsplash.
"Both viruses are endemic to areas of the world where feed ingredients are manufactured and imported into the United States each year."
Currently, US commercial swine are negative for both CSFV and PRV after costly eradication programs were completed in 1978 and 2004, respectively. Dr. Niederwerder said reintroduction of these viruses into US swine herds would be devastating and that there are concerns that feed ingredients incorporated into swine diets may serve as new "fomites," or sources, for the spread of animal diseases of economic and welfare significance. Recent changes in PRV strain virulence and CSFV geographic distribution are of great concern for these trade-limiting diseases.
"The emerging threat of CSFV and PRV being reintroduced into US commercial swine is significant and preventing entry is critical for the US pork industry," Dr. Niederwerder explained. "The route of introducing and transmitting swine viruses through feed has been recognized since the 2013-2014 outbreak of porcine epidemic diarrhea virus. However, the stability of CSFV and PRV in imported feed ingredients had yet to be investigated."
Dr. Niederwerder and her colleagues published the first report of CSFV and PRV stability in feed ingredients subjected to different environmental conditions mimicking transpacific shipment. Overall, both viruses survived for the length of the 37-day model in feed, with PRV having increased stability across a broader range of feed ingredients when compared to CSFV.
Dr. Niederwerder said PRV was detected in nine of the twelve tested ingredients: conventional and organic soybean meal, lysine, choline, vitamin D, moist cat and dog food, dry dog food, and pork sausage casings at the conclusion of the simulated voyage. When looking at CSFV, two of the twelve ingredients had infectious virus detected: conventional soybean meal and pork sausage casings.
"This study reports novel data about environmental stability of CSFV and PRV in feed and includes important quantitative information that can be incorporated into risk models for preventing the potential spread of CSFV and PRV through imported feed ingredients," Dr. Niederwerder said. "This information adds to our previous work on African swine fever and reinforces the concept of feed biosecurity for disease prevention."
This research was conducted at Kansas State University's Biosecurity Research Institute, a BSL-3 facility that allows safe and secure research with animal diseases foreign to the US, in collaboration with other university and industry contributors. Co-authors on the manuscript include Ana Stoian, Vlad Petrovan, Laura Constance, Matthew Olcha, Maureen Sheahan and Bob Rowland with Kansas State University; Scott Dee, Pipestone Veterinary Services; Diego Diel, Cornell University; and Gil Patterson, Lincoln Memorial University.
Funding for this study was provided by the Swine Health Information Center and the State of Kansas National Bio and Agro-defense Facility Fund. The full article, "Stability of classical swine fever virus and pseudorabies virus in animal feed ingredients exposed to transpacific shipping conditions," is now published online in the journal Transboundary and Emerging Diseases.
First milk important to successful calving experience
By Lisa Moser
Once the calves are born into a beef cattle herd, there is no better sight than watching them get up and begin to nurse their mamas.
However, experts in Kansas State University's Beef Cattle Institute (BCI) say that difficult deliveries, inexperienced dams and calves born without vigor sometimes keep that connection from happening.
Click to read ...

Calves need to nurse their mothers soon after they are born to maximize the immunity passed along in that first milk.


It is at those times when a beef producer may have to intervene.

Trying to determine when to offer assistance to the cow/calf pair was a discussion topic among BCI experts during a recent podcast, available online. The chief concern is getting the colostrum into the calf within the first few hours after it is born.

"Colostrum is the first milk that the calf gets from its mother that contains a lot of immunity to set it up for the first four to five months of life," said Dr. Brad White, veterinarian and BCI director. "As soon as the calf starts drinking, it has 12-24 hours to absorb the colostrum before his gut closes."

As to when to intervene, the experts had a difference of opinion. "If I don't observe a first calf heifer allowing her calf to nurse in the first two to four hours, I will get involved by helping," said Bob Weaber, beef cattle extension specialist and BCI expert.

He added: "My goal is to get at least one quart of colostrum into the calf. After milking out the cow, I offer it to the calf through a bottle and if that doesn't work, I use an esophageal tube feeder to deliver it."

Dr. White prefers to follow a less aggressive approach by observing calf behavior over the course of 24-48 hours. "I am not going to intervene until the calf tells me it is not thriving, by walking with its head down or trying to nurse off of other cows," he said.

He added that if he does intervene, his goal is to gather the milk from the calf's dam rather than using colostrum supplementation. Dr. White said the immunity in the colostrum comes from the proteins in the dam's milk and that milk from beef cows is more nutrient dense than that of dairy cows (which is what most colostrum supplements consist of). So, with supplementation of dairy colostrum, White said the supplementation goal is to provide two quarts.

Both experts agree that the quantity and quality of the colostrum produced by the cow has a direct correlation to the dam's body condition score.

"A cow in good body condition will have the nutrition she needs to make the proteins to pass on the immunity to her calf," Dr. White said.

He also stressed the importance of calving in a dry, clean environment.

"The immunity is only as effective as the challenges we put it under, so if the calf is born in a mud lot, the cow's udder may be covered in mud and that will give the calf a high pathogen challenge when it tries to nurse," Dr. White said.

If supplementation is ultimately necessary, Dr. White and Weaber agreed that getting the milk delivered to the calf at the correct temperature is critical.

The goal is feeding it at a temperature of 100 degrees, Weaber said. Dr. White adds: "It is best to warm up the milk in a hot water bath. If you microwave it, you will destroy a lot of those proteins."

Dr. White and Weaber offer these five tips:
Maintain cows in good body condition to maximize the quality and quantity of the colostrum they produce
Develop herd immunity by following a vaccination schedule
Ensure cows have a dry location in which to calve
Have an intervention plan in place for colostrum supplementation
Keep intervention equipment such as a bottle or esophageal tube feeder on hand
More information on this topic is available on a weekly podcast produced by the Beef Cattle Institute.
National Agricultural Biosecurity Center awarded USDA grants for agricultural disease preparednesss
By Erin Pennington

The National Agricultural Biosecurity Center, or NABC, at the Biosecurity Research Institute at Kansas State University, received two grants from the United States Department of Agriculture's Animal and Plant Health Inspection Service. These grants, which are funded by the 2018 Farm Bill, will be used to fund two projects at K-State pertaining to agricultural disease preparedness and response.
Read more ...
These projects endeavor to strengthen the response to limiting the short- and long-term impacts of a high-consequence disease event in Kansas and the surrounding region. They will facilitate greater cooperation between government, industry and academic officials in planning and preparing before an event takes place, and in responding effectively, if an event occurs.
The first project, "Secure Food Supply Permitting Exercise for the High Plains Region," will test the capability of Kansas, Colorado, Oklahoma and Texas to issue permits for interstate and intrastate livestock movement during a disease outbreak to facilitate business continuity. Each state is working to implement secure food supply plans designed to increase biosecurity and allow for continuity of business across multiple sectors of the livestock industry in the face of a high-consequence disease outbreak like African Swine Fever or foot-and-mouth disease.
The second project, "Tabletop Exercises for Local Jurisdictions," is a joint effort between the NABC, the Kansas Department of Agriculture and the Kansas Division of Emergency Management to create a series of regional exercises. These exercises will allow counties to test their current response plans as they relate to controlling a high-consequence livestock disease outbreak.
"The NABC is pleased to assist the USDA in preparing for potential high-consequence animal disease outbreaks," said Dr. Marty Vanier, director of the NABC. "The lessons learned in these exercises will help counties prepare and respond to disease outbreaks and will allow states to enhance continuity of business and community resilience."
These two projects build on the growing recognition of the NABC as a nationally prominent research center that enhances and promotes multidisciplinary collaboration amongst government, industry and academic partners. The USDA awards for these proposals assist in strengthening state and county collaborations as well as expanding partnerships with a coalition of neighboring states. These awards demonstrate the productivity, practicality and innovation the NABC helps deliver when pursuing the university's land-grant mission and global foods systems initiative.
"It is great having NABC staff located in Pat Roberts Hall," said Dr. Stephen Higgs, director of the Biosecurity Research Institute. "They provide expertise and a network of relationships that are both novel and complementary to the BRI's research, education and training related to biosecurity and the global food and health mission."
The grants are a part of a total of $10.2 million awarded by the USDA to institutions and agencies to support disease prevention and emergency response training and exercise projects as well as targeted projects to enhance laboratory diagnostic capability.
Upcoming workshop to provide an introduction to animal health regulatory affairs
By Gregg Tammen, K-State Olathe

Kansas State University's Olathe campus is once again offering its popular "Animal Health Regulatory 101" workshop.
This two-day workshop serves as an introductory course about the regulatory aspects of animal drug and vaccine development. The workshop is from 8:30 a.m. to 4:30 p.m. April 1-2 at K-State's Olathe campus.
Read more ...
During the course, attendees will take a deep-dive into the regulatory aspects around animal drug and vaccine development. They also will learn how to navigate two of the federal agencies that oversee these products.

Content is designed for professionals who are tasked with developing and maintaining an animal health company's product portfolio and who are involved with the company's regulatory strategies. This includes professionals at contract research organizations, contract development and manufacturing organizations, entrepreneurs, regulatory agents, U.S. agents of foreign corporations, process owners, record retention specialists, financial and institutional advisors, and professionals who are new to the animal health industry.

The workshop is divided into seven broad sections that cover the regulatory spectrum. Section topics include an introduction and overview to the regulatory process; the approval process; fees and waivers; and how the U.S. Food and Drug Administration and the U.S. Department of Agriculture regulate animal health products.

The workshop is led by Rob Hunter, Ph.D., and Norm Brown. They have 55 years of combined experience in the animal health regulatory affairs field at several high-profile companies, such as Pfizer Inc., Elanco Animal Health Inc., Boehringer-Ingelheim Animal Health and Merck Animal Health.

"We received strong interest and a lot of positive feedback about the previous 'Animal Health Regulatory 101' workshop, so it made sense to offer it again to those who were unable to attend," said Angela Buzard, manager of training and development at K-State's Olathe campus. "Moreover, it extends our support of the animal health regulatory affairs industry, which the university and our campus are actively engaged in."

The previous "Animal Health Regulatory 101" workshop, which was conducted in November 2019, had 24 participants from 12 animal health companies. At the end of the second day, participants were asked to evaluate the information and experience they were presented. Overall evaluation scores were a 4.48 on a 5.0 scale.

Similarly, Buzard received comments from leadership at several companies that sent employees. One stated that their employee "raved" about the drug development process overview and the course's instructor.

Multiple participants and companies also said they would like separate, follow-up courses for the USDA and FDA. These separate courses currently are being developed and will be held later this year, Buzard said.

Registration and more information are at olathe.k-state.edu/regaffairs101.
Regular features
Alumni Events, Development and Continuing Education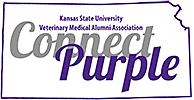 The Veterinary Medical Alumni Association organizes alumni receptions at several of the national annual conferences plus continuing education events and more. This month's section includes a bio on the upcoming Alumni Recognition Award to be presented at the WVC conference in Las Vegas, a profile about an alumni couple and their new TV series on Nat Geo Wild, plus the monthly listings of recently departed alumni and links to their obituaries.
Read more ...
Dr. Bill Patton chosen for annual WVC alumni recognition award
Dr. Bill Patton, Cascade, Montana has been selected by the Kansas State University College of Veterinary Medicine and its Veterinary Medical Alumni Association to receive a 2020 Alumni Recognition Award. The award will be presented Feb. 17 in conjunction with the Western Veterinary Conference in Las Vegas and is in recognition of his career in veterinary medicine and for having served as an exemplary role model for future alumni in a professional and community setting.
Dr. Patton was born in Scott City, Kansas. He received his Doctor of Veterinary Medicine degree from Kansas State University in 1959. After serving as a base veterinarian with the U.S. Air Force from 1960 to 1962, Dr. Patton moved to Choteau, Montana, where he founded his own practice in 1962 and treated mostly large animals. He then practiced in Cascade, Montana, from 1977 until his retirement in 2009.
"It was such a pleasure to work with all the ranchers during my years of practice," Dr. Patton said. "It has been a great career."
'Heartland Docs' feature young alumni couple in Nebraska
Dr. Ben ('02) and Erin ('04) Schroeder, are the husband and wife veterinarian stars of Nat Geo Wild's news series Heartland Docs. After a local paper ran an article about Ben and Erin remodeling old buildings in their hometown of Hartington, Nebraska, production companies began calling looking for the next Chip and Joanna Gaines of "Fixer Upper" fame.

"One of the production companies that called us said, 'We'd love you guys to remodel some veterinary clinics around the country. We'll set it all up and you guys go remodel your little hearts out,'" Ben said.

Instead, the Schroeders ended up doing what they love, which is treating animals, but now in front of television cameras. Heartland Docs premiered in January and tells the stories of their family as they help their clients with cows, pigs, llamas, chickens, rabbits and many other animals. Ben's father, John, previously ran the practice. John earned his DVM from K-State in 1975.

Heartland Docs airs Saturday nights at 9 central time. More information can be found online at the Nat Geo Wild website.

This year's conference features Drs. Michael Apley, Brian Lubbers, Kellie Wark and Kate KuKanich discussing various topics in Antimicrobial Stewardship from a One Health Perspective.
When: March 22, 2020
Where: Frick Auditorium
Mosier Hall
Kansas State University
NEW - Submit nominations for Alumni Recognition Awards online
See our new online nomination form to nominate a fellow alumnus for one of our many annual recognition awards, presented at the national conferences: VMX, WVC, AVMA and the Annual Conference for Veterinarians. See full details at the link below.
In Memoriam - Recently Departed Alumni (click highlighted names for obituary)
Dr. John Wayne Judy, DVM 1958
Jan. 11, 2020

Dr. Ivan R. Nicholson, DVM 1961
Jan. 25, 2020

Dr. Harry Charles Mussman, DVM 1965
Nov. 7, 2014

Dr. David Eugene McMillon, DVM 1980
Jan. 23, 2020

Dr. William David Tryon, DVM 1983
Aug. 8, 2016


Questions about Alumni or CE events?
Contact:
Tony Ballard
Alumni and Events Coordinator
785-532-4833
tballard@vet.k-state.edu
Sarah Keatley
Event Coordinator
785-532-4528
keatley@vet.k-state.edu
News Ticker
More activities and accomplishments in the College of Veterinary Medicine:
Dr. Bob Larson presented at the Nebraska Veterinary Medical Association Meeting Jan. 23-25. He provided three presentations, "Adding Value to Pregnancy Diagnosis of Beef Herds," "Reproductive Services for Purebred Herds" and "Role of Momentum in Beef Herd Fertility."
Dr. Kate KuKanich was awarded a $15,000 grant from the 2020 Boehringer Ingelheim Veterinary Scholars Program that will support student stipends for the program. She was also selected as the 2020 recipient of the Faculty Community Outreach Grant sponsored by SAVMA. This award allows students to publicly acknowledge faculty members who have gone above & beyond to make a difference in the local/global community. She was nominated by third-year veterinary student Rebecca Tomasek.
Drs. Laurie Beard and Katie Delph received $15,000 in funding from Boehringer Ingelheim for their research, "Efficacy of Disinfection of Endoscopes Contaminated with Streptococcus equi subsp. equi."
Ron Orchard, second-year veterinary student and public health graduate student, will be a keynote speaker at the KSU 2020 Community Engagement Symposium on March 23.
Dr. Roman Ganta reports the Livestock Memorial Research Foundation from California provided $15,000 to assist efforts to develop a bovine anaplasmosis vaccine. The California Cattlemen's Association sent the check. "It is an exciting news because our recent vaccine research from the CEVBD for controlling various tick-borne diseases in companion and agricultural animals caused by Anaplasma, Ehrlichia and Rickettsia species continue to attract support from industries, foundations as well as from the NIH," Dr. Ganta said.
Drs. Mike Apley and Matt Miesner along with other K-State faculty members, Drs. Daniel Thomson, Fadi Aramouni, Dale Blasi, Steve Ensley, Mark Haub, KC Olson, Travis O'Quinn, and Anthony Tarpoff received $48,500 in funding from the Kansas Beef Council for their research study, "A comparison of chemical composition, toxicology screening, estrogenic activity, taste panel evaluation and price of meat substitutes compared to ground beef."

Drs. Chris Blevins and Dylan Lutter, with the assistance of Ashley VanMeter and Alison Brunner, presented Barn Night at High Horse Stables on Jan. 15. In addition to those in attendance, 440 viewed it through Facebook Live. Dr. Lutter presented about equine performance medicine and demonstrated stretches that clients can do with their horses. Dr. Blevins discussed preventative medicine, biosecurity, nutrition and more!
The 2020 Dog N Jog 5K & 10K and 1-mile Pup Trot will be held Saturday, April 4 in the morning! The event will be raising money for KSDS assistance dogs!
Spring commencement moves to Bramlage

File photo: Dr. Mike Apley speaks at the 2018 commencement exercises.

The 2020 spring commencement for veterinary medicine, which has traditionally been held in McCain auditorium, has been moved to Bramlage Coliseum. The ceremony will take place on Friday, May 15, at 4:00 pm. Please mark your calendars and plan accordingly.
Oz to Oz lecture series

The Department of Anatomy and Physiology hosts Dr. Michael Fahey (center) as part of the Oz to Oz lecture series at K-State. Dr. Yulan Xiong (left) introduced Dr. Fahey. On the right is Dr. John Leslie, director of the Oz to Oz program, University Distinguished Professor of the biology department at K-State.
Technician Internships offered at KSVDL for Summer 2020
Explore a Career in Veterinary Diagnostic Medicine
Are you looking to gain more experience in veterinary diagnostic medicine or explore your career options?
The Kansas State Veterinary Diagnostic Laboratory (KSVDL) is offering multiple paid technician internships for Summer 2020. This competitive program offers individuals the opportunity to gain experience and training within the KSVDL, as well as observe career possibilities in our laboratories first-hand.
The technical internships are open to both students and non-students. This includes individuals enrolled in universities, community colleges, certificate programs and technical schools as well as recent graduates and individuals looking to expand their career options.
To apply, please submit the following items with the subject line: Summer Internship Opportunities at KSVDL
letter of interest
resume
letter of recommendation
Applications must be submitted to:

Dr. Barbara Lutjemeier
blutjeme@vet.k-state.edu
913-522-4183

Dr. Sasha Thomason
sthomason@vet.k-state.edu
785-340-5046

Shawna Fitzwater
sshawna@vet.k-state.edu
785-473-6539
Purple Pantry
The CVM recognizes food insecurity is a reality for a proportion of our students, house officers and staff. At the university level, this challenge has been addressed by Cats Cupboard, but it is underutilized by CVM personnel due to distance and hours of operation. The CVM has worked with Cats Cupboard to establish a satellite food pantry in the CVM called the Purple Pantry. The Purple Pantry takes food donations during regular business hours at 001 Trotter Hall.
Examples of recommended non-perishable food items for donation: Canned tuna, canned chicken, canned beans (black, pinto, garbanzo), peanut butter, whole wheat pasta, plain oatmeal, plain cream of wheat, brown rice, quinoa, canned vegetables, canned fruit, tomatoes (diced, sauce, paste), canned soup, granola bars, cooking oils, and microwave meals.
A giving link has been also set up for the Purple Pantry where you can make financial donations to support this effort: https://give.evertrue.com/ksu/purplepantry
Thank you for supporting CVM family members in need!
New Arrivals/Recent Departures
Click here to see the New Arrivals/Recent Departures at the CVM ...
Welcome to:
Kaitlyn Appleby, Veterinary Health Center, Veterinary Assistant
Dr. Brandy Kastl, Veterinary Diagnostic Laboratory, Clinical Assistant Professor
Amber Melton, Veterinary Health Center, Veterinary Nurse II
Jason Messner, Veterinary Diagnostic Laboratory, Research Assistant
Dr. Karla Moreno-Torres, Diagnostic Medicine/Pathobiology, Fellow (Post Doc)
Faith Bliss, Veterinary Health Center, Veterinary Assistant
Jessica Zona, Veterinary Health Center, Veterinary Nurse II
Greg Erickson, Veterinary Diagnostic Laboratory, Research Assistant
Dr. Jialin Zhang, Diagnostic Medicine/Pathobiology, Fellow (Post Doc)
Lindsey Gordon, Veterinary Health Center, Veterinary Nurse I (Intern)
Taylor West, Veterinary Health Center, Veterinary Nurse I (Intern)
Dr. Camila Rios Salomao de Souza, Clinical Sciences, Clinical Assistant Professor
Haelea Sharp, Diagnostic Medicine/Pathobiology, Research Assistant
Farewell to:
Maria Juarez Rodriguez, Diagnostic Medicine/Pathobiology, Research Associate
Ascencion Torres-Escobar, Diagnostic Medicine/Pathobiology, Research Associate
Levi Chermak, Veterinary Diagnostic Laboratory, Research Assistant
Sarah Quick, Veterinary Health Center, Veterinary Nurse I
Dr. Tariku Beyene, Diagnostic Medicine/Pathobiology, Fellow (Post Doc)
Dr. Bonto Faburay, Diagnostic Medicine/Pathobiology, Research Associate Professor
Lifelines is published each month by the Marketing and Communications Office at the College of Veterinary Medicine. The editors are Joe Montgomery, jmontgom@vet.k-state.edu, and Piper Brandt, pnbrandt@vet.k-state.edu.
Lifelines index

Download Lifelines LITE (this is a condensed legal-sized PDF and has less information than above)