January 2020 - Vol. 15, No. 1
Top Stories
CVM presents annual teaching awards
Veterinary students voted for the following three faculty members to receive the 2019 preclinical teaching excellence awards in the College of Veterinary Medicine. Drs. Matt Basel, Ryane Englar and Dan Thomson were each named as the respective top teachers for the first, second and third years of instruction. Votes were cast by each respective class of students for the 2018-2019 school year.
Read more ...

Drs. Dan Thomson, Ryane Englar and Matt Basel were selected for the annual teaching awards by the classes of students who voted based on teaching efforts of the 2018-2019 school year.
"Beginning in 2004, the college has utilized these annual awards to recognize faculty for their exceptional teaching efforts in the preclinical stages of the veterinary curriculum," explained Dr. Peggy Schmidt, associate dean for academic programs and student affairs. "Award recipients are chosen by students reflecting faculty dedication to student success inside and outside of the classroom. These recipients are outstanding educators and well deserving of this recognition."

Anatomy and Physiology Department Head Dr. Hans Coetzee presents the 2019 Boehringer Ingelheim Teaching Excellence in the First Year Award to Dr. Basel.
Dr. Basel was presented with the 2019 Boehringer Ingelheim Teaching Excellence in the First Year Award in recognition of outstanding instruction of first-year veterinary students. He earned a bachelor's degree in chemistry, biochemistry and biology at Kansas State University in 2007. He completed a Ph.D. in biological chemistry at Kansas State University in 2010 and a Graduate Certificate in Teaching and Learning the same year. Dr. Basel is a clinical assistant professor in the Department of Anatomy and Physiology.
"I really enjoy teaching in the first-year curriculum and the veterinary students at Kansas State are some of the best students I've ever met," Dr. Basel said. "It's very gratifying to know that the students appreciate my efforts and I appreciate them just as much!"

Dr. Callie Rost, associate dean for admissions, presents the 2019 Bayer Teaching Excellence Award (for second-year instruction) to Dr. Englar.
Dr. Englar, clinical assistant professor and clinical education coordinator for clinical skills, received the 2019 Bayer Teaching Excellence Award, which is presented in recognition of outstanding instruction of second-year veterinary students. She earned her Doctor of Veterinary Medicine degree in 2008 from Cornell University in Ithaca, New York. Dr. Englar joined the faculty at K-State in May 2017, where she was hired to help fulfill a priority in the college's Strategic Plan of providing clinical experiences and skills in all years of the Doctor of Veterinary Medicine curriculum. Dr. Englar is a diplomate (Canine and Feline Practice) of the American Board of Veterinary Practitioners (ABVP).
"Working with students is my greatest passion," Dr. Englar said. "From the moment they matriculate into the program, they are our colleagues and leaders of the veterinary profession. It is exciting to see their inner spark ignite as they discover their greatest strengths and contributions as future doctors of veterinary medicine. Each day, every day, they are my inspiration. Over the past three years, we have experienced 'The Journey' together, and they have taught me as much, if not more, than I could have ever taught them about life and all of its adventures. They are a reminder that character, courage, and tenacity speak volumes and power us to the finish line. I thank them for being a gift to this profession and want them to know that my door is open to them, always."

Diagnostic Medicine/Pathobiology Department Head Dr. Derek Mosier presents the 2019 Teaching Excellence in the Third Year Award sponsored by Zoetis to Dr. Thomson.
Students chose Dr. Thomson to be the recipient of the 2019 Teaching Excellence in the Third Year Award sponsored by Zoetis. He earned a bachelor's degree in animal science in 1990 and a Doctor of Veterinary Medicine in 2000, both from Iowa State University. Dr. Thomson has also completed a master's degree in ruminant nutrition from South Dakota State University in 1993 and a doctorate in ruminant nutrition from Texas Tech University in 1996. He is the Jones Professor of Production Medicine and Epidemiology.
"Teaching students is a privilege and an honor," Dr. Thomson said. "This is such a humbling award. We are blessed to have the best students and alumni in the world. It is an honor to be a part of this great faculty. We all have so much to be thankful for at Kansas State University."
New research sheds light on drug resistance in cattle disease
By Piper Brandt
A new study from Kansas State University on the treatment of non-responding cases of bovine respiratory disease, known as BRD, conducted by Dr. Hans Coetzee and his collaborators from Iowa State University, sheds light on the relationship between drug treatments and the emergence of antimicrobial resistance.
Click to read ...

This is an electron micrograph of Mannheimia haemolytica in a bovine lung. Researchers found that first treatment with a bacteriostatic antibiotic followed by retreatment with a bactericidal antibiotic was associated with a higher frequency of multidrug-resistant bacteria isolated from field cases of Bovine Respiratory Disease submitted to a veterinary diagnostic laboratory. (Photo credit: Ravindra Thakkar and Dr. Charan Ganta.)

The study, "Association between antimicrobial drug class for treatment and retreatment of bovine respiratory disease (BRD) and frequency of resistant BRD pathogen isolation from veterinary diagnostic laboratory samples," was published in the December 2019 issue of the journal PLOS ONE.

"Bovine respiratory disease is one of the most important diseases facing beef cattle producers in the United States with economic losses estimated to approach $1 billion a year," Dr. Coetzee said. "Antibiotics are critical to minimize losses associated with BRD caused by bacterial infections."

Antibiotics that are used to treat BRD are broadly classified into two groups: namely those that prevent growth of the bacteria — i.e., bacteriostatic — and those that kill the organism — i.e., bactericidal. Although 90% of BRD relapses are reported to receive retreatment with a different class of antimicrobial, the impact of antibiotic selection — bactericidal or bacteriostatic — on disease outcomes and the emergence of antimicrobial resistance has not been investigated, according to Dr. Coetzee.

The focus of the study is determining the association between antimicrobial class selection for treatment and retreatment of BRD relapses and antimicrobial susceptibility of Mannheimia haemolytica, Pasteurella multocida and Histophilus somni.

Pathogens were isolated from samples submitted to the Iowa State University Veterinary Diagnostic Laboratory from January 2013 to December 2015. A total of 781 isolates with corresponding animal case histories, including treatment protocols, were included in the analysis.

"Our overall interpretation of the data suggests that there is direct association between the number of treatments to which an animal was exposed and the emergence of antibiotic resistance in samples submitted to a veterinary diagnostic laboratory for analysis," Dr. Coetzee said. "In addition, these exploratory data suggest that BRD treatment protocols involving first-line treatment with a bacteriostatic antibiotic followed by second-line treatment with a bactericidal antibiotic may increase the probability of isolating BRD bacteria that are resistant to antibiotics."

While this observation suggests that consideration should be given to the mechanism of action of the antibiotic when selecting drugs for retreatment of non-responding cases of BRD, Dr. Coetzee said further research is needed to determine the clinical relevance of this finding in livestock production systems.
Dr. Coetzee is a professor and head of the anatomy and physiology department at the College of Veterinary Medicine. He has published 160 peer-reviewed scientific papers and has received more than $10 million in research funding.
Dr. Annelise Nguyen to serve as associate director of Johnson Cancer Research Center
The Johnson Cancer Research Center at Kansas State University announces the appointment of Dr. Annelise Nguyen, associate professor of diagnostic medicine and pathobiology in the College of Veterinary Medicine, as the center's new associate director, starting Jan. 13. She succeeds Mark Weiss, professor of anatomy and physiology in the veterinary college.
Click to read ...
Dr. Nguyen has extensive experience in breast cancer research and has been a member of her department's toxicology group since 2004 and a research affiliate of the Johnson Cancer Research Center since 2005. She investigates the efficacy of anticancer drugs and has expertise in preclinical data of toxicological studies and in intellectual property for anticancer drugs.
"Annelise has been a very active research affiliate and advocate of the cancer research center, and I know she will provide outstanding representation and service to the center," said Sherry Fleming, director of the center and professor of biology. "I look forward to working with her to continue growing the center and advancing cancer research at K-State."
Dr. Nguyen's research in cancer biology has focused on the role of gap junctional intercellular communication. Recently, her research has expanded to spheroid/organoid development using PGMatrix to recapitulate 3D, human tumor-like organoids and generate 3D, tumor-specific models for anticancer drug testing.
Dr. Nguyen received a bachelor's degree in molecular and cellular biology and a doctoral degree in toxicology from Texas A&M University and completed a National Eye Institute postdoctoral fellowship. She is a diplomate of the American Board of Toxicology and teaches four graduate courses. She is the recipient of the 2019 John Doull Award for outstanding contribution to the field of toxicology.
Dr. Nguyen will retain her responsibilities in the veterinary college while supporting the mission of the cancer research center.
The Johnson Cancer Research Center is a multidisciplinary unit of the College of Arts and Sciences that works to further the understanding of cancers and advance and support cancer research at Kansas State University.
More Headlines
Wichita Police Department awards KSVDL's dynamic duo for lifesaving diagnosis
Drs. Steve Ensley, veterinary toxicologist and clinical professor of anatomy and physiology, and Scott Fritz, research associate with the Kansas State Veterinary Diagnostic Laboratory, have received the Outstanding Citizen Assistance Plaque. Matthew McKernan, horticulture agent with K-State Research and Extension — Sedgwick County, has received the Certificate of Appreciation.
Read more ...

Drs. Steve Ensley and Scott Fritz received certificates from the Wichita Police Department for their help in diagnosing blue-green algae after two police officers and a teenager entered a pond and got sick. The computer monitor behind Dr. Fritz shows a microscopic image of a blue-green algae sample.
The award stems from an August incident near West Kellogg in Wichita when a shoplifting suspect tried to escape police officers by swimming into a retention pond. The teenager could not swim and disappeared underwater for 30 seconds. Wichita police officers Terry Nelson and Drew Rhoades dove into the water, rescued the teenager and brought her to shore to administer CPR until emergency medical services arrived. All three people soon became ill after exposure to the water and doctors believed that the teenager would die.
The Wichita Police Department reached out to McKernan to test the quality of the retention pond water. McKernan helped police officers contact the Kansas State Veterinary Diagnostic Laboratory. Wichita police officers drove pond water samples to the laboratory in Manhattan, where Drs. Ensley and Fritz immediately began testing the water and found that the water had a heightened presence of a blue-green algae toxin. The test results helped medical staff treat Nelson, Rhoades and the teenager. All three people eventually made a full recovery.
In his award nomination letter, Wichita Police Sgt. Christian Cory, a 1999 K-State graduate, said that Dr. Ensley's and Dr. Fritz's "selfless determination and quick turnaround in assisting the officers, not only gave them peace of mind, but allowed medical staff to make informed decisions as to medical treatment options."
McKernan also was praised "for service rendered to the community and citizens of the City of Wichita, Kansas, in the interest of better Law Enforcement."
By Dr. Chris Blevins, VHC Equine Field Service
During the winter, we rarely think about ticks. In most cases ticks are only a problem in the warmer seasons of spring, summer and fall. However, horse owners are noticing many ticks on their horses this winter. This "winter tick", also known as the Ghost Moose Tick, is different from the tick we see in the summer months. The scientific name is Dermacentor albipictus.
Click to read ...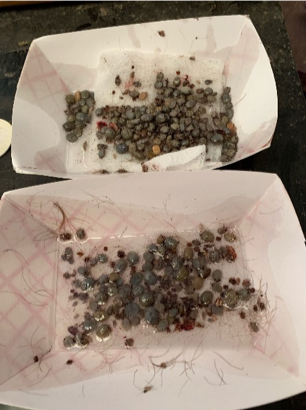 Paper trays with hundreds of winter ticks pulled off a horse in Kansas.
Its nickname comes from the primary host, the moose, however other species of animals (like horses) can become the host. Ticks infesting a moose can cause anemia and even death. In recent years, more than 75,000 ticks have been found infested on one moose.
The lifecycle of the winter tick is different from the more common summer species of ticks. The winter tick is a one-host tick, which will live on same host from larvae to adult. The eggs hatch on the ground in mid-summer and set dormant before migrating to taller vegetation in clusters. Once on the taller vegetation, the larvae then latch onto an animal as it walks by. The larvae can become a nymph on the host animal within 10 days. The nymph remain dormant on the host until winter when they become an adult. Adult ticks are easier to see and feed on the blood of the host for the rest of the winter. The adults mate, and females lay eggs on the ground in the early springtime.
Treating horses with these ticks can be tough, like any other tick found on horses. However, some products are good for killing these ticks on cattle and horses. Coumaphos is one product that has been shown to work. Please work with your veterinarian for the use of such products. It is important to follow veterinary instructions (amount and frequency) to prevent toxicities, other side effects and environmental contamination.
Understanding the lifecycle and ecosystems of the winter tick can also help with management. Winters that are shorter and warmer have been shown to correlate with higher infestations on the host (like the moose).
Please contact your veterinarian and/or the Kansas State University Veterinary Health Center with other questions or concerns about the winter tick.
VHC: 785-532-5700 or www.vet.k-state.edu/vhc/services/equine/
References:
Addison et al. (1988). "Growth and Development of Winter Tick, Dermacentor albipictus, on Moose, Alces alces". The Journal of Parasitology. 74 (4): 670–678.
Dell'Amore, C. (2015-06-01). "What's a Ghost Moose? How Ticks Are Killing an Iconic Animal". National Geographic News. Retrieved 2019-03-08.
Balancing calving ease priorities in heifer matings
By Lisa Moser

One of the most exciting times of the year on cow/calf operations is when the calves are born and producers can see the results of their breeding decisions.
Experts from the Beef Cattle Institute at Kansas State University say it can also be stressful and costly if those mating decisions lead to calving difficulties, which is why much care needs to be taken when planning those matings.
Read more ...
As bull buying season approaches, selecting the right bull to match with the heifers was a discussion topic during a recent podcast with the team at the Beef Cattle Institute.
Beef extension specialist Bob Weaber advised producers begin by evaluating the type of breeding system they need to be successful. "Think about what types of bulls you are going to turn out on what groups of females to define what the calving ease need really is."
One evaluation tool that producers can use in making that decision are Expected Progeny Differences, or EPDs, which are the estimates of the genetic value of the parents to project the calf's performance. EPDs are estimated on a variety of traits among the beef breeds. The direct (CE or CED) and maternal calving ease (CEM or MCE) EPDs are often a consideration in heifer matings. The greater the number, the lower the risk for calving difficulty, Weaber said.
Calving ease EPDs are expressed in percentage units of unassisted births. For example, a bull with a calving ease EPD of 12 is expected to have 7% more unassisted births from first calf heifers than a bull with a CE EPD of 5.
"Calving ease is one of the first things to think about when selecting the types of bulls to breed heifers," said veterinarian Dr. Bob Larson. However, he cautioned that producers shouldn't just isolate their decision to that one criterion.
"Selecting for very high levels of calving ease will lead to lighter calf birthweights over time, and could lead to calf survival issues if taken to the extreme," Weaber said.

Calving Ease EPDs is one criterion for consideration when deciding heifer matings, say experts at K-State's Beef Cattle Institute. More information on this topic is available on a weekly podcast produced by the BCI.

He cited an example: "A bull with a calving ease EPD of 20 will typically sire calves with a shorter gestation and lighter birthweight than a bull with a calving ease EPD of 7. But there are potentially other problems to think about such as a light birthweight calf born in a snowstorm. The hypothermia issue is a much greater concern than the two assists a producer might have with a less extreme EPD."
Speaking about Angus sires, Weaber said that bulls in the 7-9 range for calving ease EPD (breed average) matched with heifers will have an expected dystocia rate in the single digits. In other words, the risk for calving difficulty is low.
The experts agreed it is important for producers to find a balance in the traits.
"A small breeder who is going to use the same bull on the heifers and mature cows shouldn't base the breeding decision solely on calving ease or they'll be disappointed in the performance of the offspring from those matings," Weaber said, noting that when speaking about performance, he is referring to the growth traits in the calves.
If females born to first-calf heifers bred to calving ease sires will be retained in the herd, Dr. Larson and Weaber advised that cow/calf producers include the maternal calving ease EPD in their decision.
Another factor to consider is the time of year the calves will be born.
"Calves born in the summer or fall tend to be lighter calves than calves born in the winter due to the seasonality affect," Dr. Larson said.
Weaber encouraged producers to use all their mating evaluation tools when planning for the optimum herd performance.
He said, "There has been enough advancement with genomics and selection that we can have really acceptable levels of calving ease with outstanding levels of performance. Don't immediately discount when buying a calving ease bull the performance of the calves coming from that mating. We can have both pieces today."
More information on this topic is available on a weekly podcast produced by the Beef Cattle Institute.
Regular features
Alumni Events, Development and Continuing Education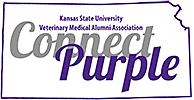 The Veterinary Medical Alumni Association organizes alumni receptions at several of the national annual conferences plus continuing education events and more. This month's section includes a bio on the upcoming Alumni Recognition Award to be presented at the VMX conference in Florida, a profile about an alumnus and a book he wrote about rural high schools, plus the monthly listings of recently departed alumni and links to their obituaries.
Read more ...
VMAA to recognize Dr. Osumundo Castilla at VMX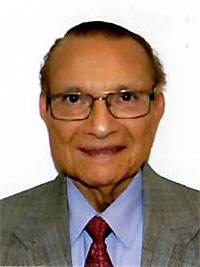 Dr. Osmundo Castilla, Miami, Florida, has been selected by the Kansas State University College of Veterinary Medicine's Alumni Association for its 2020 Alumni Recognition Award presented Jan. 19 in Orlando, Florida, during the annual Veterinary Meeting and Expo. The award is given to veterinarians whose careers have served as exemplary role models for future alumni in a professional and community setting.
Originally from Juigalpa, Nicaragua, Dr. Castilla graduated cum laude with a bachelor's degree in 1964 and his Doctor of Veterinary Medicine degree in 1966, both from Kansas State University. He also earned a master's degree from Cornell University in Ithaca, New York, in 1973.
Dr. Castilla retired in 2016 as senior staff veterinarian for the National Center for Import and Export (now Strategy and Policy) for Veterinary Services in the USDA's Animal and Plant Health Inspection Service in Riverdale, Maryland.
Dr. James Kenyon, DVM 1975; Golden Rule Days book
By Ron Wilson

"School days, school days, dear old golden rule days." That nostalgic song describes good memories which many people have from their school times of yesteryear. One author has captured the history of many schools from the past across the state of Kansas. It's today's Kansas Profile.
Dr. James Kenyon is the author of a recently published book which describes the history of 109 closed Kansas schools, including one in each county. James is himself a product of rural schools. He grew up on a farm in Graham County and graduated from Bogue Rural High School in 1966, one of a class of six people. James went on to Kansas State and became a veterinarian in the class of 1975, eventually practicing in the state of Iowa. He was named state veterinarian of the year and served as president of the Iowa Veterinary Medical Association before retiring.
James came back to Kansas for a 50-year reunion of his graduating class at Bogue. As he traveled through western Kansas, he thought about the various other schools where he had played ball. He looked into it and found that, of the 32 communities where he had played ball, all but one had lost its high school. That led him on a quest to capture the history of these rural schools. His goal was to cover the entire state.
James and family made 12 trips back to Kansas during 15 months. He visited lots of libraries, historical societies, city halls, community centers, and even local cafes for information.
In 2019, he published his book Golden Rule Days – History and Recollections of 109 Closed Kansas High Schools. The book includes schools in every one of the 105 counties in Kansas. In five counties, there were no high schools that closed, so he chose to tell the story of the last one-room schoolhouse or a rural grade school in those counties. There were four counties where he chose to include a second high school story, making a total of 109 in the book.
Each school is described with its name, town, mascot, school colors, location, year closed, and then many stories about the history of the school, buildings, athletics, unique factors, notable graduates, traditions, and more. These are fascinating anecdotes. The names of the communities span the alphabet from Alton to Zenda.
The introduction of James's book describes the change in school organization through the years. In the beginning, one-room schools sprang up across the state, typically teaching all eight grades in a single building. In 1874, Kansas mandated compulsory school attendance for children ages 8 to 14. In 1958, Kansas had 2,794 public school districts. The early 1960s were the era of school district consolidation. By 1969, there were only 311 unified school districts.
Not every high school closing was due to consolidation. Three towns were destroyed in the 1951 flood. Three more were displaced by the reservoirs that were built in response. For example, Randolph Rural High School is Riley County's entry in the book.
"Education was valued in every settlement," James wrote. At the beginning of the book, James thanks his Bogue high school teachers – and principal, cooks and custodian – by name, with a description of how each of them contributed to his education. "Kansas in the 1900s was a special time in history for small towns, their high schools, and a great education of life skills," James wrote. His original rural hometown of Bogue now has a population of 136 people.
Now, that's rural.
Dr. James Kenyon has published two additional books, The Art of Listening to the Heart and A Cow for College and Other Stories of 1950s Farm Life.
"School days, school days, dear old golden rule days." We salute Dr. James Kenyon for making a difference by capturing these memories of the golden rule days of yesteryear's Kansas high schools. He ended the book's introduction by quoting an excerpt of another poem, author unknown: "If you live and you work and develop your school, In spite of the fact it is small, You may find that your school – your own little school – Is the very best school after all."
Audio and text files of Kansas Profiles are available at http://www.kansasprofile.com. For more information about the Huck Boyd Institute, interested persons can visit http://www.huckboydinstitute.org.
Ron Wilson is director of the Huck Boyd National Institute for Rural Development at Kansas State University.
In Memoriam - Recently Departed Alumni (click highlighted names for obituary)
Dr. Wiley Bevis Tanner, DVM 1944
Dec. 10, 2019

Dr. Charles Samuel Byerly, DVM 1952
Dec. 16, 2019

Dr. Forrest H. Stockton, DVM 1953
June 16, 2019

Dr. Francis Earl Kaiser, DVM 1954
Dec. 17, 2019

Dr. Earl Eugene Gatz, DVM 1956
Nov. 28, 2019

Dr. William E. Birtell, DVM 1958
Dec. 16, 2019

Dr. Don B. Witcher, DVM 1960
Dec. 10, 2019

Dr. Eugene Earl Murphy, DVM 1962
Nov. 30, 2019

Dr. Boyd Elmer Burhoop, DVM 1962
Dec. 30, 2019

Dr. Paul Jay Tillotson, DVM 1964
Dec. 9, 2019

Dr. James Arthur Case, DVM 1967
Jan. 5, 2020

Dr. Gene Ray Kluck, DVM 1970
Nov. 22, 2019
Questions about Alumni or CE events?
Contact: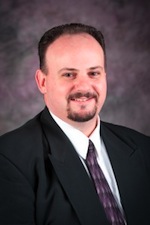 Tony Ballard
Alumni and Events Coordinator
785-532-4833
tballard@vet.k-state.edu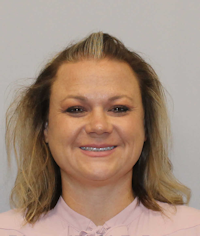 Sarah Keatley
Event Coordinator
785-532-4528
keatley@vet.k-state.edu
News Ticker
More activities and accomplishments in the College of Veterinary Medicine:
Drs. Emily Reppert and Nora Schrag presented at the Academy of Veterinary Consultants 2019 winter conference in Kansas City on Dec. 6 with a presentation titled, "Recent research related to use of Chlortetracycline (CTC) for Anaplasmosis control."

Dr. Mike Apley was appointed to a second term on the Presidential Advisory Council on Combating Antibiotic Resistant Bacterial (PACCARB) for an additional three years. His four years in his first term.

Dr. Bob Larson presented two talks, Calf Health and Nutrition for Beef Cows, at the Tri-State Beef Conference in Oberlin, Kansas, on Dec. 3. He also presented, "Irreproducible results is a problem for veterinary medicine" Dec. 7 at the Academy of Veterinary Consultants conference.

Dr. Megan Niederwerder delivered two talks as an invited keynote lecturer at the Annual Finnish Veterinary Association Congress in Helsinki, Finland on Dec. 12. The titles of her talks were "Role of the gut microbiome in porcine respiratory disease complex" and "Risk of feed in the introduction and transmission of viral diseases." She also delivered the invited keynote address at the South Dakota State University Swine Day in Brookings, South Dakota on Nov. 5. The title of her presentation was "Risk of African swine fever and other foreign animal diseases through feed." Highlights of her presentation have been published by several news outlets, including Tri-State Neighbor found here: https://www.agupdate.com/tristateneighbor/news/livestock/imported-feed-could-bring-african-swine-fever-to-u-s/article_fa8353fe-2b40-11ea-a015-1fbefe35885d.html Dr. Niederwerder was an invited speaker at the Feedinfo News Service Feed Additives Americas in Miami, Florida on Nov. 15. The title of her presentation was "The Relationship between Animal Health, Nutrition and the Microbiome."
Dr. Hans Coetzee was nominated and accepted to be a speaker for the National Coalition for Food and Agricultural Research 2020 Lunch–N–Learn Hill Seminar Series. The purpose of the seminar series is to inform Hill Staff and other policy stakeholders about the value of public investment in food and agriculture research.
Congrats to Molly Carstenson, CPhT (Compounding Manager), from the Veterinary Health Center Dispensary, who is now a Certified Compounded Sterile Preparation Technician (CSPT). Her certification allows the Dispensary to be able to bring this level of training and service to its patients. The Pharmacy Technician Certification Board (PTCB) recently began offering advanced training for pharmacy technicians in the area of sterile compounding, and Molly was ready to commit as soon as the training program launched.
SAVE THE DATE: The 2020 Dog N Jog 5K & 10K and 1-mile Pup Trot will be held Saturday April 4th in the morning (Official time to be announced at an upcoming date)! The event will be raising money for KSDS assistance dogs!

The Zoological Medicine Service presented a Teddy Bear Clinic to preschool students at the Sunset Zoo on Dec. 6. (Left to right) The VHC Team consisted of Sarah Quick (CVT), Kaylyn Hruska, Dr. James Carpenter, Mary Post and Tallin LaRue.


Faculty members from the Sokoine University of Agriculture visited the CVM in January for a special workshop as part of the ongoing twinning program between Sokoine and K-State. Above, Dr. Rudovick Kazwala talks about the ecology of wildlife diseases in Tanzania, where Sokoine is located.
Dr. Mike Dryden, also known as "Dr. Flea," received a thank-you plaque from the Class of 2022 for his outstanding teaching skills. He has also recently published a new book, "Top 100 Questions and Answers about Fleas and Pets." Dr. Dryden is the course coordinator of second-year DMP Veterinary Parasitology.
Purple Pantry
The CVM recognizes food insecurity is a reality for a proportion of our students, house officers and staff. At the university level, this challenge has been addressed by Cats Cupboard, but it is underutilized by CVM personnel due to distance and hours of operation. The CVM has worked with Cats Cupboard to establish a satellite food pantry in the CVM called the Purple Pantry. The Purple Pantry takes food donations during regular business hours at 001 Trotter Hall.
Examples of recommended non-perishable food items for donation: Canned tuna, canned chicken, canned beans (black, pinto, garbanzo), peanut butter, whole wheat pasta, plain oatmeal, plain cream of wheat, brown rice, quinoa, canned vegetables, canned fruit, tomatoes (diced, sauce, paste), canned soup, granola bars, cooking oils, and microwave meals.
A giving link has been also set up for the Purple Pantry where you can make financial donations to support this effort: https://give.evertrue.com/ksu/purplepantry
Thank you for supporting CVM family members in need!
New Arrivals/Recent Departures
Click here to see the New Arrivals/Recent Departures at the CVM ...
Welcome to:
Samantha Briscoe, Veterinary Health Center, Veterinary Nurse II
Christopher Chandler, Veterinary Diagnostic Laboratory, Laboratory Technician
Jonathan Ferm, Diagnostic Medicine/Pathobiology, Research Assistant
Dr. Phillip Lancaster, Clinical Sciences, Faculty - Research Assistant Professor
Sydney Kudritzki, Veterinary Health Center, Veterinary Nurse I
Kristine Richardson, Clinical Sciences, Laboratory Administrator
Selena Franqui, Veterinary Diagnostic Laboratory, Laboratory Client Services Assistant
Chase Minihan, Veterinary Diagnostic Laboratory, Laboratory Client Services Assistant
Dr. Vien O, Clinical Sciences, Faculty - Clinical Assistant Professor
Wenyu Yang, Diagnostic Medicine/Pathobiology, Research Associate
Christine Duvendack, Veterinary Health Center, Admin Director, Veterinary Health Center
Farewell to:
Taeyong Kwon, Diagnostic Medicine/Pathobiology Unclassified, Research Assistant
Dr. Ram Raghavan, Veterinary Diagnostic Laboratory, Clinical Assistant Professor
Anushka Karote, Veterinary Diagnostic Laboratory, Research Assistant
Clare Sweeney, Veterinary Diagnostic Laboratory, Research Assistant
Qinghong Ran, Veterinary Diagnostic Laboratory, Research Assistant
Arthi Subramanian, Organizational Support Services, Applications Developer II
Lindsey Howard, Veterinary Diagnostic Laboratory, Research Assistant
Federica Higa, Veterinary Diagnostic Laboratory, Laboratory Client Services Assistant
Amy Lyons, Diagnostic Medicine/Pathobiology, Research Associate
Lifelines is published each month by the Marketing and Communications Office at the College of Veterinary Medicine. The editors are Joe Montgomery, jmontgom@vet.k-state.edu, and Piper Brandt, pnbrandt@vet.k-state.edu.
Lifelines index

Download Lifelines LITE (this is a condensed legal-sized PDF and has less information than above)