December 2019 - Vol. 14, No. 12
Top Stories
Uncovering the mysteries behind Parkinson's disease
Dr. Yulan Xiong receives $1.6 million NIH R01 grant
By Cheyenne Swoope
A new research grant for Dr. Yulan Xiong, assistant professor of anatomy and physiology at the College of Veterinary Medicine, focuses on gaining a better understanding of the physiological causes of Parkinson's disease. The National Institute of Neurological Disorders and Stroke awarded Xiong with more than $1.6 million for a five-year project, "Molecular regulation of LRRK2 in Parkinson's disease."
Read more ...
This award is from the research project grant program R01 at the National Institutes of Health.
Besides this NIH R01 grant, Dr. Xiong's work in Parkinson's disease is also supported by an NIH K01 Mentored Research Scientist Development Award and several awards from well-recognized foundation agencies including Parkinson's Foundation Stanley Fahn Junior Faculty award, Willam N. and Bernice E. Bumpus Foundation Innovation award, and American Parkinson's Disease Association (APDA) research grant.
"According to the National Institutes of Health, 1 million people in the United States are suffering from Parkinson's disease," Dr. Xiong said. "Unfortunately, there is no cure or proven therapy for this disease."

Parkinson's disease is recognized as the most common movement disorder affecting up to 1% of the population above the age of 60 and 4-5% above the age of 85.

"The cardinal symptoms of the disease are caused by the loss of brain cells — called dopaminergic neurons — in the midbrain and deficits in the striatum, which is the area of the brain that controls motor function and reward systems," Dr. Xiong said.

Mutations in the Leucine-rich repeat kinase 2 gene, or LRRK2, account for up to 40-50% of Parkinson's disease in certain populations and are the most known common causes for the disease, Dr. Xiong said.

"Given its strong genetic links and compelling drug ability, LRRK2 represents a clear target for therapeutic development," she said. "But how the function of LRRK2 is regulated in Parkinson's disease is poorly understood."

The objective of Dr. Xiong's study is to answer that question. Her group will first identify and characterize the key regulator for the LRRK2 gene, then determine how it regulates LRRK2 cellular function, and explore how this regulation affects LRRK2 function in striatum and related motor function in mammalian model systems.

"We believe new knowledge about this aspect of LRRK2 biology will advance our understanding of the physiologic and pathophysiologic actions of LRRK2," Dr. Xiong said. "We hope it leads to the potential identification of novel targets for future pharmacologic intervention and treatments for Parkinson's disease.
CVM hosts fifth Cochran Fellowship Program with Caribbean trade officials
By Piper Brandt
Faculty from the College of Veterinary Medicine and the College of Agriculture recently hosted a group of trade officials from the Caribbean during a two-week-long Cochran Fellows training event focused on food safety and trade regulations.
The Cochran Fellowship Program, sponsored by the USDA, offers training opportunities to agricultural professionals from middle-income countries and emerging markets and democracies.
Click to read ...

Cochran Fellows tour the USDA Animal and Plant Health Inspection Service, or APHIS, in Riverdale, Maryland. From left to right: Dr. Justin Kastner, Tricia Amedee, Ezra Ledger, Charis Auguste-Powell, Catherine Johnson, Carl Edwards, Adam Scheinkman, Carla Schwan and Danielle Preskitt.

Its goals include helping eligible countries to develop their own agricultural systems that meet the food needs of their populations, and to enhance their trade relationship with the United States.
Dr. Justin Kastner, associate professor of diagnostic medicine and pathobiology, led the trip to several sites alongside Dr. Jessie Vipham, assistant professor in the Department of Animal Sciences and Industry.
"The Cochran Fellowship is a wonderful opportunity for K-State to engage with professionals from around the world, and to have the opportunity to learn about the challenges they face and the opportunities that exist," Dr. Vipham said.

The KSU team pauses for a picture with the Caribbean Cochran fellows at the Hugh Taylor Birch State Park north of Miami. Pictured, L to R, are: Gabriela Boccatto (KSU graduate student); Justin Kastner (KSU faculty member); Carl Edwards (Grenada); Francis Noel (Grenada); Jessie Vipham (KSU faculty member); Carla Schwan (KSU graduate student); Jim Stack (KSU faculty member); Katheryn Gregerson (KSU undergraduate student); Charis Auguste-Powell (St. Lucia); Valentina Trinetta (KSU faculty member); Catherine Johnson (Grenada); Tricia Amedee (St. Lucia); and Ezra Ledger (St. Vincent and the Grenadines).
This year's group of Fellows included regulatory and trade officials from St. Vincent and the Grenadines, Grenada and St. Lucia.
"Fellows participated in a combination of events in Washington, D.C.; Manhattan and Kansas City, Kansas; St. Joseph, Missouri; and multiple places in Florida," Dr. Kastner said. "We facilitated a variety of meetings with policy and regulatory officials from the likes of the USDA, FDA, APHIS, CBP and FAS."
Carla Schwan, Ph.D. student in food science and main teaching assistant for the trip, presented lectures and led discussions with the Fellows.
"The goal of this program is about providing experiences and knowledge, and sharing past and future objectives with the country you're helping, in terms of trade and regulations in food policy and safety," Carla said. "In the case of exports, we see how they comply with regulations in order to import or export to the US and how to be successful in that sense. So, we are creating or improving that relationship if there is not already one established."
In St. Joseph, Missouri, the Fellows toured a pork processing facility, where they met with a meat scientist in charge of quality assurance and learned how to create a product in compliance with USDA regulations.
The Fellows also visited Woodyard BBQ in Kansas City, Kansas for a group dinner and food safety lecture from Dr. Danny Unruh, a former Ph.D. student under Dr. Kastner.
Tours in Florida encompassed the produce and seafood side of food safety, with visits to a tomato packing house and to Seafarers, a high-tech seafood processing operation that uses HPP, or high pressure processing.
"When we were at Seafarers, it was processing crab meat," Carla said. "How this works is through gigantic equipment filled with water and small containers of crab meat. Because of the amount of water that is inside, the pressure that is created against the crab meat destroys any pathogens. The amount of water put into the tank is equivalent of 24 elephants standing on top of those little containers."
Other guest speakers from K-State included Dr. Valentina Trinetta, assistant professor in animal sciences and industry, Dr. Jim Stack, professor of plant pathology, and Drs. Abbey Nutsch and Sara Gragg, associate professors in the Food Science Institute.
The past five Cochran trips led by Dr. Kastner and CVM faculty have included Fellows from Thailand, Egypt, Central America and East Africa.

Ezra Ledger, Tricia Amedee and Charis Auguste-Powell discuss food safety at a meeting in Mosier Hall.

Dr. Peddireddi receives KVMA Service Award
Dr. Lalitha Peddireddi, associate professor and section head for the Molecular Diagnostic Laboratory at CVM, was awarded the Kansas Veterinary Medical Association's 2019 Distinguished Service Award.
Dr. Eilene Minnix, the outgoing president of the Kansas Veterinary Medical Association, presented the award to Dr. Peddireddi at the association's conference.
Click to read ...

Dr. Eilene Minnix (right) presents the 2019 Distinguished Service award to Dr. Lalitha Peddireddi.
Dr. Peddireddi earned the award for her outstanding service to the Kansas veterinary profession. She provided testing for foreign animal diseases during investigations of a potential outbreak. It was noted that regardless of what time of day or what day of the week the samples arrive at her lab, she and her staff immediately completed the testing to provide the results to the veterinarians as fast as possible.
Dr. Peddireddi's research focus is to develop and validate PCR-based molecular diagnostic assays for use in routine diagnostic setting to detect veterinary pathogens and those of zoonotic importance. Her special interest lies in development of molecular-based detection assays to identify vector-borne veterinary pathogens.
In addition, she works on molecular diagnostic projects in collaboration with industry partners. These projects are primarily intended to develop and validate real-time RT-PCR based assays to diagnose a variety of veterinary pathogens including those of zoonotic potential.
More Headlines
USDA ARS grants help combat swine and cattle disease
By Piper Brandt
The USDA Agricultural Research Service (ARS) has recently awarded grants totaling nearly $1 million to three new research projects within the College of Veterinary Medicine.
The three projects confront high-priority diseases in both cattle and swine.
Read more ...

Cattle and swine health are the focus of three new research grants in the CVM supported by the USDA's Agricultural Research Service.
The first grant is titled "Evaluation of Novel Foot-and-Mouth Disease Virus Vaccine Candidates with Broad Breadth of Protection - Phase II," by Dr. Juergen Richt, Regents distinguished professor and director of the Center of Excellence for Emerging and Zoonotic Animal Diseases.
"Simulation Modeling of Foot-and-Mouth Disease Outbreaks in Livestock in the U.S." is led by Dr. Mike Sanderson, professor of epidemiology and associate director of the Center for Outcomes Research and Epidemiology. "Actions Supporting the Development of an African Swine Fever Virus Live Attenuated DIVA Vaccine," is under the direction of Dr. Jishu Shi, professor of vaccine immunology.
Both Dr. Sanderson's and Dr. Richt's research focuses on foot-and-mouth disease, or FMD, a disease primarily affecting livestock production in many regions of the world, including much of Asia and Africa.
"Foot-and-mouth disease is a high-priority transboundary disease that would severely impair livestock health and production if introduced to the U.S.," Dr. Sanderson said. "The goal of this research is to model outbreak and control scenarios in the U.S. to improve preparedness and identify optimal disease response strategies to mitigate the impacts of a potential FMD outbreak."

Drs. Mike Sanderson, Jishu Shi and Jürgen Richt.
Because FMD virus is antigenically diverse, Dr. Richt emphasized how vaccines must be matched to target certain viral isolates in order to be effective.
"The objective of this research project is to support the development of novel FMDV vaccine candidates and determine their immunogenicity in its natural host," Dr. Richt said. "It will also contribute to generate new knowledge on next generation FMDV vaccines, with broader activity that will ultimately help to prevent and control FMD."
Dr. Shi's research is centered on the development of control strategies against African Swine Fever Virus, or ASFV, a threatening swine disease that has become a major issue in China and other Asian countries.
"The collaboration with USDA ARS is a valuable partnership for us in ASF vaccine research and highlights the importance of the K-State Biosecurity Research Institute as a key facility for K-State researchers working on high-consequence animal diseases," Dr. Shi said. "It will strengthen our capability in research that will be related to the National Bio and Agro-Defense Facility (NBAF) and provide new impetus for our long-standing partnership with USDA ARS research scientists."
The two objectives of Dr. Shi's project are: the development of accompanying "differentiation of infected from vaccinated animals," or DIVA, tests for the ASFV live attenuated DIVA candidate developed by the ARS, and the development of a stable cell line supporting the replication of those vaccine candidates.
By Piper Brandt
Dr. Roman Ganta, K-State veterinary professor, ventured to Thailand in early November to speak at the 2nd Asia-Pacific Rickettsia Conference and foster collaboration with Kasetsart University in Bangkok. Held in Chiang Rai, Thailand, the conference convenes medical doctors, veterinarians and public health professionals.
Click to read ...

Dr. Roman Ganta speaks at the 2nd Asia Pacific Rickettsia Conference in early November.

The meeting focuses on rickettsiae and rickettsial diseases, a major cause of illness in humans and animals throughout the world, including in the Asia-Pacific region.
Dr. Ganta, who is director of the Center of Excellence for Vector-Borne Diseases, or CEVBD, presented his research, "Rickettsia rickettsii whole-cell antigen vaccine offers protection against virulent pathogen infection challenge."
"I interacted with scientists attending the conference from various parts of the world, particularly those working on a disease of importance to Asia Pacific region, scrub typhus, which is caused by the chigger-borne rickettsial pathogen, Orientia tsutsugamushi," Dr. Ganta said. "Scrub typhus is an important disease with high fatality rates in people, and it is of great concern for the U.S. military personnel stationed in Asia-Pacific regions."

Dr. Roman Ganta visits with students at Kasetsart University.
Afterward, Dr. Ganta visited Kasetsart University to discuss collaboration on mutual research interests with Dr. Sathaporn Jittapalapong, dean of faculty of veterinary technology.
"Dr. Jittapalapong is an internationally recognized researcher whose research focus is also on tick-borne diseases of importance to companion and agricultural animals," Dr. Ganta said. "He works on the development of anti-tick vaccines for use in Thailand and other research areas of mutual interest at the Center of Excellence for Vector-Borne Diseases."
Dr. Ganta also gave a lecture to faculty, scientific staff and students on his current research, "Mutagenesis in Ehrlichia and Anaplasma species aids in studies focused on pathogenesis and vaccine development."
Students compete at animal welfare contest
Four veterinary students and seven undergraduate students from Kansas State University recently traveled to Colorado State University to compete in the 19th annual Animal Welfare Assessment Contest.
Students were evaluated on their virtual assessments of two facilities to determine which animals had the better welfare.
Read more ...

Dr. Angela Baysinger from Merck and Dr. Cia Johnson from the AVMA (far right) present the third-place award to the K-State team consisting of third-year student Gemma Isermann, and second-year students Ron Orchard, Emily Eppler, Cassandra Kroncke.
The species assessed were: broiler chickens, laboratory zebrafish and captive African painted dogs. Additionally, the teams completed a live assessment of a slaughter facility.
"[The contest] gave us an opportunity to develop critical thinking, evaluation and public speaking skills utilizing scientific data when assessing and presenting on the scenarios," Gemma Isermann said, second-year student and participant on the veterinary student team. "On top of that, the networking with my coaches, teammates and the judges at the event was amazing!"
Twenty-five schools competed in the contest, and in the veterinary student division, the Kansas State University veterinary student team took third place.
"This is a huge accomplishment for us and demonstrates the commitment and dedication our students have at this college and how important the topic of animal welfare is," said Dr. Abbie Viscardi, research assistant professor and the teams' coach. "I could not be prouder of this group of students!"
After having a successful competition, Dr. Viscardi said the teams wanted to leave an impact that would emphasize the importance of animal welfare beyond a competitive setting, so they donated to the World Wildlife Fund (WWF) to support African painted dog conservation in the wild.

Our undergraduate team speaking with Dr. Temple Grandin. From left to right: FRONT- Abby Dercher, Maggie Yuille, Bree Hargis, Kylie Perez; BACK- Brad Hill, Casey Allen (somewhat hidden), Tessa van Buren.
Dr. Jürgen Richt shares regional award for work on swine flu vaccine
Congratulations to Dr. Jürgen Richt, director of the Center of Excellence For Emerging and Zoonotic Animal Diseases at the Kansas State University College of Veterinary Medicine, who has been named as a co-recipient of an award for his work in technology transfer.
Read more ...

Dr. Jürgen Richt shows the Midwest Area Award for Excellence in Technology Transfer for research on swine influenza vaccines.
Dr. Richt, Regents distinguished professor of diagnostic medicine and pathobiology and KBA eminent scholar, and Dr. Kelly Lager with the U.S. Department of Agriculture received the Agricultural Research Service Midwest Area Award for Excellence in Technology Transfer for research on swine influenza vaccines.
The two were recognized by the USDA's Midwest Agricultural Research Service for their work on development of a new vaccine against swine flu, a disease of pigs that causes up to $150 million in damage to the U.S. pork production industry annually. The vaccine, which is sold under the trade name Ingelvac ProvenzaTM, is licensed to Boehringer Ingelheim Vetmedica Inc.
The vaccine can be used in newborn piglets even in the presence of maternal influenza antibodies.

To address the need for an improved vaccine against swine flu, ARS scientists teamed up with researchers at the Icahn School of Medicine at Mount Sinai and the St. Jude Children's Research Hospital to develop and demonstrate the efficacy of the first attenuated live influenza A virus vaccine for use in swine.

U.S. and foreign patent applications were filed for this technology, which were subsequently licensed to Boehringer Ingelheim Vetmedica. Because this was a unique platform for swine influenza A vaccines, additional experimentation to demonstrate safety and efficacy was required for approval by the USDA Animal and Plant Health Inspection Service's Center for Veterinary Biologics for the attenuated live virus vaccine.
Boehringer Ingelheim Vetmedica subsequently launched the commercial vaccine in 2018.
Richt was particularly recognized for his expertise in zoonotic virus research and molecular skills, which were necessary to complete the in vitro studies to demonstrate attenuation and replication efficacy of the influenza vaccine construct. He was also recognized for his involvement in the in vivo studies that demonstrated the attenuation, efficacy and utility of the influenza vaccine prototype.
Beyond that, he also contributed to the technology transfer efforts through completing additional studies supporting the safety and efficacy and potential application of the influenza vaccine prototype and transferred the results through scientific publications, as well as oral presentations at scientific and stakeholder meetings.
Cow-calf producers, stocker operators and feedlot managers all have the same end goal in mind: raise high quality beef profitably. Experts at the Kansas State University Beef Cattle Institute say there are many ways that producers can do that successfully.


Read more ...

According to the Beef Cattle Institute, managing feed and health costs while optimizing marketing strategies are keys to success.
Stocker cattle are typically newly-weaned calves weighing between 300 and 800 pounds. They are often co-mingled with other calves and developed on a forage-based system with some feed supplementation before moving to the feedlots for finishing.
"Successful stocker operators do a good job of buying and selling the cattle, while keeping them healthy at an effective cost of gain," said K-State veterinary medicine professor Bob Larson.
In respect to the markets, agricultural economist Dustin Pendell advises stocker operators to follow a buy low, sell high strategy. "There are a lot of considerations to include such as pricing inputs, output price and marketing strategies," he said. "Producers need to have a risk management strategy when purchasing inputs and selling calves."
Once the cattle arrive, identifying the appropriate feedstuffs is also going to be key to an operator's success, according to Larson. "It is not just pricing feed on a per pound of feed basis, but looking at how much growth can come from that feed source."
For some operations, it may be more cost effective to calculate a slower rate of gain by feeding a forage-based diet, and for others more feed supplementation may be needed to provide adequate nutrients for a faster gain.
K-State Research and Extension cow-calf specialist Bob Weaber also said there is another reason for supplementation. "Following a higher rate of gain may also allow operators to meet a marketing window due to the seasonality of feeder calves," he said.
Along with market price considerations and feeding strategies, the experts agreed that it is vital to follow a health protocol for the calves.
"It is important to establish a logical plan of first and second treatments," Larson said. "The veterinarian is going to help select an antibiotic that is a good match for the bacteria that is causing the disease."
Another part of the plan is to outline treatment frequency, and establish a second protocol for those that don't respond to the initial treatment.
Larson stressed the importance of sticking with the treatment plan. "This is a protocol. Treat every animal the same so we can evaluate if this protocol is working," he said.
More information on this topic is available on a weekly podcast produced by the Beef Cattle Institute.
Regular features
Alumni Events, Development and Continuing Education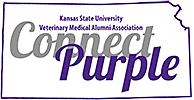 The Veterinary Medical Alumni Association organizes alumni receptions at several of the national annual conferences plus continuing education events and more. This month's section includes pictures from the recent AAEP reception, a special updated from an alumna in China, and listings for recently departed alumni.
Read more ...
Scenes from the AAEP reception

An alumni reception was held in Denver on Dec. 9 in conjunction with the annual AAEP conference. Thanks to all who turned out. Watch for updates on upcoming conferences.
Alumna teaches veterinary students in China
By Dr. Yaoqin Shen

Dr. Yaoqin Shen (center) supervises work in the lab at Huazhong Agricultural University in China.
My name is Dr. Yaoqin Shen. I am currently an associate professor in the College of Veterinary Medicine at Huazhong Agricultural University in China. I was also one of the first group of US China DVM scholarship winning students.
My main job within the college now is teaching, research and clinical work. My primary teaching subject is veterinary internal medicine, which covers all topics about internal medicine. This includes 48 hours of lectures and 20 hours of lab work training in total. Because of the shortage of lecturers and large number of students, I need to repeat the lectures twice and lab work four times in the fall semester. Other courses including electives such as animal nutrition and metabolic diseases and some graduate student courses.
Each semester is about 18 weeks in total, and there are two weeks for exams only and one week for a a national holiday break. My lecture load is about eight hours per week for internal medicine and internal medicine lab is about five hours per week.
For published research work, I have two articles as sole corresponding author and four as co-corresponding author for a total of six papers in the publication process.
My group just published its latest paper titled "Recovery of chicken growth plate by Tanshinone II A through a wnt/β-catenin pathway in thiram-induced Tibial Dyschondroplasia" in the journal of Ecotoxicology and Environmental Safety.
In this research, we found TanshinoneⅡA, a main component of a Chinese traditional herb, can potentially treat tibial dyschondroplasia (TD) in chickens, which is a severe metabolic disease in the avian industry and causes huge economic loss. By affecting the expression of genes in wnt/β-catenin pathway it is useful as a treatment for TD broilers. This finding can bring us a novel way to treat TD in the avian industry.

Dr. Shen delivers a lecture to her class.
In Memoriam - Recently Departed Alumni (click highlighted names for obituary)
Dr. Sayed M. Gaafar, DVM 1950
Oct. 28, 2019

Dr. Norman Pang, DVM 1956
April 20, 2019

Dr. John Russell Philip, DVM 1962
Oct. 29, 2010

Dr. Orival Wayne Linder, DVM 1960
Nov. 28, 2019

Dr. James John Ketzner, DVM 1966
Sept. 17, 2017

Dr. J. Eileen Hough Warner, DVM 1968
Nov. 14, 2019
Dr. Gene R. Kluck, DVM 1970
Nov. 22, 2019
Dr. Steven L. Stockham, DVM 1972
Nov. 14, 2019

Dr. Kim Jackson Bodily, DVM 1978
Nov. 1, 2019
Questions about Alumni or CE events?
Contact: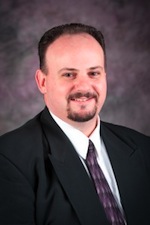 Tony Ballard
Alumni and Events Coordinator
785-532-4833
tballard@vet.k-state.edu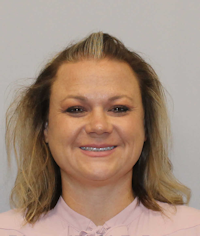 Sarah Keatley
Event Coordinator
785-532-4528
keatley@vet.k-state.edu
News Ticker
More activities and accomplishments in the College of Veterinary Medicine:
Dr. Thomas Schermerhorn presented three lectures at the New York Veterinary Conference, held Nov. 7-8. His presentations were: "Beyond the curve: monitoring diabetic patients," "Clinical pathology clues to endocrinopathies" and "Essential guide to insulins: How do I choose?"
Dr. Raghavendra Amachawadi presented, "Fecal prevalence of the top-7 Shiga Toxin-Producing Escherichia coli in finisher pigs," at the Conference of Research Workers in Animal Diseases (CRWAD) meeting in Chicago, Illinois, held Nov. 2-5.
Drs. Dana White, Walter Renberg, James Roush, Mackenzie Hallman, Daniela Mauler and George Milliken published, "Flexed radiographic angles for determination of atlantoaxial instability in dogs," in the ACVS Veterinary Surgery Journal.
Dr. Jessica Meekins presented two research abstracts at the American College of Veterinary Ophthalmologists (ACVO) Annual Meeting Nov. 6-9 in Maui, Hawaii. The titles of her abstracts are "Use of an episcleral cyclosporine implant to treat presumed immune-mediated keratitis in an adult parma wallaby" and "Using the CBVE Framework and Entrustable Professional Activities to teach clinical ophthalmology."
Dr. Laurie Beard provided continuing education presentations at the 14th Annual Equine Specialty Hospital Conference in Burton, Ohio Nov. 7-8. She presented two lectures, "How to deal with a Strangles outbreak," and "Vestibular Disease in Horses."
Dr. Brian Lubbers participated in a roundtable event titled, "Animal Health – examining antimicrobial stewardship progress in managing antibiotic use and potential AMR in Animal Health" at the World Anti-Microbial Resistance Congress in Washington, D.C., Nov. 7-8.
Drs. Chris Blevins and Bruce Whittle (from Missouri) lectured and delivered wet labs for over twenty veterinary students attending Utah State University (joint veterinary program with Washington State University) at the American Association of Equine Practitioners (AAEP) Equine Dental workshop.
Kind Hearts celebration


Fourth-year students Dalton Beard and Emma Winkley talk about their education at K-State and the importance of scholarships, while Dr. Kenneth Harkin asks about memorable moments during the students' time at K-State. The panel was held during the annual Kind Hearts celebration at the KSU Foundation.
Dr. David Eshar shared news that the 2019 December issue of the American Journal of Veterinary Research (AJVR) published three different papers reflecting his research work on three different species:
https://avmajournals.avma.org/toc/ajvr/80/12
Eshar, D., & Beaufrère, H. (2019). Anesthetic effects of dexmedetomidine-ketamine-midazolam administered intramuscularly in five-striped palm squirrels (Funambulus pennantii). American journal of veterinary research, 80(12), 1082-1088.
Eshar, D., Huckins, G. L., Shrader, T. C., & Beaufrère, H. (2019). Comparison of intramuscular administration of alfaxalone-ketamine-dexmedetomidine and alfaxalone-butorphanol-midazolam in naked mole-rats (Heterocephalus glaber). American journal of veterinary research, 80(12), 1089-1098.
Ross, E., Thomason, J. D., Browning, G. R., Beaufrère, H., & Eshar, D. (2019). Comparison of the effects of a dexmedetomidine-ketamine-midazolam anesthetic protocol versus isoflurane inhalation anesthesia on echocardiography variables and plasma cardiac troponin I concentration in black-tailed prairie dogs (Cynomys ludovicianus). American journal of veterinary research, 80(12), 1114-1121.
"This is a leading and a highly valued professional veterinary journal, and we are extremely happy that they chose to publish our work efforts," Dr. Eshar said. "Other than developing safe and effective anesthesia protocols in exotic species, these studies involved several KSU-CVM/VHC house-officers and students, and this work helped improve their clinical skills and promote their development as researchers."
The Shelter Medicine Program was involved in an outreach event in the Lakeshore Estates subdivision in Topeka the weekend of Nov. 1-3. There were nine organizations involved, led by our regional Trap Neuter Release partner, Topeka Community Cat Fix, where they trapped, spayed/neutered and vaccinated 115 cats in the community! Thanks to all the CVM participants: Surgeons: Dr. Brad Crauer and Intern Dr. Jason Banning, fourth-year veterinary students: Katelyn Banks, Emma Winkley, Kaitlyn Doolittle, Kindall Shenefield. Support: Shelter Med Nurse Kelsey Decker and Sami Moon. Underclass Veterinary Students: Ron Orchard, Sami Moon, Ellie Holtaway, Elin Maki and Brooke Bailey.
Holiday Happenings

The K-State Mobile Surgery Unit received a festive makeover for the Mayor's Spirit of the Holidays Lighted Parade on Dec. 6. Students handed out information about the Shelter Medicine Program and Pet Friendly license plates to folks on the parade route.
First U.S. certificate program in animal health regulatory affairs now available

Kansas State University's Olathe campus is now offering a premier graduate certificate designed for the regulatory affairs sector of the animal health industry.

The Animal Health Regulatory Affairs Graduate Certificate is a 15-credit hour program that combines the knowledge of animal science and veterinary medicine with skills needed to navigate governmental processes and regulations throughout the product lifecycle. The certificate is based on industry input and tailored to industry needs.

K-State Olathe's Animal Health Regulatory Affairs Graduate Certificate is the first graduate certificate in the U.S. to focus solely on animal health regulatory affairs.

Regulatory affairs is a critical component of the growing animal health industry, said Dr. Bill Zollers, vice president for regulatory affairs for North America at Norbrook Inc.

"There is a continuous demand for highly educated professionals who specialize in regulatory affairs," Dr. Zollers said. "That demand for talent won't ever slow down. If anything, the need is increasing as the industry continues to discover new pharmaceuticals, therapeutics and products that improve animal health."
While a career demand exists for employees who specialize in animal health regulatory affairs, there is often a skills gap, said Stacy Pursell, founder and CEO of The VET Recruiter — an executive search and recruitment firm concentrating on the animal health industry. Pursell also is a Certified Employee Retention Specialist, or CERS, and a Certified Personnel Consultant, or CPC.
"As a recruiter, this is a challenging job position to fill because most companies are seeking professionals with experience," Pursell said. "However, some who are currently in the animal health industry are not yet qualified."
The continuous need for highly educated employees has led to companies investing significant resources and time into developing "homegrown" talent," Pursell said. However, this "homegrown" education has led to most employees specializing in one of the three federal agencies that oversee animal health products rather than having a robust knowledge about the regulations and practices required by all three federal agencies.

"Our program seeks to rectify that knowledge gap that comes with this siloed grooming process," said Dr. Gary Anderson, director of the Animal Health and Food Safety Institute at K-State's Olathe campus. "Among the regulatory knowledge taught, three separate courses focus on the Food and Drug Administration, Environmental Protection Agency and the U.S. Department of Agriculture. This means graduates exit with not only broader and deeper knowledge about regulatory affairs, but they also are more familiar with each of the three federal agencies that oversee animal drug, vaccine and pesticide development."

To ensure the curriculum is relevant and applicable, courses are taught by faculty who have industry backgrounds. Courses also incorporate industry professionals with regulatory experience to lead in-depth discussions on key topics.

The certificate is open to professionals from all backgrounds, not just those in animal health.

Learn more about the Animal Health Regulatory Affairs Graduate Certificate at olathe.k-state.edu/regaffairscert.
Purple Pantry
The CVM recognizes food insecurity is a reality for a proportion of our students, house officers and staff. At the university level, this challenge has been addressed by Cats Cupboard, but it is underutilized by CVM personnel due to distance and hours of operation. The CVM has worked with Cats Cupboard to establish a satellite food pantry in the CVM called the Purple Pantry. The Purple Pantry takes food donations during regular business hours at 001 Trotter Hall.
Examples of recommended non-perishable food items for donation: Canned tuna, canned chicken, canned beans (black, pinto, garbanzo), peanut butter, whole wheat pasta, plain oatmeal, plain cream of wheat, brown rice, quinoa, canned vegetables, canned fruit, tomatoes (diced, sauce, paste), canned soup, granola bars, cooking oils, and microwave meals.
A giving link has been also set up for the Purple Pantry where you can make financial donations to support this effort: https://give.evertrue.com/ksu/purplepantry
Thank you for supporting CVM family members in need!
New Arrivals/Recent Departures
Click here to see the New Arrivals/Recent Departures at the CVM ...
Welcome to:
Garrett Coash, Veterinary Diagnostic Laboratory, Animal Medical Technologist
Veronica Herron, Veterinary Diagnostic Laboratory, Research Assistant
Dr. Juan Almaraz, Veterinary Health Center, Medical Resident Year I
Dr. Ignacio Fernandez Sainz, Diagnostic Medicine/Pathobiology, Fellow (Post Doc)
Travis Foland, Diagnostic Medicine/Pathobiology, Research Assistant
Edward Bird Jr., Veterinary Diagnostic Laboratory, Research Assistant
Farewell to:
Kirsten Chapman, Veterinary Health Center, Veterinary Nurse I
Cathy Pederson, Diagnostic Medicine/Pathobiology, Research Assistant
Dr. David Vierra, Diagnostic Medicine/Pathobiology, Fellow (Post Doc)
Dr.Ying Wang, Diagnostic Medicine/Pathobiology, Research Assistant Professor
Lifelines is published each month by the Marketing and Communications Office at the College of Veterinary Medicine. The editors are Joe Montgomery, jmontgom@vet.k-state.edu, and Piper Brandt, pnbrandt@vet.k-state.edu.
Lifelines index

Download Lifelines LITE (this is a condensed legal-sized PDF and has less information than above)