May 2019 - Vol. 14, No. 5
Top Stories
Two Kansas State University veterinarians and leaders — Drs. Nancy and Jerry Jaax — and their response to a novel Ebola strain outbreak have inspired the upcoming National Geographic limited series, THE HOT ZONE.
Kansas State University hosted an advance screening of the premiere of THE HOT ZONE May 7 followed by a panel discussion with the real-life subjects of the series.
Click to read ...
| | |
| --- | --- |
| | |
| | Drs. Nancy and Jerry Jaax greet family and friends at the advance screening of THE HOT ZONE held at the K-State Student Union. |
| | |
Drs. Nancy and Jerry Jaax, DVM classes of 1973 and 1972 respectively, answered question from the audience along with the showrunners, writers and executive producers Brian Peterson and Kelly Souders.
The six-part limited series premieres on National Geographic at 8 p.m. on Monday, May 27, and will air over three nights. Julianna Margulies plays Lt. Col. Nancy Jaax and Noah Emmerich plays Lt. Col. Jerry Jaax.
THE HOT ZONE is based on the 1994 best-seller by Richard Preston and is inspired by the true story of the arrival of Ebola on U.S. soil in 1989 in Reston, Virginia.
The story involves two prominent Kansas State University leaders: Nancy and Jerry Jaax. Both graduated with veterinary medicine degrees from the university and served with the U.S. Army Veterinary Corps, during which time they became involved in the events depicted in the series.
Following the events of 1989 and after stellar military careers, Jerry and Nancy returned to Manhattan. Jerry joined the university and served in a prominent research leadership position to further the university's biodefense mission. Nancy participated in innumerable infectious disease initiatives at the university.
Both Jerry and Nancy played important roles in the development of Kansas State University's biocontainment facility called the Biosecurity Research Institute, or BRI, at Pat Roberts Hall.
"Nancy and Jerry Jaax are renowned leaders, scientists and veterans," Kansas State University President Richard Myers said. "We are honored that National Geographic is telling their story through THE HOT ZONE and we want to recognize these two K-Staters for their bravery and heroic research contributions. Leaders like Nancy and Jerry Jaax are true examples of what makes K-State the 'Silicon Valley for biodefense.'"

K-State President Richard Myers leads a Q&A session after the audience watched the first two parts of the six-part series. Writers Brian Peterson and Kelly Souders took questions along with the Jaaxes.

Watch the official trailer for National Geographic's upcoming limited series, THE HOT ZONE
White Coat Ceremony goes live online
This May, third-year veterinary students reached their arms, one sleeve at a time, to don their newest piece of educational apparel: a white coat for doctors.
For the first year since this tradition began in 2001, family and friends had an opportunity to witness this fitting event online.
Read more ...
| | |
| --- | --- |
| | |
| | The class of 2020 faces the family and friends in attendance at the White Coat Ceremony. |
The Veterinary Health Center (VHC) broadcast the annual White Coat Ceremony in an online video stream at its website on May 5.
The annual White Coat ceremony is an activity that celebrates the transition of K-State CVM third year veterinary students from their preclinical education to their senior year clinical rotations within the teaching hospital at K-State, the Veterinary Health Center.
"We are excited to once again host the CVM White Coat ceremony as we welcome 115 members of the class of 2020 as senior veterinary student doctors into the halls of the K-State Veterinary Health center teaching hospital," said Dr. Elizabeth Davis, interim director of the Veterinary Health Center and head of Clinical Sciences in the College of Veterinary Medicine.
Dr. Davis served as master of ceremonies at the ceremony. Special guests included Brett Montague, current senior and 2019 class president; Dr. Bonnie Rush, interim dean; and Dr. Becky Mullis, associate manager of scientific affairs for Hill's Pet Nutrition, the event sponsor.
The white coats were presented by six faculty members representing different sections in the Veterinary Health Center: Dr. Laurie Beard, equine; Dr. David Biller, radiology; Dr. Ken Harkin, small animal medicine; Dr. Rose McMurphy, anesthesiology; Dr. Matt Miesner, livestock services; and Dr. Walter Renberg, small animal surgery. Dr. Tom Schermerhorn was marshal for the ceremony.
Dr. Mullis delivered special remarks for the class of 2020. Alexandra Allen, the 2020 class president, concluded the White Coat Ceremony by leading the students in the "Pledge of Professionalism."
As part of a national event, an ophthalmology team from the VHC will be providing free eye exams this May for guide dogs, handicap assistance dogs, detection dogs, military working dogs and other search-and-rescue dogs that selflessly serve the public.
Each year, board certified veterinary ophthalmologists across the U.S., Canada and Puerto Rico collectively provide more than 7,500 free eye exams as part of The American College of Veterinary Ophthalmologists (ACVO®)'s ACVO/StokesRx National Service Animal Eye Exam event.
Click to read ...
| | |
| --- | --- |
| | |
| | Dr. Jessica Meekins performs an eye exam on a dog at the VHC. She was on the road May 14 and May 22 to perform free vision exams for service dogs and military working dogs at KSDS in Washington, Kansas, and McConnell Air Force Base in Wichita. |
The event is sponsored by ACVO® and Stokes Pharmacy, as well as several generous industry sponsors. The doctors and staff at The Veterinary Health Center at Kansas State University and participating board-certified ophthalmologists volunteer their services, staff and facilities at no charge for service and working animals and their owners/agents to participate in the event.
This year the K-State team of Dr. Jessica Meekins, associate professor in the College of Veterinary Medicine, and Anna "Katie" Huyer, a veterinary nurse, went on the road May 14 to conduct eye exams at KSDS in Washington, Kansas, and at McConnell Air Force Base in Wichita on May 22. KSDS is a nonprofit organization that provides guide dogs for the visually impaired, service dogs to assist individuals with physical disabilities and facility dogs that assist professionals in the field of education, counseling, healthcare, retirement or the legal system.
"Our goal is to screen active working animals for eye diseases that could impair the ability to perform their job, and in doing so help them better serve their human owners and handlers," Dr. Meekins said.
During the complete ocular exam, Dr. Meekins looked for problems including redness, squinting, cloudy corneas, retinal disease, early cataracts and other serious abnormalities. Early detection and treatment are vital to these working animals.
Read more information about American College of Veterinary Ophthalmologists/StokesRx National Service Animal Eye Exam events online.
More Headlines
Dr. David Poole to serve as teaching scholar
An internationally prominent and honored scholar and researcher will serve as Kansas State University's 2019-2020 Coffman Chair for University Distinguished Teaching Scholars.
Dr. David C. Poole, university distinguished professor in kinesiology and in anatomy and physiology, has been appointed to the chair, which was created in 1995 to highlight the university's commitment to excellence in undergraduate teaching and learning.
Read more ...
| | |
| --- | --- |
| | |
| | Dr. David Poole gives a demonstration in the Mara Conference Center. |
Each chair is an acknowledged leading teaching scholar and conducts a research project or develops programs to improve educational methods at the university.
"I thoroughly enjoy teaching and learn at least as much from our students as they from me," Dr. Poole said. "The Coffman chair, as I see it, will permit me to better leverage K-State's resources to promote teaching excellence by more effectively integrating the processes of scientific discovery into the classroom."
Dr. Poole will spend his year as Coffman chair evaluating which practices of the Association of College and University Educators are producing the best results with Kansas State University students, including those who go on to professional schools. The analysis will survey the up to 160 K-State faculty members who have completed or are currently enrolled in the Association of College and University Educators course to improve teaching and learning.
Dr. Poole's project will examine the following: whether the ACUE course has improved teaching quality and efficacy at the university; what are the primary techniques implemented and which are most effective; what challenges are present with these techniques; and how the university could maximize the value of any teaching improvements across all colleges and departments. He will use the data and survey information collected to present the best teaching practices at the university, build a digital repository of these practices and publish them in peer-reviewed literature.
The highest obligation or responsibility of Kansas State University and any other university, Poole said, is to teach effectively and make students think, often beyond what they and their previous aspirations allowed.
"I take that charge very seriously," Dr. Poole said. "To facilitate a truly transformational process for our students, we must embrace the most proficient methods and the latest in scientific discovery."
Earning the university's highest academic ranking of university distinguished professor in 2018, Poole's research has helped define how oxygen is transported from the lungs to be used by tissue mitochondria. Using innovative models at rest and during exercise, Dr. Poole has identified key sites of metabolic control in health and disease. These observations have driven a paradigm shift in the understanding of how capillaries function and advanced novel therapeutics for heart failure.
He has been awarded more than $5 million as principal investigator and $17.9 million as co-investigator in research grants from the National Institutes of Health, National Science Foundation and the American Heart Association. His h-Index is 69 with more than 17,000 citations.
The author of more than 300 research publications and reviews, and three books, Poole has been editor/ associate editor for four scientific journals and currently serves on nine editorial boards. Poole has won top awards for research and teaching from the College of Human Ecology and the College of Veterinary Medicine, as well as the university's Commerce Bank and W.T. Kemper Foundation Outstanding Teaching Award. He was honored by the British first lady Cherie Booth Blair in 2000 and the Danish National Academy of Sciences in 2010. He was the 2018 Edward F. Adolph Distinguished Lecturer at Experimental Biology. A fellow of the American College of Sports Medicine, Poole served as president of its Central States Chapter from 2001-2002. He also is a fellow of the Association of College and University Educators for K-State and councilor for the Exercise and Environmental Physiology section of the American Physiological Society. He is a 2019 American College of Sports Medicine Citation Award winner.
Dr. Poole has taught more than 5,000 undergraduate and 2,000 graduate/professional students at Kansas State University, and mentored more than 70 master's and 16 doctoral students as co-director of the Clarenburg Cardiorespiratory Laboratory.
Dr. Poole earned his bachelor's degree in sports science/ applied physiology from Liverpool Polytechnic, England, and his master's degree and doctorate from the University of California, Los Angeles, with postdoctoral training in medicine at the University of California, San Diego. He was the first recipient of the higher Doctor of Science in physiology from John Moores University in Liverpool in 2000.
By Bill Felber
A team of CEEZAD researchers recently spent two weeks in South Africa researching the spread and movement of African Swine Fever. Dr. Jürgen Richt, CEEZAD's director, led the research team, whose work took them for several days into remote areas of that nation. Other participants included Dr. Jessie Trujillo, a senior research associate, and Russell Ransburgh, a research assistant, along with Dr. Bill Wilson, a research microbiologist with the United States Department of Agriculture's Arthropod-borne Animal Disease Research Unit in Manhattan.
Click to read ...
| | |
| --- | --- |
| | |
| | Dr. Jürgen Richt works with Dr. Bob Swanepoel, from the University of Pretoria, to look for a species of tick known as Ornithodoros Moubata. |
| | |
| | Dr. Richt leads a team consisting of Dr. Jessie Trujillo from KSU, Dr. Bill Wilson with the USDA, Dr. Swanepoel, Dr. Livio Heath from Onderstepoort Veterinary Institute in South Africa, and Rusty Ransburgh from KSU. |
| | |
| | Dr. Richt and the team sort through soil collected in a warthog burrow in a game park close to Pretoria, South Africa, in search of ticks as part of a study on the spread of African Swine Fever. |
The CEEZAD researchers worked in collaboration with Dr. Bob Swanepoel, of the Department of Veterinary Tropical Diseases at the University of Pretoria in South Africa.
The CEEZAD team conducted two days of field work in South African national parks exploring habitats frequented by warthogs and collecting a species of tick known as Ornithodoros Moubata. That species is recognized as a principal means by which African Swine Fever Virus is spread during its sylvatic cycle.
African swine fever is a highly contagious hemorrhagic viral disease of domestic and wild pigs that is prevalent in many regions of the world. The World Organization for Animal Health has identified ASF as a usually fatal disease that poses a significant threat to the food animal industry because no vaccine has been developed against it.
CEEZAD researchers are working on the development of such a vaccine.
Ticks that were collected during the field study were brought to the Onderstepoort Veterinary Institute (OVI), where they were to be tested to determine the extent of the presence of the ASF virus in the areas from which they were taken. Those ticks will also be used for development of a tick colony that can provide the basis for additional research.
During their stay, CEEZAD researchers also performed other related assignments.
Dr. Richt and Mr. Ransburgh delivered lectures to students and professionals training in virology, and also conducted research in the OVI's BSL-3 labs there.
Dr. Trujillo conducted comparisons of point-of-care diagnostic tools with lab-based technology used to diagnose foot and mouth disease virus.
Dr. Richt characterized the work as successful.
"One of the things that will result is a map of warthog burrows noting those that are with and without ticks, and with and without ASF" he noted. He said researchers also added to their knowledge of the role of ticks along with the best methods of collecting them, and expanded the understanding of the value of point-of-care diagnostics.
Veterinary student receives Simmons business aptitude scholarship
Katelyn Guill-Sanchez, Hudson, New Hampshire, who just started her fourth year of veterinary studies, was recently selected as Kansas State University's recipient of a $3,000 national scholarship sponsored by the Simmons Educational Fund.
The Business Aptitude Award Program provides in excess of $100,000 annually in student awards.
Read more ...
| | |
| --- | --- |
| | |
| | Following the White Coat Ceremony, held by the Veterinary Health Center at Kansas State University, fourth-year student Katelyn Guill-Sanchez celebrates being chosen for the Simmons Educational Fund Business Aptitude Award. |
Every year, the Simmons Educational Fund awards $3,000 to one veterinary student from each participating school in North America through its Business Aptitude Award Program.
"I applied for the SEF Business Aptitude Award because I have developed a passion for business which has blossomed throughout vet school and my participation in the Veterinary Business Management Association," Guill-Sanchez said. "I dream of owning a mobile small animal/exotic companion animal practice and this award is a huge step towards achieving my goal."
The award is offered to third-year veterinary students at each veterinary school in the U.S. and Canada, where the awards are presented during the school's spring awards ceremonies. Recipients are chosen either by a school committee or by a Simmons regional leader. All $3,000 winners are eligible to compete for the $15,000 grand award. All regional winners submit to the SEF board a resume and a short essay.
The SEF is a non-profit corporation founded in 2002 by Simmons and Associates. It was created to educate practitioners and students about the business of veterinary medicine. Since its founding in 2002, the SEF has reached thousands of veterinarians through its newsletters and sponsorship of speaking engagements, CE meetings, and veterinary organizations such as VBMA, VLE and others with similar goals.
Anatomy and physiology department hosts animal behavior and welfare expert from Northern Ireland
The Department of Anatomy and Physiology hosted Dr. Gareth Arnott, a senior lecturer from Queen's University in Belfast, Northern Ireland, during the week of May 6-10.
Dr. Arnott's research is focused on animal contest behaviors using predictions derived from game theory to better understand the information-gathering and decision-making processes underlying aggressive interactions.
Read more ...
| | |
| --- | --- |
| | |
| | Dr. Gareth Arnott, a senior lecturer from Queen's University in Belfast, Northern Ireland, gives presentations on animal behavior and animal welfare. |
| | |
He has worked with a number of animal systems and species, including invertebrates. Dr. Arnott will be presenting two seminars on his work in livestock and companion animals while he is at the College of Veterinary Medicine.
"We were excited to host Dr. Arnott, Senior lecturer, as his group was one of the first to examine the effect of gender on play behavior in piglets," said Dr. Hans Coetzee, head of anatomy and physiology. "His research provides unique insights into how managing early life experiences in farm animals might impact later-life behavior, specifically aggression within captive settings."
Dr. Coetzee praised Dr. Arnott as one of an elite group of European scientists who is working to identify ways to understand and assess animal emotion and how this may impact animal welfare.
"Dr. Arnott's diverse background studying animal contest behavior across a broad spectrum of animals including hermit crabs, fish and farm animals also provides him a unique perspective into understanding behavioral ecology and complex systems," Dr. Coetzee added.
Dr. Arnott presented his first seminar in Frick Auditorium on "Why do animals fight? How understanding animal contest behavior can advance animal welfare." He presented the second seminar in the Mara Conference Center in Trotter Hall. The topic was, "An interdisciplinary approach to animal welfare."
K-State to host international Rabies in the Americas conference
We're "'jazzed" to host this year's Rabies in the Americas (RITA) conference in Kansas City! The committee is planning an informative program with innovative technology, intriguing research, and updated protocols and procedures, with activities to highlight what Kansas City has to offer. We want to make the 30th RITA extra special! Mark your calendars for Oct. 27-Nov. 1, 2019. You can now visit our website for additional information. We'll continue to publish information online as we get closer to conference time. Registration will open soon! Don't miss out on this year's RITA Conference!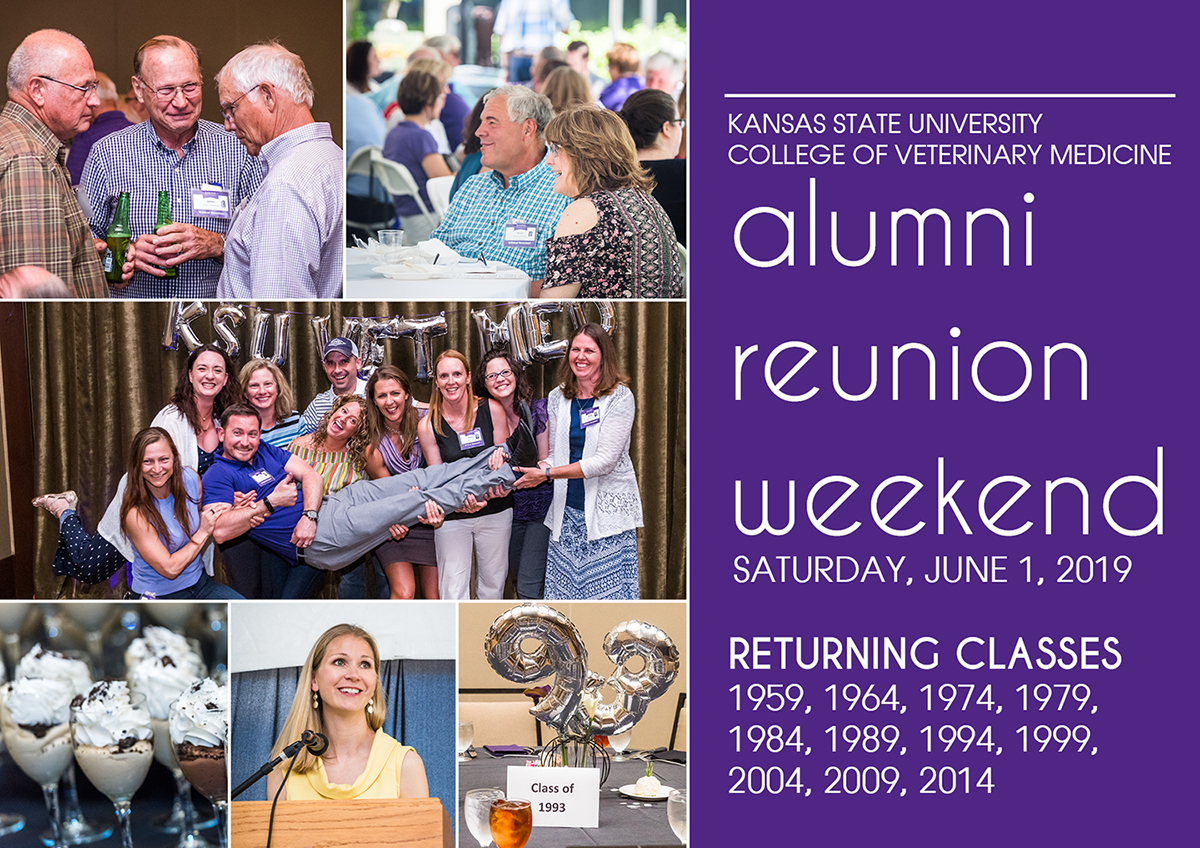 Regular features
Alumni Events, Development and Continuing Education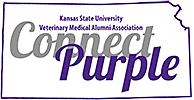 The Veterinary Medical Alumni Association organizes alumni receptions at several of the national annual conferences plus continuing education events and more. This month's section includes news about Dr. Jim Dale and Dr. M.M. Chengappa being selected for recognition awards, a couple of alumni who are retiring as faculty and professional staff members, the upcoming Reunion Weekend, updates on the 81st Annual Conference for Veterinarians and recently departed alumni.
Read more ...
Dr. Jim Dale named this year's Distinguished Alumnus Award recipient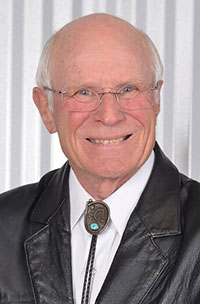 Dr. James (Jim) E. Dale, Golden, Colorado, has been selected as a recipient of a 2019 Distinguished Alumnus Award from the Kansas State University College of Veterinary Medicine and Veterinary Medical Alumni Association. This award recognizes Dr. Dale for his outstanding achievements, humanitarian service and contributions to the veterinary profession. This award is presented during the Alumni Awards Brunch at the Alumni Reunion Weekend held June 1.
Dr. Dale received his Doctor of Veterinary Medicine (DVM) degree from K-State in 1967. He was raised on a small farm/ranch near St. John, the home of recent K-State basketball player Dean Wade. Dr. Dale's brother and sister are also K-State grads.
After graduation Dr. Dale practiced in Lawrence until called to the Air Force. He likes to say he joined for two years and stayed 30. Dr. Dale had assignments all around the globe. His last assignment was as chief of prevention operations in the Office of the Air Force Surgeon General, Headquarter Air Force.
In addition to his DVM, Dr. Dale has a Master of Public Health degree, an executive MBA and a graduate certificate in veterinary homeland security. Further, he is a graduate of Squadron Officers School, Air Command and Staff College, Air War College, and National Defense Security Management College. He retired as a full colonel, and his military decorations include five awards of the Meritorious Service Medal and the Legion of Merit.
"I love K-State," Dr. Dale said. "I am so honored to be recognized by the VMAA as the 2019 Distinguished Alumnus. I'm thankful for the unbelievable opportunities that veterinary medicine, the Air Force and my folks gave me. I'm eternally grateful that my folks, the late Lewis and Louise Dale of St. John and Great Bend, Kansas, who sent me to K-State, and that I'm a member of the special class of 1967."
Read more about Dr. Dale
Dr. M.M. Chengappa to receive E.R. Frank Award during Reunion Weekend
Dr. M.M. Chengappa, Manhattan, Kansas, has been selected as the recipient of the 2019 E.R. Frank Award by the Kansas State University College of Veterinary Medicine and its Veterinary Medical Alumni Association. Dr. Chengappa is being recognized for his 30 years at K-State with 18 years serving as head of the Department of Diagnostic Medicine/Pathobiology and as a university distinguished professor.
This award will be presented during the Alumni Awards Brunch at the Alumni Reunion Weekend held June 1. The E.R. Frank Award is presented to a faculty member who displays meritorious service to the college as well as the same professional essence of Dr. Frank, a longtime faculty member in equine surgery and a K-State alumnus. Nominees must have at least a 15-year relationship with the college, possess a noteworthy record of service and display an unassuming and unpretentious manner throughout their careers.
"I am honored and humbled for being selected to receive this prestigious E.R. Frank Award for Meritorious Service to the college and the profession," Dr. Chengappa said. "It is truly a privilege to belong to this College and the profession, as we have numerous opportunities to contribute to not only the profession, but also to society in general. I always believed in what you do for others is more important than what you do for yourself. This profession has given me that opportunity and I am eternally indebted to the college for making that opportunity possible."
"Dr. Chengappa has been a tremendous leader and colleague at the College of Veterinary Medicine," said Dr. Bonnie Rush, interim dean of the college. "Over the years, he has been generous with his time to offer his assistance to help faculty and staff in meeting the teaching and research needs of the faculty in the department. On his own, he is highly accomplished, and has made countless contributions as a scientist and professor."
Dr. Chengappa received his Doctor of Veterinary Medicine and Master of Veterinary Science at Mysore Veterinary College in Bangalore, India. He received his master of science and his doctorate from Michigan State University. He became a board-certified veterinary microbiologist 1981 by the American College of Veterinary Microbiologists.
Read more about Dr. Chengappa
Alumni retire from service to Kansas State University
Dr. Ken Burton (left), DVM class of 1981 and program director for the National Agricultural Biosecurity Center, was part of a group of K-State faculty and professional staff to retire in 2019. On the right, Dr. Ralph Richardson, DVM class of 1970, gets a congratulatory handshake from Provost Charles Taber on his second retirement from K-State. He had retired as dean of the College of Veterinary Medicine, serving 17 years from 1998-2015. Not long after his first retirement, he graciously took over as dean and CEO at the K-State Olathe campus in August 2015 till stepping down this year.
Alumni Reunion Weekend
June 1, 2019
We can't wait to see you at the next reunion! The five year reunions are held in conjunction with the annual veterinary conference, and are an excellent opportunity to catch up with old friends while keeping your skills sharp. Classes returning include: 1959, 1964, 1974, 1979, 1984, 1989, 1994, 1999, 2004, 2009 and 2014.
http://www.vet.k-state.edu/alumni/class-activities/reunions/
81st Annual Conference for Veterinarians
Mark your calendars for the 81st Annual Conference for Veterinarians! It will be June 2-4, 2019 at the Hilton Garden Inn and Conference Center in Manhattan, KS. Watch your mailboxes for more information! We are currently confirming various topics. Check back later as we continue to update information!
17.5 hours of CE will be offered during the conference. Full registration also includes 2 hours of complimentary online CE.
Registration is now open! Visit our page for more information!
Monday, May 20, 2019
Hilton Garden Inn

The 2nd K-State Symposium on Bovine Anaplasmosis is a one day, producer-oriented workshop on the current state of anaplasmosis in the U.S., with an emphasis on Kansas beef cattle. The workshop will feature presentations by national experts on the economic impact of anaplasmosis, prevalence of anaplasmosis in Kansas and other cattle production states, anaplasmosis diagnostic considerations, prevention and treatment options for anaplasmosis, and the Veterinary Feed Directive. In addition, the meeting will include an interactive producer-panel with producers describing their own anaplasmosis experiences, challenges, and management strategies. The meeting will conclude with an overview of on-going and upcoming anaplasmosis research projects at K-State and opportunities for producer participation.
See event website for more details.
In Memoriam - Recently Departed Alumni
Dr. Stuart Bryan Everett, DVM 1973
Feb. 2, 2019

Dr. James H Kuhlmann, DVM 1954
Jan. 26, 2017

Dr. Guy Roger Spencer, DVM 1940
April 27, 2019

Questions about Alumni or CE events?
Contact: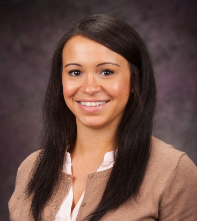 Ashley McCowan
Alumni and Events Coordinator
785-532-4833
amccowan@vet.k-state.edu
Dana Parker
Program Assistant
785-532-4528
dlaparker@vet.k-state.edu
News Ticker
More activities and accomplishments in the College of Veterinary Medicine:
Dr. Sara Dias passed her board certification and is now a diplomate in the European College of Zoological Medicine with Small Mammal specialty.
Dr. Chieko Azuma attended the Public Responsibility in Medicine and Research 2019 IACUC conference in Bellevue, Washington, April 1-3. She presented two sessions, "New Investigator at the Institution? Getting Them on the Right Track From the Get-Go" and "How Active Post-Approval Monitoring (PAM) Can Work at Smaller Institutions."
Dr. Sarah Kaufman has joined the Department of Clinical Sciences as a clinical assistant professor. She will be working with the Pet Health and Dentistry services.

Drs. Robert Larson and Brad White traveled to Ribeirao Preto, Brazil April 1-3 for the 2nd International Beef Symposium sponsored by Bayer Animal Health. Dr. Larson was part of a panel discussion: Cow-calf segment – a global constant in beef production and he also presented, "Challenges and Opportunities in North America." Dr. White was also part of the expert panel and presented, "Mitigating bovine respiratory disease in cow-calf herd."

Dr. David Biller presented three lectures for the ACVIM ultrasound course, Ultrasound for Specialists: Maximizing Ultrasound in Practice on April 4-5. His lectures were, "Non-Cardiac Thoracic Ultrasound", "Invasive Ultrasound" and "Ultrasound Cases in the Small Animal Patient."

Dr. Mike Apley and Ph.D. students Drs. Katie Hope and Nora Schrag presented data regarding monitoring antibiotic use in dairies and feedlots to the Federal Drug Administration Center for Veterinary Medicine in Rockville, Maryland, April 18.

Dr. Kate KuKanich worked with Riley County for the National Prescription Drug Take-Back Day and has created a webpage to provide information on how to safely dispose of unused or expired medications.

Dr. David Eshar presented at the International Conference on Avian Herpetological and Exotic Mammal Medicine (iCARE) in London April 27 – May 1. Dr. Eshar presented, "Evaluation of chemical immobilization using dexmedetomidine-ketamine-midazolam in five-striped palm squirrels," and "Pharmacokinetics of terbinafine following a single oral administration in red ear sliders (Trachemys scripta elegans)."
Dr. Jessica Meekins performed eye exams at the American Whippet Club dog show in Topeka, Kansas, on April 17.
The College of Veterinary Medicine has exceeded our $82 million college goal for the 10-year Innovation and Inspiration campaign at Kansas State University – 14 months early! Thanks to everyone for supporting the college.
Dr. Tariku Beyene, DMP postdoc with the Center for Outcomes Research and Epidemiology (CORE), shares that he was selected for a highly competitive scholarship and joined the North Carolina State University Building Future Faculty Program April 3-6. The program was a two-and-half day workshop for doctoral and post-doctoral scholars who are interested in pursuing careers in academics. Dr. Tariku gave a 45-minute presentation to the faculty/staff/students at the department of Population Health and Pathobiology, College of Veterinary Medicine at NCSU. https://oied.ncsu.edu/divweb/2019/04/18/reflections-on-nc-states-building-future-faculty-experience/

A&P Department Head Dr. Hans Coetzee (right) welcomes Dr. Duojia (DJ) Pan from the University of Texas Medical Center at this year's Clarenburg Lecturer. DR. Pan presented his research on "Hippo Signaling in Growth Control and Beyond."
The Rudolf Clarenburg Lectureship was established in 1996 to honor the late Dr. Rudolf Clarenburg, Professor of Physiology. This Lecture Series brings nationally acclaimed scientists to Kansas State University to discuss their research interests with students and faculty throughout the university. The Dr. Rudolf Clarenburg Lectureship is made possible by the generous support received from the Clarenburg family to honor and recognize the significant contributions made by Dr. Clarenburg to the Department of Anatomy & Physiology and the College of Veterinary Medicine.
Sofia Scavone, MPH student in Infectious Diseases and Zoonoses, and K-State British Parliamentary Debater, received the Midwest Debate Association's Debate Scholar of the Year award. Sofia was the first-ever recipient of this award, a recognition of her accomplishments in both academics and competitive debate.
Marissa Komp, third from left, received the Warren & Jean White Award at the Johnson Cancer Research Center Awards Banquet on April 12. Marissa completed her McNair research last summer with the CVM's Dr. Butch KuKanich and will begin an incoming first-year veterinary student this fall.
Vet Med ROCKS opens registration for summer camp
Vet Med ROCKS, the Recruitment and Outreach Club of Kansas State, is going to be holding summer day camp from Aug. 2-6, for high school, college, middle school and grade school students (see registration page for detailed schedule and additional information).

Congrats on this year's faculty promotions

The college recently announced promotions and tenure. Earning promotion to full professor is Dr. Waithaka Mwangi – DMP and clinical professor, Drs. Mary Bagladi-Swanson – DCS, Emily Klocke – DCS, Matt Miesner – DCS, and Jianfa Bai – DMP. Earning promotion to clinical associate professors are: Drs. Chanran Ganta – DMP, Gregg Hanzlicek – DMP, and Lalitha Peddireddi – DMP. Pictured above are Drs. Miesner, Mwangi, Klocke and Bai.

Staff get recognition from main campus

CVM staffers accept awards at the USS ceremony: Top, from left: Brandon Weber, employee of the year; Shannon Nicholson, five years of service; and Maureen Sheahan, 35 years of service. Bottom: Mike Hays, employee of the year; Lesa Reves, 25 years of service; and Rhonda Stadel, 15 years of service.
K-State recently recognized university support staff at a ceremony in April, honors included:
USS employees who have reached five, 15, 25, 35 and 45 years of service in 2018.
USS employees who retired during 2018.
Employees of the Year selected by colleges/administrative units/departments and local agencies.
K-State USS Award of Excellence.
Staff members at the College of Veterinary Medicine honored for years of service were: Shannon Nicholson and Roxann Blasi (five years), Rhonda Stadel (15 years), Lesa Reves (25 years), and Maureen Sheahan and Audrey Fritz (35 years).
Among the honorees for employee of the year were: Nelwyn Cook, Mike Hays and Brandon Weber.

Joyce Nietfeld displays the USS Staff Award of Excellence while Gail Eyestone accepts the President's Award of Excellence for Unclassified Professionals from Provost Charles Taber and President Richard Myers.
Three university support staff professionals were celebrated for their job performance with the university's 2019 University Support Staff Award of Excellence. The award recognizes exemplary performance and contributions of staff members who consistently excel in their positions and demonstrate integrity and a strong commitment to the mission and values of K-State.
The CVM's lone honoree with the USS Staff Award of Excellence (under the Technical and Professional category) was Joyce Nietfeld, program/project assistant with the Veterinary Health Center Dispensary.
In a separate ceremony on May 7, Gail Eyestone, Department of Anatomy and Physiology, was one of five university honorees to receive a President's Award of Excellence for Unclassified Professionals. Her award was in the Belonging category. From the same event, Joyce Nietfeld's daughter, Ashley, was presented with a Productivity, Creativity and Innovation Award for her work with the Global Campus office. Interim dean Dr. Bonnie Rush was the guest speaker at the USS Support Staff Ceremony. Congrats to all.

Fourth-year students Katherine Fielder and Brian Meyer help perform an echo with Dr. Heidi Kellihan.

| | |
| --- | --- |
| | |
| | Back row (all from K-State except as noted); Zezhong Zheng, fourth-year student, Brian Meyer, fourth-year student, Dr. Lisa Freeman, nutritionist from Cummings School of Veterinary Medicine at Tufts University, Dr. Heidi Kellihan, cardiologist from the University of Wisconsin School of Veterinary Medicine, and Dr. Sonja Tjostheim, UW cardiologist. Front row: Dr. Rebecca Stepien, UW cardiologist, Kayla Broeker, fourth-year student, Katherine Fielder, fourth-year student, Taryn Oliver RVT, Small Animal ICU Nursing Supervisor and List Bryant RVT, director fo Surgical Support Services and Veterinary Nurse Internship Program. Not pictured: Veterinary nurse Kailey Berkenmeier. |
A K-State group of fourth-year students and veterinary nurses provided support at the American Whippet Club National Specialty event in Topeka where they collected blood from 150 whippets over three days.
Senior students Kayla Broeker, Katherine Fieldler, Brian Meyer and Zezhong Zheng helped with 164 echoes; assessed body condition and muscle condition scores; and prepared paperwork, tubes, and labels to help the event organizers.

The CVM was well-represented at the T. Russell Reitz Animal Shelter Open House on May 4. Top left, Dr. James Carpenter meets with shelter director Deb Watkins. Upper right first-year student Ellie Holtaway, veterinary nurse Gillian Campbell and Dr. Alyssa Comroe give tours of the K-State Mobile Surgery Unit. Bottom right: a canine mascot and shelter volunteer get together to welcome the public to the open house.

New Arrivals/Recent Departures
Click here to see the New Arrivals/Recent Departures at the CVM ...
Welcome to:
Bryan Kraus, Dean of Veterinary Medicine, Director III, Info Technology
Emily Nicholson, Diagnostic Medicine/Pathobiology, Research Aide
Farewell to:
Tinisha Selvy, Veterinary Health Center, Veterinary Nurse III
Jean Stewart, Veterinary Diagnostic Laboratory, Research Assistant
Shelby Mettlen, Dean of Veterinary Medicine, Communication and Marketing Specialist
Lifelines is published each month by the Marketing and Communications Office at the College of Veterinary Medicine. The editor is Joe Montgomery, jmontgom@vet.k-state.edu.
Lifelines index

Download Lifelines LITE (this is a condensed legal-sized PDF and has less information than above)