January 2017 - Vol. 12, No. 1
Top Stories
AAVMC names Dr. Steve Stockham Distinguished Teacher of the Year
Now a professor emeritus, Dr. Steve Stockham is receiving the 2016 Distinguished Teacher Award from the Association of American Veterinary Medical Colleges and presented by Zoetis.
Dr. Stockham, professor of veterinary clinical pathology, will be officially presented the honor at the annual AAVMC conference and Iverson Bell Symposium, March 10-12, 2017, at the Omni Shoreham Hotel in Washington, D.C.
Read more ...

Dr. Steve Stockham teaches in the outdoor classroom (Centennial Plaza) on a nice day in March 2016.
"Recognizing the outstanding educators who continually raise the bar in academic veterinary medicine is a highlight of the year for the AAVMC," said AAVMC Chief Executive Officer Dr. Andrew T. Maccabe. "These dedicated professionals are devoted to preparing the next generation of veterinarians and advancing the frontiers of science and medicine. Thanks to them—and those they inspire through their excellence—the future of veterinary medicine is bright."
The award, considered the most prestigious national teaching award in veterinary medicine, recognizes excellence in professional veterinary medical education and is presented to an educator whose sustained record of teaching excellence and ability, dedication, character and leadership has contributed significantly to the advancement of the profession.
"I've had the distinct privilege, great pleasure and professional responsibility of introducing highly motivated and very intelligent veterinary students to the pathogeneses of abnormal laboratory data and the related diagnostic-reasoning skills," Dr. Stockham said. "I cannot think of a better way to end my academic career at K-State than by being recognized for what I attempted to do each year — provide relevant educational experiences for our future veterinarians. I'm very fortunate to receive this award considering the nominated teachers who have the same goal."
Dean Tammy Beckham said the honor is well-earned. "His dedication and enthusiasm as an educator have combined to provide a truly unmatched learning experience for our students," she said. "This award serves as a wonderful tribute for his contributions throughout his career."
Dr. Stockham, who retired in 2016, is professor emeritus of the K-State CVM Department of Diagnostic Medicine/Pathobiology. He received consistently high student reviews and more than 30 teaching awards throughout a 36-year teaching career. His teaching philosophy involves engaging and motivating students through "real life" clinical situations, allowing them to acquire clinical reasoning skills that lead to rewarding, lifelong professional careers.

He is the author or co-author of three books, seven book chapters and numerous other publications and presentations, on topics that include veterinary clinical pathology and how to use student feedback to improve teaching and learning. He participated in faculty development activities including being a staff member in the Wakonse Conference on College Teaching for many years.

Dr. Stockham's former mentee, Dr. Mandy Meindel, now a Diplomate of the American College of Veterinary Pathologists (ACVP), noted how "(Stockham) receives rave reviews on his instructor evaluations, with numerous student comments claiming 'he is their favorite professor,' 'best professor of their education career, hands down,' and 'other professors should take lessons from Dr. Stockham'."

He earned his bachelor's and Doctor of Veterinary Medicine (DVM) degrees from KSU and a master's degree (pathology) from Michigan State University. He is a Diplomate of the ACVP, an honorary member of the European College of Veterinary Clinical Pathology, a 2013 inductee into the Hall of Fame of the European Society of Veterinary Clinical Pathology, and a recipient of the 2015 Educator Award of the American Society for Veterinary Clinical Pathology.

The AAVMC is a nonprofit membership organization working to protect and improve the health and welfare of animals, people and the environment around the world by advancing academic veterinary medicine. Members include 49 accredited veterinary medical colleges in the United States, Canada, the Caribbean Basin, Europe, Australia and Mexico.
Unique expertise leads Kansas State University veterinary diagnostic researchers to quintet of swine health research grants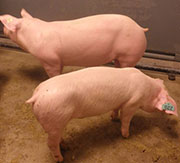 It's said that "good things come in threes," but for veterinary diagnostic researchers at Kansas State University, that number is five. The "good things" in this case are a set of five research grants obtained through the Swine Health Information Center, Ames, Iowa, for developing tests to reliably diagnose a very specific set of swine-related pathogens.
Read more ...

A team of Kansas State University veterinary diagnostic researchers works on five grants from the Swine Health Information Center to confront five of the 'top 25 pathogens of concern.' From left, Principal investigators, Dr. Lalitha Peddireddi, Dr. Ying Fang and Dr. Xuming Liu, research assistant Elizabeth Poulsen, principal investigator Dr. Jianfa Bai, research assistants Russel Ransburgh and Fangfeng Yuan, and visting scholar Hewei Zhang. Not pictured: Principal investigator Dr. Yanhua Li.
"We in the College of Veterinary Medicine and Kansas State Veterinary Diagnostic Laboratory have unique expertise leading in these areas," said Dr. Jianfa Bai, an associate professor and director of molecular research and development for the Diagnostic Laboratory. "We have already done background research in these areas: Seneca Valley virus, porcine circovirus type three, parainfluenza, pestivirus and swine influenza viruses. The Swine Health Information Center has a mission to try to protect livestock that takes place through emerging pathogen surveillance and diagnostics, and we are able to support that mission with the work we do on a regular basis."
Dr. Ying Fang, a professor of molecular virology, said that Kansas State University's location and its connections and partnerships with the incoming National Bio and Agro Defense Facility, the Biosecurity Research Institute, USDA Agricultural Research Services, Arthropod-Borne Animal Disease Research Unit, Kansas Department of Agriculture and the Kansas City Animal Health Corridor were important factors in leveraging the grants, which total $292, 667.
"The Swine Health Information Center needs us as diagnosticians and researchers to interconnect and communicate in real time - to understand and track emerging diseases," Dr. Fang said. "This is a perfect example of translational research applied for benefit of clients and livestock industries."
Dr. Gary Anderson, director of the Diagnostic Laboratory, added, "We, as a diagnostic lab, value research. We are able to blend research with service, such as when field veterinarians provide livestock tissue and clinical samples for analysis. It's also important that we are able to be leaders in sharing technology – validated tests – among other diagnostic laboratories, so that we are all better able to respond to emerging diseases if and when they occur."
Dr. Bai explained that the Swine Health Information Center has an association with the National Pork Board, but that its own emphasis is on finding ways to quickly to respond to emerging threats to swine health. The five pathogens named in the research grants are part of the center's top 25 "pathogens of concern."
"Porcine Epidemic Diarrhea Virus, or PEDv, was a pathogen that caused billions of dollars in economic losses in recent years to pork producers," Dr. Bai said. "There are other pathogens that need to be studied and controlled quickly to prevent similar outbreaks. The sooner we can develop assays to diagnose these pathogens, then producers will be better equipped to respond to any emerging threats."
USDA-NIFA grant supports Food Animal Residue Avoidance Databank
Crunching numbers has become one of the newer ways in which food producers and veterinarians can make sure consumers are crunching safe and healthy food.
Important numbers related to food safety are hosted at Kansas State University in the Food Animal Residue Avoidance Databank (FARAD). In September, FARAD received $360,000 as part of an annual, renewable grant from the USDA's National Institute of Food and Agriculture.
Read more ...
"FARAD is a federally mandated, collaborative project that's been going on for about 35 years," said Dr. Ronette Gehring, associate professor of anatomy and physiology in the College of Veterinary Medicine. "The project started off as a collaboration between North Carolina State University, the University of Florida and University of California, Davis, and Kansas State University is a new addition in 2012."
FARAD is a risk-management program that provides science-based expert advice to help mitigate unsafe chemical residues, such as from drugs, pesticides and biotoxins, that might be found in products derived from food animals.
"We are the only resource for drug withdrawal interval recommendations following extralabel drug use and accidental exposure to environmental contaminants," Dr. Gerhing said. "Pharmacokinetics is the scientific underpinning for our work, which describes how drugs move through the body using mathematical models. We can extrapolate and give scientifically based recommendations for veterinarians to help food producers."
FARAD was co-founded by Dr. Jim Riviere, MacDonald Endowed Chair in Veterinary Medicine, Kansas Bioscience Eminent Scholar and University Distinguished Professor, while he was at North Carolina State University. He is now the director of the Institute of Computational Comparative Medicine at Kansas State University, while continuing on as the national coordinator for FARAD.
"FARAD is a valuable tool to the practicing veterinarian by providing professional advice in real-time," Dr. Riviere said. "It could also be considered an excellent example of translational medicine applied to animal health. FARAD's call volume has increased yearly by double digits supporting its value to the veterinary profession. Having a FARAD site at the ICCM at Kansas State University strengthens the computational basis upon which withdrawal time estimations are based."
"Our personnel provide scientifically-derived answers to residue questions to licensed veterinarians, extension specialist and regulators," Dr. Gehring explained. "FARAD is able to answer questions regarding drug regulatory laws, VFD's, requests for drug withdrawal interval recommendations for extralabel use and mitigating accidental exposure for most major and minor food animal species. We also work with the database administrators and responders at the other centers, to help each other address questions and issues that might come up."
Dr. Gehring said members of the other FARAD centers will be visiting Kansas State University this spring for a special continuing education meeting that will feature extensive pharmacokinetics training.
"We are constantly working on providing tools for our people at the other centers," Dr. Gehring said. "We want to keep improving the accuracy and consistency of outward recommendations. We are currently making a WIC – Withdrawal Interval Calculator – a program with a Graphical User Interface that can be used by respondents at our different centers. It allows them to enter information and to ensure there's a formal approach to finding out what data are out there on which we can base our recommendations."
Kansas State University's FARAD also serves in different educational capacities.
"What we do at FARAD feeds into how Kansas State University trains veterinary students," Dr. Gehring said. "We can provide unique perspectives in courses focused on veterinary pharmacology. We are also involved with Ph. D. students in statistics and growing collaborations with that department. Those skills are very sought-after in the pharmaceutical industry, with the unique aspect of different species and residues."
More information about FARAD is available at farad.org. Interested parties can call 1-888-US-FARAD to submit general questions or receive advice regarding residue avoidance.
Dr. Derek Mosier assumes roles of interim department head for DMP
The College of Veterinary Medicine at Kansas State University has announced the appointment of Dr. Derek Mosier as the interim head of the Department of Diagnostic Medicine/Pathobiology. Dr. Mosier takes over for Dr. M.M. Chengappa who stepped down as department head in December after 18 years serving the college in that capacity.
Read more ...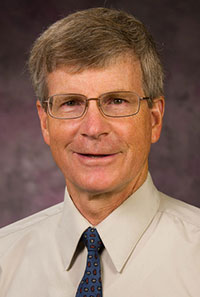 "Dr. Mosier will provide leadership and expertise to the department through the vast experience he brings into the position," Dean Tammy Beckham said. "Dr. Mosier has been a leader in this college, by serving on and chairing many committees. In addition, he is a recognized leader in veterinary pathology and has served in various roles representing the college in national organizations. I am excited that both Dr. Mosier's leadership and expertise can serve the diagnostic medicine and pathology department moving forward."
Dr. Mosier earned his DVM degree at K-State in 1978. He followed with a master's degree in physiological science in 1982 and a Ph.D. in pathology in 1985, both from Oklahoma State University. He has been a professor of pathology in the Department of Diagnostic Medicine/Pathobiology at K-State since 1990.
Dr. Mosier has been the recipient of the Norden Distinguished Teaching Award in 1990, 1994 and 2005. He received the Bayer Animal Health Teaching Excellence Award in 2008 and 2012, and the Student American Veterinary Medical Association Award for Teaching Excellence in the Basic Sciences in 1990. The K-State Alumni Association recognized Dr. Mosier with its Dr. Ron and Rae Iman Award for Teaching Excellence in 2009. He received the E.R. Frank Award from the College of Veterinary Medicine in 2014.
Dr. Mosier was board certified by the American College of Veterinary Pathologists, and he has served as the organizations secretary/treasurer from 2005-2009, as president-elect from 2009-2010 and president from 2010-2011. He was the president of the Phi Zeta national chapter from 1998-2001, and he is a member of the American Veterinary Medical Association.
Dr. Mosier and his wife, Dr. Jessica Green, have one son, Benjamin.
More Headlines
Dr. Tom Schwartz arrives at Veterinary Health Center
A longtime veterinarian with administrative experience in running a full-service veterinary hospital is the new director of the Veterinary Health Center.
Dr. Tom Schwartz took over the position from Bonnie Rush, interim director, on Jan. 2.
Click here to read more ...
Dr. Schwartz founded and operated one of the first and most successful franchised Banfield Pet Hospital locations in the nation in Brentwood, Missouri. He received his DVM from Michigan State University and also has degrees in economics and political science from the University of Michigan.
Dr. Schwartz brings more than 20 years of experience in both mixed and small animal practice working with dairy and beef cattle, swine, horses and companion animals. He was president of the Greater St. Louis Veterinary Medical Association and served as the continuing education chairman. Before starting his veterinary career, he worked in finance and commercial banking.
"Veterinarians believe that caring for animals is the noblest profession," Dr. Schwartz said. "We promote selflessness, compassion, hope, wisdom, cooperation, trust and a sense of the greater good. I am privileged to be joining a group so dedicated to providing the best training for their students, the best care for their patients and who continually embark on paths towards new discoveries that will benefit all."
The Veterinary Health Center provides routine, specialty and emergency care to patients across the Midwest. With more than 50 veterinarians, the center provides access to 14 board-certified specialties in small, exotic and large animal fields.
Dr. Bob Rowland hosts international swine disease symposium in Chicago
For the tenth year, Dr. Bob Rowland, a virologist and professor of diagnostic medicine, is the executive director for the North American PRRS Symposium held Dec. 3 and 4 at the Intercontinental Hotel in Chicago. PRRS has cost the U.S. pork industry more than $10 billion since it first appeared in the late 1980s.
Click here to read more ...
| | |
| --- | --- |
| | |
| | Luca Popescu, Ph.D. student in Dr. Bob Rowland's lab, presents a poster at the symposium. |
The meeting attracted top-notch speakers from universities, industry partners and veterinarians from around the globe. This year's symposium had 255 attendees from 23 different countries including China, Korea Republic, Russia, Argentina, Canada, Mexico, and several European countries.
While PRRS is the most costly viral disease to ever face the swine industry, the North American PRRS symposium has further expanded to include emerging and foreign animal diseases, such as Seneca Valley virus (SVV), porcine epidemic diarrhea virus (PEDV), porcine circovirus-associated disease (PCVAD), African swine fever virus (ASFV), classical swine fever virus (CSFV), and other high-consequence diseases of swine.
"This is a conference that continues to grow and expand. Furthermore, the number of attendees from other countries illustrate the global impact," Dr. Rowland said. "A lot of the credit goes to Kansas State University, especially the College of Veterinary Medicine. K-State employees supply much of the infrastructure support that drives the success of the conference. We look forward to even a bigger conference in 2017."
The symposium was planned in conjunction with the annual Conference of Research Workers in Animal Disease or CRWAD, which is regularly held in Chicago. Becky Eaves, project manager in the Department of Diagnostic Medicine/Pathobiology, was the proceedings editor and staff member for the symposium. She was joined by Francine Rowland.
One of the highlights of this year's conference was the recognition of the election of Dr. X.J. Meng, University Distinguished Professor of Molecular Virology at Virginia Tech, as a member of the National Academy of Sciences. Also included were 101 abstracts/research posters presented on the topics of disease control, vaccines, pathogenesis, diagnostics, epidemiology and host genetics. Travel fellowships were awarded to 25 graduate students and postdocs, including six from K-State.
Major support for the meeting came from the CVM, National Pork Board, the KSVDL, BRI, Kansas State University Institute for Commercialization, USDA National Institute of Food and Agriculture and several science and animal health companies.

Dr. Megan Niederwerder delivers a presentation on microbiomes in swine.
Alumnus Dr. Lee Penner subject of special photo exhibit at Beach Museum
Over a span of twelve years, Tom Mohr followed Dr. Lee Penner, DVM class of 1976, with his camera, as the large animal veterinarian made his rounds among family farms in Kansas. What emerges from this photographic adventure is a multifaceted representation of contemporary Kansas farm life, as seen through such routine tasks as calf deliveries and such dramatic events as a nighttime necropsy. Mohr's photographs challenge his viewers to appreciate Kansas and its farmers with fresh eyes, expanding into contemporary times the movement of Regionalism started in the 1930s by John Steuart Curry, Thomas Hart Benton, and Grant Wood. See through Mohr's camera the grandeur of a vast field with a lone red barn, the quirky charm of the veterinarian's mud-encrusted van, and the strong bonds nurtured by a doctor and his community.
Three Wheels scholarships for students
Congratulations to Ellen Unruh, class of 2017, and Jessica Eisenbarth and Megan McLaughlin, class of 2018; who have each received the $1,500 Ralgro Wheels for Bucks Scholarship from Merck Animal Health and the Kansas Livestock Foundation. This award recognizes K-State veterinary students who want to be large animal veterinarians.
"I am so thankful for the investment that the Kansas Livestock Foundation and Merck Animal Health has made in the future of food animal veterinarians," Unruh said. "Their financial contribution to my education will allow me to serve rural farmers and ranchers in the area."
"This scholarship will help me get through school and get into rural practice so I can serve cattle ranchers and farmers," McLaughlin said. "I am truly grateful for Merck's support of future food animal veterinarians."
Master of Public Health student using federal stipend to support field experience
Alyssa Toillion,a Master of Public Health student at Kansas State University, is the recipient of a $1,500 stipend through the Midwestern Public Health Training Center to support her field placement project for her degree.
Click here to read more ...
| | |
| --- | --- |
| | |
| | Alyssa Toillion, MPH student and BCI assistant project coordinator visits Hildebrand Dairy. |
The Midwestern Public Health Training Center, Iowa City, Iowa, is one of 10 regional public health training centers funded by the Health Resources and Services Administration, a part of the U.S. Department of Health and Human Services. The center annually selects five student recipients each in Kansas, Iowa, Missouri and Nebraska for the stipends.

"My field experience consists of creating species-specific brochures and PowerPoint slide sets for all those involved with treating and/or managing food producing animals, including veterinarians who need informative resources to educate their clients about best prevention practices," Toillion said.

"The stipend from the Midwestern Public Health Training Center is an excellent opportunity that will both help fund Alyssa's field experience and highlight public health projects conducted by Master of Public Health students at Kansas State University," said Ellyn Mulcahy, director of the Master of Public Health program, which has four areas of emphasis: food safety and biosecurity; public health nutrition; public health physical activity; and infectious diseases/zoonoses, the latter of which is Toillion's chosen area of emphasis.

All Master of Public Health degree candidates are required to complete a field experience at an off-campus, non-academic, public health practice organization. The purposes of a field experience are to provide a bridge between professional academic preparation and public health practice; allow the student to apply the knowledge, attitudes, and skills learned in the core public health courses and the area of emphasis courses in an agency setting under the supervision and guidance of a mentor-preceptor who has significant public health training and/or experience.

Toillion's preceptor for the project is Tarrie Crnic, a 2006 Kansas State University Doctor of Veterinary Medicine and Master of Public Health alumna who now works for the Kansas Department of Agriculture.

"For my project, in addition to the brochures and PowerPoint slide sets, I will develop online training modules," Toillion said. "To do that, I'll be interviewing experts in different disciplines, including beef, dairy, swine, poultry, small ruminants and exhibitions animals. The first focus will be on-farm drug residue avoidance and cover strategies producers can use to prevent drug residues on their operation. The second focus will be the regulatory aspect of drug residues. This will entail contact with the FDA to learn the regulatory process on how drugs get approved, the testing process and how violative residue investigations are conducted."

To qualify for the stipend, students are expected to fulfill a specific set of requirements.

"I'll be asked to fill out a few evaluations, and write two to three blog posts for the Midwestern Public Health Training Center," Toillion said. "I will also have a final report to submit, outlining the extent of my project, and an abstract for the 2017 Kansas Public Health Association conference Oct. 10-11."

In addition to being a public health student, Toillion works in the College of Veterinary Medicine as an assistant project coordinator for the Beef Cattle Institute. Her responsibilities there have been involved in video editing and production for online training modules, which are skills she will apply to her Master of Public Health field experience project.

Toillion said she plans to present her master's report and finish her degree this summer. From there she would like to pursue a career in veterinary epidemiology.
Dr. Caryl Lockhart joins College of Veterinary Medicine's office of international programs
The College of Veterinary Medicine at Kansas State University has announced the addition of Dr. Caryl Lockhart to its Department of Diagnostic Medicine/Pathology and International Programs team.
"Dr. Lockhart will be working with International Programs to assist with international outreach and engagement," said Executive Director Dr. Keith Hamilton. "Amongst her duties she will provide epidemiology support for international projects; develop and deliver epidemiology educational material for courses in International Veterinary Medicine; and strengthen linkages with key national and international partners, including the Food and Agriculture Organization of the United Nations (FAO)."
Read more ...
Dr. Lockhart was previously employed as a veterinary epidemiologist by the FAO's FAO Emergency Centre for Transboundary Animal Disease (ECTAD) in Jakarta, Indonesia, and the FAO Global Early Warning Systems (GLEWS) in Rome, Italy, since June 2009. During her time with the FAO 's Highly Pathogenic Avian Influenza (HPAI) control programme in Jakarta, she worked on the design, collection and analyses of HPAI disease and movement data from poultry farms, live bird markets and collector yards across the Indonesia as well as mentoring nationals to enhance the level of veterinary epidemiology skills.
During her time with the FAO in Rome, Dr. Lockhart was engaged in the activities of the FAO GLEWS related to transboundary animal disease events (including zoonoses) monitoring and analyses, risk assessment, and capacity building across Asia and Africa. She was originally employed by the FAO from 2003 to 2005 as regional epidemiologist at the Caribbean Amblyomma Programme (CAP) in Antigua. Between 2005 and 2008, she earned a doctorate in veterinary epidemiology at Massey University in Palmerston, New Zealand.
Dr. Lockhart grew up on the Caribbean island of commonwealth of Dominica. She attended Clifton Dupigny Community College in Dominica from 1989 to 1991. After a year of Spanish language training at the Universidad de Camagüey, in Camagüey, Cuba, she attended the Universidad Agraria de la Habana (UNAH), in Havana, Cuba, where she earned a Doctor De Medicina Veterinaria (DMV) degree in 1997. She also obtained a Master of Science in tropical livestock production, from the Universidad Pedro Henriquez Urena (UNPHU), Santo Domingo, Dominican Republic, in 1999.
Dr. Lockhart worked as an animal health officer and then a veterinary and livestock officer for the Ministry of Agriculture in Roseau, Dominica, from 1997 to 2003. She has authored 12 publications and has organized various international short courses in veterinary epidemiology, and social network analyses for the FAO and other organizations. Her professional interests include epidemiological methods and practical application to animal health; disease surveillance, risk assessment, spatial epidemiology, infectious disease modelling and animal movements, and value chains.
Regular features
Alumni Events, Development and Continuing Education
The Veterinary Medical Alumni Association organizes alumni receptions at several of the national annual conferences plus continuing education events and more.
See news and upcoming events below ...
2017 NAVC Alumni Reception | February 7, 2017
Copper Canyon Grill located in the Pointe Orlando Complex
9101 International Dr.
Orlando, FL
5:30 - 6:45 p.m.
RSVP Here
Cow-Calf Conference
Sponsored by the KSU Bovine Club & Beef Cattle Institute
January 13, 2017 at the Stanley Stout Center, 2200 Denison Ave., Manhattan, KS
Conference Speakers & Topics - 6.5 Conference Contact Hours - 8:15 a.m. - 5:00 p.m.

Topics & Speakers Include*:
Role of Momentum in Cow-Calf Production - Dr. Bob Larson
Postpartum Anestrus: Importance and Assessment - Dr. Bob Larson
Timing of Heifer Breeding Relative to Cow Breeding - Dr. Bob Larson
Beef Cow Herd Planning: The Long View - Breeding Plan and Bull Selection - Dr. Bob Weaber
Matching Cows to Forage Production: Timing of Calving & Level of Cow Production - Dr. KC Olson
Beef Cow Herd Planning - Selecting Replacement Heifers (EPDs and other Considerations) - Dr. Bob Weaber
Using the BCI Pregnancy Analytics App/Interpreting Pregnancy Histograms - Dr. Bob Larson
Evaluating Reproductive Soundess of Heifers - Dr. Brad White
Monitoring BCS - Dr. KC Olson
Economic Considerations for Cow-Calf Operations (Within & Outside the Farm Gate) - Dr. Glynn Tonsor
Suite of Reproductive Services for Cow-Calf Clients - Dr. Brad White
Reproductive Programs Targeted for Purebred Producers - Dr. Bob Larson
**Topics/Speakers Subject to Change
Registration Fees:
Registration is $150. You can register online at this site.
You can also register by e-mailing vmce@vet.k-state.edu or visiting our office in Trotter 213.
If you wish to have lunch during the conference, it will be $15.
Find out more information at our website.
In Memoriam - Recently Departed Alumni
Dr. George William Olson, DVM 1958
Nov. 23, 2016
Dr. Louis Wayne Cronin, DVM 1975
Nov. 23, 2016
Questions about Alumni or CE events?
Contact: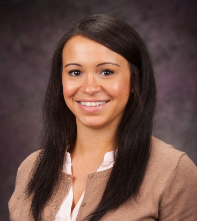 Ashley McCowan
Alumni and Events Coordinator
785-532-4833
amccowan@vet.k-state.edu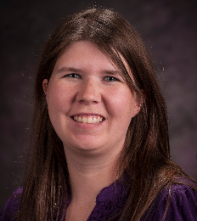 Dana Parker
Program Assistant
785-532-4528
dlaparker@vet.k-state.edu
News Ticker
More activities and accomplishments in the College of Veterinary Medicine:
Dr. Ellyn Mulcahy was awarded a grant from the Kansas Health Foundation titled, "Promoting a Healthy Community in Saline County" in the amount of $25,000. This grant will fund four MPH students to carry out field experience projects with the Saline County health department. The Kansas Health Foundation is a philanthropy dedicated to improving the health of all Kansans. www.kansashealth.org
Dr. Greg Grauer presented seven hours of continuing education credits on small animal urology at CVC West in San Diego Dec. 11.
Dr. Susan Nelson was the veterinary source for an article published on petMD entitled, "A Beginner's Guide to Exercising with Your Dog."
Drs. Raelene Wouda and Mary Lynn Higginbotham as members of the Oncology Service and Clinical Trials Program were one of three featured achievements in the Johnson Cancer Research Center holiday newsletter for developing a cancer clinical trials program, "Investigating cancer in dogs and other animals to improve their outcomes and quality of life and gain information that will benefit both animal and human health."
The Unwanted Horse Coalition has awarded Drs. Christopher Blevins and Warren Beard and the CVM and VHC $3,000 to hold an equine castration clinic in the spring.
Dr. Elizabeth Santschi had the honor to present as a member of the Kester News Hour panel and during scientific meeting sessions at the American Association of Equine Practitioners Dec. 3-7 in Orlando, Florida. The other presenters were Dr. Terry Blanchard from Texas A&M and Rob MacKay from the University of Florida.
| | |
| --- | --- |
| | |
| | Top right: Dr. Temple Grandin, Dr. Chris Blevins and Dr. Elizabeth Davis. Bottom: Dr. Jason Grady. |
KSUCVM hosted the 5th Annual Kansas Horse Council Educational Seminar (Horse Care 101) on Saturday, Dec. 3. Dr. Temple Grandin was the featured speaker for the morning activities in Frick Auditorium on the topic of Equine Behavior. Afternoon sessions conducted by members of the CVM included demonstrations from around the equine clinic for equine conditions that may impact their behavior.
Dr. Jason Grady presented on "Reproductive Behavior" and held a hands-on lab experience – "Mares and Behavior – Mare Reproductive Examination Demonstration." Dr. Chris Blevins held a hands-on experience/lab, "How Dental Issues May Impact Behavior," and Dr. Elizabeth Davis also presented a hands-on experience/lab entitled, "Gastric Ulcers can Impact Equine Behavior."
Congratulations Dr. M.M. Chengappa
After 28 years at K-State and 18 years as Department Head of Diagnostic Medicine/Pathobiology, the CVM said thanks to Dr. M.M. Chengappa in December as he retires from the top spot. Dr. Derek Mosier will be interim department head as a search begins for a long-term replacement. Top right, Dr. T.G. Nagaraja shares some stories about his long friendship with Dr. Chengappa; bottom left, Dean Tammy Beckham asks Dr. Chengappa to share some words while being joined by his wife, Muthu, and daughter, Tanya; and bottom right, Drs. Mike Apley and Dan Thomson offer a present in recognition of Dr. Chengappa having been a longtime Kansan (Dr. Chengappa is from India). Congratulations Dr. Chengappa!
New Arrivals/Recent Departures
Click here to see the New Arrivals/Recent Departures at the CVM ...
Welcome to:
Julie Bender, Dean of Veterinary Medicine, Business Manager
Michael Dixon, Veterinary Health Center, Health Care Technician
Tania Arevalo, Dean of Veterinary Medicine, Translator
Dr. Yi-Hsien Cheng, Anatomy & Physiology, Fellow (Post Doc)
Dr. Sabarish Indran, Diagnostic Medicine/Pathobiology, Fellow (Post Doc)
Stephanie Smrcka, Veterinary Health Center, Health Care Technician
Farewell to:
Maria Bell, Diagnostic Medicine/Pathobiology, Medical Resident Year 1
Stephen Waldron, Dean of Veterinary Medicine, Computer Information Specialist
Amy Schlueter, Veterinary Health Center, Health Care Technician II


Lifelines is published each month by the Marketing and Communications Office at the College of Veterinary Medicine. The editor is Joe Montgomery, jmontgom@vet.k-state.edu.
Lifelines index

Download a printable version of Lifelines (this is condensed and has less information than above)