Christian Veterinary Fellowship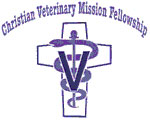 Christian Veterinary Fellowship is the student organization stemming from Christian Veterinary Mission. CVM's mission is "to challenge, empower, and facilitate veterinarians to serve others through their profession, living out their Christian faith. CVM also provides education and encouragement for those who desire to minister through service, prayer, relationship building, and modeling Christ's love."
CVF meets twice in a month at the vet school. Meeting time and location will be e-mailed to the CVMF listserve prior to each meeting. Meetings usually include dinner followed by a speaker or group Bible study led by one of the CVMF members. Smaller study groups also meet periodically. Everyone affiliated with the College of Veterinary Medicine and their significant others are welcome to attend. No membership dues are required.