Prema Arasu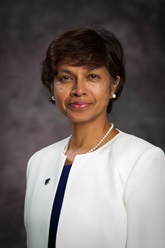 BSc and Diploma of Education, National University of Malaysia
MS, Food Science, University of Wyoming, Laramie, WY
PhD, Microbiology and Immunology, Hahnemann University/Drexel University, Philadelphia, PA
DVM, Cornell University, Ithaca, NY
MBA, University of North Carolina, Chapel Hill (Kenan Flagler Business School)
Post-doctoral fellow, Molecular Parasitology, New England Biolabs, Inc., Beverly, MA
Research fellow, Developmental Genetics, Mass. General Hospital/Harvard Medical School, Boston, MA
Research fellow, Molecular Parasitology, James A. Baker Institute for Animal Health, Cornell Universit
Professor, Parasitology/Infectious diseases
Phone: (913)307-7315
Fax: (913)541-1488
Email: arasu@k-state.edu
Research
My research interests are in parasitic/infectious diseases and host-pathogen signaling. Current sponsored projects:
U.S. Agency for International Development, 2012-2015, "A 'smart' strategic coalition for agricultural security and economic development in Indonesia" (Research and PhD training in biotechnology for crop improvement, integrated pest management, technology commercialization and professional development);
National Science Foundation, 2013-2015, "International Research Evaluation Metrics: Assessment Model of International S&T Partnerships based on Qualitative and Quantitative Indicators
Teaching
My involvement will be mostly as a guest lecturer. Courses taught at previous institutions include Parasitology (Basic and Clinical), Infectious Diseases, Public Health policy and International Veterinary Medicine.
Selected Publications
Payumo, J., Arasu, P., Fauzi, A., Siregar, I. and Noviana, D. 2013. An Entrepreneurial, Research-Based University Model Focused on Intellectual Property Management for Economic Development in Emerging Economies: The Case of Bogor Agricultural University, Indonesia. International Journal for Industrial Property Documentation, Information, Classification and Statistics (World Patent Information).
Moser, J.M., Carbone, I., Arasu, P. and Gibson, G. 2007. Impact of population structure on genetic diversity of a potential vaccine target in the canine hookworm (Ancylostoma caninum). The Journal of Parasitology. 93(4):796-805.
Freitas, T., and Arasu, P. 2005. Cloning and characterization of genes encoding two Transforming Growth Factor-beta-like ligands from the hookworm, Ancylostoma caninum. International Journal of Parasitology. 35(14):1477-87.
Mitreva, M., McCarter J.P., Arasu, P., Hawdon, J., Martin, J., Dante, M., Wylie, T., Xu, J., Stajich, J.E., Kapulkin, W., Clifton, S.W., Waterston, R.H., Wilson, R.K. 2005. Investigating hookworm genomes by comparative analysis of two Ancylostoma species. BMC Genomics. 26;6(1):58.
Arasu, P. 2001. In vitro reactivation of Anyclostoma caninum tissue-arrested third stage larvae by Transforming Growth Factor beta. The Journal of Parasitology. 87(4):733-738.
Arasu, P. and Heller, A. 1999. Antibody responses during pregnancy-induced transmammary transmission of arrested larvae of Ancylostoma caninum nematodes. Veterinary Immunology and Immunopathology. 70:289-298.
Arasu, P., Ellis, L., Ubeira, F. and Appleton, J. 1994. Molecular and immunological analyses on cloned excretory-secretory antigens mediating immunity in Trichinella spiralis infections. Molecular & Biochemical Parasitology 65:201-211.
Arasu, P., Wightman, B. and Ruvkun, G. B. 1991. Temporal regulation of lin-14 by the antagonostic action of two other heterochronic genes, lin-4 and lin-28. Genes & Development 5:1825-1833.
Arasu, P., Nutman, T.B., Steel, C., Tuan, R., Abraham, D. and Perler, F. 1989. Human T-cell stimulation, molecular characterization and in situ mRNA localization of a Brugia malayi recombinant antigen. Molecular & Biochemical Parasitology 36:223-232.
Arasu, P. and Perler, F. 1987. Brugia malayi: recombinant antigens expressed by genomic DNA clones. Experimental Parasitology 64:281-291.
Vaidya, A. and Arasu, P. 1987. Tandemly arranged gene clusters of malarial parasites that are highly conserved and transcribed. Molecular & Biochemical Parasitology 22:249-257.