Seeking Volunteers - Clinical Skills Training
Veterinary Clinical and Professional Skills
We are excited to have unveiled a new Clinical Skills curriculum for incoming first-year veterinary students.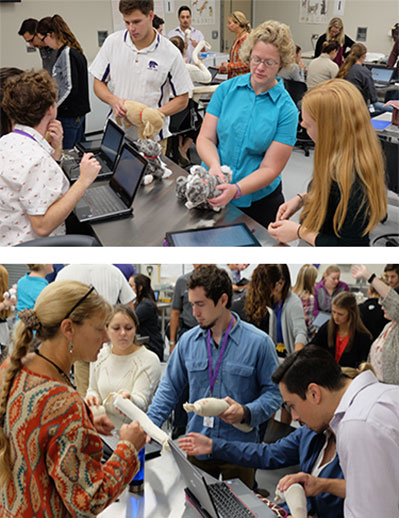 DVM 710, "Veterinary Clinical and Professional Skills I," is the first in a series of courses that introduces veterinary students to technical skills, communication, case management, and critical thinking to better prepare them for clinical rotations. Students participate in hands-on activities in small groups, with the opportunity to practice and master skills using a combination of live animals and non-animal teaching tools. Laboratory sessions are typically two hour commitments on designated weekday afternoons.
The sequel course, DVM 711: Veterinary Clinical and Professional Skills II, is set to debut in January 2018.
Beginning with this course, we are seeking volunteer teaching support from regional practitioners.
We value the knowledge and experiences you will share with the next generation of veterinarians. We invite you to participate in one or more sessions as your expertise and time allows. The course can be delivered with existing resources, but we believe that practitioner educators will enhance first-year student experiences.
If you are interested in volunteering your time to assist with DVM 711 in the spring semester of 2018, please respond by Wednesday, November 15. Your participation would require in-person training before the laboratory session(s), and we would like to plan accordingly this fall to prepare for spring course work.
A summary of our plans for DVM 711 is below.
Thank you kindly for your time and service to the veterinary profession.
Ryane Englar, DVM, DABVP (Canine and Feline Practice) / renglar@vet.k-state.edu
Susan Rose, RVT, LATg
DVM 711 Course Plan
DVM 711 will be taught during the spring semester as a required introductory level course for first-year veterinary students. This is the second in a series of foundational courses designed to introduce students to key clinical skills, including communication and critical thinking, that they will encounter in a clinical setting and to provide students with a problem-based approach to learning.
Key concepts that will be covered in DVM 711 include:
HISTORY-TAKING
single patient
herd history
BIOSECURITY AND BIOSAFETY
stationary practices vs ambulatory clinics
LARGE ANIMAL SAFETY OF HANDLING AND EXAMS
large animal (horse and cow) behavior
the equine physical examination
the bovine physical examination
VACCINES
reading labels
establishing appropriate protocols
reconstituting vaccines
drawing up vaccines
practicing injections
VENIPUNCTURE AND IV CATHETERIZATION
on animal models (no live animals involved)
BASIC FLUID THERAPY
setting up a fluid pump
calculating maintenance fluid rates
BASIC SURGICAL PATTERNS
simple interrupted
simple continuous
cruciate