Jon Dunn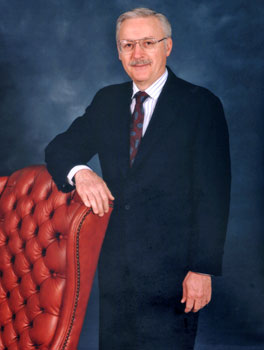 Dr. Jon Dunn received a BS degree in Biology from the College of Idaho in 1962 and a PhD in Comparative Neuroanatomy from the University of Kansas in 1967. A two year USPH post-doctoral research fellowship provided the opportunity to study neuroendocrinology at the Baylor College of Medicine. In 1969 Dr. Dunn joined the faculty of Louisiana State University (LSU) School of Medicine and Dentistry as an Instructor in Anatomy. He was promoted to Assistant Professor in 1970 and Associate Professor in 1973. Dr. Dunn subsequently held academic appointments in the Departments of Anatomy at the Loyola Stritch School of Medicine (1975-1977) and the Oral Roberts University (ORU) School of Medicine and Dentistry where he served as Professor (1977-1990) and Chairman (1988-1990). In 1990 Dr. Dunn came to Kansas State University as Professor and Department Head of Anatomy and Physiology in the College of Veterinary Medicine (1990-2000). In addition to being involved in the education of dental, medical, veterinary, allied health and neuroscience graduate students, in 1970 he took a 16 month leave of absence from LSU to serve as the founding Headmaster of First Assembly Academy, a K - 12 Christian School.
Throughout Dr. Dunn's academic career he was associated with a number of distinguished colleagues and research associates. He authored or co-authored over 140 published scientific abstracts and publications many of which reflected his interest in brain mechanisms involved in stress-induced pathophysiology. Dr. Dunn was honored with several teaching/research awards including: the Homer B. Latimer Award, the W.B. Peck Scientific Research Award, Professor Extraordinario (UAD, Mexico), and Teacher of the Year.
Dr. Dunn was a member and contributor to a number of scientific organizations including the American Association for Advancement of Science, American Association of Anatomists, American Physiological Society, Endocrine Society, International Society of Neuroendocrinology, Society for Neuroscience, Phi Zeta and World Association of Veterinary Anatomist. He was a participant in the NIH Neuroanatomy Visiting Scientist Program (1970), a special consultant for the National Institute of Health (1973), a visiting professor at the Universidad Autonoma de Guadalajara (1985) and the OSU College of Osteopathic Medicine (2002). He has been an ad hoc reviewer for a lengthy list of journals and granting agencies.
In addition to his involvement in professional activities, Dr. Dunn has been active in his church serving as church board member, nursing home board member, adult Sunday School teacher, Boy Scout leader, Royal Ranger Leader, and occasional pulpit speaker. He is a member of number of national organizations including Ducks Unlimited, the Kansas City Retriever Club, National Rifle Association, and Wildlife Forever. He is a Life Member of the Good Sam Club and the North American Hunting Club.
Currently, Jon and his wife Kathleen reside in Delia, KS. They have three children and six grandchildren.