Perpetual Pet Care Program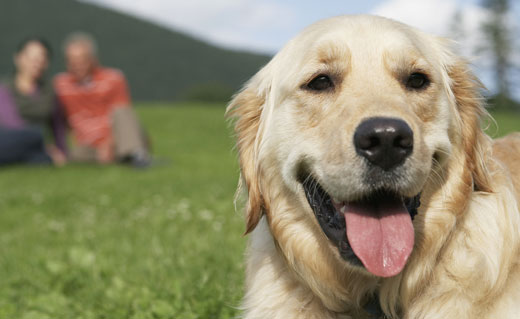 What is the Perpetual Pet Care Program?
The Perpetual Pet Care Program (PPCP) provides your pets with a lifetime of medical care and a loving home when an owner is no longer able to provide care. Our extensive foster network and veterinary experts are committed to care for your animals as if they are our own.
Enroll your pets. Enjoy these benefits:
Peace of mind knowing your pet has dedicated care and a loving home for its life
PPCP fund provides medical care for life
Enrollment is only a 2-step process
Our foster network provides care to enrollees nationwide
Any remaining funds support patients, students, and research at the VHC
For more than a century, the College of Veterinary Medicine has provided care for animals. This expansive network will support every aspect of your pet's adoption and life.
Enrollment Process
To enroll, please contact a member of our development team. We will provide you with the proper documents to initiate the enrollment process, gather more detailed information about your pet, and work together to finalize the Perpetual Pet Care agreement.
Funding your pet's enrollment:
The minimum to enroll in the PPCP is $25,000 per pet. Most participants designate these funds through an estate plan, but this can also easily be funded via a cash gift. Your gift will first provide for your pet(s) medical needs. After each pet's passing, the remaining funds will support the Veterinary Health Center. Please contact the College of Veterinary Medicine's Development Office if you have any questions. Tax deductibility will be determined in accordance with IRS, state and federal regulations.
Profiles
Read a few profiles of families just like yours who have enrolled their pets in the Perpetual Pet Care Program.
Brad and Jeanita McNulty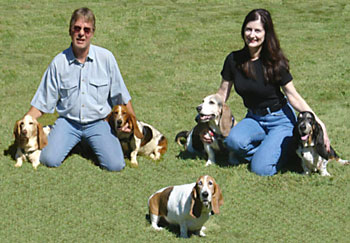 Brad and Jeanita McNulty, Blue Grass, Iowa, with their basset hounds: Belle (in front) and (left to right) Harley, Effie, Watson and Sophie.
Brad McNulty surfed the Internet on a quest. As a certified public accountant, Brad had estate-planning experience and he knew his personal situation was unusual. He had only a vague idea of what to look for when he found a Web site that looked promising. He scrolled down the page and saw an intriguing link to the Perpetual Pet Care Program (PPCP) at the K-State College of Veterinary Medicine.
A recent job transfer had taken Brad and his wife, Jeanita, away from relatives in their home state of South Dakota. Living in Blue Grass, Iowa, they became concerned that if anything ever happened to them, no one would be there to take care of their "family" — six basset hounds named Kelsey, Festus, Sadie, Harley, Watson and Sophie. (Since pets are usually considered to be property, the PPCP helped solve problems of planning for their dogs' care, while it would also fund scholarships and research in the College of Veterinary Medicine.) Because Brad and Jeanita didn't have any connection to K-State, they wanted to learn more about the program in person.
"We had a trip planned to Kansas City anyway," said Jeanita, who is a part-time librarian. "We decided at that time we would drive to Manhattan to see what we thought of the facilities and the people."
The McNultys, pet owners for more than 20 years, had visited other veterinary college facilities at both Colorado State and Iowa State universities. They had very strong ideas about choosing the right place for their basset hounds.
"We wanted to get a feeling for how the facility would take care of our animals," Brad said. "The people at KSU all seem to have that same level of caring and concern for the program that we do for our bassets. We found what we believed to be a perfect match."
"We were very impressed," Jeanita said.
Brad and Jeanita's first dogs were a collie mix named Cody and a cockapoo named Blackie. Later Jeanita decided she wanted to have a basset hound, so they picked out a puppy, which they named Lady Baxter III, or Baxter for short.
"Don't ask why I wanted a basset hound," Jeanita said. "It's kind of a mystery, even to me."
Over the years they acquired other basset hounds and even rescued one they found abandoned at the side of a highway. The dog was in poor shape and had been left to die. Naming him Festus, after the Gunsmoke character, they took him home and helped nurse him back to health. Despite their efforts, something still wasn't quite right. It turned out that Festus was blind. Although Festus requires extra attention, he fits right in with their other basset hounds.
The McNultys made sure their Iowa home would properly accommodate their dogs. They built the house with a heated garage/kennel and a doggy door that leads to a spacious 10,000-square-foot fenced backyard.
"They like to chase each other and keep each other company," Brad said.
"When Brad leaves in the morning, Watson will get the others howling, like a chorus," Jeanita said. "They do their little song until I come out. They must think they're home alone because when I let them know I'm there, they quiet down."
Soon after their visit to Manhattan, the McNultys decided to make a commitment of $500,000 to enroll their basset hounds in the PPCP.
"The McNultys were clearly focused on finding the best available health care for their pets," said Dr. Roger Fingland, director of the teaching hospital. "They were interested in developing a relationship with a veterinary hospital that was capable of providing exceptional care for their pets, regardless of the condition. We were pleased that they decided to associate with the Veterinary Health Center after evaluating several programs. We look forward to working with them to provide the level of medical care they desire. The McNultys are special people and we are fortunate to have them as friends of the teaching hospital."
"Ever since we've had our dogs, we've always taken excellent care of them — the best we could," Brad said. "The cost of treatment or anything of that nature has never been an issue, so we were looking for some place that could continue that level of care."
Because Brad and Jeanita's first basset hound, Baxter, died from cancer a year ago, they made sure that K-State was equipped to deal with that disease.
"They have MRI technology, which is very impressive," Jeanita said. "They seem to have everything to provide the best care possible."
"If one of our other dogs gets sick, we will do everything possible to get our dog to Kansas State," Brad said.
Norma Jean and Lou Ball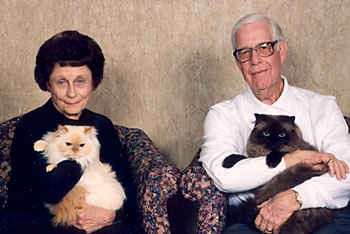 Lou and Norma Jane Ball were in their 70s when they bought purebred Himalayan litter mates —Tiffany and Coco — in 1992. The "kids," as the Balls refer to them, are the couple's only family members.
"Norma Jane and I got into a conversation that we were at the age that we did not know if we could take care of the kids," Lou says. "We needed to give them a good opportunity to have a good life. In the conversation, we came to the conclusion that we could get the care we were looking for by working with the veterinary college."
They came to this natural conclusion after two decades of positive experiences with the Veterinary Health Center. Before Tiffany and Coco, the couple had a Persian, Danny Boy.
"Our association with the clinic has been continuous from the day we got Danny Boy to today,"Lou said. "By using the teaching hospital, we have received the best in treatment and knowledge."
The couple approached Dr. Jake Mosier, then hospital director, about their idea. The Balls looked to the hospital to find a home for Tiffany and Coco when they needed one.
"We sat down and outlined what we wanted to have provided, and Dr. Mosier outlined what he thought they could provide," Lou said.
The cats' future home needed to meet certain stringent requirements, and for their efforts, the Balls would provide financial assistance to the College of Veterinary Medicine through a trust. The agreement required that Tiffany and Coco would continue to receive excellent care, just as it was at home. They signed the agreement in February 1996. That agreement evolved into the Perpetual Pet Care Program. Today, there are more than 20 families with 76 animals enrolled in the program with a giving commitment of $4.3 million.
"I'm glad that people are thinking about how to provide for their pets," Lou said.
Through a bequest, the pets' medical care is covered for life. The remaining balance can be designated to support initiatives such as hospital renovations, programs and services. February 2006 marked the 10th anniversary of signing the Balls' agreement and the creation of the program. Both Coco and Tiffany passed away in the last few years, but as original members of the Perpetual Pet Care Program, they helped pave the way to ensure other pets will be cared for when the owners can no longer provide daily care.
Gene Dickinson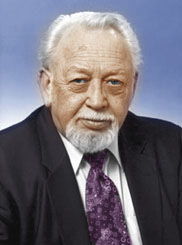 Like many pet owners and lovers, Gene Dickinson was concerned for years about the fate of his dog if he became unable to provide proper care. But his concerns disappeared when he discovered K-State's Perpetual Pet Care Program.
Gene and his four-year-old Siberian husky, Tiger, have been constant companions since Gene's wife passed away last year. His closest living relatives are cousins, but he was not sure they would be receptive to adopting his pet.
"I worried about what would happen to Tiger once I'm gone," said Gene, who prospered in the film producing and communications fields before retiring in El Dorado, Kansas in 1998. "I wanted to make sure that he's not going to end up on the streets or, worse yet, be put to sleep. I want him to be adopted into a good home so he will be well cared for and happy."
Gene, who is a 1956 K-State graduate of the College of Arts and Sciences, recently committed $25,000 to the Perpetual Pet Care Program within the K-State College of Veterinary Medicine to provide Tiger a secure future. The program makes certain that each companion animal who is enrolled in the program will receive proper housing, health services and companionship after the owner is no longer able to provide care. In accordance with the owner's wishes, the pet then will be adopted to a loving, suitable home.
Gene decided to contact the College of Veterinary Medicine after speaking with his local veterinarians, Dr. Glenn Hoskinson (DVM '57) and Dr. Michael Cocke (DVM '80) of Augusta Animal Clinic in Augusta, Kansas. They referred the pet owner to K-State for a solution to his problem.
"The close relationship between Gene and Tiger is very evident," Dr. Hoskinson said. "It's obvious that he loves his dog and cares well for him."
Tiger, who spends most days fulfilling his security duties and lounging around the house, is described by his owner as very intelligent, loyal and protective. He is a vocal pet who "speaks" to his owner. The type and tone of the dog's verbal expressions change significantly depending upon the circumstances.
Gene has gained peace of mind by knowing that his love will continue to be felt even if something should happen to him.
Robin and Becky Roeckers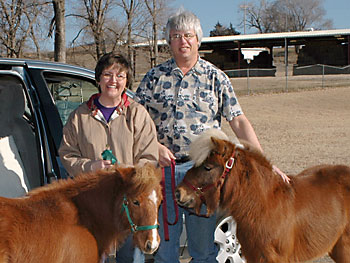 Robin and Becky Roeckers, Berryton, Kan., have enrolled their two miniature horses, two cats and five dogs in the Perpetual Pet Care Program.
The Roeckers have always been concerned about the safety of animals. They are members of an Irish setter rescue program called "Save Our Setters" that helps rescue and place abandoned setters in foster homes across the country.
"We see so many abandoned dogs through our rescue program, and we didn't want to see that happen to our animals," said Robin, a procurement officer for the City of Topeka. "Because we don't have any children and our relatives are unable to take our pets, we wanted to be sure our pets have a secure, healthy, loving environment if we were gone," Becky added.
The Roeckers searched the country for a program that would provide for the long term needs of their pets, but the ideal program was closer then they thought. During a visit to the Veterinary Health Center​ (VHC) with their two miniature horses for a routine check up, the Roeckers saw a brochure for the Perpetual Pet Care Program in the waiting room. The standard of care their animals have continually received at the VHC helped support their decision to get involved with the program.
"We had been looking for a way to provide for them, should something happen to us, but I could not find anything," Becky said. "When we found the Perpetual Pet Care Program, we knew that it was the type of program we wanted."
"We like the program because we know our animals will receive the best care, and this program has a strong foundation," Robin said.
Once their pets no longer need the funds, the Roeckers' endowment will go to the area of greatest need in the teaching hospital and establish a scholarship fund for a veterinary student. "We want to help a student who shares the same views about helping animals. That is why we set up the scholarship," said Becky, a biologist in the Waste Water Division Laboratory of Topeka and 1985 K-State graduate.
"It's gratifying to know that people such as the Roeckers appreciate what we try to teach our students every day – to provide compassionate and high-quality veterinary care to every animal we treat," said Dr. Ralph Richardson, dean of the College of Veterinary Medicine. "Their gift to the VHC will be a constant reminder that we have a daily opportunity to provide veterinary services to clients who really care."
Contact
For details about the Perpetual Pet Care Program, please contact a development professional at the KSU Foundation.
KSU Foundation
c/o Perpetual Pet Care Program
1800 Kimball Avenue, Suite 200
Manhattan, KS 66502-3373
785-775-2063
perpetualpetcare@vet.k-state.edu