Hannah B. Elmore Memorial Site
For our animal companions memorialized through Pet Tribute
Hannah B. Elmore
Submitted by Dr. and Mrs. Ronnie Elmore
A Special Kind of Teacher...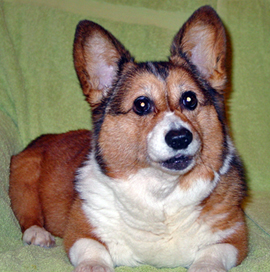 On March 15, 2005, Hannah, affectionately known to many as "Hannah B." for "Hannah Banana", crossed over to the Rainbow Bridge while being held by her "dad" and surrounded by her family in the "comfort room" in the Kansas State University Veterinary Health Center​ (VHC).
Hannah, a Welsh corgi, touched virtually every veterinary student graduating from K-State during the last nearly fourteen years. It was a K-State veterinary student that spayed her in 1991, and then a host of veterinary students who cared for her through her three back surgeries, a root canal procedure, a cruciate repair, and various other ailments.
Because Hannah did not like having her temperature taken, several classes of students had to admit that they were not able to obtain her temperature during routine physical examinations by standard methods. Only after becoming partially paralyzed did she allow such indignity. And then there was the group of students who assured Hannah's "dad" on an impromptu visit to the dental room that everything was okay while she was obviously experiencing a severe allergic reaction to an eye medication administered during a teeth cleaning procedure. Hannah's "dad" could tell that everything was not quite okay by the amount of sweat on the brows of the students.
Those students not assigned to Hannah during an illness had opportunities to care for her during the many times she was boarded while her "parents" were out of town. Although paralyzed for the last three years of her life, Hannah enjoyed living and being in the center of all activities. She was routinely given – more correctly, demanded – a cage in the treatment area where she could observe all that was occurring. Even during her last stay at the VHC, Hannah touched many students, clinicians, and staff members. Many students learned about the sanctity of life and the privilege veterinarians have to end life when pain cannot be relieved and there is no hope for maintaining an acceptable quality of life.
Although the loss of Hannah has left a great void within her family and in her extended family, it is comforting to know this little dog helped train more than 1,300 veterinary students. It is truly comforting to know that such a little dog that never traveled more than a few miles from home could be a small part of so many veterinarians' training. Hannah Banana truly was a special kind of teacher!
Submitted by Dr. and Mrs. Ronnie Elmore
Kai
Submitted by Jordan R. Reghetti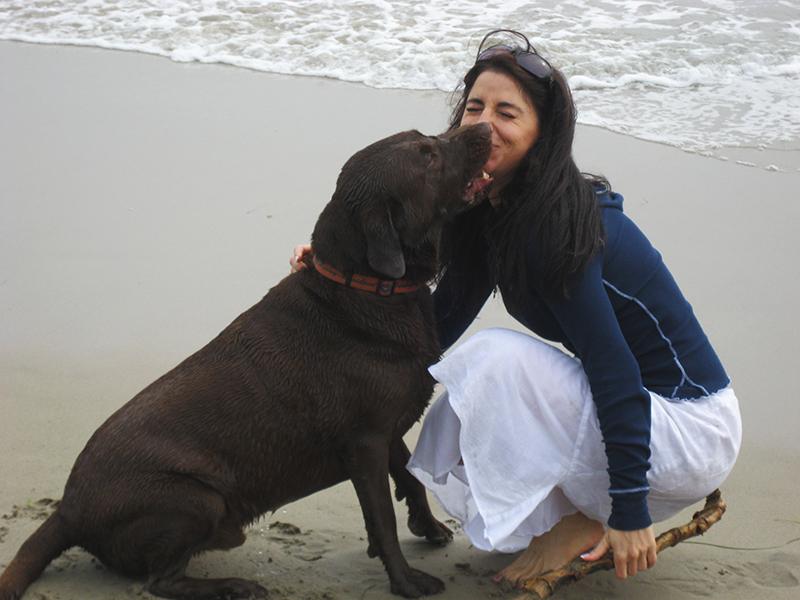 My Precious Kai,

Oct. 7, 2000 – Aug. 23, 2015

I believe in life we get "that ONE dog" many special dogs but only "ONE" that connects to our soul. I found Kai's name in a baby book – it means ocean in Hawaiian. He lived up to his name and more.

Kai was not only the greatest Christmas gift I have ever received, He was one of the biggest blessings in my life. For many years after my brother Joey was killed in an accident in 2003, Kai was the only living soul that could comfort me. Several tragic events followed after Joey went home. So in 2006 when I was told by the veterinarian that Kai had a mast cell tumor on his leg, and it didn't look like he would survive, I had a breakdown. I sat at my altar (where I say my daily prayers) and I said to God. You created me, you know my limit and if you take Kai I will be way past it. Please, please take me home. I know you are there and I know you can hear me. After Joey died I was fortunate to experience you, I know you are real, I have seen things that many don't get to see, and I know that I am not allowed to end my own life. I am begging you God that if you are not willing to take me home, please save my dog. Well, lo and behold — surgery and three weeks of radiation at UC Davis, Kai was cancer-free. I wasn't sure for several years after my brother died (minus all the other tragedy) how I was going to live without him. He was my best friend. So, I turned to this snuggly, beautiful, unconditional-loving, four-legged, choc-fur-covered bug o' love for my support. He was the brightest light in the darkest of times. We were inseparable. Just ask anyone special in my life – where there goes Jordan, goes Kai.

In my single days he was my popcorn, sofa-chilling, sappy-movie sidekick. We use to travel to the ocean before I moved back to L.A. Kai loved it so much that the ocean became one of the biggest reasons to relocate. Everyone that met Kai fell in love. You could not enter our home without being greeted with what we called "his babies" — a stuffed animal. And if he couldn't find one of the 50 stuffed animals quickly enough, he would grab the thing nearest to him: a pillow from the couch, a shoe, a book, etc. He was adamant to make sure that everyone was greeted with a baby, a severe wiggle of his ass (knocking toddlers over with his tail) and of course — a kiss. People that had met Kai even "just once" would ask, "Hey, how is your dog Kai?" To think that I was the one chosen to love him every day is such a magnificent Blessing.

Kai had about 17 nicknames; one of my favorite was Adams creation "Gentle Giant." And that he was.

When Kai was about 5 months old, we took him to a friend's cabin in Tahoe. While we were all out for an evening of fun, Kai decided to make his way through the screen door. We walked into a smorgasbord of destruction including, but not limited to the face and paw chewed off of a "real bear rug" — sorry George! — brand new carpet decorated with white titanium sun block upstairs and downstairs, a cell phone in a million pieces, several food item remnants, and yes the screen door. This was possibly the moment when I realized Kai demanded to not be left home alone. I made it a point for him to never be lonely. He had the best doggie sitters and stayed at homes with loving families anytime I/We would be away for an evening or longer.

I knew that I had to say goodbye for now to Kai at some point; however, no matter how hard I tried to ready myself, it would never have been the right time. Another chunk has been removed from my heart. I am beyond aware that when I go home my heart will be whole again. So each time I breakdown in tears I try to remember "The Blessing." I asked God for a miracle in 2006, and he listened. And for this gift, I received nine more years with my precious bug o' love. I am beyond grateful.

The silence in place of the pitter patter of his paws is an excruciating adjustment.

I believe in my heart that Kai waited to see that I would be loved and watched over. That I had enough love in my life before he went home. His Dad, my amazing man, Adam Scott, asked me to spend the rest of my life with him on July 3 maybe that was all the permission Kai needed to go and grab his wings.

Thank you Kai Kai for making it mandatory for my heart to heal, for being my best friend, for being my teacher, for allowing me to twirl your ears endlessly, for making me feel like I was the most important human in the world. Saying I miss you would be the biggest understatement, just to small a word.

I love you my lil man. Be ready to float on a cloud with me, while I twirl your cuddly ears.
Submitted by Jordan R. Reghetti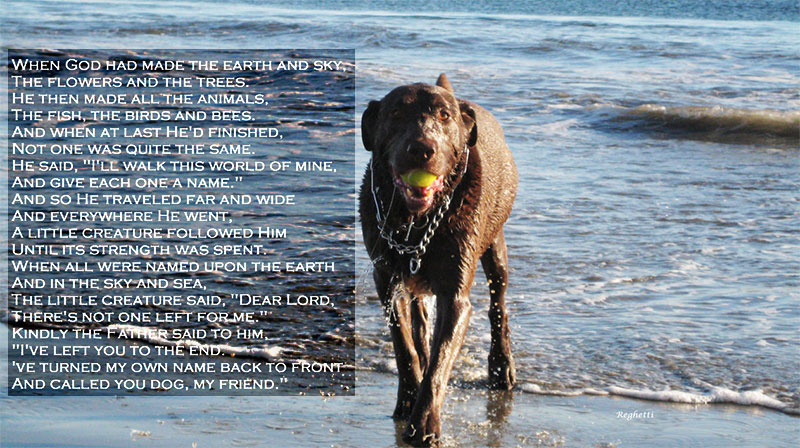 Lief
Submitted by Dave Oberbeck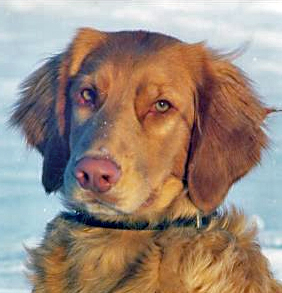 Lief came to our home from a local humane shelter when he was just a couple of months old. He was one of four pups that someone had turned in for whatever reason. My son and I decided that after several days if no one would claim him, we would. My son returned to the shelter, and as my hopes would have it, he returned with our new family member.
Lief was a Golden Retriever and who knows what else, but it really didn't matter. He was ours. I guess it was his yellow eyes and that silly, mischievous look that first grabbed me. Lief, like most male dogs, was his "own person." In time, he came around to my way of thinking, and we trusted him whole heartily. He never destroyed anything and could be left alone in the house unsupervised for hours. (Although I did accuse him of watching T.V. when we weren't home, because I know for a fact that when we left the house he would nap on the couch and one time he must have accidentally pawed or sat on the remote and turned the T.V. on.)
Lief's early years were quite routine, and one time while we were vacationing near Lake Ontario, a complete stranger came up to me and offered me $1,000 for him. Of course, there was no price that would be considered for a family member. Lief was a real looker. Despite his handsome looks, Lief, like a lot of Golden Retrievers, was plagued by medical problems. He was prone to ear infections, hot spots and at about five years of age, we began to notice he was having trouble catching a frisbee. To make a long story short, we took him to the Cornell University College of Veterinarian Medicine. I was crushed that day when the doctor told me that Lief was partially blind and would be totally blind in six to twelve months. I promised him on the return trip home that he would have nothing to worry about; I would be his eyes and I would not let him down.
Lief was my shadow. Whenever I moved, he moved, wherever I went, he went. He loved to ride in the car and would rest his head in my lap for hours. He was always at my feet. He loved to sleep on my feet; I guess he did that so he would know when I was on the move. I was his and he was mine. Then, one night, the week before Christmas 2004, at about 10 p.m., Lief went into a seizure that he never recovered from. Despite our efforts to get him to an emergency room hospital for animals on slick and snow covered roads, he passed away about 9 a.m. the next morning. He was six years old.
When he passed away so did a piece of me. Some would say, "He was just a dog," but they don't or can't understand, and I feel for them. Lief will always be a part of me. I can't help feeling that I let him down because I couldn't keep my promise. Lief I love you. I am so sorry.
Submitted by Dave Oberbeck
Zeke
Submitted by Don Manley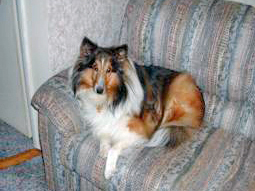 He was beautiful to us from the moment we first saw him. Though by Sheltie standards, his overbite caused him to appear to have the nose of a Collie. We loved him dearly, and he felt the same about us. He was Zeke – named by our four-year-old grandson.
My wife saw that he got professional training, and he began to visit nursing homes as a therapy dog, always in the company of the love of his life, Nadine, my wife.
God gave us ten years with him. We are very, very grateful.
Zeke is gone from us now, and we are still missing him terribly. Maybe eventually another dog will come into our life. Meanwhile we mourn, and yes, we cry a little.
We remember the good things; his piece of rubber garden hose that he carried around outside when he wanted us to play tug with him; his toleration of two cats he didn't really care for, but he protected them anyway; how much he loved riding in the car; how the residents of the nursing home loved him and how he loved them.
So to you, Zeke: You took a little of us with you, but you left a lot of yourself with us. Thanks for the ten years.
Submitted by Don Manley
Topeka, Kansas
Winston
Submitted by Jim and Kathy Celmer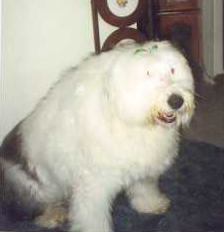 Winston came to live with us nine years ago. He was an Old English Sheep Dog and was born deaf. As a puppy he was full of life and always happy. He had access to our garage and during the day while we were at work, he spent hours pulling tools, grills, lawn furniture, anything he could carry, out on to our patio. He did not destroy anything, he just enjoyed moving items outside - part of his herding instinct I am sure. Although we found this amusing, my husband eventually closed everything in the garage so that he couldn't get to anything.
As with most dogs, life was a game. His devotion and love was overwhelming to my husband and me. We decided – as a lot of dog owners do – to take Winston through obedience training at our local kennel club. We realized with his hearing disability it would be a challenge. Believe me it was. With Winston's joy and energy, he saw the other dogs as playmates and I constantly corrected him on paying attention. Sometimes I had to do time outs with him as we were walking in a circle with the other dogs. We worked with him day and night teaching him sign language and doing the drills that were required of beginning obedience. We had to find other ways to give him the commands since he could not hear. Winston learned sign quickly. Doggie treats worked wonders teaching him to lie and stay. He always wanted to take the lead, so a big challenge was teaching him to walk beside you instead of ahead of you. A sign was developed to keep him back and along side.
As the big day approached, which was on his first birthday, we arrived at the school with Winston. The teachers had decided that because of his disability he probably would not place in the final training exercise. Winston surprised all of us. He placed first. His attention and response to the sign language we taught him was right on. The judge said that Winston and my husband worked amazingly well with each other. Winston took it all in stride and looked at us as if to say "What were you worried about? I knew I could do it." A few weeks later, he earned his Good Citizen Award by passing his test with very high marks.
Winnie, as we often called him, loved to run in the field behind our house with his head up high, chasing the flying birds – once again, part of his herding instinct. Throughout the next years he was a constant joy to us. His unconditional love and faith in all people taught me to love and appreciate all animals. He just loved being with people. If you happened to be standing washing dishes or cooking dinner, you would often find him standing between your legs. Guests would come over and talk to you and the next thing they knew, a big ol' Sheep Dog was standing between their legs.
Two years ago, Winnie developed Mega Esophagus, which meant his esophagus was too large and food could not get to his stomach. He was always in danger of getting aspiration pneumonia. He also developed problems with his swallowing and stomach mobility. We began taking him to the K-State Veterinary Health Center in Manhattan, Kansas. After two surgeries and a feeding tube in place, we brought him home. And so time went on with us tube feeding Winnie three times a day. Eventually he put on the weight he had lost and got back to his old self, loving life and all that he came in contact with. Pneumonia continued to plague Winnie over the next couple of years. There were more trips to K-State and more surgery on his feeding tube button. Never once did he cry or act distressed over his medical condition. He was always a trooper.
On his final trip to K-State, he had to undergo surgery due to an obstruction in his bowel. He came through surgery well but then began to develop other problems. On April 6, 2005, my husband and I made the 200-mile trip to K-State from Grand Island, Nebraska, knowing that his condition was grave and he might not be alive when we reached him. When we got there, Winnie was very weak but holding on. As my husband and I talked to him to tell him good bye and that we loved him, he talked back to us, and I will always believe he was telling us it was okay, he was ready to go play in heaven.
Jim and I wish to express our thanks and gratitude to Dr. Lisa Moore and her staff at K-State for the love and care Winston always received. Because of them we know that Winston was always taken care of when we couldn't be with him. That knowledge has made his loss somewhat easier.
Submitted by Jim and Kathy Celmer
Grand Island, Nebraska
Moxie
Submitted by Janet and Pat Duncan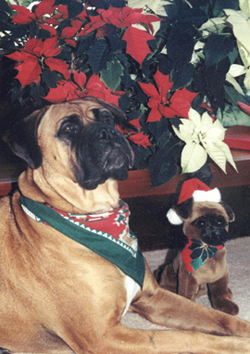 Dear Dr. Nelson, Dr. Artzer, Beth, Amy and everyone who gave such wonderful care to Moxie,
Thank you for surrounding her with friendship when I couldn't be with her during her last hours. I know she was as comfortable with all of you as she was with family. She always jumped out of the car and trotted up to Nancy at the front desk with her collar bell ringing for her visit to her doctors' office. She was a wonderful dog and we will miss her and talk lovingly about her forever. Thanks to Amy's beautiful plaque, her paw print sits on our desk as well as being imprinted on our hearts.
Sincerely,
Janet and Pat Duncan
Spencer
Submitted by Dean, Kim, Austin and Rachel Stephens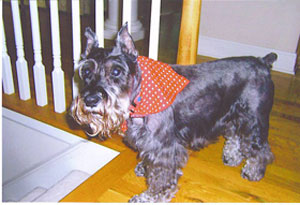 Spencer "the Shredder" Stephens came into our lives in December of 1995. We had no idea how much this little dog was going to change our lives when he came into our home. And today, eleven years later, it is hard to get along without him around. Spencer was the runt of his litter, and that was one of the main reasons we picked him out. He was so cute and so small. As the years went on, you would never have known that he was the runt because his hearty appetite had caused him to be a little husky. Spencer, or as my father liked to call him, Little Buddy, was so much more than a dog; he was the fifth member of our family, he was our friend, he was our companion and now, life is not the same without him.
At a very young age, Spencer lived up to his middle name, "The Shredder." He would find Kleenex, the cardboard from paper towels and wrapping paper and he would tear them to shreds…all for some attention. While most people would be annoyed, our family thought it was hilarious. I guess you could say this was the start of the millions of memories we have made with Little Buddy over the years. He always had such a hearty appetite and would devour his food in less than two minutes, and then immediately come to the kitchen table to wait for handouts of our dinnertime meal. If he wasn't hungry, we knew something was wrong. He traveled with us on all of our vacations, and many times he was the best traveler, never asking, "are we there yet?" or complaining. Spencer was happy just to come along. In his later years, he was so accustomed to going on family vacations, that when anyone would get a suitcase out of the closet, Spencer would be worried that we were going somewhere without him. After seeing the suitcase, he would park by the front door or follow so closely at our heels to make sure we didn't forget to take him along, and we never forgot because vacation wouldn't be the same without Little Buddy.
As the years passed and more memories were made it seemed difficult to remember what life was like before Spencer was a part of it. Our family would always joke and say that Spencer was a furry little human, and to this day, I believe that to be true. It was this "little human" that made the simple pleasures in life the most enjoyable. Bad days were soon forgotten when I would pull up in the driveway to see Spencer at the front door anxiously waiting to hear the garage door open. Happy times were doubled because he was always a part of them. And sad days were easier having him to come and lay his head in my lap. It's amazing that his presence could heal my human hurts.
In winter of 2002 Spencer fell ill. We knew something was wrong because he was no longer concerned with gobbling up his food. He began to have seizures and we took him to the vet not knowing what to expect. We were told he had a large mass in his stomach and surgery was necessary. I remember telling my parents that the only thing I wanted for Christmas that year was for my "Little Buddy" to be okay. On the day the surgery was scheduled our family waited by the phone for news from the vet. The vet called to tell us that they had not begun the surgery because they wanted to try something that another vet has suggested…a pill that would control the seizures and possibly shrink the mass. Willing to try anything, we agreed and it worked. Slowly but surely, Spencer was back to his normal self. We had four more wonderful years with him and knowing now more than ever how important time was, we cherished every second with him. In early 2006 bad news came. Spencer was diagnosed with kidney cancer and we were told time would be short. He no longer had an appetite for the many different types of dog food we purchased and the vet told us to feed him whatever he would eat. Spencer began eating rice, hamburger, chicken, and in his last days he got a grilled steak everyday. I think it was fair to say that many times he had a better meal than we did!
Spencer made it through one last birthday and turned 11 before Thanksgiving. People were always so surprised to hear that he was still with us almost one year of hearing the bad news. But we knew that he hung on to us for the same reason we hung on to him; we loved him and he loved us. His unyielding loyalty taught us all an important lesson about devotion, a lesson we are forever thankful for and will never forget. When December came we knew the time was here for us to say goodbye to our faithful companion, and on December 12, 2006, with his family by his side, we did the hardest thing we had ever had to do and said goodbye to the little dog that changed our life. When Spencer left, he took a piece of each of us with him and we miss him terribly. Although our hearts hurt to see him go, we are thankful for the wonderful and memorable 11 years we were able to share with our "Little Buddy."
We miss you Little Buddy
Submitted by Dean, Kim, Austin and Rachel Stephens
Shawnee, Kansas
Tess
Submitted by Kathy Coffman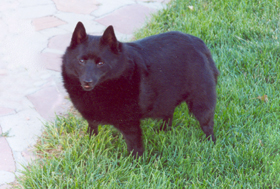 I was once told it's a blessed gift to have the capacity to love something with all your heart,
but with that gift comes the responsibility of having strength if you have to part.
I called her Tess, Tetta Metta and sometimes Tessa Mae.
Today with broken heart I helped her slip away.
She went to her end like she lived her life: with dignity and grace.
I couldn't stay till the very end when the light went out of her face.
I hope you forgive me my dear friend, I couldn't see you dead;
that's an image there would have been no way to ever evict from my head.
You never did me wrong in any one of your nine short years,
that I did you wrong today will always be one of my fears.
You didn't leave a hole in my life as you passed to the other side,
you left a chasm, immeasurable, it's so deep and wide.
When this broken body of mine gives way and succumbs to its ultimate fate, you better be there little black dog, when I walk through the pearly gate.
I want you to be doing your black dog dance with a grin from ear to ear, and fill my heart and soul with joy as you always did when you were here.
Goodbye my Tetta Mae.
Submitted by Kathy Coffman
Norman, Oklahoma
Miss Allie
Submitted by Tom and Caroline Bishop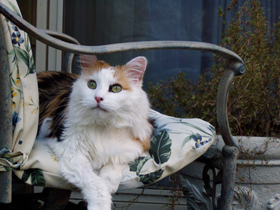 God saw Miss Allie was getting tired and a cure was not to be. So he put his arms around her and whispered, "Come with me." With tearful eyes, we watched her fade away and although we loved her dearly, we could not make her stay. A golden heart stopped beating, a sweet spirit was put to rest. God broke our hearts to prove to us he only takes the best.
Miss Allie fought a courageous three-year battle with cancer. On February 19, 2006, at Kansas State University veterinary school's intensive care unit, Jesus called her sweet soul home to rest peacefully with him in heaven until we can be reunited.
Submitted by Tom and Caroline Bishop
St. Louis, Missouri
Austin
Submitted by Mike and Becky Malotte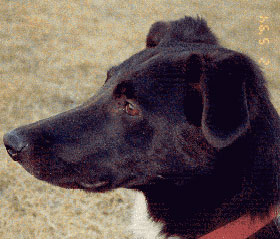 It had been a long day of searching for a new found friend and the day was almost over. Upon arriving at Wayside Waifs in August, 1992, we had not found "the one" and the day was almost over. We had been to numerous animal shelters that day and seen many wonderful animals that I am sure would have been great companions, but none that seemed to be that special one we were looking for. Then my wife called me over to one of the cages outdoors, where males were being held, and asked, "What do you think of him?" Standing in front of me was a beautiful black and white dog. We asked an attendant about him, and the attendant retrieved the card with the shelter assigned name, and their guess about breed. He was listed as a lab mix, but he was clearly a collie with shorter than normal hair. He seemed very nervous at first, and did not want a leash put on him. We learned that he had been abandoned by his owners and left tied up behind their house when they moved away. Luckily, the next door neighbors fed him and eventually brought him to the shelter. When we found him, it was his first day there. We brought him home, and given several days time, he learned that the leash was a good thing and would love the leash the rest of his life.
Austin was a wonderful friend to all people he met. He was a very pretty animal and whenever we took him anywhere, people would come up to us and strike up a conversation while petting him. We met so many interesting and nice people, thanks to Austin and his charm. He loved going to the Vet, and thankfully until his final year, only went for routine checkups. Our animal hospital loved him as well and whenever he was there, a joyous atmosphere prevailed. He would "talk" for Dr. Modrcin, and the rest of the staff, and going there with him was always so much fun.
Austin was a wonderful friend and companion to his "little sister," Jessi, whom we adopted one year later in June, 1993. They were the best of companions, and traveled with us on many trips around the country. Jessi is still with us, and we know she also misses her "big brother" very much. Austin exhibited great intelligence and skill when it came to getting along with Jessi. As is normal with dogs, Jessi, always wanted the toy or chew Austin had. When this happened, Austin would immediately switch to another toy or chew close by, and then Jessi would want that one instead. Austin would calmly go back to the original one, and all were happy. This was a characteristic of his personality. He was happiest when all around him were peaceful
I will always believe that Austin was a "gift from God" and we were so fortunate to have been awarded the 14 and-and-a-half years we spent with him. It is our hope that he awaits us at the "rainbow bridge" where we will someday be reunited with all the wonderful companions we have known throughout our lives.
Submitted by Mike and Becky Malotte
Olathe, Kansas
Rebecca
Submitted by Michele Braun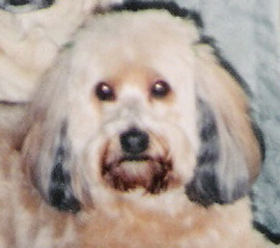 We got Rebecca at the pound on Christmas Eve. We had been told she had a very little chance of surviving. She had been badly abused and starved in the 4 months of her short little life. We feel her life started the day we brought her home. The pound could not get her to eat anything. When we brought her home, Zoey (our other pound girl) went up to her, walked her over to her food dish, and she started to eat.
We had 8 wonderful years with a little girl who was not supposed to live. She was the second blessing we had on a Christmas Eve, as Zoey was born on Christmas Eve two years before.
Now both of my girls are together again. We love and miss you both!
Michele
Submitted by Michele Braun
Zoey
Submitted by Michele Braun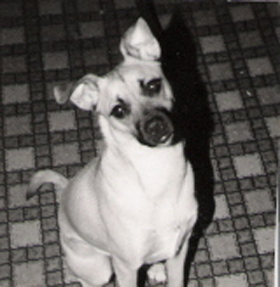 We got Zoey when she was 6 weeks old from our local pound. From the very beginning she was loving and smart. She knew every toy by name. You could talk to her and she knew just what you were saying. When people would ask me what kind of dog she was, I would just tell them "Loved."
Two years after getting Zoey we brought our second pound baby home, Rebecca. Zoey took over and made a very abused Rebecca whole again.
Zoey was always with me even after she got diabetes and could no longer see. She still knew where I was and she fought hard to stay well. She did not like to see me sad. But the fight is over now and she is with Rebecca.
She is loved and missed!
Michelle
Submitted by Michelle Braun
Rocket Ron
Submitted by Jo Gutgsell, Steve Haack and J. Joe Gutgsell (nanny)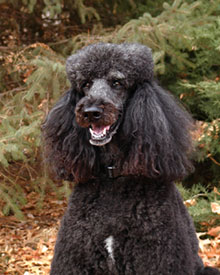 THERE is sorrow enough in the natural way
From men and women to fill our day;
And when we are certain of sorrow in store,
Why do we always arrange for more?
Brothers and Sisters, I bid you beware
Of giving your heart to a dog to tear.
Buy a pup and your money will buy
Love unflinching that cannot lie—
Perfect passion and worship fed
By a kick in the ribs or a pat on the head.
Nevertheless it is hardly fair
To risk your heart for a dog to tear.

When the fourteen years which Nature permits
Are closing in asthma, or tumour, or fits,
And the vet's unspoken prescription runs
To lethal chambers or loaded guns,
Then you will find—it's your own affair—
But . . . you've given your heart to a dog to tear.
When the body that lived at your single will,
With its whimper of welcome, is stilled (how still!).
When the spirit that answered your every mood
Is gone—wherever it goes—for good,
You will discover how much you care,
And will give your heart to a dog to tear.
We've sorrow enough in the natural way,
When it comes to burying Christian clay.
Our loves are not given, but only lent,
At compound interest of cent per cent.
Though it is not always the case, I believe,
That the longer we've kept 'em, the more do we grieve.
For, when debts are payable, right or wrong,
A short-time loan is as bad as a long—
So why in—Heaven (before we are there)
Should we give our hearts to a dog to tear?
The Power of the Dog
Rudyard Kipling
We gave our hearts to Rocket Ron to tear because he unconditionally gave his to us. Thank you to all of the doctors, nurses, senior students, techs and other staff who came into RR's life over the last 6 ½ years. You gave him the care and love he needed to persevere with joy for three years beyond what we thought possible. May he live in all of our hearts until the end of our days.
Submitted by Jo Gutgsell, Steve Haack and J. Joe Gutgsell (Nanny)
Scamper
Submitted by Frank & Elaine Holmstrom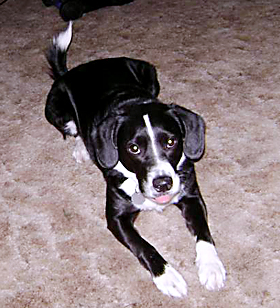 We adopted Scamper from the Nelson Rolf Memorial Animal Shelter in Warsaw, Mo., on Dec. 17, 2004. She was 8 weeks old.
She had been dropped off, in a cardboard box, with six of her brothers and sisters two or three weeks earlier. She was the last in her litter to be adopted.
Scamper was the prettiest dog ever – jet black except for her four white paws, the white tip of her tail and white markings around her nose, between her eyes and on her chest.
She appeared to be a border collie/beagle/cocker spaniel mix with small feet – so we knew she would be a 20 –25 pound dog. By the time she got to her true weight of 47 pounds, it was too late for us. We were in love with her.
Her favorite activity her first two years was grabbing anything and everything within reach that she could put in her mouth. Dish clothes, napkins, Kleenexes and pencils were her favorites. If any of them were within reach, she would have them in a flash. When she was outside, her favorites were rocks, sticks, and pieces of bricks.
At age 3 and 4, her favorite activity was walking the path at Lake Shawnee. We would walk two miles every morning, and two miles every evening. Squirrels were spotted and treed on many of these trips. When she spotted a squirrel, she would immediately go into stalk mode – slowing moving forward one step at a time. This would continue until she would get 10 – 15 feet from the squirrel. At that point there would be a massive face off until the squirrel fled up the tree.
In her fenced yard, Scamper lover to stroll through the day lily beds looking for rabbits. She was so fast, she must have had some greyhound blood in her too. She loved to fetch her green ring toy, and I loved to throw it for her.
When volunteer work was done in the Lake Shawnee Gardens, she would go along. The other volunteers all loved her as much as we did.
She was a constant companion in the car anytime we went out – when it wasn't too sunny or too cold.
We took her to K-State on Sept. 2 when we found her blood count to be too low. The wonderful crew at K-State, including Dr. Hanzlicek and Jennifer McMeans, did everything in their power to cure her, but it was not to be. She was put to sleep Sept. 8th when we realized no miracle would occur. On that last visit, she licked Elaine's face and grabbed a Kleenex out of her hand. She was the true Scamper to the end.
We had Scamper for less than four years, but she gave us a lifetime of joy and remembrances. We know that they were wonderful years for Scamper too.
Submitted by Frank & Elaine Holmstrom
Topeka Kansas
Hannah Rose (December 1995 - May 11, 2009)
Submitted by Becky and Robin Roeckers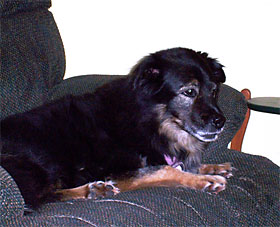 Hannah was a special girl who came to us many years ago at about a year of age. She was dumped on the road out near our house. It took me three weeks to get her to come to me. She would follow cars and then watch to see who stopped. Each time she would look and then walk away as if to say, "No you aren't the person who left me." The third week I stopped, I called her and told her they weren't coming back for her and that she might as well come to me. She hesitated a bit, then looked back at the road, decided I was right and come over to me, and rolled onto her back. She was my girl ever since. She was constantly at my side, whatever I was doing. She loved to go to the horse barn with me and help bring in the horses, snack on horse droppings, and keep on eye on me. She bossed the house and kept the silly Irish boys in line! She was a working dog, probably an Australian Cattle Dog/ A. Shepard mix and therefore was all business! She didn't understand all the play stuff the Irish were about!
Hannah began failing about a month ago due to a hemangiosarcoma. She still went to the barn with me, but no longer herded the horses in. Sunday morning, she no longer wanted to go to the barn. Monday, I took her to her veterinarian, Dr. Jeff, and we learned the tumor had ruptured and she was hemorrhaging. We helped her to the Bridge and bade her farewell.
Sleep well, Hannah, We love you.
Submitted by Becky and Robin Roeckers,
Berryton, Kansas
Millie of the Valley – "Millie" (May 22, 1993-June 12, 2009)
Submitted by Becky and Robin Roeckers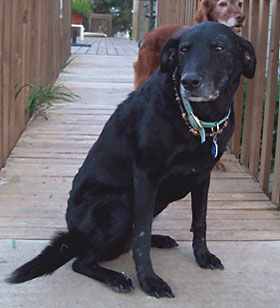 I found Millie and her three sisters while driving to dog class on June evening. They were 6 weeks old and were in a ditch by the road. One had stumbled up onto the road. I took them all home, vetted, and then found good homes for three of them, and Millie stayed. I had Maggie, and she was just 6 months old, so Millie became Robin's dog. She was his first dog ever in his life and she really loved him, and he her. She used to lie in bed in his arms on her back and get her tummy rubbed. He would stop and raise his arms in the air, and she would stick her paws straight up. He then started to say "Touchdown!" Millie soon learned when he said "Touchdown" to stick her feet in the air! It was the cutest thing.
Millie went on to earn her Obedience Companion Dog title in AKC competition. We had registered her with an ILP registration that allowed her to compete in non-conformation events. She was also a licensed pet therapy dog with Heart of America Hospice. Millie warmed many hearts and brightened many lives with her visits to nursing homes.
Millie also "taught" a dozen or more kids about training dogs. She was my "demo" dog in my training classes for years, and I let kids work with her and learn about giving commands, signals, and rewards. Millie was so perfect, she would work for anyone. Millie began failing the first of this year, and had slowly declined to the point of zero life quality. With me by her side, and Robin holding her face and looking into her eyes, her lifelong doctor, Dr. Myers, helped her slip into peace. She knew we were with her and we loved her with all our hearts.
Rest easy, Dear Millie, and we will see you at the Bridge.
Submitted by Becky and Robin Roeckers,
Berryton, Kansas
Poppy Seed
Submitted by Becky and Robin Roeckers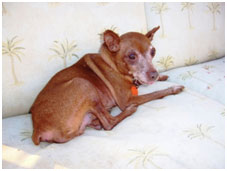 (Born approximately 1992 and left this world Oct. 6, 2009)
Poppy Seed came to us with the help of many friends: Phyllis with All Miniature Pinscher Services (AMPS) who saw him on the internet. He was in a shelter in Olathe, Kan. She called Harold, my trucker friend, to see if he knew anyone in Kansas who could get Poppy from the shelter. He knew me. I called my friend Kathy with LL Dog rescue in Overland Park and she agreed to go to the shelter and pull him for me. She then dropped him off at my friend Linda's veterinary clinic for the day until my husband Robin could drive over to pick him up. That night, Sept. 17, 2008, Poppy came home to us and here he stayed until today, when we helped him to the Bridge.
Poppy Seed was suppose to stay with us until Harold could pick him up and take him to Phyllis in New Hampshire, where he would live out his days. We took the little guy to Dr. Jeff before he was to travel east, however, and received the word that Poppy had a terrible heart condition. Dr. Jeff didn't think he could survive the long trip. Right then, I said I would be his foster/hospice mom. Phyllis and AMPS agreed and so he came to stay.
To those who knew my "Little Seedling," as I called him, you will remember how precious he was, and how loving. Though many miniature pinschers have a reputation for being standoffish, he was not. Anyone could hold him or pet him. He was so very dear to me and I confess he didn't walk much when we were together. He was always in my arms. He slept right beside me every night and if I was home, he was in my arms or beside me on the couch. Many times I took him to work with me and he would sleep in his stroller beside my desk, or I would push him to wherever in the lab I was working. He attended several division meetings and was the guest of honor a couple of times.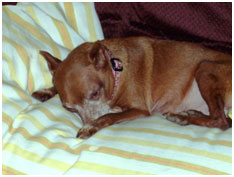 Poppy Seed had many friends and all will miss him. Though he was not our first hospice dog, and I know he won't be the last, he was a very special one. He and I had a connection that was made deep in our hearts and souls, and that bond will never be broken, even in death.
Breathe easy now and rest, dear friend, and sleep peacefully. I know how tired you were, and yet you still watched my every move, and worried when I stepped out of sight. You can rest now, for I will never be far away. And as I always told you, "It's okay, Poppy Seed, Momma loves him".
Submitted by Becky and Robin Roeckers
Berryton, Kansas
Daisy and Mae
Submitted by Don and Ronna Robertson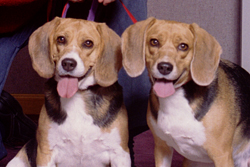 Daisy and Mae came into our lives during the spring of 1997 while we were living in Moscow, Idaho. We took them to puppy and dog obedience classes run by veterinary students from Washington State University. Don started taking them on daily walks, which continued until the last few days of their lives. The children in each of the three neighborhoods in which we lived with Daisy and Mae did not know our names, but they knew the names of both dogs.
The 1,600-mile move to Manhattan, Kan., in 2000 was not without its moments. One of the rest stops in Montana had been taken over by a colony of prairie dogs (we thought it best to go to the next rest stop). One of our fondest memories of the trip happened in Estes Park, Colo. We went downtown to do some shopping and a crowd soon formed around our park bench to pet and look at the dogs. We received many compliments over the years that they were "good looking/nice dogs."
We lost Mae on July 21, 2009, due to advanced lung cancer. She was terrified of thunder, but able to distinguish between thunder and the artillery sounds from Fort Riley. She often sat on one of the dining room chairs when we had guests and looked a person in the eye when you talked to her, which bothered some of our guests. She developed allergies after we moved to Kansas, which were especially difficult for her during the late spring and early fall months. She had to be "the" leader on walks, but always came back and checked out new scents discovered by Daisy.
We lost Daisy on Sept. 3, 2009, due to metastatic cancer that probably began in her liver. In early November 2008, she required surgery for a ruptured left cranial cruciate ligament, so there were no walks for a couple of months. She was a bit slower to learn new things compared with Mae, but she never forgot something once it was learned, such as where she last saw a rabbit on our walks. She was always hungry and quickly ate her food as well as Mae's, if we did not watch them closely — hence the name the "food hound." She was especially patient with children. Her build was more compact compared with Mae. Don often said that Mae was the halfback in the offense and Daisy could do the blocking for her.
The loss of Daisy and Mae left a void in our lives that will be difficult to fill. We know that there are those individuals who do not understand how humans can become so attached to an animal, however, they either have never had pets in their lives or they never had pets like Daisy and Mae. We were fortunate and thankful to have had them in our family for more than 12 years. They enriched our lives with many fond memories.
Submitted by Don and Ronna Robertson
Noah, A life of Giving
Submitted by Jessie L. Rayl and Dianne Winterberg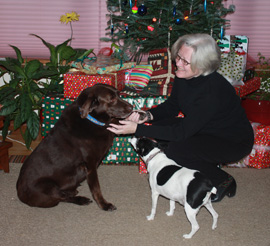 (Noah, Oreo and Dianne Winterberg, Christmas 2009)
Noah was destined for a life of giving. Starting from a puppy, he was raised in the prison puppy program to prepare him to become a dog guide. I received Noah on Feb. 11, 2001, from Pilot Dog Inc. in Columbus, Ohio. It wasn't until later in my work as a counselor that I learned just how giving his puppy experience had been to the female prisoner who had raised him. Over the years, from that day I received him until November 2009, when I made the decision to let Noah live out his years with my sister and her family in Kansas, we shared many happy days and hours. Noah was the perfect dog guide, friend and companion to me, my family and friends and to my clients. He gave something to everyone he met. To me, he gave his protection, his love and his life.
Noah spent the last six weeks of his life knowing the joys of a pet dog, running in the fields, lying by the fireplace and having no responsibilities at all, and just being loved and pampered as a pet dog. His life was much too short. And God knew he had a disease for which there was no cure, so He wrapped his loving arms around Noah and whispered, "Come to me."
With tearful eyes we watched you and saw you pass away; although we love you dearly, now you are at rest.
A golden heart stopped beating; God broke our hearts to prove he only takes the best.
Noah, Pilot Dog Guide, March 22, 1999-Jan. 5, 2010
Submitted by Jessie L. Rayl and Dianne Winterberg
Maggie
Submitted by Dr. Howard and Ann Erickson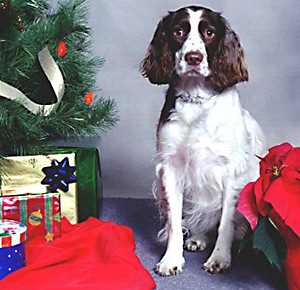 Maggie was a very special English springer spaniel. Although she slept more as she got older, she was very active and full of energy until nearly the end. We bought Maggie in 1998, 12 years ago, from a family at Fort Riley who had a litter of pups. We had lost a cocker spaniel from back problems; after limited reading on the breed, we thought a springer sounded like a good replacement for our cocker. Her high energy has certainly kept us active and on our toes for the last 12 years.
Springer spaniels are very loyal, full of energy and follow you everywhere. Maggie loved to go for walks. Sometimes in nice weather she would get four or five walks a day for a total of nine or ten miles. She remembered the bushes where she had flushed a rabbit on a previous day and would always check the same bushes every day. Maggie also liked to pick up water bottles, pop cans or beer cans. It was not unusual for her to carry a can or bottle for more than a mile -- all the way home. Even in cold weather, with the temperature well below freezing, she would pick up a cold pop can, something that would freeze to her mouth.
Maggie had a daily routine. She watched for the paper in the morning and evening, brought the paper in the house to be rewarded with a biscuit or treat. Rick, who delivers the morning paper, really liked her and has already missed her. He noticed how Maggie watched for the paper and said her eyes and head followed the paper when he threw it to her. Maggie's favorite time of the day was probably dinner time. She would often stand on her hind legs to see what was on the kitchen counter. Cookies, rolls, etc., had to be placed well back on the counter. If the telephone rang during dinner or someone came to the door, it was not unusual for something to disappear from someone's plate. After dinner, she licked the dishes as they were put in the dishwasher. In the evening, she always expected a walk. Maggie would look you in the eyes and if we did not respond, she would respond with a bark.
Maggie was the subject of a clinical correlation used in Veterinary Physiology II during the spring semester for the first-year students for many years. Numerous students also had an opportunity to care for Maggie when she was in the Veterinary Health Center for boarding or other reasons. During her last year, Maggie had some health problems. First, polyps were discovered in her left ear. During recovery after surgery, she developed aspiration pneumonia due to the development of a megaesophagus and was in the ICU for several days. Following recovery, Maggie had surgery for laryngeal paralysis about a month later. She recovered from both surgeries and led an active life for several months. Recently, the megaesophagus returned, Maggie aspirated during the night, and developed pneumonia.
We appreciate the excellent care provided for Maggie by the faculty, staff and many students in the K-State Veterinary Health Center over the years.
Submitted by Dr. Howard and Ann Erickson
Sallee Rose
Submitted by Linda Rose
Sallee Rose (May 20, 1993 - May 22, 2010)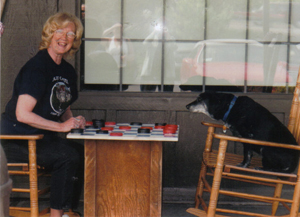 Sallee Rose was given to me for my birthday in 1993 by my wonderful daughter, Terri Rose Mandigo. She was the last puppy to be taken from the litter. Her Mommy was a black lab and her Daddy was a beagle, so she had their best traits.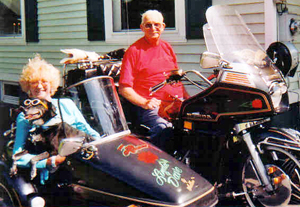 Sallee knew her boundaries, and her nose was always to the ground. She was the perfect size to ride in our motorcycle's sidecar. Sallee has lots of miles under her belt. She went to Quebec, Canada and all through the New England states. Then we traveled all the way down south to Alabama and Tennessee, then all the way to Branson, Mo., and then to Oklahoma. Sallee loved to ride in the sidecar and all the attention she would get whenever we would stop to eat and get gas. Lots of pictures were taken of her, even when we would stop at the Cracker Barrel and sit in the rockers to play checkers.
Sallee was the most obedient dog I ever owned. We lived on a main highway, and the highway owned the first step on my front porch. I could let Sallee out with no leash and she would never go near the road – even if she saw another dog or rabbit. All I would have to say is, "No!" and she knew she couldn't go after them.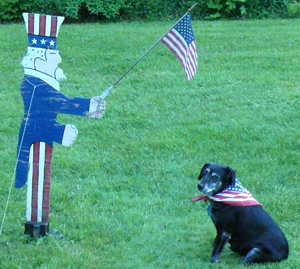 Sallee won lots of blue, red and white ribbons in contests. She was in a contest for dog food and won first place plus the eligibility to compete in the finals at our Steamtown Mall. It was set up like a beauty pageant. There were four categories: sportswear, swimsuit, evening gown, and talent. For her talent, Sallee would roll over, sit up pretty, and weave in between my legs as I walked. She won first runner-up.
We would be in parades – sometime on floats and sometimes we would just walk in the parade. She would go with us to nursing homes and be friends with everyone. I would take her to Sunday school when I had the lesson of Noah and the Ark. I would also take her to our public school where I read books about dogs to the children. Sallee would sit next to the children and listen so well. The children looked forward to her coming to see them.
My husband died in September 2009, and Sallee would look at his empty chair and search all through the house as if she was looking for her long lost friend. She would cuddle on my lap after giving up searching as if to say, I'm tired. Sallee went to see my husband, and she found her friend at last on May 22, 2010. I was privileged to have shared my life with her for 17 years.
Submitted by Linda Rose
"Bo" - Walker Beauregard
Submitted by The Downey's - Sam, Tracy, Sammy, Abigail & Daisy
(January 9, 2001- August 5, 2010)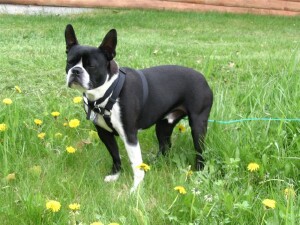 On Easter Sunday April 15, 2001 we went to look at a Boston Terrier for sale and on Easter Sunday April 15, 2001 we brought home 'Bo' our beautiful baby boy Boston Terrier. Bo was the last one left from his litter and at 13 weeks & 5 days old we brought him home. When we asked why he was the last one and why nobody else had picked him, we were told it was because he was the one with the least amount of white. We now know it's because he was meant to be in 'our lives' destined to be 'with us'. Bo was so cute with the floppy ears.
Such a loving goofy puppy he would follow us everywhere. As a puppy Bo loved to run around our fenced in backyard and chase our son Sammy. (Sammy was only 3 1/2 yrs old then.) He loved to chase then tackle Sammy to the ground and tear of his sandals. He loved his rawhide bones and playing fetch with his ball, whether inside or outside. He loved to chase down his ball and bring it back to you just to do it again. The great big bouncy balls that are meant for kids to play with, well he could push that ball around the yard and chase it until he just couldn't chase it anymore. As the years went by he got really good at that. Bo even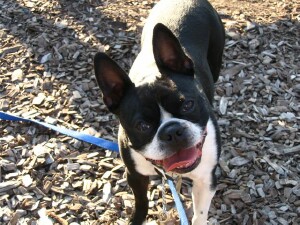 learned how to bounce it off his nose and back to us. He knew a lot of tricks and was just a really smart dog. So smart in fact we referred to him as our four-legged kid, after all he was so much a part of our family we couldn't imagine what life would be like without Bo.
Bo followed us everywhere, the bathroom, the laundry room, you name it he followed us there. Even if that meant being outside in the heat watching us do yard work or landscaping, he just had the need to be around us whenever possible. He went on all our family vacations and loved being with us. We also travel a lot to see family and it was like he knew when we were going to be leaving and was so excited because he knew he would be going with us. On Oct. 11, 2001 we had our second child, Abigail, and Bo loved her too. He would lye next to her on the floor when she was a baby, as if to protect her. He loved to give her 'kisses'.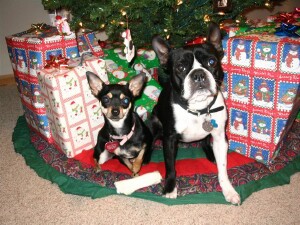 On Feb. 26, 2007, when Bo was 6 years old, we got another puppy. A 12 week old female Chihuahua we named 'Daisy'. Bo welcomed her into our home just like we did. He loved her because we did. He let her chew on him and bug him relentlessly for the longest time never ever getting mad or aggressive towards her for it. After a while they learned to play together. Talk about funny, he would chase her around the house and she would hide under or in between something where he was too big to follow. He'd look away and Daisy would come back for more. They would wrestle and roll around on the ground. Bo would hold her down while she tried to free herself by kicking him with her hind legs. Bo would finally let Daisy up only to chase her, catch her, and pin her down again. They both grew to love each other so much. Bo would lick Daisy's head, loving on her until it was soaking wet. That was Bo's way of showing his love for her. As a family we couldn't imagine life without the both of them, they were such pals.
Aug. 3, 2010 was like any other day. Before bed Bo was barking at Daisy and doing his tricks because he wanted the rawhide bone she was chewing on. (Even though he was bigger he wouldn't take it from her. He would just bark at her until she walked away, then he would swoop in and take it, what a gentleman!) In the middle of the night Bo got sick. Throughout the day Aug. 4, he wasn't getting any better. We took him to our vet and the news wasn't good. We knew we owed it to our friend to make the 3 ½ hour trip to KSU to get him the best care possible. After all the tests and antibiotics it just wasn't meant to be. Bo passed away on Aug. 5th, 2010. Later KSU doctors said Bo was born with Polycystic Liver Disease, and he had that condition his whole life. Even though no one knew he had it, he managed to live a full life and suffered no symptoms until the end.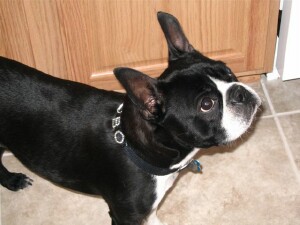 So as fast as our beautiful baby boy 'Bo' came into our lives, he left us just as fast. We're so grateful he didn't suffer and wouldn't want it any other way. While our hearts feel broken and we miss his sweet face and his great personality, we know we were lucky to have him to love for those wonderful 9 ½ years. We will cherish all the memories we have with Bo and feel blessed he was destined to be 'with us'.
Submitted by The Downey's - Sam, Tracy, Sammy, Abigail & Daisy
Papillion, NE
(Bo…we love you and miss you!)
Mac's-A-Million
Submitted by Melinda A. Reece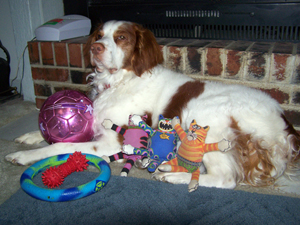 My dog, Mac's-A-Million meant, and still means, the world to me. He gave me much love, undivided attention, fun, friendship and meaning to my life. He was there with me through many good and bad times.
About eight and a half years ago, my father was visiting me from Texas and came home one day with a new puppy: Freckles. He was an orange and white Brittany, and so cute. I had been going through a difficult time in my life, so I asked my landlords if they would allow me to have a dog. They said, "Yes." So I called the people where my father had gotten Freckles, and they told me they have one male and three females left, and that I could come and get one if I liked them. I have always been fonder of male dogs, personal preferences. I hopped in the vehicle, took my best friend Susan, and off we went to pick out a new puppy for me. When I saw him, I knew he was the puppy for me. On the way home, I tried to figure out what to call him. I had a nickname by a gentleman who I had just broken up with, and it was "Mac." So I named my new puppy, Mac's-A-Million.
Mac's-A-Million came home to live with my elderly mother and me. He was a cute puppy, so inquisitive and eager to learn everything. My mother had him to herself during the day while I worked; she adored and loved him. But when I came home, he was entirely all mine. He was a constant companion to my mother until she died in July 2007. He missed her very much as she was his daytime companion and had never been by himself for long periods of time. I don't think he ever got over missing her.
Mac's grew up to have a beautiful coat and markings. He had long feathering on his legs and a giant white heart shape on top of his head. His eyes were such a gold reddish-brown color that they seem to match his coat. I remember how much they sparkled. The way he raised his ears to listen to everything being said made it seem as if he knew everything we would say to him. He was such a great guard dog also. Not a noise was left unheard or uninvestigated. It is said dogs have a limited amount of words that they can understand. I am here to tell everyone that my "Maciman" understood hundreds of words and hand signs. I have had many animals in my life; but this dog surpassed all the others in intelligence!
Mac's, Maciman, "Bubba" or "Stinky Winky" as he was also affectionately known, actually did like going to the veterinarian to see the doctors and his friend Jennifer, the vet tech. I remember one visit where one of the veterinarians overheard me calling him Stinky Winky. He came in to ask me if that was really his name now. I laughed and said, "No, just a nickname he answers to." He got that name because he always lay outside the bathtub when I would take my bath, and one day as I winked at him, he winked back. He actually learned to wink both eyes at me, or one at a time, as he repeated whatever I did.
Freckles and Mac's-A-Million remained very close as my father came to town at least three to four times per year. They were whelped on Sept. 19, 2001; my Mac's-A-Million went to Heaven June 23, 2010 – one day before my 56th birthday. And 18 days later, July 11, 2010: Freckles was bitten by a rattle snake in his yard at home in Texas and died at the vets' office. Litter mates to the end, but in Heaven together.
My father still has an offspring of Freckles. Junior is his name. He is only half-Brittany and is 2 years old now. He is some comfort to him and his wife. I will be glad to see Junior on my dad's next visit.
I myself, well I cry daily as I miss the most intelligent, loving dog that I have EVER had. The photo of him with the toys shows just a few of his toys. He knew them all by name and could find whichever one I wanted to play with him. Just tell him the name of the toy and he would go get it where ever he had left it. He did many tricks, was obedience trained and was a very happy, loving animal.
So from the very beginning to the end, the name that I choose for him — Mac's-A-Million – fit him more than I could have ever imagined. As he was truly my "Million" and a "Million" in one!
Submitted by Melinda A. Reece
Overland Park, Kansas
Terra
Submitted by Mary and Terry Reed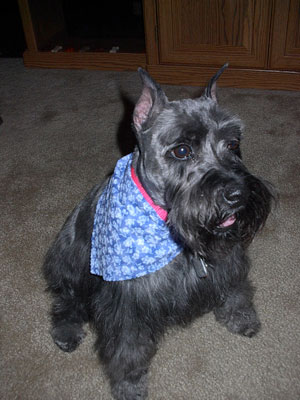 I picked Terra out of a litter of Miniature Schnauzer pups and brought her home in December 1999. My husband, Terry, had suffered a stroke the year before at the age of 45. He was no longer able to work, and I thought he needed a friend. He worked with Terra every day, and she was a wonderful pet. They had a special bond, and she trusted him implicitly. Terry taught her what we called tricks: sit, stay, roll over and shake. She was required to do the whole series of tricks before her supper and did them religiously.
When Terra was 2 years old, she suffered a spinal stroke. She spent some time at the K-State small animal clinic recovering. When she got home, the poor dog was oblivious to the fact she was dragging her right front leg and not using it at all. It was heartbreaking. But, Terry knew exactly what to do and began therapy. He worked with her for at least a year. Eventually, she was able to use all four legs together. She always walked with a little limp, but it was remarkable that with her master's instructions and physical therapy, she recovered enough to continue our daily walks.
Terra also had a number of allergies. After testing, she required a special diet and monthly shots, which Terry administered.
As she aged, we noticed she had a pot belly. I accused Terry of giving her too many snacks. We found out last year, it was caused by Cushing's disease along with a number of other symptoms. We made many trips to the K-State small animal hospital over the past year, and their staff was always superb. I can't thank everyone individually, but we won't forget the caring way they treated us and our beloved Terra.
I'd like to thank Drs. Stenske, Brennen and all the doctors for excellent care during Terra's illness. I'd also like to thank Jennifer Lee and all the wonderful students who we met. Jennifer was so professional and cared deeply about Terra. For that we will always be grateful.
Terra was a wonderful pet and maintained a friendly disposition even though she encountered a number of health issues during her life. We miss her, but have a host of wonderful memories of her time with us.
Submitted by: Mary and Terry Reed
Junction City, Kansas
"Mocha" Haecker
Submitted by Dr. Anne Haecker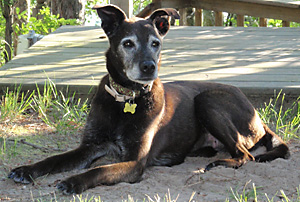 I saw her sitting on the cold concrete slab behind a wire cage door. She appeared timid, but friendly with a keen eye. They opened her door, slipped a leash around her neck, and off she trotted to get on the van that drove her 60 miles east down I-70 to go back to the holding unit.
I decided I would take my husband to our favorite establishment, "Rock-a-Belly Deli." After finishing our sandwiches and our favorite cold taps, I asked the question, "Please, she is so perfect. She is about 6 months old, dark chocolate, the perfect stature, brown eyes, and I know "Shiloh" would love a friend." He agreed.
The next day, I paid $100 to claim the junior surgery dog. Her name was "Mocha," alias "Smokey" and "Princess."
I was excited for "Shiloh" to meet her. However, he was not so excited to meet her. After laborious butt sniffing, he grumbled and sat in his chair, head to the corner, for an entire week. We had just ruined his life.
Finally – acceptance. They even took baths together in the tub. All 135 pounds combined.
They loved to run. They loved to hike. They loved to swim. They loved to both sleep in bed with us – it was crowded.
"Mocha" came with idiosyncrasies. She LOVED to run. She would bolt like lightening out the front door, or scale the 4 foot fence in the back yard. Just to be free. She loved to be free. She ran and ran. We would chase her – for hours at times. We would often succumb and she would eventually be waiting, tail wagging, on the front stoop. We couldn't be mad.
She was terrified of loud noises. She abhorred thunder storms. She tore in to sheet rock. She hid and scratched the bottom of bathtubs – going where? Teeth chattering and trembling, I would sleep with her on the floor, trying to comfort her. I never understood her fear.
On hikes, she always disappeared. She made no sound in the brush. Just when you thought you would have to turn around to find her, she would appear on the trail – 20 steps ahead – prancing and wagging. She always knew where we were.
She was very independent. She always knew where she was. She was an excellent judge of character. We say she loved to sleep with the "wolves."
She was a character. She had spirit that never ended. She had eyes that understood.
She was amazing …
R.I.P. "Mocha," "Smokey," "Princess" Haecker
1-10-2011
And now she is free to soar with the eagles.
Submitted by Dr. Anne Haecker
Crosslake, Minn.
George, Tribute to my horse George
Submitted by Patti and Scott Smith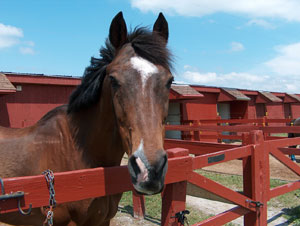 I have loved horses ever since I was a little girl. I used to draw horses and my friends asked me to draw horses for them, from kindergarten on. My uncle instilled more passion for them when he let me ride his ponies and donkey named Mabel on my visits to Bradshaw. So, when my husband agreed to buy me my first horse Prince as a graduation gift, I was in "horse heaven." Then, a few years later, he agreed that I could help with my sister's horse, George, who eventually joined our family.
Prince, an Arabian saddlebred quarter-horse cross, and George, a quarter horse, were opposites, but both cherished for their own personalities. Prince lived with us 21 of his 27 years, but not without many visits from our veterinarian, Dr. Norman Jernigan. Colic seemed to be his middle name, and then one night, he did not survive a bout with the stomach ailment. I was left with only George.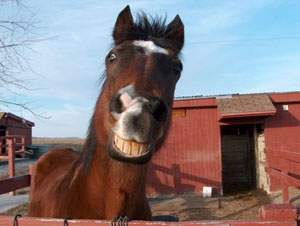 George was a perfect fit for me. He traveled a long life-journey and helped me each step of the way, celebrating the good times and giving me comfort during the hard times. No matter what happened, he was always there for me. His life ended at the age of 30, but he lives in my heart.
I thank God for his life, all that he did for me, the friends he helped me meet, the lessons he taught me, the long rides of peace, and the unconditional love shown whenever it was needed. I know he is up in heaven now, playing with his buddy, Prince, and all of the wonderful equines that have passed before him. May God bless you my special friend.
Special thanks as well, to a very special friend and mentor, Dr. Norm Jernigan, who was always there.
Submitted by Patti and Scott Smith, Bellevue, NE.
Hank
Submitted by Steve Holthaus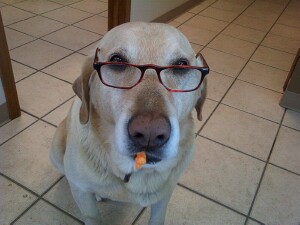 Hank was the best friend anyone could ever have. He knew what you were thinking before you did and never had a mean bone in his body, and yet he was a big dog for a Lab. He weighed 116 pounds at his peak. Still, any little dog that came around would boss him, and he would do what they said – unless he was eating.
All the folks who met Hank just knew right off that I was the best dog trainer in the world – and I would laugh and have to tell them the truth – that Hank trained me a lot more than I ever trained Hank, although Hank did learn a lot of different tricks over the years.
Words cannot express what Hank meant to me.
- Submitted by Steve Holthaus (Hank Was My Friend)
Click on thumbnail for larger image
Bandito
Submitted by Joyce Wallace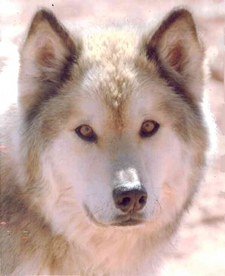 Bandito and I fell in love in November 2006. He was a hybrid wolf who had fear issues and was semi-feral. Since he was 6 months old, he had been at Best Friends Animal Sanctuary.
I was an employee at the sanctuary and made him my project. I worked to socialize and help him with his everyday fears. It was a project of love and he learned to trust me. Each day, Bandito made progress. At 5 years old, I gave him his first car ride ever. It was a real challenge at first, but eventually he became excited when he saw my car. Each new challenge we conquered put a smile on my face.
I lived in a small town in Utah, where there is a two dog limit per household. After many tears and heartbreaks, in 2008 we were down to one dog and ready for a new arrival. I adopted Bandito in April 2009. He was 7 years old.
This was the first home he ever lived in. He moved in with one other dog and two cats. Things moved slowly at first; there were lots of new challenges for him with many setbacks. Each day we saw improvements, so we called him our miracle dog, because of the progress he made. He did wonderfully with our other dog and two cats. He was perfect. There was no destruction and no accidents. He really appreciated having a forever home and it showed. Because of his breed, everyone warned me to be very careful with him and the cats. He shared dog beds with the cats; they loved to bury their faces in his fluffy tail.
In April 2011, things changed. He got sick and the vet appointments started – and so did the heartbreak. We took him to a specialty clinic where he was diagnosed with cancer in his chest cavity with two types of cancer cells. It was too far advanced for any treatment. We fed him four times a day by syringe for nine weeks. He handled the feeding so well, you could tell he wasn't ready to go yet. By July he just kept getting weaker and weaker, and we knew it was time to say goodbye. On July 6, 2011, he crossed over the Rainbow Bridge.
I ache for him daily and can't wait until we meet again. He was an incredible dog.
- Submitted by Joyce Wallace
Maggie, My Best Friend
Submitted by Betty Gathers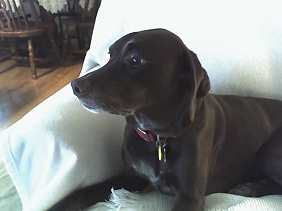 We never knew for sure when Maggie was born. She was about 3 months old when she was found and my son brought her home in September 1999 to be his dog. He was gone a lot, however, and Maggie and I bonded. That bond was never to be broken.
She was a wonderful dog and my best friend and companion. She was so intelligent and so loving and so loyal. I only had to say "no" once and she never did it again. She wanted to please me and you could see the genuine love and affection in her eyes. Maggie was my protector and made sure others knew she was there to take care of me. Once she knew it was okay, she was friendly and accepted that person.
Maggie could run like the wind. If she was after a rabbit, watch out! She loved to go for walks and hikes, which we did every chance we could. After healing from her surgery to repair her torn left ACL, we were able to return to Colorado once again and hiked many miles. She loved to chase the squirrels but would stand in awe and respect at the many deer we saw. It was as if she was honoring them. I was always amazed at how she did not bark at them or take out after them. She instead would stand there gazing at them as they stood in quiet, too. After a while she would look at me and start walking quietly ahead.
Maggie helped other animals too. Muffy was our little dachshund who was elderly when Maggie came to live with us. Muffy became quite ill, and we did not think she would live. Maggie would sit beside her and seemingly talk with her. When Muffy began to eat again, she and Maggie shared many more months together. Maggie also helped Chessie, a black lab puppy we adopted. Maggie taught Chessie which food bowl was hers and the canine rules of "mine vs. yours." They played together, and Maggie mothered him. One time, when Chessie got lost in a wooded area, it was Maggie that found Chessie all curled up and hunkered down under a tree. None of us could find him. Maggie did. She was also special friends with Ollie, a rescued dog that is deaf. Every time Maggie saw Ollie and his owner out walking, she would whine and make me get her outside to go talk and play with Ollie.
Maggie loved to lie on our porch, and later screened-in deck, to watch everything going on. She would go to the door and have me open it so she could go out to lie there watching and listening.
We tried to walk daily. When we walked, she loved to smell – everything! I told her I thought she was part hound dog. I often felt we walked wherever her nose led us. She was always ready to go for a walk and really enjoyed our extra-long walks on Saturday mornings. I was always so thankful and happy to see Maggie roll in the grass and scratch her back. Maggie had recovered from several medical issues and two surgeries, and I was so glad she could still run and play. Her sweet disposition never changed even with all of her medical issues.
Maggie was so loving and so kind. I cherish every moment I had with her and it hurts me terribly that I do not still have her with me. Our memories are vast and treasured over the 12 and 1/2 years we had together. I cannot begin to name them all. They are in my heart, however, and I pray they will help fill the deep void I have had since her passing.
I cannot thank God enough for sending Maggie into my life. She came at a time when I really needed her love and needed to have my love returned. She moved two times with me, and her love and presence made those transitions easier. What an honor it was to have her, love her and care for her. I pray I will be able to always pass on the love and kindness she showed to me.
- Submitted by Betty Gathers
Casey
Submitted by Sandy and Virginia Vaughn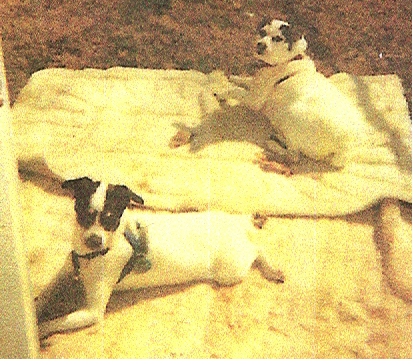 Casey was a good dog. We fell in love with him from the moment we saw him at 6 weeks old. Casey was in a litter with his brother Lucky(on thr right), who lived to the age of eleven. Casey was a very happy dog who loved his walks. He would constantly let us know when it was time to go for a walk. Like everyone else, Casey loved his treats and he knew where they were.
Casey did not have an easy life. In 2006, at the age of 7, he was diagnosed with diabetes. We decided to bring him to the KSU Veterinary Teaching Hospital. This would be one of several trips to Manhattan over the next six years.
Casey was a patient in the ophthalmology department where received medical care from Drs. Amy Rankin and Rachel Allbaugh. In 2006, he had to have cataract surgery on his eye. This was only the beginning of his eye problems. In 2010, he lost his left eye to glaucoma. Shortly after the surgery, Casey developed a corneal ulcer in his other eye and almost lost this eye as well.
These medical challenges did not change Casey's personality. He was the most lovable dog. Whenever he came to K-State, he was spoiled and popular. You could walk him down the hall and Casey would be greeted by the students and staff.
Sadness came to our house at the end of 2011. Casey started to get sick and we decided to take him to our veterinarian in Carbondale. Our vet thought cancer was the issue. Casey did not win this battle. He passed away on Dec. 31, 2011. Casey received wonderful medical care during his life and we wanted to thank everyone at K-State; Drs. Amy Rankin, Jonathan Puckett, Rachel Allbaugh and the students.
Casey will remain in our hearts forever. We plan on adopting two puppies in the next month. We've been looking at Rat Terrier and Jack Russell puppies.
- Submitted by Sandy and Virginia Vaughn
Nick
Submitted by Ron & Brenda Scott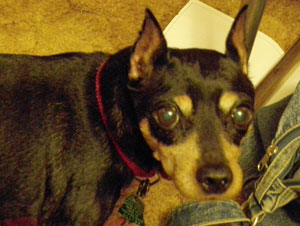 Dedicated to Nick: He gave us strength, he gave us love.
He gave us calmness, like a glove.
He wrapped it around us & held us tight,
to make us see that everything was alright.
He was loyal & faithful, honest & true.
One of the best dogs that we ever knew.
He was quick to learn & easy to train,
he was also a teacher who would pick your brain.
He was more than a champion, more than a friend,
more than a buddy in the end.
He was a part of us, he was our Big Boy,
he was Nicholis Von Caesar, he was such a joy.
Born October 12, 1998 Died April 05,2012
We will always love him.
Ron & Brenda Scott
Cosmo
Submitted by Heather Collier Black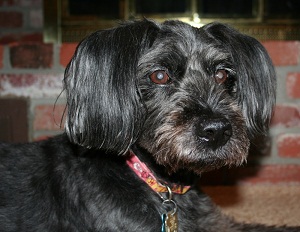 Dedicated to Cosmo: Cosmo, my handsome shadow, you will remain forever in my heart. Thank you for being there by my side through the good times and the bad times, unconditionally loving me, and for trusting me for the 14 ½ years we spent together. From the time you were a puppy to the last breath you took while in my arms, you were more than just a dog. You were my best friend who brought so much joy into my life, and each moment will be cherished. I miss your presence, I treasure our memories, I will always love you, and I will never forget you all because you were one in a million to me. I wish for you endless happiness at The Rainbow Bridge, and all of my love until we meet again. I love you, Cosmo Collier!!!
Submitted by
Heather Collier Black
Merriam, Kansas
Al-Tom
Submitted by Kenneth and Alma Bogue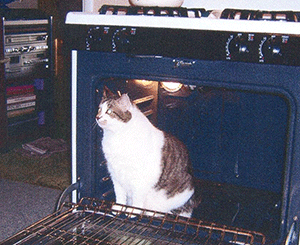 Dear Al-Tom, so very neat;
Affectionate and very sweet.
Loved to sit on Dear Ma's lap,
Lie by Pa to take a nap.
Love for him just grew and grew,
You could tell he loved us too.
He was just a precious gem.
We will certainly miss him.
Poem by Kenneth Bogue
Submitted by Kenneth and Alma Bogue
Ulysses, Kansas
A Tribute to "Mr. Hobie"(1995-2012)
Submitted by Janie Tippet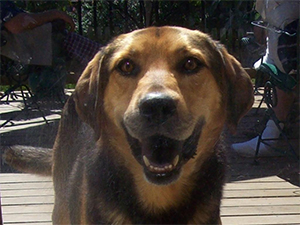 We believe Hobie was about 17 years old when he left his body. The reason is that my nephew found him in about 1995 in a small town in the Flint Hills. He was walking near some railroad tracks, so my nephew gave him the name: "Hobo." He spent the first five years of his life with my nephew and his family in a small town in Chase County.
Apparently his theme song at that time was "Don't Fence Me In" because my sister said they had him in the backyard with their Dalmatian – but he just kept jumping the fence. Therefore, they decided another sister who lived on a farm in southeast Kansas was a better alternative for this coon-hound mix who liked to roam. Hobie enjoyed his farming years, running in the fields catching rabbits and swimming in the pond catching frogs. But during the day, while my sister and her husband were in town working about 6 miles away, people said they saw Hobie running around town. My dad said he showed up at his door more than once. My sister and her husband couldn't believe it because when they got home from work, he was sitting on the front porch eagerly waiting to greet them.
In about 2004, my sister and her husband retired and sold their farm – so Hobie retired from farm living and came to live an indoor and more domesticated life with us. We walked Hobie daily, often twice a day and he loved his walks. If there was a theme song to mark those years, we thought it was "I've Been Everywhere" because after living in the southeast Kansas area, we lived in Kansas City, then Michigan for at least a year, and then back to the Flint Hills where Hobie was born. He loved romping in the snow in Michigan and walking the Indian Crossing Trails. So we've concluded with the following pictures that show more of his personality and what a wonderful companion he truly was.
- Submitted by Janie Tippet
Click on thumbnail for larger image
Bubba
Submitted by Becky, Jennifer and Daniel Brennan, Topeka Kansas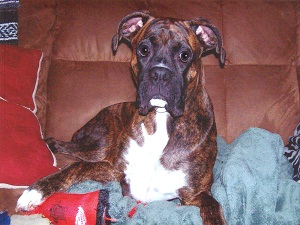 Bubba, just by his height, really intimidated many people. Add to that the big barrel chest and dark-faced brindle color, he would put a scare in you when he's charging towards you full speed. But most people did not know that it was all show, as he was a sweetie pie in personality and loved to give frequent kisses – often unsuspected ones. He would lick you endlessly if you didn't tell him, "Enough."
As a pup, Bub was a handful, never wanting to be alone. On one occasion he demolished an interior hollow-core door to escape his confinement in one bedroom. A few days later, he completely destroyed the couch after escaping from his kennel after being alone for what he felt was too long. And on the off-chance that the meter reader had forgotten to close the back-yard gate, Bub would be the first one to tell you that it was open by running out his doggie door to the front of the house and sitting in front of the floor to ceiling windows waiting to be noticed.
Later in adolescence, he was known to slip items from the waste can out the doggie door and into the yard somewhere. But to take the cake was the time he actually did "take the cake." Yes, it was a whole cake freshly decorated and ready for a client – out the doggie door and devoured. He left no evidence of his crime except for the frosting covering his face when he came back inside. Still, there was no getting mad at Bub, as he would melt you with the soulful expressions in his eyes.
Bubba was the first dog I had ever met that loved fireworks to – not just tolerate them, but wanting to be in on the action. A sparkler would put him into a trance until it finally became extinguished. For the larger fountains and shells, he had to be physically restrained or he would try to get right upon the flash or boom. He had no fear whatsoever of the fireworks.
His last eight months we spent fighting cancer, making sometimes weekly trips to the teaching hospital at the Kansas State University College of Veterinary Medicine for chemotherapy. The first couple of visits he was very nervous, but subsequent visits he actually looked forward to going and seeing everyone once again. During later trips, Bubba would be trying to calm other patients down while we waited to see our new friends, the staff and students at the hospital. We were lucky to have them there to care for us so especially nice.
Bubba – every one's best friend.
Submitted by Becky, Jennifer and Daniel Brennan, Topeka Kansas
Revie
Submitted by Sue Kiser and Jon Colglazier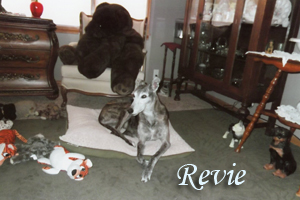 On a very cold day on Feb. 15, 2006, we made a trip from Hutchinson, Kan., to Manhattan, Kan. We arrived at the Manhattan Veterinary Hospital to pick up an adopted greyhound sight unseen. We met Randy Juracek, Sharon Greene, and the most precious brindle girl named Reva, AKA Whisk By. Precious doesn't even sum up what a sweet lady she is. She was 5 soon to turn 6 on March 27 but we didn't care. Reva soon was changed to Revie; just fit her better. She is such a shy sweet lady. Then, they brought in the most beautiful black and white TBO's Pinto that wouldn't be ready for another year, but we were so smitten that we said, "Oh yes, we want her too." It seemed like Revie needed a sweater and a toy to make the trip home, so off to the pet shop we went. We bought a beautiful red sweater, an adorable white squeaky lambsy toy, shampoo, conditioner and treats, because there was no limit for our new baby. All the way home we smiled, commented how beautiful, how sweet, and how she is such a precious lady. Not sure what to do in her own home, we put her in bed to sleep with us which only lasted two nights because it was not her idea of fun. Off to the pet store we went again for a bed and more squeaky, furry toys. Revie was really not sure what the bed was, so Jon laid on the bed. She caught on to the bed and caught on to the toys. All over the house she went, throwing them everywhere – even on furniture – just having fun. She owned the yard doing lots of circle races, but no barking. In seven years, Revie has probably only barked eight times and only at cats. She is still a lady, but after so many toys, she started getting bored.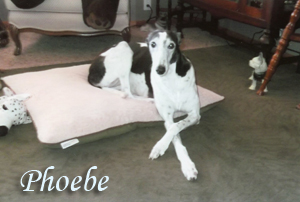 On Jan. 7, 2007, Randy Juracek called telling us Pinto was ready. At least this time we were prepared already, having a pink sweater, collar and lead – everything we needed. We even had a white squeaky lambsy toy. We left home on another cold day, Jan. 8, 2007, to get Pinto. Later we had her name changed to Phoebe because she was just too beautiful to be called Pinto (that is a horse's name). We got the most smiling, talking, barking character we had ever met. The ride back from Manhattan was interesting to say the least. Poor Phoebe was car sick – very car sick. We stopped at our veterinarian in Hutchinson, ran in, got meds and were off to our home. I told Revie when I left that day that I was bringing her a live toy and lively was what I brought home.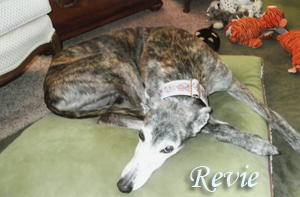 Revie was upset with me for about two months before she decided she really loved her little sister Phoebe. Phoebe came in the house and took over all the toys. She played rough with them, growling at anyone, especially Revie, who tried to take them from her. After all, that was her home and anything she wanted she got. She was Mama's baby and nobody forgot it. Phoebe counter surfed and wanted whatever we were eating. What manners? She was just so funny! She barked and smiled and talked. The talking really paid off because she got whatever she wanted. Both Revie and Phoebe loved to have their nails trimmed, teeth brushed and even enjoyed their baths. They just loved attention. Of course, even with four dog beds, Phoebe slept in our bed. We had tons of clothes made for them: visors, silk collars and coats for all seasons. They had toys galore. Spoiling them was the best and we couldn't stop. They deserved it all and more. Phoebe even decided it was fun to hide Mama's slippers. Who would ever find them?
These two "greyt greys" brought more joy to us than anything money could buy. Unfortunately, Phoebe did take out her share of rabbits. She even caught a squirrel and tried for a skunk. It was just her nature. Of course, Revie was too much of a lady to even attempt such a thing.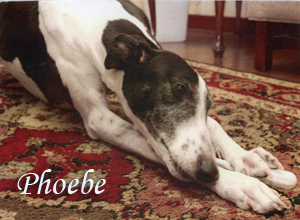 Then, on the first of August, Phoebe started having problems getting around. She just didn't seem quite right. She had a horrible fall on the 15th and hurt her back. We found out she splayed her hips but we prayed for a miracle, one that didn't come. On Aug. 19, 2013, week took her to Doc Smith at Apple Lane. She couldn't walk and we had been carrying her. Nothing could save her and she was so scared. Doc Smith gave her a sedative and came back 20 minutes later with that ugly greenish needle. It was saddest day of our life with our Spotty. We enjoyed, laughed, cried and had the time of our lives with her for six years, seven months, and 11 days. I don't know if the pain will ever go away. She kissed us every morning, all day and every night. She was the best ever.
In June of 2012, we found out our beautiful precious brindle, Revie, had chronic renal failure. It's now Sept. 12, 2013, there are only 36 days of Rubenal and we have no idea how many days of Precious left. Our hearts are broken. We can't even seem to function, but we spend as much time with her giving her all our love. Thank you Kansas State for letting us have two of the "greytest greys" that ever lived. You have no idea how they changed our lives and us.
October 2013 – Revie started getting so lonely and not interested in food or much else. We all missed our little Phoebe. After turning down three greyhounds, we decided- maybe- we should get Revie another live greyhound for a companion. Thanks to Sharon Greene at K-State and her friend who owns a wonderful greyhound farm in Abilene, Kansas. We made a trip to Abilene on November 6, 2013 to get one of his favorites who had just been pulled from the back. We played with the baby puppies and then not the most handsome big white male with spotted ears, lots of licking and God's thumbprint on his forehead. Big- healthy-happy and just so full of life, a real heart stealer.
All the way from the farm thru downtown Abilene, Landon sat with his back to us looking out the rear windows. We turned on I-70 to come home- Landon turned around and thought he should drive. He made Phoebe look like a cakewalk he was indeed a lively boy- laugh we did.
Once home we let Landon in the backyard and brought Revie out for a meet and greet. She perked up- seemed to smile while she did her slow trot in the yard. Best decision we made for our precious Revie. Revie started eating again and enjoying life and her new buddy. Landon gave Revie respect, kindness and so much love. Revie housebroke Landon and loved him so much.
January through March 2014 was not kind to Revie. She was so sick- that chronic renal failure was really hard on her. On March 21, 2014 – six days before Revie would be 13 years old- we gave her the last gift- not what we wanted- but no choice- euthanasia. She weighed 42 pounds and was so sick. When it was over my precious Revie had a fear on her sweet face. I cried all the way home, feeling like such a failure. Dr. Schroeder made it so nice for Revie- she sedated her, talked to her all the while and never left the room. Revie gave us all her love for seven years, one month, and six days. She was just the most beautiful precious gray lady grey and we are so blessed to have shared her time. Thank you for two gray greys- they will be in our hearts forever.
Thank you Sharon for helping us have our now best buddy, Landon. He keeps us laughing and there is never a boring minute- indeed lively. Landon makes the above easier- he is a true blessing.
- Submitted by Sue Kiser and Jon Colglazier
Stanford
Submitted by Darla Karlin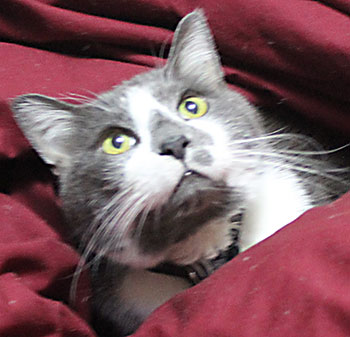 Thank you for being my son. You were the Best little boy in all the land. You rescued me. We rescued each other. We were together in our journey in life. You loved me totally and unconditionally. You know I loved you more than anyone. I felt True Joy, Love, Happiness, and Peace when we were enjoying life together. God gave me the Best gift ever when he gave me you. He gave me the Honor of being your mom. Thank You for letting me be your mom. Having you to Kiss, Hug, and Love was the best thing in my world. You made me smile just thinking of you, just watching you, just by being cute; Being You. Everyone who knew you, Loved You. You were Beautiful in every way. You are irreplaceable. You are missed. You will always be a Huge part of me. You are a Great Loss to this worldly earth, but a Great Gain to Heaven above. As I told you every day, Even if we have to be apart, always know that we will be together again.
I Love You Stanford Simon.
Submitted by Darla Karlin, Shawnee, Kansas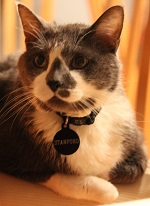 G.W.
Submitted by Paul and Darla Karlin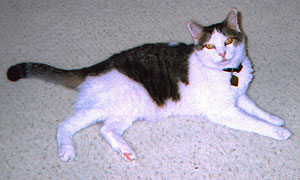 G.W.: You were our first little boy. You were the love of our life. You were our life. The center of it. You taught us how to love totally and unconditionally. You taught us how to step out of the box, and love. We have missed you, and will always miss you. You were the little pioneer to our learning about caregiving and love. Because of you, we loved another little boy, who we otherwise might not have; who became the next love of our life, and a Huge Blessing. Thank You for all of that. You were a gift from God. The day we lost you, Heaven got a Beautiful little boy. It was an Honor and Privilege to take care of you, love you, and be loved by you.
We Will Love You Forever G.W.
Submitted by Paul and Darla Karlin, Hays, Kansas
Max and Sammy Lee
Submitted by Yolande Adair and Larry Pyle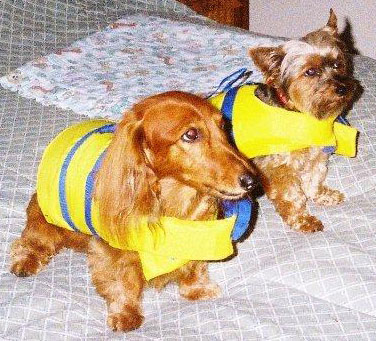 Sammy Lee's clock: As a puppy, Sammy Lee had the "Zorro" mask features on his sweet face and he was a determined fellow. He was a bossy fellow and always ready to please and learn tricks. He loved performing. He grew up in Missouri and became super dog and a caregiver that performed at the KU Medical Center in Kansas City. He did tricks for the terminally ill patients at KUMC and in the ICU. He had his own badge.
His owner, the late Peggy underwent two liver transplants at KUMC and when she passed away, Sammy was a lost little dog. He refused to eat and he was depressed.
He sought refuge by the grandfather clock down the hall. The ticking of the clock was soothing to him.
At the same time, in Manhattan, Kan., Max the long-haired Dachshund lost his owner to ALS. Max was trained for the wheelchair and a close companion to my late husband. He never left his side.
Max adopted Sammy, along with the grandfather clock and both dogs formed a very close bond. What a buddy system they had. They did everything together and looked out for each other. It was a match made in heaven. Max taught Sammy to eat and he shared his bed with Sammy.
Everything seemed to be as it should be and life went on. Sammy turned 10 years old and then he passed away on Sept. 10, 2013.
We were heartbroken and so sad to see Max looking for his buddy. Max became depressed, and we were worried sick about him.
Then one day I saw something unusual by the grandfather clock and I was amazed. Max had taken Sammy's toys and placed them in the same spot where Sammy used to be. Just one more time Sammy; show me your muscle.
Submitted by Yolande Adair and Larry Pyle, Manhattan, Kan.
Cashee and Schatzee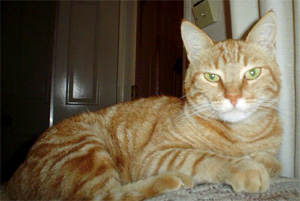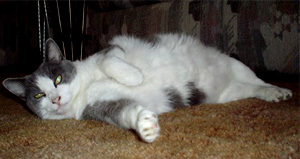 Cashee was our 'Big Girl' who had been with us for a little over 20 years. She had been through so much, but we weathered the storms. First she was diabetic, blind, deaf, and succumbed to cancer.
Schatzee showed up on our doorstep one day. We immediately fell for him. He was our 'Big Boy' (all 7 pounds of him) and 'Handsome'. He was with us for 15½ years. He, too, had some uphill battles. He ended up being partially blind, deaf, and arthritic. He said, in the end, you guys have done so much for me, I'm tired and went off. He loved being in the sun.
We miss you both so much and life will never be the same without you two. You will forever be in our hearts and missed. Now you're both together in "Kitty Heaven."
Submitted by Alby and Mai, Los Angeles
Submitted by Alby and Mai
Mr. Flash Matthew Houdini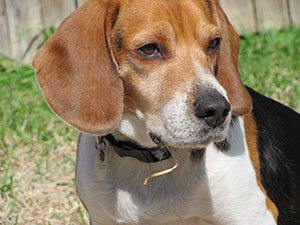 Adopted & unconditionally loved on 06.29.09
Gained his angel wings on 12.19.15
We were fortunate to adopt Mr. Flash from an animal rescue group in Dallas, Texas, called EARS (Education & Animal Rescue Society). The rescue group pulled him from a shelter the day before he was to be euthanized. There was a note on his cage that said he was a "runner." From the moment we brought Mr. Flash into our home as a potential foster dog — to see if our other beagle would approve — we knew he was a keeper. He lovingly ran into our big, fenced in back yard and immediately our black and white beagle, Kenna, ran up to him — all the other potential fosters she ran and hid from.
Mr. Flash was always the "star of the show" — he was everyone's friend, didn't know a stranger, loved to snuggle, and considered himself a 30lb lap dog. He had a sparkle in his eyes, loved to go on walks, had an uncontrollable desire to eat and eat anything he could get his chops on! One of his favorite things to do was to go on rides — oh how he loved to sick his head out the window and sniff. When in the vehicle if the window wasn't down you could hear his paw scraping at the window as to hurry up and let the air in! You could see his jowls flapping in the wind, his big beagle ears being whipped around, and most importantly his nose was turned on to everything possible — sniffing until he wore himself out! Just hearing the word "ride" would send him into a frenzy of running through the house, barking, and his tail wagging crazily.
Mr. Flash, prior to live with us, had a tough life. He came from a rough neighborhood and was malnourished. Resilient. He was oh-so resilient and to meet him you would have never suspected he was an abandoned dog. We know that the 6 years he was our fur-child were the best years of his life -- but ironically, he gave us more then we could ever have given him. We were unsure of his age, but his love and zest for life made up everything. Mr. Flash was the type of loyal, loving beagle, who kept things interesting — whether it was digging his way out from under the fence, chasing squirrels and breaking his paw in the process, he could tip over a trash can as soon as you turned your back, or the need to get under every blanket possible in the bed in order to be a vital part of the family — loud snoring included! Mr. Flash was as loyal as they come. You could see his soul in his big, brown eyes. He was oh so loved and loved us back.
Mr. Flash was also a fighter. He fought his entire life — he fought to the very end of his life too. Mr. Flash become very sick at the end of September 2015. We knew that something wasn't quite right. Mr. Flash underwent the gamut of tests and procedures at the KSU Vet School. He fought through the darkest of days -- when he spent 5 days in ICU — he fought through being weak -- he fought through his medications what were taking a toll on his body. He fought long enough to see the birth of our son. We know he was looking out for our son and wanted to make sure he was ok. The day our son was born — about a month after being in ICU — he ran and wagged his tail — something he hadn't done since before he became so sick. It was his way of showing us how hard he fought and how happy he was to see a new family member. Those are the moments we cherish. Those are the moments we hold onto in our hearts and memories. Those are now the moments we look back to and validate just how hard Mr. Flash fought through his sickness towards the end of his life. Mr. Flash is the epitome of what we as human strive to be — loyal and dedicated to family.
Mr. Flash fought so hard in the last month he was with us. We could see his body getting tired. The toll of his hard fought battles in life, his diagnosed auto-immune disease and the harsh medications that went along with it, started to make his body increasingly tired. Mr. Flash never once showed us he was hurting — never once did we see or hear him wince in pain. We though, however, could see him starting to struggle. He was struggling with the daily activities that made him who he was. As a family, it broke our hearts to see it. We knew that it would be selfish to continue to let him live his life in a way that wasn't reflective of the Mr. Flash we know and love so dearly. We made the heart-wrenching decision to help he gain his angel wings. Our last night together we were all able to sleep in the same room, he was able to go on a walk, and take a ride -- smelling the fresh air.
During those final moments that Mr. Flash breathed his breath of life — we were able to be there with him -- we were able to hug, kiss, caress his fur, and pray that he gains his freedom — that he's able to run free and rest in the sun. He was calm and peaceful — as if to let us know — everything is going to be OK. He rested peacefully and heaven gained another loyal and loveable dog. We know that it wasn't a good-bye, but an until-we-see-you-again moment.
It is true that dogs teach us about love and life. Mr. Flash did that for us and so much more. While our hearts ache that he is no longer with us — his spirit, memory, and zest for life will always be in our hearts and memories. We find peace and a sense of calmness knowing that the sunshine that is cast down upon us is a message from Mr. Flash letting us know that he's always with us and looking over us.
We love and miss you sweet fur-boy. We know you are free! Keep wagging your tail, chasing squirrels, and know that we miss and love you and think about you every single day.
Until we see you again sweet Mr. Flash!
With all the love in the world,
Dad, Mom, Kipton, & Kenna Jo
Submitted by Misti
Bailey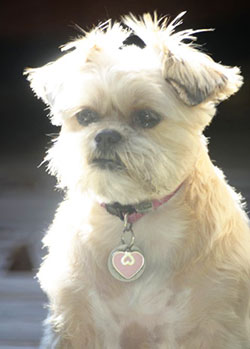 Bailey, our beautiful girl, you came into our lives December 2008 weighing only 2.6 lbs. Even though you were so little yet so mighty, we had no idea how much you were going to change our lives when you joined our family. And today, nine years later, we still look for you in the house thinking you're right there next to us, eager to give us kisses, and scratching our lower leg(s) for attention. Since you were our very first girl, you opened our hearts as they had never been opened before. And because of you, mommy and daddy are forever changed for the better. And when you left, you took a piece of us with you. Although our hearts hurt badly and we miss you terribly, we are so thankful for the wonderful and memorable years we shared with you. We love you, Bailey B.
Submitted by Darryl & Heather Black
Merriam, KS
Submitted by Darryl & Heather Black