Chapman-Mellenthin Plaza
Honoring the Human-Animal Bond
Plaza Progress
A generous donation has been received from Mark Chapman and Cheryl Mellenthin for the plaza development project. The plaza will be named for them in honor of their support of the VHC.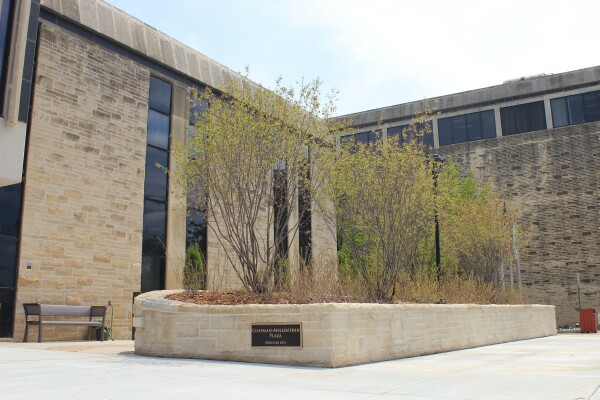 Construction on Chapman-Mellenthin plaza.
Progress as of May 8, 2013.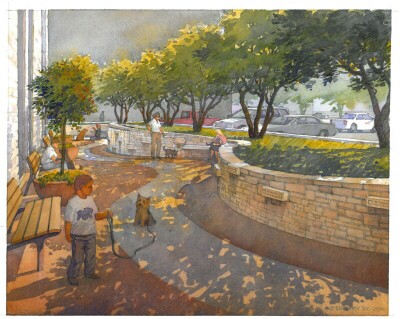 Plaza development at Mosier Hall, located near the entrance to the Kansas State University College of Veterinary Medicine's Veterinary Health Center, provides an opportunity for us to honor the human-animal bond and pay tribute to your animal companions with a permanent legacy. We invite you to commemorate your beloved pet within the plaza with personal words of tribute honoring the special relationships you share. Especially designed for caregivers and pets, the plaza development provides a peaceful environment of reflection surrounded by a waterfall, trees and plants.
Contact Us
Through your generosity and kindness, we can make the plaza at Mosier Hall a place to enjoy for generations. For details on donation information, please contact the Development Office at the College of Veterinary Medicine at 785.532.4378.
Memorial Opportunities
(Click on thumbnails for larger photo)

Cascading Water with Observation
Area - $50,000

Stone Bench - $10, 000
(Only 3 remaining)

Enhanced Limestone Feature - $3,500
(Only 25 remaining)

Topiary Tree and Pot - $2,500
(Only 4 remaining)

Backed Bench - $2,500
(Only 3 remaining)

Engraved Pavers - $1,000
(Only 49 remaining)

Flowering Tree - $1,500
(Only 8 remaining)