September 2015 - Vol. 10, No. 9
Top Stories
New dimensions for Animal Health
Interior architecture student and professor collaborate with VHC clinician to design enhanced treatment options for animals using 3-D printing
A research project by an interior architecture & product design student could get some tails wagging. For her Developing Scholars Program project in the 2014-2015 school year, Kelsey Castinado, now a fourth-year student in the College of Architecture, Planning & Design, turned CT scans of animal bone fractures and deformities into full-scale 3-D prints that clinicians in College of Veterinary Medicine are using for teaching, to plan surgeries and to find more cost-effective ways to treat patients.
Read more ...
| | | |
| --- | --- | --- |
| | | |
| | This 3-D model of a dog's skull helped Dr. Walter Renberg determine how much growth on the dog's jaw would need to be removed. | |
| | | |
| | This 3-D model is of a dog with a rotated ulna and was used to determine the best treatment option for the animal. | |
The project, "3-D Printing Animal Bone Fractures Through Experimental Applications in Digital Fabrication," was suggested to Castinado by her second-year studio instructor Dustin Headley, an assistant professor of interior architecture & product design. Headley's research interest is in digital design, including 3-D printing.
"I knew that for my third year I wanted to change my research a little bit since I had been doing mostly architecture-based research," said Castinado, who is from Overland Park. "I thought product design-based research would be a little bit more interesting, so I asked Dustin if he needed any help with his research and if he would like to mentor me in the Developing Scholars Program."
The program pairs underrepresented students with faculty mentors on research projects.
Castinado joined Headley on a collaborative project with the CVM involving 3-D printing of bone fractures and deformities.
"A lot of my research focuses on alternative applications for the design discipline," Headley said. "Instead of studying the lines of architecture or looking at new products to market, I'm interested in looking at what are some of the skills interior architects have that we can engage with other disciplines and expand the scope of the design profession as a whole."
For her project, Castinado used digital files of CT scans provided by the college's Veterinary Health Center (VHC).
"The digital CT scan files are just a lot of small, chopped up pieces of the bone image," Castinado said. "I use a 3-D modeling software to make all those pieces into a whole. I also have to take away all the extra fragments that are attached to the bone so that when it is 3-D printed, it will look like a bone."
The 3-D printing process retains — and can enhance — the important information found on the scan that a doctor or veterinarian needs in making a diagnosis.
Dr. Walter Renberg, an orthopedic surgeon and professor and head of small animal surgery at the VHC, said the 3-D models Castinado and Headley have produced are proving beneficial in a variety of ways.
"While Kansas State University is not the first to use 3-D printing in veterinary medicine, we've thought about doing so for awhile," Dr. Renberg said. "It helps us with a couple of things clinically, particularly with bone deformities, which can be difficult to reconstruct with a CT scan. For example, when planning a surgery to correct a deformity or even determining whether such a surgery is necessary, the model can help us determine the right surgical approach or come up with less expensive alternatives to certain procedures."
That's what happened earlier this summer with a 3-D print Headley made of a dog's malformed tibia, which is one of two bones in the lower hind leg.
"I thought we would have to do an expensive reconstruction that the client probably couldn't afford, but the 3-D modeling gave us a better understanding of the problem and we came up with a less invasive and less expensive route," Dr. Renberg said.
The models also are teaching tools.
"From a clinical standpoint, we can use the 3-D models with clients to explain procedures," Dr. Renberg said. "It can be easier to show them a model than a CT scan."
Dr. Renberg and Headley are continuing to collaborate on other ways 3-D printing could be used.
"We are looking into the ability to explore soft tissues in 3-D at scale, such as tumors and vascular systems," Headley said. Such models would have potential to assist in teaching procedures, too."
While such 3-D models already exist, Renberg said they can be expensive. Having the capability to produce them in-house has cost benefits in a time of tight budgets for state universities.
"I'm very surprised at the capabilities 3-D printing has opened up," Dr. Renberg said.
MediVet Biologoics plans new lab in Manhattan; Cites work with CVM faculty
A global animal health company is using animal health technology developed at Kansas State University to create a new laboratory in Manhattan.
Read more ...
| | |
| --- | --- |
| | |
| | The Kansas Entrepreneurial Center in Manhattan, Kansas, is housing MediVet Biologics. In early October, the global animal health company is opening a lab in the center that will test and commercialize a Kansas State University technology that has potential for animal and human health applications. |
MediVet Biologics, an animal health company in Australia and Kentucky that specializes in veterinary regenerative medicine and biological solutions for equine and small animals, is opening its Manhattan-based laboratory in early October. It will be the company's second U.S. lab and will be located in the city of Manhattan's Kansas Entrepreneurial Center on Hayes Drive.
MediVet's new lab is the result of an ongoing collaboration between the Kansas State University Institute for Commercialization, or KSU-IC, and the Manhattan Area Chamber of Commerce through its involvement in the Knowledge Based Economic Development partnership.
"We are pleased that the city and chamber were able to provide space in the KEC facility and are proud of the close collaboration with Kansas State University to attract MediVet to the community," said Lyle Butler, president and CEO of the Manhattan Area Chamber of Commerce.
MediVet's Manhattan laboratory will focus on commercially producing and clinically testing an allogeneic stem cell therapy product that has the potential for orthopedic and internal medicine applications for both veterinary and human clinical use.
Dr. Mark Weiss, professor of anatomy and physiology, invented the product.
"I'm very excited about having our commercialization of the product result in a local startup. It's going to help the local economy and biotech jobs," Dr. Weiss said.
Dr. Weiss' invention was patented by the Kansas State University Research Foundation, or KSURF, which handles research disclosures and the patent process, and was licensed by the KSU-IC, which works with public and private industries to license the university technology.
Jeremy Delk, MediVet Biologics CEO, said the company's new lab would help it expand into the equine marketplace through work the CVM's Dr. Jim Lillich, associate professor in anatomy and physiology. It also would accelerate development and testing of a therapeutic canine cancer vaccine with Dr. Raelene Wouda, assistant professor of clinical sciences, and would be a channel for future collaborations with researchers in the CVM.
Video Feature
Whispering Garden Honors Special Animal Companions
Nestled between Mosier and Trotter Halls at the Kansas State University College of Veterinary Medicine is a special place called the Whispering Garden. The Whispering Garden is administered through the Pet Tribute Program. In this month's Lifelines video meet some of the people whose pets are remembered in the Whispering Garden and learn how you can honor your pets or those of a friend or family member.
Watch the video at regular size ...
Video produced by Joseph Chapes and Kent Nelson, technology coordinators from
Computing and Technical Support (CATS). See more CVM videos at our YouTube site: youtube.com/KSUCVM
Summer Reading Program Goes to the Dogs
The Hope (Kansas) Community Library wrapped up its 2015 Summer Reading Program Aug. 13 with a visit from the Kansas State University College of Veterinary Medicine Mobile Surgery Unit.
This year's Summer Reading Program theme featured "Every Hero Has a Story" and the Mobile Surgery Unit is making its own stories every day.
Read more ...
| | | |
| --- | --- | --- |
| | | |
| | Dr. Brad Crauer and fourth-year students Lauren Sawyer, Ashley Cole and Lacey Rosenberg read to children at Hope Community Library. | |
| | | |
| | Dr. Crauer gives a tour of the Mobile Surgery Unit during the visit to the Hope Community Library. | |
Dr. Brad Crauer, associate professor of shelter medicine, is in charge of the unit which travels to a number of local shelters on a weekly basis performing spays and neuters. The Mobile Surgery Unit provides a service-based learning opportunity for students in the veterinary program meaning students perform the procedures at no cost to the shelters.
Fourth-year students take the two‑week rotation and gain valuable surgical experience in addition to being exposed to the unique challenges shelter medicine presents. Often shelter pets have no known medical history. Dr. Crauer and his students must determine if the pet is suitable for surgery, then perform the procedure with very limited information. In 10 weeks of service, the Mobile Surgery Unit performed 779 spays and neuters.
Dr. Crauer and fourth‑year students, Ashley Cole, Lacey Rosenberg and Lauren Sawyer read to children and adults, then offered tours of the Mobile Surgery Unit during their visit to Hope.
The Mobile Surgery Unit had a special connection to Hope. On April 13, 2015, the Mobile Surgery Unit was dedicated to a very special Hope native, the late Chris Gruber, who served as director of development for the College of Veterinary Medicine where he impacted students, faculty, clients and donors. Cheryl Mellenthin of Cat Spring, Texas, donated the funds to purchase the Mobile Surgery Unit, in addition to a generous scholarship, which was also in honor of her late husband, Mark Chapman.


KSVDL video:
Deep Pharyngeal Swab from Live Cattle
This video will demonstrate the procedure to collect a deep pharyngeal swab, also known as a deep nasal swab, sample from cattle for PCR evaluation. For more information about this sampling procedure or other diagnostic questions, please go to the KSVDL website at ksvdl.org or call KSVDL client care at 866-512-5650.
Watch the helpful video at full size here ...
More Headlines
Does your pet have what it takes to become Willie's Pet of the Week?
The Veterinary Health Center at Kansas State University has teamed up with K-State Athletics for the second year to bring you the Willie's Pet of the Week Contest this upcoming football season!
Read more below ...
K-State fans are encouraged to submit a photo of their pet dressed in their K-State best on the K-State Sports Facebook page. Fan photos will be shown during home football games and the contest will feature fan voting to determine the top 10 best photos. Fans can submit photos and vote daily until Nov. 22.
On Nov. 23, the winners will be chosen from the top 10 fan-voted photos by a celebrity panel. The grand prize winner will be awarded a prize package including suite tickets to the Dec. 5 K-State game against WVU, a VHC gift basket and a photo shoot with Willie for next year's program promotion.
Visit http://bit.ly/VHC_WilliesPetOfTheWeek to submit photos and vote for your favorite!
The Veterinary Health Center at Kansas State University provides animal health services ranging from annual wellness exams for companion animals, equine and farm animals, to specialty services by board certified veterinarians.
The VHC has more than 100 years of commitment to the human-animal bond and the health and welfare of animals. Come visit us at the VHC. We are here to discover, to teach and to heal.
Hot Topic: Test offered by Kansas State University Veterinary Diagnostic Lab may help decrease yearly pet vaccines

Scientists at the Kansas State Veterinary Diagnostic Laboratory have modified a test that measures an animal's immune response to the rabies virus, a change that will cost pet owners less money and may help reduce the number of yearly vaccines for pets.
Read more ...
The scientists say testing an animal for titers, or antibodies capable of neutralizing rabies, is a valid indication of the animal's resistance to the rabies virus. When the titer test measures 0.5 international units per milliliter or higher, the pet would be considered protected and may only need a booster if bitten or otherwise exposed to the rabies virus, depending on local rabies regulations.

All animals should be vaccinated at an early age with what are known as core vaccines, or those considered by leading veterinary associations to provide protection against the diseases of highest risk to each species. In the past, vaccinated pets would receive a yearly booster for those core vaccines.

The test developed at Kansas State University is not yet accepted by national veterinary organizations as a standard for indicating protection against rabies, though measuring titers currently is used for determining whether cats and dogs need a vaccination for other high-risk diseases.

"In both domestic cats and dogs, there is a positive correlation between rabies neutralizing antibody titers and the level of protection," said Rolan Davis, a researcher in the Kansas State University Rabies Laboratory, one of only two commercial labs in the U.S. that performs rabies antibody testing, according to the U.S. Centers for Disease Control.

But yearly vaccines can sometimes create other health concerns. In cats, for example, yearly vaccinations have been linked to feline injection site sarcomas. Kansas State University's titer test for rabies could save a pet from one more injection at the yearly exam.

"We are certainly not against vaccinations; we are against rabies," Davis said. "We are looking for the best ways to prevent rabies in animals and humans."

Titer tests are commonly available at your local veterinarian's office. At Kansas State University, a titer test for rabies costs $30; pet owners who would like titer tests for other core vaccines can pay $50 to cover rabies plus the three most common diseases for either a dog or cat.

Kansas State University veterinarians emphasize that all pets should be vaccinated at an early age. Options for pets that have never been vaccinated and that have been exposed to rabies are limited. Generally, the options for unvaccinated dogs and cats are euthanasia or a six-month quarantine in a specialized facility.

More information about rabies, core vaccines and the Kansas State University Rabies Laboratory is available at ksvdl.org/rabies-laboratory, or by contacting the lab at clientcare@vet.k-state.edu or 866-512-5650.
Volunteers Needed in Nicaragua
Click here to learn more about this opportunity shared by second-year student Chantal Girard ...
| | | |
| --- | --- | --- |
| | | |
| | Second-year veterinary student Chantal Girard shares pictures from a previous volunteer trip. | |
| | | |
This coming January 2016, a group of K-State veterinary students will be traveling to Nicaragua for 11 days with the volunteer organization, Vida Volunteer. The goal of the trip is to provide physical examinations, vaccinations, and spay and neuter procedures to pets and livestock in underprivileged communities while also offering students invaluable clinical experience and a better understanding of the role of veterinary medicine in developing regions.
Our student volunteers will be working alongside veterinarians from Central America to set up temporary clinics in the communities they visit. The group is working hard to support as many interested students as they can to make their visit as impactful as possible.
If you are interested in learning more about Vida Volunteer and the work these students will be doing or would like to help support the group in their endeavors, please contact Chantal Girard at cmgirard@vet.k-state.edu. Thank you!
Regular features
Alumni Events and Continuing Education
See news and upcoming events below ...
Dr. Vern Otte to be recognized at CVC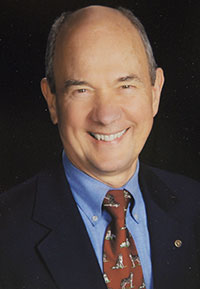 Dr. Vern Otte, Leawood, Kansas, has been selected by the Kansas State University College of Veterinary Medicine's Alumni Association for its 2015 Alumni Recognition Award to be presented during the annual Central Veterinary Conference held in Kansas City, Missouri, on August 29.
Dr. Otte, originally from Great Bend, Kansas, earned a bachelor's degree in 1964 and a Doctor of Veterinary Medicine degree in 1975, both at Kansas State University. After graduation, he practiced at Raritan (New Jersey) Hospital for Animals until 1977. He then owned and practiced at the State Line Animal Hospital, Leawood, from 1977 to 2014, at which time he sold the practice to his associate, who he now works for. Dr. Otte has been a trail veterinarian for the Iditarod Sled Dog Race for eight years.
Click here for the rest of Dr. Otte's bio.

Dean Tammy Beckham presents the alumni recognition award to Dr. Vern Otte.
Dr. Billy Joe La Rue to be recognized posthumously at CVC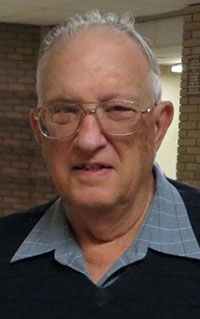 The late Dr. Billy Joe La Rue, Chanute, Kansas, has been selected by the Kansas State University College of Veterinary Medicine's Alumni Association for a posthumous 2015 Alumni Recognition Award to be presented during the annual Central Veterinary Conference held in Kansas City, Missouri, on August 29.
Dr. La Rue was born in Iola, Kansas, and grew up in Chanute, Kansas. He attended Chanute Junior College (now Neosho County Community College) in 1951, before transferring to Kansas State College (now Kansas State University), Manhattan, Kansas, in the summer of 1951. He married Barbara Ann Ebert in 1953 in Chanute and graduated from K-State in 1956 with his Doctor of Veterinary Medicine degree. While at K-State, Dr. La Rue was a member of the Reserve Officers' Training Corps and was commissioned as a first lieutenant in the United States Army Veterinary Corps. Dr. La Rue attended the Army's Meat and Dairy Hygiene School for three months, and was then assigned to Fort Benning, Georgia, where he inspected and approving all food products entering the fort. He also provided veterinary care to the fort's war dogs and other animals on the premises.
After serving in the Veterinary Corps, Dr. La Rue returned to Chanute in August 1958. He and a K-State classmate, Dr. Don McReynolds, formed a partnership and opened Animal Medical Center in September 1958. Drs. La Rue and McReynolds practiced veterinary medicine together until Dr. La Rue's death on March 8, 2015. They received a proclamation from the Kansas Senate in 2014, honoring them for the longest continuous veterinary partnership in Kansas' history.
Click here for the rest of Dr. La Rue's bio.

Dean Tammy Beckham presents the alumni recognition to Brian La Rue, son of the late Dr. Billy Joe La Rue.
Upcoming Events
We would like to invite you to join us for a K-State Alumni Reception on Friday, September 18, 2015 from 8:00-10:00 pm at the Hilton New Orleans Riverside, Rosedown Room, in conjunction with the 48th Annual American Association of Bovine Practitioners Conference being held in New Orleans, LA, on September 17-19, 2015.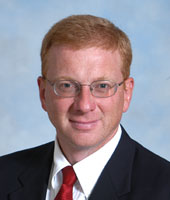 Dr. Mike Apley, DVM '87, will be receiving the K-State College of Veterinary Medicine and VMAA 2015 Alumni Recognition Award at the reception. More information to come soon on Dr. Apley.
We look forward to seeing you there, and don't forget to wear your purple!
Conference Speaker
- 7 Conference Contact Hours -
8:00 a.m. - 5:00 p.m.
Dr. Susan L. White,
DVM, MS, Dip. ACVIM
Professor of Large Animal Internal Medicine
University of Georgia - College of Veterinary Medicine
Education
DVM - University of California Davis - 1973
MS - University of Georgia - 1980
Board Certification
Diplomate American College of Veterinary Internal Medicine
Awards
Josiah Meigs Award for Excellence in Teaching
Norden Distinguished Teacher Award
Phi Zeta Teaching Award
Senior Teaching Fellow
UGA Teaching Academy
Clinical Interests
Large Animal Respiratory Diseases, Dermatology, Reanology and Neonatology
Courses Taught
Respiratory Diseases, Equine CardioPulmanary, Neurology, Dermatology, Problems in Large Animal Medicine
Dr. White will be speaking at the AAEP National Convention in December 2015.
Registration Fees:
Registration includes lectures, digital proceedings, catered lunch and refreshment breaks.
Proceeds from the event benefit the Student Chapter of the American Association of Equine Practitioners at Kansas State University to fund student wet labs and trips to AAEP conferences.
Registration is FREE to all KSU Faculty, Staff and Students. Please register with the Office of Continuing Education by e-mailing vmce@vet.k-state.edu or calling 785-532-4528.
Our office has moved! If you wish to register in person, please visit our office in the Library in Room 417. Thank you!
Find out more information at our website:
Questions about Alumni or CE events?
Contact: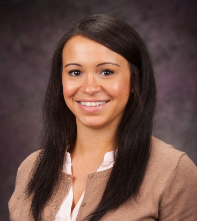 Ashley McCowan
Alumni and Events Coordinator
785-532-4833
amccowan@vet.k-state.edu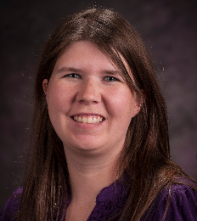 Dana Parker
Program Assistant
785-532-4528
dlaparker@vet.k-state.edu
Pet Friendly License Plate program in Kansas
The College of Veterinary Medicine has a new way to support shelter medicine in Kansas. The Pet Friendly license plate is available to Kansas residents statewide by visiting your local Kansas county treasurer's office.
See what the Pet Friendly plate looks like ...
News Ticker
More activities and accomplishments in the College of Veterinary Medicine:
Dr. Neala Boyer arrived as a new assistant professor in the Pet Health Center. She joins us after spending 12 years in an American Animal Hospital Association practice in Bellevue, Nebraska.
Dr. Jason Grady arrived as a new assistant professor in Equine Therio/Field Service. He joins us after spending 11 years in a variety of medical contexts that include educating veterinary students.
Drs. Kate KuKanich, Steve Stockham, Laura Armbrust, Butch KuKanich, Mike Dryden and Dan Thomson were among a large group of K-State faculty and alumni who all presented at the recent Central Veterinary Conference in Kansas City, Missouri.
Dr. Mike Apley spoke at the VMA Conference in South Dakota on Antibiotic Resistance as well as Veterinary Feed Directive and Regulatory Changes. He also spoke at the Academy of Veterinary Consultants Conference in Denver, Colorado, on Antibiotic Stewardship. Dr. Apley was featured in a press release in the media for Kansas State University researchers attack antibiotic resistance, improve public policy. ABC Eyewitness News reported on the Consumer Reports Safety Alert for Ground Beef. Consumer Reports contacted the National Cattleman's Beef Association and they received the following comment from Dr. Apley: "If all cattle were grass-fed, we'd have less beef, and it would be less affordable. Since grass doesn't grow on pasture year-round in many parts of the country, feedlots evolved to make the most efficient use of land, water, fuel, labor, and feed."
Dr. Robert Larson spoke at the Academy of Veterinary Consultants meeting in Denver, Colorado, on the role of vaccination in the control of bovine respiratory disease.
Dr. David Eshar was featured in the media for traveling to Israel to study black-tailed prairie dogs. He is studying the effects of anesthesia on prairie dogs hoping to reduce the risk associated with anesthetic care.
Dr. Beth Davis was featured on the cover of Magazyn Weterynaryjny, a Polish veterinary journal. Her article focused on muscle disease in horses.
First-Year students go through orientation - Photo collage

First-year students arrived at K-State in mid-August and went through a variety of orientation activities including an introductory session, all-college picnic and club fair.
Former Dean Ralph Richardson receives Iron Paw Award
Dr. Ralph Richardson, former CVM dean and now interim CEO and dean of K-State Olathe, was honored with the Iron Paw Award from the Kansas City Animal Health Corridor.
Dr. Richardson has helped promote the Animal Health Corridor in his role on the advisory board since the corridor's inception 10 years ago.
"One of the most rewarding things has been to become engaged in the Kansas City Animal Health Corridor," Dr. Richardson said in a recent interview with Good News for Pets. "It got me out of my routine and into an interaction with leaders of the animal health industry and that has been really great. I never expected that, it was never part of my vision of what might happen in my life. It's been really good."
Postdoc Appreciation Week, September 21-25, 2015
You're invited to join in the following events to celebrate Postdoc Appreciation Week. Thanks go to the Office of the Vice President for Research for sponsoring the events. See more at the website: (Link Removed: expired)
Monday, September 21: Postdoc Appreciation Week Kickoff
9:00–10:00 a.m., Union 227
Dr. Mary Rezac, interim associate vice president for research and professor of chemical engineering, will speak about her vision for K-State postdocs and how they impact K-State's 2025 Plan. She will introduce Dr. Beth Montelone, associate dean for research and professor of biology in the College of Arts & Sciences, who will speak about the importance of mentoring postdocs and their role in the research enterprise. Coffee, juice, and pastries will be provided.
Tuesday, September 22: Join Us!
11:30 a.m.–1:30 p.m., International Student Center Multipurpose Room
Administration, faculty, postdoctoral association mentors, and all postdocs are invited to attend this come-and-go luncheon to learn about the K-State Postdoc Association. Drinks and boxed sandwich lunches provided. Please register here by September 11.
Wednesday, September 23: Professional Development
10:30 a.m.–12 noon, Union Big 12 Room
Three speakers will address helpful topics for researchers. Mary Lou Marino from the Office of Research and Sponsored Programs will give an introduction to The Funding Connection, and Mal Hoover and Gina Scott from the College of Veterinary Medicine will explain resources available to generate images for publication and using EndNote to manage references.
Thursday, September 24: Networking Ice Cream Social and KAWSE Gathering
3:30–5:00 p.m., Hale Library Hemisphere Room
A panel of postdocs will discuss the postdoc experience at K-State, the importance of mentoring, the benefits of networking and interdisciplinary collaborations, the importance of having a development plan, and finding a good postdoc position from U.S. citizen and non-citizen points of view. Ice cream will be provided.
5:30–6:30 p.m., Manhattan Country Club
Enjoy an informal gathering sponsored by the K-State Office for the Advancement of Women in Science and Engineering, or KAWSE.
Friday, September 25: Nanotechnology Seminar and Picnic in the Park
10:30–11:30 a.m., Mara Conference Center, Trotter Hall (4th floor)
Dr. Nancy A. Monteiro-Riviere, University Distinguished Professor of anatomy and physiology in the College of Veterinary Medicine, will speak about the establishment and importance of nanotechnology at K-State.
5:00–7:00 p.m., City Park
Bring a dish to share and enjoy a potluck picnic in Manhattan City Park.
Click here to see the New Arrivals/Recent Departures at the CVM ...
Welcome to:
Dr. Prema Arasu, DM/P, Professor
Karen Lleellish, A&P, Research Assistant
Katharine Barker, VHC, Veterinary Technician I
Amy Juracek, VHC, Veterinary Specialty Technician
Dr. Mark Morton, DM/P, Medical Resident Year 1
Dr. Lindsey Holmstrom, DM/P, Research Assistant Professor
Amy Elswick, Clinical Sciences, Senior Administrative Assistant
Sandeep Kakade, A&P, Research Assistant
Dr. Yang Li, A&P, Fellow (Post Doc)
Dee Rush, A&P, Manager/Administrator
Manickam Dhandapani, Dean's Office, Web/Database Developer
Dr. Alfonso Clavijo, DM/P, Professor
Monica Gamez, DM/P, Research Assistant
Dr. Natasha Gaudreault, DM/P, Research Assistant Professor
Dr. Ying Wang, DM/P, Fellow (Post Doc)
Kelsey Hertel, VHC, Veterinary Technician 1
Gail Ragan, A&P, Research Assistant
Dr. Maghana Ramani, A&P, Fellow (Post Doc)
Bo Winters, VHC, Senior Administrative Assistant
Dr. Manuel Chamorro-Ortega, Clinical Sciences, Clinical Assistant Professor
Farewell to:
Dr. Bradley Garcia, VHC, Medical Resident Year 3
Kari Salinas, VHC, Senior Administrative Assistant
Dr. Amit Kumar, DM/P, Research Associate
Dr. Anuradha Ghosh, DM/P, Research Assistant Professor
Steven Buchman, Dean's Office, Busness Financial Specialist
Florian Petry, A&P, Visiting Scholar
Bin Yang, DM/P, Visiting Scholar



Lifelines is published each month by the Development Office at the College of Veterinary Medicine. The editor is Joe Montgomery, jmontgom@vet.k-state.edu.
Lifelines index

Download a printable version of Lifelines (this is condensed and has less information than above)
Note: File is in Adobe Acrobat (PDF) format.


Does your pet have what it takes to become Willie's Pet of the Week?