August 2015 - Vol. 10, No. 8
Top Stories
Top Parasitologist Award for Dr. Mike Dryden
American Association of Veterinary Parasitologists presents its top award in Boston
The American Association of Veterinary Parasitologists presented the 2015 AAVP-Merial Distinguished Veterinary Parasitologist Award to Kansas State University's Dr. Michael W. Dryden on July 11 in Boston, Massachusetts, at the society's 60th annual meeting. This is the society's highest award and honors the outstanding contributions of an AAVP member to the advancement of veterinary parasitology. Dr. Dryden is a University Distinguished Professor of veterinary parasitology in the Department of Diagnostic Medicine/Pathobiology in the College of Veterinary Medicine.
Read more ...
| | | |
| --- | --- | --- |
| | | |
| | Dr. Doug Carithers (left), secretary-treasurer of the AAVP, presents the 2015 AAVP-Merial Distinguished Veterinary Parasitologist Award to Dr. Mike Dryden, pictured above with wife, Joan. | |
"Receiving the 2015 AAVP Distinguished Parasitologist of the year award was a most humbling experience," Dr. Dryden said. "It is the highest honor bestowed by the association and I never considered that the association would honor me with this career achievement award.
"Mike is a quintessential faculty member," said Dr. M.M. Chengappa, University Distinguished Professor and head of the Department of Diagnostic Medicine/Pathobiology. "We're fortunate to have a professor of his caliber and stature in the college at Kansas State University. He's an asset not only to the college, but also to the profession in general."
"Mike is the consummate teacher," said Dr. Doug Carithers, secretary-treasurer of the AAVP. "He is able to clearly explain complex relationships and concepts in a logical, passionate and entertaining manner that is relevant for the particular audience, no matter what their background. Most importantly, even though he's considered the flea expert worldwide, he remains open-minded enough to keep learning and explore the possibilities, making him not only a great teacher, but an excellent student of science."
Born in Osborne, Kansas, Dr. Dryden grew up on a farm northwest of Cawker City, Kansas. He earned a bachelor's degree in 1982 and a DVM degree in 1984, both at Kansas State University. He later earned a master's degree in 1988 and a Ph.D. in 1990, both from Purdue University, West Lafayette,Indiana. It was while he was a graduate student at Purdue that the veterinary students started calling him "Dr. Flea." Upon completion of the graduate program, Dr. Dryden accepted an offer from the College of Veterinary Medicine at Kansas State University as an assistant professor of veterinary parasitology.
At Kansas State University, Dr. Dryden developed a research program along with Dr. Patricia Payne and his laboratory staff that has been involved in two primary areas: The biology and control of fleas and ticks infesting dogs and cats and the diagnosis and control of gastrointestinal parasites of dogs and cats. While he has published more than 130 manuscripts and 8 book chapters on numerous different internal and external parasites, it has been his research with Ctenocephalides felis that has become the most widely known. The K-State flea team has generated publications and dissertations on flea host association, longevity, egg production, blood consumption, carpet microclimate, on-animal and premises flea control assessment techniques, flea trapping systems (intermittent-light flea trap), insecticide resistance, flea allergy dermatitis, flea gender structure, reproductive break point analysis, residual speed of kill models, in-home field trials and numerous articles on flea control. Conducting such an extensive research program has necessitated collaborating with faculty and working with students at K-State and other universities. Dr. Dryden was promoted to full professor in 1999 and in 2011 received the designation of University Distinguished Professor at Kansas State University. In 2011, he was recognized as a charter diplomate of the American College of Veterinary Microbiology (ACVM), when the DVM-Parasitology specialty was initiated.
Dr. Dryden is recognized as a passionate educator. He co-taught the Veterinary Parasitology course in the College of Veterinary Medicine with Dr. Robert Ridley from 1990 to 2001 and became course coordinator in 2002 and has co-taught the course with Dr. Payne for the past 12 years. In 2010, along with Dr. Payne, he developed the "Evidenced Based Small Animal Clinical Parasitology Training Course" (often called Wildcat Parasitology). More than 140 graduate veterinarians from practice, academia and industry in the U.S., Canada, Australia and Europe have attended this intense weeklong course, designed to provide a deep-dive into practical small animal veterinary parasitology.
Dr. Dryden has been invited to lecture in over 21 countries, presenting more than 1,000 invited seminars at scientific conferences and at dozens of veterinary continuing education meetings. He has also been recognized with numerous awards and honors for his teaching, research and service to the veterinary profession.
Dr. Dryden and his wife, Joan, have two children: a son, Shawn, who lives in Manhattan with his wife, Mindy (Bates) Dryden, and granddaughters, Harper and Carson; and a daughter, Sarah, who also lives in Manhattan.
Dr. Mike Dryden refelcts on his career during the AAVP meeting.
Collaborative research leads to discovery of syndrome in cattle
Researchers at Kansas State University's College of Veterinary Medicine in collaboration with faculty from Iowa State University and Texas Tech University recently published a landmark research paper on feedlot cattle.
The study, "Description of a novel fatigue syndrome of finished feedlot cattle following transportation" was co-authored by Dr. Dan Thomson, Jones Professor of Production Medicine in the College of Veterinary Medicine and director of the Beef Cattle Institute at Kansas State University; Dr. Jamie Henningson, a diagnostic pathologist, and Dr. Bhupinder Bawa, a former pathology resident, both with the Kansas State Veterinary Diagnostic Laboratory; Dr. Guy Loneragan, professor of food safety and public health at Texas Tech University; and Dr. Steve Ensley, a veterinary clinician and toxicologist at Iowa State University.
Read more ...
| | |
| --- | --- |
| | |
| | Dr. Steve Ensley, DVM class of 1981, discusses cattle health issues with the CVM's Dr. Dan Thomson on DocTalk. The two have worked together with other researchers on a project that discovered a new syndrome in cattle. |
The Journal of American Veterinary Medical Association published the study as a "special report" in the July 15 issue.
"Our job at Kansas State University is to support the beef industry. We at the Beef Cattle Institute assume a huge responsibility of service to producers and consumers of beef. Our research team is the first to discover this syndrome in a scientific journal," Dr. Dan Thomson said. "This syndrome has been identified in the swine industry and had not been identified in cattle until our work that started in 2013. This is a landmark paper that will place an emphasis on cattle stress at the end of the feeding period with items such as heat load, animal size, cattle handling at shipping, time of day of shipping, animal transportation, and other issues that could be causing stress of large cattle during the summer time. It is awesome to work with diagnostic laboratory and to collaborate with our colleagues at Texas Tech and Iowa State University to serve the industry."
The study was inspired by observations made during the summer of 2013. Abattoirs throughout the United States reported concerns about slow and difficult-to-move cattle and other mobility problems that developed soon after arrival at the facility. Affected cattle had various clinical signs including rapid breathing with an abdominal component to respiration, lameness and reluctance to move. Many of the cattle affected with mobility problems had clinical signs similar to those of pigs with fatigued pig syndrome, a multifactorial condition in which affected pigs become nonambulatory without obvious injury, trauma or disease and refuse to walk.
"I think this paper is the first publication of the interaction between beta agonists and lameness issues in cattle," Dr. Ensley said. "The beta agonists are widely used in cattle and pig feeding and there is very little information about adverse effects. More work needs to be done but this is a great start."
"Part of the pathophysiology points to metabolic overload of sorts that result in or from respiratory insufficiency and muscle damage," Dr. Loneragan said. "While we don't know the cause, it appears to be multifactorial in nature but warrants further investigation. It is important to be able to share case reports like the ones described. While it is not always as thorough as a case report of hospitalized animals, these field-based observations are nevertheless of value and under Dr. Thomson's leadership, we were able to dig relatively deeply into these events and provide a report to share with our profession."
"Also described in the manuscript is a profoundly problematic condition – possibly an extreme endpoint of the fatigued cattle syndrome – where animals sloughed one or more hooves," Dr. Loneragan added. "Based on microscopic examination, this appears to be a distinct condition and is likely not laminitis resulting from dietary disturbances. It is clear this results in intense pain for the animals. The abattoir companies have decided that events like these are unacceptable and I applaud their dedication and commitment to protecting the welfare of the animals they depend on for their business and we depend on for food."
This study concluded it would be imperative for the beef industry and affiliated veterinarians to learn quickly as much as possible about fatigue cattle syndrome so measures can be implemented to prevent the condition or at least minimize its impact on cattle welfare.
Video Feature
Behind the Scenes of DocTalk
At the College of Veterinary Medicine, the television program "DocTalk" starts production on its new set. DocTalk features host Dr. Dan Thomson, director of the Beef Cattle Institute and Jones Professor of Production Medicine, as he interviews Kansas State University veterinary medicine faculty and other special guests about a wide range of topics related to animal health. The showed is broadcast to a national audience via RFD-TV on cable channels. Learn more about DocTalk in this month's Lifelines video feature.
Watch the video at regular size ...
Video produced by Joseph Chapes and Kent Nelson, technology coordinators from
Computing and Technical Support (CATS). See more CVM videos at our YouTube site: youtube.com/KSUCVM
Dr. Bonnie Rush becomes first Kansas State University faculty member to complete national diversity-training certification in veterinary medicine
It wasn't an intentional rush to be first, but Dr. Bonnie Rush did indeed become the first faculty member at Kansas State University to finish a diversity-certification training program designed specifically for educators in veterinary medicine. The Online Certificate Programs for Diversity and Inclusion in Veterinary Medicine is offered by Purdue University through its Center of Excellence for Diversity and Inclusion in Veterinary Medicine. Dr. Rush, head of the Clinical Sciences department in the College of Veterinary Medicine, said she first heard about the training program last year and signed up in October 2014.
Read more ...
| | | |
| --- | --- | --- |
| | | |
| | Dr. Bonnie Rush speaks at the dedication ceremony for the new Mobile Surgery Unit in this file photo. Dr. Rush is one three faculty members nationwide to finish the Online Certificate Programs for Diversity and Inclusion in Veterinary Medicine our more than 60 faculty members representing 27 of 30 U.S. veterinary colleges — and she is the first at K-State to complete the certification. Congratulations Dr. Rush. | |
"As department head, you interact with many different groups of people — faculty, staff, students and external constituents — every day," Dr. Rush said. "It's important to understand how a person in an underrepresented group may view each interaction differently."
Dr. Rush recalled working with individual veterinary students from underrepresented groups who have struggled to overcome and persevere through a wide range of barriers such as family and/or cultural expectations or different learning styles and pressures. Those experiences helped drive her motivation to pursue the diversity training program. She also appreciated the impact of this training program on the practice of veterinary medicine, such as how a veterinarian might provide special considerations for a physically-impaired client.
Participants complete a combination of distance learning modules, life experiences, seminar series, and reflections to build their skill sets. Each must perform and document one to three hours of volunteer community service and submit written reflections about what was learned. Another requirement is to submit a capstone paper (1-2 pages) on how a participant will use information from the certificate program to strengthen diversity and inclusion in veterinary medicine.
"You have one year to complete the program," Dr. Rush said. "I was surprised to learn that only three faculty members have completed the program to date. There are 66 faculty representing 27 of 30 US veterinary colleges currently completing the program. There have also been two students out of 61 participants from six different colleges who have their completion certificates, so only five people total have finished it so far."
Dr. Rush found three things to be particularly valuable in the training.
"There was a module on stereotype threat and a module on microagressions, and I watched a series of videos produced by the Kansas State University College of Education that profiled students who are first-generation college students," Dr. Rush said. "Watching these videos gave me a much stronger appreciation for students who are first-generation college students, particularly veterinary students who are first-generation students, and understanding their challenges. That was an inspirational set of videos."
Dr. Rush explained that stereotype threat is a situational predicament in which people are, or feel themselves to be, at risk of confirming negative stereotypes about their social group. This situation creates additional anxiety that may negatively impact their performance.
"Stereotype threat was a perspective I had never heard before," Dr. Rush said. "In regard to microagression, I think most people understand that underrepresented groups receive daily low-grade negative feedback that has a cumulative effect. The negative feedback may be intentional or unintentional, so it is important to be sensitive and aware of the daily subtle negative threats that are received by persons in underrepresented groups."
Dr. Rush said she will encourage faculty members in her department to take the training. She credits other Kansas State University administrators in being role models who helped promote diversity including: Dr. Ronnie Elmore, associate dean for academic programs, admissions and diversity programs; Dr. Jim Coffman, a former dean and former Kansas State University provost; and Dr. Ralph Richardson, interim dean and CEO of K-State Olathe who was previously dean of the veterinary college over the last 17 years.
"Before coming to K-State, Dr. Richardson was a department head at Purdue and had programs that promoted diversity among interns, residents and faculty," Dr. Rush said. "His work is probably part of the reason Purdue has been so influential in promoting diversity training in clinical training programs.
"I am delighted that Dr. Rush has completed the online Diversity and Inclusion in Veterinary Medicine certification program offered by the School of Veterinary Medicine at Purdue University," said Dr. Elmore. "The amount of effort required to complete this program is significant. Only three veterinary faculty members at the 30 veterinary colleges nationwide have completed this program to date. More importantly than earning this certificate is the commitment made by Dr. Rush to make her department and our college a comfortable place to work regardless of each individual's differences. We are very proud of Dr. Rush's leadership and accomplishments."
More information is available about the diversity certificate programs at the Purdue website: http://vet.purdue.edu/humancenteredvetmed/overview.php
KSVDL video: Bovine Lung Sampling for PCR Testing
This video discusses information about sampling bovine lungs for PCR testing to identify viral and bacterial components of the bovine respiratory disease complex. For more information about this sampling procedure or other diagnostic questions, please go to the KSVDL website at ksvdl.org or call KSVDL client care at 866-512-5650.
Watch the helpful video at full size here ...
More Headlines
CVM awards dual-degree scholarships to duo
Earning a DVM takes a big commitment, but some students at the CVM take it to the next level and work on a concurrent graduate degree. Making the task easier is a scholarship program offered by the college that benefits those who qualify.
Recipients this year are Jacob Hagenmaier,fourth-year veterinary student, and Jordan Gebhardt, a first-year veterinary student.
Read more below ...
| | |
| --- | --- |
| | |
| | First-year student Jordan Gebhardt, left, and fourth-year student Jacob Hagenmaier, will each receive a dual-degree scholarship from the CVM. |
Hagenmaier is a fourth-year veterinary student who is pursuing a doctorate in pathobiology. His focus is beef cattle research. Originally, his aspirations of becoming a food animal veterinarian were centered exclusively on private, rural practice.

"It wasn't until I enrolled at Kansas State University and began working part time assisting with research projects for the Beef Cattle Institute that I fully knew the different career routes that the veterinary medicine profession had to offer," Hagenmaier said. "I soon realized research was an obvious fit for me as I have always seen myself as one to ask new questions, try new things and challenge current standards."

In addition to taking on a challenge, Hagenmaier said the program has opened new doors.

"My doctoral research has been an extraordinary tool for networking and job opportunities within veterinary medicine, and it has served as a springboard into understanding the process of research and development of veterinary products and services," he said.

Dr. Dan Thomson, Jones professor of production medicine in the College of Veterinary Medicine, serves as Hagenmaier's adviser.

"Jacob is a special student who is focused on serving the Kansas beef industry," Dr. Thomson said. "He is able to see real issues that need solved within the beef industry and bring forward practical, relevant answers to be implemented in the field. He will make significant research and veterinary practice contributions."

Gebhardt is a first-year veterinary student who is pursuing a doctorate in animal science. His research focus is in swine nutrition. According to his adviser, Dr. Steve Dritz, professor of swine production in the College of Veterinary Medicine, the dual-degree program is what brought Gebhardt to Kansas State University.

"Jordan has a background running a family feed mill and livestock production business and wanted to pursue advance training in swine nutrition," Dr. Dritz said. "K-State was the only veterinary school that had the option of doing a dual doctoral degree in swine nutrition and a D.V.M. degree."

Additionally, Gebhardt's background in production livestock agriculture has led him to further his education with the goal of finding answers to practical questions the livestock industry faces on a daily basis. He recommends the program to anyone with time management skills, outstanding work ethic and a strong willingness for advancing their knowledge.

"The dual-degree program is an excellent opportunity for young people to continue their education in veterinary medicine, as well as incorporate graduate training in specialized aspects of animal production such as nutrition," Gebhardt said. "It is an outstanding program that is designed to produce well-rounded, industry-leading veterinarians."

Joel DeRoucheys, professor of animal sciences and industry, also will serve as a co-adviser to further enhance the depth of Gebhardt's research experience.

The philosophy of the dual-degree program brings together clinical medicine and research disciplines to create opportunities and expand career options in veterinary medicine. Started in 2011, the scholarship was established to enhance and encourage students who are part of the program. Recommendations are made from a committee within the college and then submitted to Frank Blecha, the college's associate dean of research, for final approval and funding. Scholarship criteria include grades, GRE graduate school entry exam, letters of recommendation, the student's demonstrated exposure to research and assurance to the committee that the student will work to complete both degrees.

"The students won't have conducted research for long, but they have exposure and a documented interest in that part of the program," Dr. Blecha said. "It gives us the confidence that they have the experience and success in conducting research."

Dr. Blecha is sure this year's recipients will do justice to the program.

"Both are very bright individuals who are directly involved with food animal research — the kind of people you're proud to be able to support," he said.
Hot Topic: Kansas State University researchers attack antibiotic resistance, improve public policy
Kansas State University College of Veterinary Medicine researchers are looking at the growing problem of antibiotic resistance and are helping shape public policy on the issue to keep humans and animals healthy.
Read more ...
| | | |
| --- | --- | --- |
| | | |
| | Drs. Mike Apley and Brian Lubbers | |
The Centers for Disease Control and Prevention estimates that drug-resistant bacteria cause 2 million illnesses and approximately 23,000 deaths each year in the U.S., according to the White House's March 2015 "National Action Plan For Combating Antibiotic-Resistant Bacteria."

Kansas State University's Dr. Mike Apley, a professor of production medicine and clinical pharmacology, and Dr. Brian Lubbers, assistant professor of diagnostic medicine and pathobiology and director of microbiology at the Kansas State Veterinary Diagnostic Laboratory, both study antimicrobial resistance and have gained national recognition for their work.

"If there is a clear public health risk of using an antibiotic in food animals, we must make some hard choices as to how and if that antibiotic should be used in these animals," Dr. Apley said. "We also don't want to see an antibiotic removed in the name of human health when it really doesn't affect human health and the removal harms our ability to care for animals. Antibiotics are a key tool for veterinarians and producers to protect the health and welfare of the animals used for food."

Dr. Apley was among the 150 human and animal health experts selected to attend the White House Forum on Antibiotic Stewardship in Washington, D.C., in June. He represented the National Cattlemen's Beef Association at the prestigious forum.

Determining how food animal antibiotics contribute to the problem is difficult. Dr. Apley says the "big swirling dogfight" between those who use antibiotic resistance as a tool against animal agriculture and those who argue that food animal antibiotic use has nothing to do with human health is counterproductive.

"Does antibiotic use in animals contribute to antibiotic resistance in humans? The answer, in my opinion, is yes for some specific drug-bacteria combinations — but it's a small part of the problem," Dr. Apley said. "Does that absolve us of responsibility to address it? Absolutely not."

Apley also strives to help retailers understand the issue. He says retailers respond to consumer concerns, so communicating with consumers is crucial.

"The research today isn't just about showing up in a peer-reviewed journal," Dr. Apley said. "It has to be translated and applied in regulatory, legislative, food retail and social media environments."


Meeting the challenge of antibiotic resistance requires not only determining potential impacts on human health, but also maintaining the ability of veterinarians to treat bacterial infections in animals. Lubbers is leading an update of a project he conducted with another colleague to track the changing populations and resistance levels of the bacteria that cause bovine respiratory disease, or BRD, a costly disease that affects cattle. In samples tested at the university in 2010-2012, antibiotic resistance of the primary bacterium increased dramatically. Examining the data for more bacteria from 2005 through 2015 will help researchers further understand these trends and characterize the problem.

"We're seeing that more than 50 percent of the isolates of one bovine respiratory pathogen coming through the Kansas State Veterinary Diagnostic Lab are resistant to more than three classes of antibiotics, so resistance is limiting treatment options for people in the field for BRD," Dr. Lubbers said.

A surveillance program for resistant bacteria in animals could help shape a national strategy to combat the problem, he said.

"National programs look at human bacteria, foodborne bacteria or bacteria from other types of surveys, not animal pathogens directly from cases of animal disease," Dr. Lubbers said. "That's why surveillance is the first big step. How big of a problem is it? We just don't know. Until you have the baseline, it's hard to measure any big strategy decisions and their outcomes."

The issue will be front and center when Lubbers co-chairs the National Institute for Animal Agriculture, Nov. 3-5 in Atlanta, Georgia, where this year's topic is metrics, or how to measure antibiotic resistance.
Veterinary Research Scholars Program wraps up summer at Merial-NIH Symposium in California
The Veterinary Research Scholars Program just wrapped up another successful summer with 16 students participating this year, including a couple of international students from France and Italy. After presenting posters of their research on July 28 at K-State in Trotter Hall, the students then represented K-State at the Merial-NIH National Veterinary Scholar Symposium held at the University of California, Davis, July 30 to Aug. 2. The theme this year was "Solving Complex Challenges at the Interface of Humans, Animals, and their Environment."
Click here to read more and see pictures from the VRSP activities ...

VRSP students meet Nobel prizewinner Dr. Peter Doherty at the Merial-NIH National Veterinary Scholars Symposium at UC Davis. From left: Tanner Slead, Megan Cabot, Dr. Doherty, John Brandsma, Austin Pauly and Chantal Girard. Dr. Doherty shared the Nobel Prize in 1996 for discovering the nature of the cellular immune defense.
| | | |
| --- | --- | --- |
| | | |
| | Giovanni Finesso, a scholar from Italy who has been at K-State stuyding under Dr. Annelise Nguyen, explains his research project at the VRSP poster session in Trotter Hall on July 28. | |
| | | |
| | Second-year veterinary student Brandon Bell (right) visits with a scholar from another school while presenting his poster at the Merial-NIH National Veterinary Scholar Symposium held at the University of California, Davis, July 30 to Aug. 2. | |
| | | |
| | Second-year student Tanner Slead works on a project testing the effectiveness of different levels of pharmocological compounds. | |
"The program provided an opportunity to learn what goes into a research project, how to incorporate biomedical research into veterinary disciplines, and how to search for opportunities to become a veterinary scientist," said Dr. Annelise Nguyen, program director for the VRSP. "Our scholars had an opportunity at the symposium to meet with Dr. Peter Doherty, who is the only veterinarian to win the Nobel Prize (1996). My scholar, Giovanni Finesso, if you pardon a little bias, is a fantastic scholar with great ambition to continue graduate training after his graduation in May 2016."
Chantal Girard, a second-year veterinary student, had approached Dr. Melinda Wilkerson earlier this year to see about helping on a canine research project in Grenada, where Dr. Wilkerson had just returned from a sabbatical at St. George's University.
"As a VRSP student, Chantal worked on developing and testing a multiplex oligonucleotide bead assay to detect bacteria DNA specific for Ehrlichia canis, E. chaffeensis, E. ewingii, Anaplasma phagocytophilium and A. platys in dog and equine blood samples," Dr. Wilkerson said. "She determined the multiple assay was specific for the DNA of each bacterial species except that the capture oligonucleotide for A. phagocytophilium also cross reacted with E. chaffeensis DNA samples."
Chantal tested positive control DNA plasmid samples (provided by Dr. Roman Ganta), a DNA sample from a horse infected with A. phagocytophilium (identified recently at K-State), and 84 DNA samples obtained from the blood of Grenadian dogs.
"Pothounds in Grenada provide an excellent population to study for they have a substantial prevalence of single and coinfections of E. canis and A. platys, but not of the other bacterial pathogens," Dr. Wilkerson said. "Amazingly, Chantal was able to develop the assay and test all of these samples during her VRSP program this summer. She was a dedicated student who performed well in the lab and enthusiastically presented her work at the VRSP symposium at UC Davis. We are continuing the work she started and plan to publish the results. It was a rewarding experience for both Chantal and me as her mentor."
In addition to working with K-State veterinary faculty, one of the students in this year's program, second year student Megan Cabot, was mentored by a local researcher and entomologist with the Arthropod-Borne Animal Diseases Research Unit in Manhattan, Kansas: Lee Cohnstaedt, Ph.D.
"My mentee, Megan Cabot, had a very ambitious project to determine which insects were feeding on which host animals in the sunset zoo, which may have been more than she understood initially," Cohnstaedt said. "But like a champion, she stuck with it and gathered really valuable data to understand the entomological risks to the various species of animals. Although she may not have liked insects at the onset, she sure appreciated them after the project. Most importantly, I think she gained an appreciation of the complexity of insects and how they can impact animal health. As a future veterinarian, and likely a zoo vet, she gained a valuable appreciation of the impact insects, particularly disease vector insects, can have on animals and humans."
The 2015 Veterinary Research Scholars Program participants finish poster presentations in the Mara Conference Center at K-State. Back row, left to right, Giovanni Finesso, Cristian Perez, John Brandsma, Tanner Slead, Brandon Bell, Dustin Renken, Austin Pauly and Marine Colson. Front row: Leah Freilich, Stephanie Skinner, Jennifer Wright, Megan Cabot, Melissa Juby, Chantal Girard, So Lee Park and Rachel Rielinger.
Regular features
Alumni Events and Continuing Education
See news and upcoming events below ...
Dr. Vern Otte to be recognized at CVC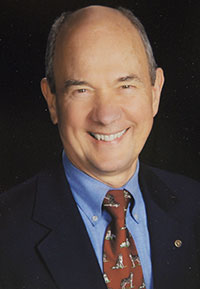 Dr. Vern Otte, Leawood, Kansas, has been selected by the Kansas State University College of Veterinary Medicine's Alumni Association for its 2015 Alumni Recognition Award to be presented during the annual Central Veterinary Conference held in Kansas City, Missouri, on August 29.
Dr. Otte, originally from Great Bend, Kansas, earned a bachelor's degree in 1964 and a Doctor of Veterinary Medicine degree in 1975, both at Kansas State University. After graduation, he practiced at Raritan (New Jersey) Hospital for Animals until 1977. He then owned and practiced at the State Line Animal Hospital, Leawood, from 1977 to 2014, at which time he sold the practice to his associate, who he now works for. Dr. Otte has been a trail veterinarian for the Iditarod Sled Dog Race for eight years.
Click here for the rest of Dr. Otte's bio.
Dr. Billy Joe La Rue to be recognized posthumously at CVC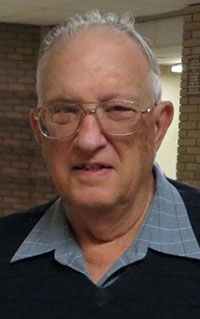 The late Dr. Billy Joe La Rue, Chanute, Kansas, has been selected by the Kansas State University College of Veterinary Medicine's Alumni Association for a posthumous 2015 Alumni Recognition Award to be presented during the annual Central Veterinary Conference held in Kansas City, Missouri, on August 29.
Dr. La Rue was born in Iola, Kansas, and grew up in Chanute, Kansas. He attended Chanute Junior College (now Neosho County Community College) in 1951, before transferring to Kansas State College (now Kansas State University), Manhattan, Kansas, in the summer of 1951. He married Barbara Ann Ebert in 1953 in Chanute and graduated from K-State in 1956 with his Doctor of Veterinary Medicine degree. While at K-State, Dr. La Rue was a member of the Reserve Officers' Training Corps and was commissioned as a first lieutenant in the United States Army Veterinary Corps. Dr. La Rue attended the Army's Meat and Dairy Hygiene School for three months, and was then assigned to Fort Benning, Georgia, where he inspected and approving all food products entering the fort. He also provided veterinary care to the fort's war dogs and other animals on the premises.
After serving in the Veterinary Corps, Dr. La Rue returned to Chanute in August 1958. He and a K-State classmate, Dr. Don McReynolds, formed a partnership and opened Animal Medical Center in September 1958. Drs. La Rue and McReynolds practiced veterinary medicine together until Dr. La Rue's death on March 8, 2015. They received a proclamation from the Kansas Senate in 2014, honoring them for the longest continuous veterinary partnership in Kansas' history.
Click here for the rest of Dr. La Rue's bio.
Upcoming Events
K-State Alumni Reception at 2015 Central Veterinary Conference
Aug. 29, 7:00 pm-9:00 pm, Kansas City Marriott Downtown, Count Basie Ballroom A
Questions about Alumni or CE events?
Contact: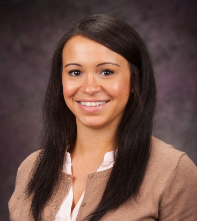 Ashley McCowan
Alumni and Events Coordinator
785-532-4833
amccowan@vet.k-state.edu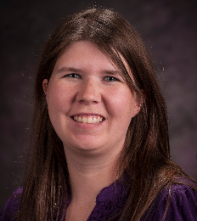 Dana Parker
Program Assistant
785-532-4528
dlaparker@vet.k-state.edu
Pet Friendly License Plate program in Kansas
The College of Veterinary Medicine has a new way to support shelter medicine in Kansas. The Pet Friendly license plate is available to Kansas residents statewide by visiting your local Kansas county treasurer's office.
See what the Pet Friendly plate looks like ...
News Ticker
More activities and accomplishments in the College of Veterinary Medicine:
Welcome to Dean Tammy Beckham who has officially begun her term at the College of Veterinary Medicine this month. She will be speaking at the 2015 Animal Health Research Symposium sponsored by the Kansas City Area Life Sciences Institute, to be held Aug. 30-31. She will address "Current and Emerging Infectious Disease Threats to U.S. Livestock & Poultry Industries." See more here: http://www.kclifesciences.org/events/animal-health-symposium/
Dean Beckham also recently secured a pledge from the Mark A Chapman Foundation that will benefit the shelter medicine program: $30,000 for five years to support a shelter medicine technician and a $10,000 scholarship for five years for a senior student demonstrating excellence in shelter medicine.
The Sunset Zoo received a donation in honor of Dr. James Carpenter. The donors are the family of 2015 graduate Dr. Caitlin Kozel. They expressed sincere thanks and appreciation for his dedication to teaching. Dr. Carpenter and senior veterinary students provide service at the Sunset Zoo two times a week to work in the expanded clinic at the zoo. Their gift was directed towards the sloth bear/tiger exhibit renovation.
Dr. Elizabeth Santschi presented a CE to residents at the University of Wisconsin. Her topic was screw fixation of subchondral bone cysts.
Dr. Elizabeth Davis received the 2015 KSU Distinguished Service Award by the KVMA for her service as the 2014/2015 KVMA president, coordination of equine-oriented public outreach activities, and delivery of clinical service in equine medicine for regional horse owners and veterinarians.
Drs. Ganta Chanran, Mark Weiss, Greg Grauer, and Emily Klocke received a grant from the American Holistic Veterinary Medical Foundation for $31,820 for the study, "Adipose tissue (fat) derived stromal vascular fraction for treating feline chronic kidney disease: a pilot study."
Dr. Mike Apley presented at the FDA CVM on monitoring antibiotic use in food animals and pressures affecting antibiotic use in food animals. He also participated in a meeting at the White House on antimicrobial resistance and antibiotic use in livestock.
Meet the new residents at the VHC
The Veterinary Health Center welcomed its newest group of residents in July. Back row (left to right): Drs. Katelyn Fentiman, Tara Mauro, Morgan Murphy and Katherine Tucker-Mohl. Front row: Drs. Amanda Trimble, Jarrod Younkin, Megan Wilson
Equine service gets into Dodge

An elective rotation for four senior veterinary students attended and worked with Dr. Chris Blevins and Dr. David Ripple as emergency veterinarians at the Dodge City Round-up Rodeo. From left: Dr. David Ripple, Emily Fournier, Lindsey Perkins, Leigh Wacker, Kelsey Amy and Dr. Chris Blevins.
Click here to see the New Arrivals/Recent Departures at the CVM ...
Welcome to:
Steven Buchman, Business Financial Specialist, Dean's Office
Robin Allison, Instructor, DM/P
Dr. Natasha Gaudreault, Research Assistant Professor, DM/P
Janis Gipple, Assistant, Clinical Sciences
Dr. Tara Mauro, Resident, VHC
Dr. Morgan Murphy, Resident, VHC
Dr. Amanda Trimble, Resident, VHC
Dr. Katherine Tucker-Mohl, Resident, VHC
Dr. Megan Wilson, Resident, VHC
Kristin Loving, Program Manager, Dean's Office
Joe Montgomery, Program Manager, Dean's Office
Amy Schlueter, Health Care Technician, VHC
Mary Cross, Senior Administrative Assistant, VHC
Farewell to:
Richard Fels, Assistant Scientist, A&P
Kealan Schroeder, Senior Administrative Assistant, VHC
Estehela Gonzalez, Intern, KSVDL
Amanda Cordes, Business Financial Specialist, Dean's Office
Courtney Boysen, Resident, VHC
Ricardo Lanuza, Resident, VHC
Patrick Loftin, Resident, VHC
Christopher Norkus, Resident, VHC
David Upchurch, Resident, VHC
Heather Vaske, Resident, VHC
Robin Allison, Instructor, DM/P
Lori Gilmore, Manager/Administrator, A&P
Janis Gipple, Assistant, Clinical Sciences
Dr. John Bates, Research Assistant Professor, A&P
Dr. Binod Rizal, Fellow (Post Doc), A&P
Liwei Muench, Research Assistant, DM/P
Frances Reid, Senior Scientist, A&P



Lifelines is published each month by the Development Office at the College of Veterinary Medicine. The editor is Joe Montgomery, jmontgom@vet.k-state.edu.
Lifelines index

Download a printable version of Lifelines (this is condensed and has less information than above)
Note: File is in Adobe Acrobat (PDF) format.