August 2014 - Vol. 9, No. 8
Top Stories
Identifying the Next Generation of Pathogens
Dr. Benjamin Hause brings new techniques to the Kansas State Veterinary Diagnostic Laboratory
He calls himself a bug hunter, but the target of his work consists of viruses that can only be found and identified with special methods and instruments. Dr. Benjamin Hause, an assistant research professor at the Kansas State Veterinary Diagnostic Laboratory, recently published an article about one of his discoveries ...
Read more ...
| | | |
| --- | --- | --- |
| | | |
| | Dr. Benjamin Hause uses Next-Generation Sequencing to identify and characterize viruses and bacteria. | |
... – porcine enterovirus G – which had previously not been found in the United States.
"We had isolated a virus in cells, but didn't know what it was," Dr. Hause said. "We used next-generation sequencing to identify it, and it turned out to be porcine enterovirus G, which had been described before, but had never previously been found in North America."
The virus is thought to be benign and is not known to cause disease, but it had only been reported before in Europe and Asia.
"Fortunately porcine enterovirus G doesn't do much in pigs, but it raises concerns about other viruses getting through the border," Dr. Hause said. "We're not sure if this has been here for some time undetected or is a recent introduction. Coincidentally, the virus was most similar to 2012 Chinese isolates and was detected around the same time as a couple of other viruses: porcine epidemic diarrhea virus and porcine deltacoronavirus, both of which were detected in China in the same time frame prior to the U.S."
Both porcine epidemic diarrhea virus and porcine deltacoronavirus have caused major economic losses to hog producers in North America, as well as impacting several other aspects of the swine industry. Dr. Hause has mapped these viruses at the Kansas State Veterinary Diagnostic Laboratory as a way to ensure the reliability of the next-generation sequencing methods he uses to identify and characterize pathogens. The technique will soon be offered at the laboratory.
"As we isolate viruses, we can completely sequence their genomes," Dr. Hause said. "We can get a good understanding of what makes those viruses tick. Next-generation sequencing goes farther and allows us to perform metagenomic sequencing where we don't isolate the virus. Instead, we can sequence all DNA contained in a sample, which includes the host DNA, plus it reads all of the viruses in the sample too. It's a universal method to detect viruses that we have adapted and applied to veterinary diagnostics."
Dr. Hause said his most recent work has led to the discovery of an influenza virus in cattle.
"A swine sample came in that we thought was influenza, but all other tests were negative," Dr. Hause explained. "We found instead that this was an entirely new type of influenza. Subsequent research has shown that it is widespread in cattle, not just pigs. Now we're studying the association of this strain of bovine influenza with respiratory disease in feedlots."
Dr. Hause was hired at K-State in May. He had previously worked as the diagnostic lab director at Newport Labs in Worthington, Minnesota. He worked on his porcine enterovirus G paper with Dr. Richard Hesse, a diagnostic virologist at the Kansas State Veterinary Diagnostic Laboratory. Dr. Hesse helped recruit Dr. Hause to K‑State to further develop his next-generation sequencing methodology, which has other benefits from identifying and characterizing pathogens.
"As a virus mutates and changes, Next-generation sequencing can be used to help update vaccines so they are still effective," Dr. Hause said. "Through this technology we can build a database with a collection of viruses based on where they came from and what kind of clinical presentation was seen. Then we can mine that dataset to match the vaccines or to get additional information on the pathogen. Some diseases such as flu mutate and change rapidly, and can jump from humans to pigs and back to humans, so it's important for both animal health and human health that we monitor and understand these viruses as much as possible."
Video Feature
Hands-on summer research program
Class of 2017 member Vien O is one of 17 students involved in the Veterinary Research Scholars Program during the summer of 2014. Watch our video report this month's which gives a glimpse of what kind of activities Vien was involved with and how the VRSP students presented their findings.
Watch the video at regular size ...
Video produced by Joseph Chapes and Kent Nelson, technology coordinators from
Computing and Technical Support (CATS). See more CVM videos at our YouTube site: youtube.com/KSUCVM
Dr. David Eshar dodges war zone to collect chameleon blood samples
Understanding the physiology of a very tiny animal can pose some very large challenges – some that are unexpected – such as avoiding a war zone. After returning from a trip to study the hematology of the Mediterranean chameleon in July ...
Read more ...
| | | |
| --- | --- | --- |
| | | |
| | Dr. David Eshar runs Mediterranean chameleon blood samples through an analyzer. | |
| | | |
| | Taking a blood sample from one of the chameleons. | |
... a Kansas State University veterinary medicine researcher discovered his timing had been quite fortuitous.

"This project was performed in Israel during the current intense security situation," said Dr. David Eshar, assistant professor of exotic and zoological medicine service. "One of the collection sites located on the Mediterranean beach was directly bombarded by Hamas a couple of days after we had worked there. When forced to move into a new location, we had stumbled over a hidden newly tested Iron-Dome anti-rockets site positioned to intercept the Hamas rockets."

Despite these circumstances, Dr. Eshar and his team evaluated tens of chameleons. Blood samples were collected and analyzed to produce more than 40 new hematological analytes never before described for this species.

"Part of the reasons why this was not previously performed was due to the chameleon's smaller body size and the difficulty in obtaining good enough blood samples to allow the analysis," Dr. Eshar explained. "In this project, we used our expertise to obtain the blood samples and have it analyzed using machines (Abaxis Vetscan and iSTAT) that require only minute blood volume (~ one large blood drop)."

The Mediterranean chameleon lives in an arboreal habitat, feeding on insects captured by its unique telescopic tongue. Hematological and biochemical analyses of blood can be useful for studying the biology of species and determining the health status of animals both in the wild and in captivity. Dr. Eshar said that knowledge of base-line hematological ranges is imperative in clinical evaluation of diseased animals.

"We had success with a similar study involving another Israeli native species (the Negev desert tortoise) that was well received in both a veterinary medicine wildlife journal and at a conference," Dr. Eshar said. "We expect to have the data generated in our Mediterranean chameleon study to also be presented at a professional meeting and submitted for publication."


Hot Topic
How to prepare and package samples for the Kansas State Veterinary Diagnostic Laboratory
The K-State Veterinary Diagnostic Laboratory is a full-service animal diagnostic laboratory that offers a range of diagnostic tests and services important for domestic and wild animals, located at Kansas State University's Manhattan campus.
Watch the helpful video at full size here ...
Veterinary Health Center announces a special fall contest
Click the arrow to learn more ...
More Headlines
Fourth-year student spends three weeks on externship in France
Summer 2014 was a bon voyage for Stacey Burdick, a fourth-year student in the College of Veterinary Medicine at Kansas State University. She just completed an externship from July 7-25 at Alfort Veterinary School (Ecole nationale veterinaire d'Alfort) in Maisons-Alfort, France.
Read more ...
"I find international medicine very interesting," Stacey said. "I went to Belgium and the Netherlands with Dr. Walter Renberg's international veterinary study tour in 2011 and took his 'Topics in Global Veterinary Medicine' elective as well. I am interested in exotics so it was really interesting to see how this medicine was different in France."
Stacey explained as an example that in the United States, all ferrets are spayed and neutered before they are adopted, but in France they use implants to sterilize the females at a slightly older age and see a lower incidence of adrenal disease.
"The hospital was very busy with surgeries – sometimes up to four surgeries a day – in addition to a full appointment case load, so I was able to observe many surgeries and actually was able to perform a rabbit neuter with another student," she said. "I am not sure if I would be able to see all the surgeries on the exotics rotation here, so I think that is very useful for my career out of school."
The externship was under Dr. Charly Pignon, who came to visit K-State last fall. Dr. Pignon spoke at one of the Exotic Animal Medicine Club meetings, while Stacey was the president of the club.
"Dr. Pignon invited any of us who were interested in exotics to complete externships with him at the school," Stacey explained. "I was able to take advantage of a $500 International Travel Scholarship from the college, which really helped make this trip possible."
Travel scholarships and awards are made possible through grants and private donations to the Dean's Excellence Fund. Contact the Development office in the College of Veterinary Medicine at 785-532-4378 to help support opportunities like this for other veterinary students.
A surgical selfie: Fourth-year student Stacey Burdick (second from left) take a quick break from surgery while on an internship at Alfort Veterinary School in Maisons-Alfort, France. She was there for three weeks in July.
Stacey visits the Notre Dame cathedral and the Lourve during her spare time in Paris.
Third-year student has a 'Plum' of an internship experience
An island vacation is a dream for many college students, but it doesn't usually require permission from the Department of Homeland Security to land on the island. That's exactly what happened for third-year student Rachael Gortowski ...
Read more ...
Rachael had the opportunity of which many veterinary students can only dream – the chance to spend the summer working at Plum Island Animal Disease Center as a visiting intern.
"Getting to go to Plum Island for the summer is an amazing and once-in-a-lifetime opportunity," Rachael said. "I am very thankful for the time I get to spend there."
The Plum Island Animal Disease Center is a Biosafety level – 3 research center managed by the U.S. Department of Agriculture that does work on foreign animal diseases that affect livestock. It is considered to be America's first line of defense against foreign animal diseases that could be accidentally or deliberately introduced domestically.
Rachael's internship was made possible after working for Dr. Bob Rowland, a renowned swine disease researcher and professor of diagnostic medicine and pathobiology at K-State, whose collaborations allow him to send students to the island for the summer. Rachael had worked in Dr. Rowland's lab for a year prior to visiting Plum Island and was trained in a biocontainment facility in Manhattan in preparation for her trip.
"I have been working on an African swine fever project while at Plum Island," Rachael said. "This is an infectious viral swine disease that can also cause hemorrhaging and has a very high mortality rate. Currently, no vaccine has been developed that can prevent the disease. I'm working to produce antibodies to the virus using cell culture. The antibodies will then be used for additional research, such as vaccine development and diagnostic characterization of the disease."
In addition to working on the ASFV project, Rachael has also found time to assist clinical veterinarians at the facility with care for animals participating in research trials.
"It has been invaluable to see live animals with foreign diseases," Rachael said. "After learning about some of these diseases in class, seeing the clinical course of the diseases in real life instead of just as pictures in a book has enhanced my understanding of each disease."
Research work at Plum Island will eventually be transferred to the National Bio and Agro-Defense Facility (NBAF), a Biosafety level – 4 biocontainment facility which is currently under construction in Manhattan, Kansas. The new facility will replace the facility at Plum Island. Kansas State University has developed several partnerships with Plum Island in anticipation of the center's transfer to Manhattan.

Veterinary students visit dairy in Western Kansas to learn regulatory veterinary medicine
See a picture of the student group at the dairy...
A group of Kansas State University veterinary students recently got the opportunity to get some firsthand experience in bovine tuberculosis testing. A joint venture between the USDA, Kansas Department of Animal Health, Kansas State Veterinary Diagnostic Lab (KSVDL) and a large Western Kansas dairy allowed students to assist and observe in this important aspect of regulatory veterinary medicine. Dr. Gregg Hanzlicek and a group of 11 CVM students traveled to the dairy to participate in this exercise.
Students were taught the proper method of intradermal injection in the Caudal Fold Test, as well as how to palpate to detect responders. In the reading portion of the exercise, students also observed USDA and KDAH veterinarians perform the Comparative Cervical Test to determine reactors from responders. Overall 5,400 animals were handled over a two-day period.
"I thought the experience was very valuable and very useful and practical", said second-year student and Bovine Club member Ben Suchsland, "It was very neat to see the dairy in operation, and I hope we can go back in the future for other opportunities."

New residents join the Veterinary Health Center in July
See who they are ...
Help us welcome the new residents who joined the Veterinary Health Center last month. Back row (left to right): Drs. Chris George, Omar Gonzalez-Cintron and Paxton Harness. Front row: Drs. Stephanie Fissekis and Emily Sharpe.

Regular features
News and Notes from the Veterinary Medical Alumni Association
Check the upcoming schedule, activities and other VMAA news ...
Central Veterinary Conference - K-State alumni reception

August 23, 7:00-9:00 p.m., Count Basie, Kansas City Marriott Downtown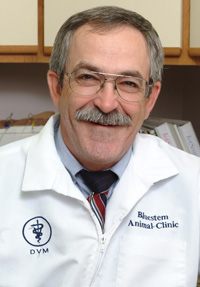 Dr. Jay Hedrick, El Dorado, Kansas, is the recipient of the 2014 Alumni Recognition Award to be presented during the annual Central Veterinary Conference held in Kansas City, Missouri, on Aug. 23. The award is given to veterinarians whose careers have served as exemplary role models for future alumni in a professional and community setting.
Dr. Hedrick, originally from Valeda, Kansas, earned his DVM at Kansas State University in 1972. He practiced in Wichita for one year before joining a mixed practice in Glasgow, Montana. He then relocated to Bridgeport, Nebraska, in 1975 joining a mixed practice on the edge of the Sand Hills. Dr. Hedrick returned to Kansas in 1978 where he established the Bluestem Animal Clinic in El Dorado. After 25 year of practice ownership, he sold the clinic in 2003 and now does a limited amount of relief work in eastern Kansas.
See the rest of Dr. Hedrick's bio here:
12th Annual Samuel Kelsall III Memorial Hunt
October 23 & 24
Get ready for upland bird season with this exclusive opportunity to benefit College of Veterinary Medicine student scholarships and the Samuel Kelsall III Memorial Scholarship. Plans include a trap shooting competition, country gourmet meals, a guided hunt and a chance to win a shotgun. Please see web site below.
Act fast — space is limited! Deadline to register is October 11.
Please contact Jodi Dragastin, development coordinator, at 785-532-4378 or e-mail jdragastin@vet.k-state.eduto register.
http://www.vet.k-state.edu/development/events/kelsall/index.html
Class Reunion Photos
For graduates of the classes of 1954, 1959, 1964, 1974, 1979, 1984, 1989, 1994, 1999, 2004, and 2009, here's a page with information about reunions and how to order reunion photos: http://www.vet.k-state.edu/alumni/reunions.htm
In Memorian - Dr. Rich Meinert, DVM class of 1990
News has been provided to us about the sudden passing of Dr. Rich Meinert, in what appears to as the result of a break-in at his clinic in Susanville, California. His obituary is posted here: http://www.legacy.com/obituaries/rgj/obituary.aspx?n=richard-joseph-meinert&pid=171681853 and donations are encouraged for the Rich Meinert Compassion in Action Memorial Award to honor 4-H achievement. Contact Darcy Hanson at the Lassen County 4-H office at 530-251-8285 for more information.
Rich Meinert Compassion in Action Memorial Award to honor 4-H achievement. Contact Darcy Hanson at the Lassen County 4-H office at 530-251-8285 for more information. - See more at: http://www.legacy.com/obituaries/rgj/obituary.aspx?n=richard-joseph-meinert&pid=171681853#sthash.mJnPxpCD.dpuf
Rich Meinert Compassion in Action Memorial Award to honor 4-H achievement. Contact Darcy Hanson at the Lassen County 4-H office at 530-251-8285 for more information. - See more at: http://www.legacy.com/obituaries/rgj/obituary.aspx?n=richard-joseph-meinert&pid=171681853#sthash.mJnPxpCD.dpuf

Pet Friendly License Plate program in Kansas
The College of Veterinary Medicine has a new way to support Kansas Shelter Medicine. The Pet Friendly license plate is available to Kansas residents statewide. For information, see http://www.vet.k-state.edu/development/pet-friendly.html, call 1-855-269-7387 or e-mail: petplate@vet.k-state.edu.
See what the Pet Friendly plate looks like ...

News Ticker
Read about more activities and accomplishments in the College of Veterinary Medicine ...
Dr. Amit Kumar, a postdoctoral fellow in the Department of Diagnostic Medicine/Pathobiology, reports that he been appointed as Review Editorial Board member of "Frontiers of Microbiology. He is also a reviewer for these journals: "Current Microbiology," "Foodborne Pathogen and Diseases," "International Journal of Clinical Microbiology," "Journal of Clinical Microbiology," "Journal of Food Science," "Journal of Food Science and Technology" and "Veterinary Microbiology."
Dr. Elizabeth Davis' dogs were selected for the advertisement above for the Willie's Pet of the Week campaign. We know they will be great role models for the contest.
Dr. Greg Grauer presented seminar topics at the Canyonlands Veterinary Conference organized by the Utah VMA. Topics: "Nuts and bolts of azotemia; Staging and management of chronic kidney disease (CKD)"; "Importance of hypertension and proteinuria in CKD"; "Use of ACEIs in CKD patients"; "Using NSAIDs in dogs with liver and kidney disease"; and "Urine leakage and urine retention disorders." Dr. Grauer also presented a seminar at the AVMA meeting in Denver for the renal disease symposium. His topic was, "Putting it all together: Renal case discussions."
Congratulations to Dr. Justin Thomason, assistant professor in cardiology, passed the ACVIM (cardio) specialty examination. Dr. Jennifer Reinhart, small animal medicine resident (finished in July), passed the ACVIM (Internal Medicine) specialty exam, and Dr. Heather Patterson, small animal resident (finished in July), passed the Internal Medicine general examination.
Dr. Susan Nelson continues to be one of our franchise media speakers educating the public about pet health and veterinary medicine. She was featured on several television channels for the Pets and Fireworks story. Please click on the link to see where the story was televised: http://mms.tveyes.com/NetReport.aspx?ReportHash=0ce4a01a135f3cefc4338cdb8570eefe
Dr. Elizabeth Santschi arrived as a new professor in Equine Surgery. Her areas of expertise are equine lameness and orthopedic surgery.
Susan Rose recently changed positions from the CMG to lab manager for junior surgery. She also reports she will be the featured artist in a couple upcoming venues: Yeldarb Gallery in the NOTO (Topeka) District from August 30-September. In addition to having her normal work for sale during this show, she is donating a painting of a bald eagle (in honor of our country's veterans, and in memorial to Sept 11, for a raffle. The ticket sales will be donated to a local veteran's benefit group. There will be two receptions, one on the Final Saturday, Aug. 30 from 1-4 PM and the other during Topeka's First Friday Art Walk, Friday, Sept. 5 from 5:30-8:30 PM. Then the following week, starting with an opening reception on Sept. 25 from 3-5:30 PM, she will be the featured artist for Clay Center's fall celebration for a month. Work will be on display at their Union State Bank, 701 5th Street. Susan has a website with her artwork at: http://susanrosefineart.com/.
Dr. Pavan Rajanahalli, a postdoctoral fellow (Department of Anatomy and Physiology, in the laboratory of Dr Mark L. Weiss) was selected to present three posters in the field of stem cells at the International Society for Stem Cell research (ISSCR) conference, June 18-21, held at the Vancouver convention Centre, Vancouver, BC (http://www.isscr.org/home/annual-meeting/2014annualmeeting). The conference covered the most current research and developments in regenerative medicine, therapies and challenges in the clinic, stem cell ethics, epigenetics, tissue repair, cell reprogramming and cancer plasticity to name a few.
The speakers at the conference included the 2012 Nobel Prize laureate for Physiology and Medicine Dr. Shinya Yamanaka, McEwen Award for innovation winner Dr. Azim Surani, ISSCR president Dr. Janet Rossant and world-renowned stem cell researchers Drs. Rudolf Jaenisch, Gordon Keller, Lorenz Studer, Fred H. Gage, Andras Nagy, Kathrin Plath and Brigid Hogan.
The titles of the posters he presented, "3D Culture of rat embryonic stem cells and rat induced pluripotent stem cells in a novel PGmatrix hydrogel (Poster # W-2102)," "Comparative PCR array analysis of rat pluripotent and adult stem cells (Poster # T-2009)" and "Gene Targeting in Rat ESCs using Gene Editing Technology (Poster # T-2115)."
Balancing Act


The Veterinary Health Center Dispensary Staff braved the heat on June 29 to participate in the Kansas State University Challenge Course. From left to right: Melanie Sowards, Joyce Nietfeld, Ryan Weber, Landa Colvin-Marion, Megan Reding, Shelly Laws, Kendra Holthaus and Cindy Bryant.
Dr. Chris Blevins and Dr. Dan Thomson have both been guests on Ag AM in Kansas covering topics such as: Coggins test, Nutrition, Vaccines, equine dentistry, skin diseases, toxic plants, and Dr. Blevin was recently a guest on DocTalk, which is hosted by Dr. Thomson.
Dr. Blevin also notes that a VHC team joined Dr. David Ripple, DVM class of 1972, at the Dodge City Rodeo from July 28-Aug. 3. The team was at the rodeo grounds from 8 a.m.-Noon and 7:00 p.m.-10:30 p.m. to act as veterinarians on staff. In-between the rodeo events, the students toured National Beef LLC, participated in palpating heifers sold at Winter's Sale Barn and worked up lamemesses, colics and wounds at the rodeo grounds.


Pictured (left to right): Dr. David Ripple with students Andrea Olson, Megan Cunningham, Natalie Rykhus, Shannon Goedeken and Dr. Chris Blevins.
Stem cell study - call for patients
Drs. Walter Renberg, James Roush and David Upchurch would like to announce that the enrollment period is still open for an IACUC approved clinical study evaluating the use of injectable stem cells for treatment of osteoarthritis. Stem cells derived from the patient's own fat have been used for years in human and veterinary medicine and initial reports seems promising. Potential candidates should be dogs with lameness due to arthritis of the hip joints without other confounding sources of lameness (knee disease or neurologic issues that affect the hind limbs). Candidates will need to have an initial screening by the doctors to ensure that they qualify. The study has been generously funded, and all candidate dogs will have their initial exam and subsequent procedures and visits fully funded.
If you are interested or have further questions please email Dr. Upchurch (upchurch@vet.ksu.edu).
David Upchurch, DVM Small Animal Surgical Resident Kansas State University Veterinary Health Center 785-532-5690
New Arrivals/Recent Departures
Welcome to:
Sarah Ensley, Progam Assistant, VHC
Dr. Dylan Lutter, LA EM SX, VHC
Anna Leppien, Health Care Technician, VHC
Colleen O'Connell, Administrative Specialist, VHC
Makenzie Simpson, Research Technician, KSVDL
Anna Baker, Veterinary Technician, VHC
Dr. John Bates, Research Assistant Professor, A&P
Gina Jensen, Veterinary Speciality Technician, VHC
Theodore Budden, Research Assistant, KSVDL
Queenter Ochanda, Research Assistant, KSVDL
Farewell to:
Melina Zimmerman,Resident yr 3, VHC
Lynda Miller, Resident yr 2, VHC
Jennifer Reinhart, Resident yr 3, VHC
Marian Benitez, Resident yr 3, VHC
Elizabeth Taylor, Resident yr 3, VHC
Gretchen Grisset, Resident yr 3, VHC
Jane Ashley Stuckey, Resident yr 3, VHC
Brandon Fraser, Clinical Asst Professor, VHC
Jacob (Matt) Sherwood, Resident yr 3, VHC
Elisa Nuth, Resident yr 3, VHC
Maite Santos-Torres, ICU, VHC
Elisabeth Perchellet, Research Assistant, KSVDL
Dr. Qingbiao Huang, Fellow (Post Doc), A&P
Megan Kilgore, Events Coordinator, Dean's Office
Dr.Lee Emery, Intern, VHC
Dr. Sara Gardhouse, Intern, VHC
Dr. Samantha Haas, Intern, VHC
Dr. Christine Higbie, Intern, VHC
Dr. Emily Sharpe, Intern, VHC
Janel Koons, Administrative Assistant, Dean's Office
Hui He, Microbiologist, DM/P
Palaniappan Ramanathan, Scholar, DM/P



Lifelines is published each month by the Development and Alumni Affairs Office at the College of Veterinary Medicine. The editor is Joe Montgomery, jmontgom@vet.k-state.edu.
Lifelines index

Download a printable version of Lifelines (this is condensed and has less information)
Note: File is in Adobe Acrobat (PDF) format.