Lifelines - June 2014 The official newsletter of the College of Veterinary Medicine

June 2014 - Vol. 9, No. 6
Take one tablet and study well
CVM team publishes research on tablet PC program at K-State
| | | |
| --- | --- | --- |
| | | |
| | A new study explores the effectiveness of the CVM's tablet PCs as a teaching tool. | |
A tablet is often prescribed by doctors for medical treatments, but what about a computer tablet for teaching students about veterinary medicine? A new article by researchers in the Kansas State University College of Veterinary Medicine explores the impact of this innovative teaching tool in the new issue of the Journal of Veterinary Medical Education.
"The use of tablet PCs (personal computers) has been investigated in many disciplines such as engineering, mathematics, science and education, but we wanted to explore student and faculty attitudes and experiences in veterinary medical education" said Dr. Hong Wang, coordinator of Instructional Technology and Design at the veterinary college and co-principal investigator of the grant that lead to the journal article. The other authors of this study were Dr. Bonnie Rush, Head of Clinical Sciences; Dr. Melinda Wilkerson, professor in immunology and clinical pathology; and Dr. Deon van der Merwe, associate professor in toxicology.
The CVM converted to a paperless classroom format when it began issuing tablet PCs in fall 2007 to the incoming DVM class of 2011. The tablet PCs are used by students to download, write and organize notes.
"Our study reports that the use of tablet PCs allows students to organize and search course notes more efficiently" said Dr. Bonnie Rush. "The tablet PC program provides our faculty the potential to pursue technology integration strategies that support learning outcomes and provides students with problem-solving skills that support lifelong learning."
While the tablet PCs provide several benefits, there are also downsides to their usage. The study identified digital distraction as the major negative experience with tablet PCs during class time. However, there are tools and techniques available to the faculty to help limit distractions.
One strategy used by a faculty member was using a program called "DyKnow" to block non-educational resources in class. This is one of several software programs that allow students to only access resources needed for learning during class time, such as OneNote, Word, PowerPoint, Excel, Adobe Reader, dictionary sites, the course management system, and the PubMed site.
"Overall we are very pleased with the success of tablet PCs at K-State," said Dean Ralph Richardson. "We are excited to be at the forefront of technology and we are also excited to be at the forefront of research to show the real-world impact of this technology in our classrooms. This is the new paradigm in professional education, so it's very important that we continually review and evaluate our educational tools and strategies."
Video Feature — Dual degree scholarship for DVM/Ph.D.
| | | |
| --- | --- | --- |
| | | |
| | Dr. Charley Cull just graduated in May with a DVM and is concurrently working on a Ph.D. through a unique dual degree scholarship offered by the CVM. | |
Earning a Doctor of Veterinary Medicine degree and a doctorate at the same time can be a demanding and financially challenging undertaking. But it also can provide several career options beyond that of a traditional DVM.
To make the option of earning the two degrees more financially practical, the Kansas State University College of Veterinary Medicine is offering a dual DVM-Ph.D. scholarship program to a select group of deserving students.
College of Veterinary Medicine class of 2014 member Dr. Charley Cull is the first student to complete his DVM as part of this special scholarship.
"What's nice about the program is that there are some financial incentives, as well as with both degrees," Charley said. "The DVM profession has many opportunities through general practice and veterinary specialties, as well as working for the USDA, government or even politics. The Ph.D. probably brings in more of the data-driven jobs — wanting to know more answers, seeing if we can treat populations of animals — while looking at disease processes and food safety."
Watch the video below to learn more about Dr. Cull and the DVM-Ph.D. scholarship.
Loading the player ...

Video produced by Joseph Chapes and Kent Nelson, technology coordinators from
Computing and Technical Support (CATS).
Going to the dogs
Veterinary medicine students build doghouses for Manhattan, Topeka humane societies

The first-place winner in the Home for Hounds event was designed by, from left, Shoshana Levshin, third year; Justin Jones, third year; Jonathan Yang, second year; Edgar Ocampo, third-year and Edyta Hrynkiewicz, third year.

This idea is definitely for the dogs — and all for a tail-wagging cause.

CVM students recently assembled and painted doghouses in the Homes for Hounds event to raise funds for two area nonprofit animal welfare organizations: Helping Hands Humane Society in Topeka and the Riley County Humane Society in Manhattan.

The houses were judged on creativity and uniqueness, and the top two teams received prizes. The top doghouses also were auctioned at the Helping Hands Humane Society's Bone Appetit event on May 31. The other doghouses will be used by the Riley County Human Society in its mission of providing foster care and shelter for animals.

Nestlé Purina was the premier sponsor of Homes for Hounds and provided the doghouses, while Sherwin-Williams in Manhattan donated paints and supplies. Teams of three to five veterinary students painted each doghouse, choosing from the five paint colors provided: red, blue, yellow, black and white.

"Nestlé Purina is a company that strives to connect veterinary students with local animal shelters," said Colin Adley, a third-year veterinary medicine student from Manhattan and a student representative for Nestlé Purina. "It is our goal and aspiration to see Nestlé Purina as an advocate of the community. We want to provide the Kansas State University veterinary students with the opportunity to serve their community and shelters in the constructive, team-building exercise Homes for Hounds."

The second-place winner was designed by, from left, Charlene Carrera, Gracie Chen, Cyndi Davidson and Stephanie Liao, all second-year students.


CVM students prime the dog houses after assembly is finished, before coming up with colorful designs.


Katie Boyle and Jen Kuzminsky, class of 2017, assemble one of the dog houses.


Sarah Anderson, class of 2016, and Jen Kuzminsky finish painting the entry for their team.


The dog houses are stored in the third-year lab until time for the auction.
Top
Dr. Meena Kumari accepts national service award
| | | |
| --- | --- | --- |
| | Dr. Meena Kumari displays her 2014 Service Award from the Association of Scientists of Indian Origin in America. | |
The College of Veterinary Medicine at Kansas State University has announced that one its faculty members, Dr. Meena Kumari, has been was awarded the 2014 Service award of the Association of Scientists of Indian Origin in America (ASIOA). Dr. Kumari is an associate professor in the Department of Anatomy and Physiology who served as secretary for the association.
"It is very humbling to be chosen for this award," Dr. Kumari said. "Being at K-State has taught me what it means to serve with dedication and above all enthusiasm."
The association was formed in 1981 to foster fellowship among scientists of Indian origin. Its main objective is to serve as an educational and scientific conduit for all scientists at all levels of their scientific career. The membership of ASIOA has grown over the years and now has several hundred members.
Dr. Kumari's service award was presented in recognition of her dedication to the society's goals. Her passion is teaching and research, the latter of which is focused on understanding the molecular mechanisms underlying alterations in gene expression in the brain following chronic alcohol exposure. She said she combines both of her passions by having very active undergraduate involvement in her laboratory. Since joining K-State, she has trained almost 30 undergraduate students in her research laboratory. Many of these students have chosen a career in the field of medicine or life science.
Dr. Kumari has a Ph.D. in andrology and a M.Phil. in neuroendocrinology, both from the University of Delhi, India.
Hot Topic
Media cites CVM faculty on equine nasal strips
| | | |
| --- | --- | --- |
| | | |
| | Dr. David Poole and Dr. Howard Erickson have both been highly sought by national media for comments on their research in regard to equine nasal strips, as were approved for use at the Belmont Stakes by racehorse California Chrome. | |
As debate surrounded the decision to allow California Chrome to wear a nasal strip in the Belmont Stakes, CVM researchers who tested the product say the focus should be on the nasal strip's health benefits and not on possible performance enhancement.
Dr. Howard Erickson, professor emeritus of anatomy and physiology, and Dr. David Poole, professor of kinesiology and anatomy and physiology, researched the Flair nasal strip in 2004, now used by the thoroughbred racehorse, and found it can help reduce lung damage in horses.
"I think the Flair nasal strip was beneficial for this horse, and the Flair nasal strip has been shown by our research to reduce exercise-induced pulmonary hemorrhage by approximately 50 percent. I think that is beneficial," Dr. Erickson said.
Unlike humans, horses only breathe through their nose. Dr. Poole said that when a horse breathes, it can generate a negative pressure in its lungs. High-intensity activities like races, combined with a narrow nasal passageway, put extra pressure on the horse and often result in a hemorrhage in the lungs. The Flair nasal strip is designed to alleviate that.
Both doctors have been cited by national media this spring.
Highlights from the 76th Annual Conference for Veterinarians

Dr. Eric Garcia, a VHC resident in diagnostic imaging and radiology, gives tips and tricks for better radiographs.

Dr. Dick Hesse promotes the Kansas State Veterinary Diagnostic Laboratory at the annual barbecue that it sponsors.

Remington, the fire dog from Independence, Kansas, stole the show at the annual KVMA luncheon and awards.

Dr, Eileen Warner-Hough, DVM class of 1968, presents the KVMA Distinguished Service Award to Dr. Eva Dudek, DVM class of 1988.
Researchers find a new gene expression mechanism of PRRS
A collaborative study involving Kansas State University researchers has discovered a new gene expression mechanism in porcine reproductive and respiratory syndrome, or PRRS, virus — an important swine pathogen that costs the U.S. pork industry more than $600 million a year. The discovery provides a new avenue for scientists to explore strategies to control and prevent the disease.
Dr. Ying Fang, associate professor of diagnostic medicine and pathobiology at Kansas State University, led a study that looked at the unique gene expression mechanism of the PRRS virus. She and colleagues found a new protein in the virus, nsp2TF, was generated through novel ribosomal frameshifting signals.
The research recently appeared in the Proceedings of the National Academy of Sciences, or PNAS, study, "Transactivation of programmed ribosomal frameshifting by a viral protein."
Dr. Fang conducted this study with her European collaborators, including Eric Snijder and his team members at Leiden University Medical Center in The Netherlands, and Andrew Firth, Ian Brierley and Brierley's lab members at the University of Cambridge. Yanhua Li, Dr. Fang's doctoral student in pathobiology, China, made important contributions to this study. Zhi Sun, Dr. Fang's former doctoral student, and Longchao Zhu, visiting scholars in diagnostic medicine and pathobiology in Fang's lab, also were involved in the study.
The study builds on a 2012 PNAS study Dr. Fang and her European collaborators conducted while she was at South Dakota State University. In it, researchers identified the nsp2TF protein in the PRRS virus. The protein is expressed through a new gene expression mechanism called -2 ribosomal frameshifting.
"Frameshifting occurs when a ribosome encounters a 'slippery' sequence and downstream signal in messenger RNA," Dr. Fang said. "This causes the ribosome to shift two nucleotides backward, which results in all the genetic codons downstream of the shifted site to be read differently and produce a new protein that has a different function."
With the most recent study, Fang and colleagues have shown that this -2 frameshifting requires a PRRS virus protein, nsp1beta. It is the first time a virus's genetic mechanism has been found to require the action of a transacting viral protein rather than a RNA structure to induce a ribosomal frameshifting, which is novel in the protein translation field.
The function of the nsp2TF protein is currently under investigation, Dr. Fang said. The protein contains a genetic element that may be responsible for suppressing the pig's immune system.
Top
News and Notes from the Veterinary Medical Alumni Association
12th Annual Samuel Kelsall III Memorial Hunt
October 23 & 24, 2014
Get ready for upland bird season with this exclusive opportunity to benefit College of Veterinary Medicine student scholarships and the Samuel Kelsall III Memorial Scholarship. Plans include a trap shooting competition, country gourmet meals, a guided hunt and a chance to win a shotgun. Please see web site below.
Act fast — space is limited! To reserve your spot, please complete the online registration form below and return. You will receive a confirmation. Deadline to register is October 11.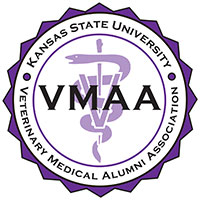 Please contact Jodi Dragastin, development coordinator, at 785-532-4378 or e-mail jdragastin@vet.k-state.edu if you have any questions.
Fun at the Class Reunions
| | | |
| --- | --- | --- |
| | | |
| | Alumni and spouses enjoy catching up with classmates at a breakfast held in the walkway between Mosier and Trotter Halls. | |
The College of Veterinary Medicine just welcomed our graduates of 1954, 1959, 1964, 1974, 1979, 1984, 1989, 1994, 1999, 2004, and 2009. Here's a page with information about reunions and how to order reunion photos: http://www.vet.k-state.edu/depts/alumni/reunions.htm

Willie the Wildcat greets alumni at a special
reception in the West Stadium Center at Bill
Snyder Family Stadium. Alumni were allowed
to tour suites and go on the football field for
pictures.
2014 Distinguished Alumnus Award – Dr. David Granstrom, 1978
| | | |
| --- | --- | --- |
| | | |
| | Dr. Todd Knappenberger, president of the VMAA, presents Dr. David Granstrom with the Distinguished Alumnus Award. | |
Dr. David E. Granstrom, Schaumburg, Illinois, is the recipient of the 2014 Distinguished Alumnus Award from the Kansas State University College of Veterinary Medicine and Veterinary Medical Alumni Association. This award recognizes Dr. Granstrom for his outstanding achievements, humanitarian service and contributions to the veterinary profession. This award is presented during the 76th Annual Conference for Veterinarians on June 1.
In 2013, Dr. Granstrom was promoted to his current position as associate executive vice president and chief operating officer of the American Veterinary Medical Association (AVMA). He was previously the director of the Education and Research Division. He received his DVM and Ph.D. degrees from the K-State in 1978 and 1988 respectively, and he is a charter diplomate of the American College of Veterinary Microbiology (parasitology).
"I owe so much to the great mentors at K-State who taught all of us much more than the basics of veterinary medicine," Dr. Granstrom said. "Their dedication to teaching and love of the profession has been an inspiration throughout my career."
2014 E.R. Frank Award – Dr. Derek Mosier, 1978
| | | |
| --- | --- | --- |
| | | |
| | Dr. Todd Knappenberger presents the E.R. Frank Award to Dr. Derek Mosier | |
Dr. Derek A. Mosier, Manhattan, Kansas, is the recipient of the 2014 E.R. Frank Award by the K-State College of Veterinary Medicine and Veterinary Alumni Association. The award is presented as part of the 76th Annual Conference for Veterinarians held June 1. The E.R. Frank Award is presented to a faculty member who displays meritorious service to the college as well as the same professional essence of Dr. Frank, a longtime faculty member in equine surgery and a K-State alumnus. Nominees must have at least a 15-year relationship with the college, possess a noteworthy record of service and display an unassuming and unpretentious manner throughout their careers.
Dr. Mosier earned his DVM degree at K-State in 1978. He followed with a master's degree in physiological science in 1982 and a Ph.D. in pathology in 1985, both from Oklahoma State University, Stillwater. He is currently a professor of pathology in the Department of Diagnostic Medicine/Pathobiology in the K-State College of Veterinary Medicine, a position he has held since 1990.
"It is a great honor to be associated with an award given in the memory of Dr. Frank," Dr. Mosier said. "This award, particularly, is more a reflection of the positive influences of my family, colleagues and students, rather than any contribution I could have made on my own.
2014 Outstanding Young Alumnus – Dr. Thomas Furman, 2004
| | | |
| --- | --- | --- |
| | | |
| | Dr. Todd Knappenberger recognizes Dr. Thomas Furman as the CVM's Outstanding Young Alumnus for 2014. | |
Dr. Thomas Furman, Alliance, Nebraska, is the 2014 recipient of the Outstanding Young Alumnus Award for his notable achievements since graduating from Kansas State University. The award is presented as part of the 76th Annual Conference for Veterinarians on June 1.
Dr. Furman earned a bachelor's degree in 2000 at the University of Nebraska-Lincoln, and his DVM from K-State University in 2004. He now practices large and small animal medicine, with special interest in surgery, equine dentistry and beef cattle management at the Animal Center in Alliance.
"I have felt very blessed to be in the family that is veterinary medicine," Dr. Furman said. "There is a camaraderie among my fellow colleagues unlike that of any other profession. Every day is an adventure that is rewarded with the feeling of being part of a profession that makes a major impact on the health and well-being of people's lives through their pets and the world's food supply. To receive an award like this from my alma mater leaves me humbled and honored. Thank you!"
2014 Distinguished Service Award – Cheri Ubel, former Alumni Affairs Coordinator
| | | |
| --- | --- | --- |
| | | |
| | Dr. Todd Knappenberger surprises Cheri Ubel with a Distinguished Service Award. | |
In a surprise gesture, the VMAA recognized retired Alumni Affairs Coordinator Cheri Ubel with a Distinguished Service Award for her 25 years with the College of Veterinary Medicine. Cheri retired in December 2013. Since she had an active role in coordinator alumni reunions and other activities related to the Annual Conference for Veterinarians, the VMAA felt it was appropriate to honor Cheri at this year's conference.
20th Annual Scholarship Golf Tournament
Scenes from the golf tournament:

The view from tee box No. 1 at Colbert Hills. Top
'Pet Friendly' License Plate
The College of Veterinary Medicine has a new way to support Kansas Shelter Medicine. The Pet Friendly license plate is available to Kansas residents statewide. For information, see www.vet.k-state.edu/depts/development/license.htm, call 1-855-269-7387 or e-mail: petplate@vet.k-state.edu.
News Ticker
Dr. Masaaki Tamura just completed two symposium presentations as an invited speaker. One took place in the Japanese Endocrine Society meeting in Fukuoka, Japan, from April 24-26, and the other was in the American Society of Gene and Cell Therapy annual meeting in Washington D.C., from May 21-24. His title for the Japanese Endocrine Society meeting was " Therapeutic application of umbilical cord matrix stem cells on breast cancer bone metastasis " and the Gene and Cell Therapy meeting was "Umbilical Cord Matrix Stem Cells as Therapeutic Agents for Breast and Lung Cancers."
Dr. Judy Klimek reports she will be in Ames, Iowa, June 12 to review examination questions for the National Board of Veterinary Medical Examiners. Earlier this spring, she attended the AAVMC Annual Meeting, Alexandria, Virginia, and presented, "Teaching Scientific Information Literacy Skills to Veterinary Students: The Missing Link." In January, she presented " Helping Students Make the Most of Their Brain Power" at the KSU Spring Teaching Workshop.
Dr. Howard Erickson shared news about the 2014 J. Fred Smithcors Student Veterinary History Essay Contest: Brittany Blattner, class of 2016, earned fourth place with her essay "Helping Paws Throughout History: The Evolution of the Service Dog." Samantha Schimming, class of 2016, earned honorable mention with her essay, "Hay, Oats, and Water? A Brief Look at the History of Drug Use in Thoroughbred Racing."
Amy Sents, class of 2015, was one of 12 students selected to be a recipient of the 2014 Kenneth Eskelund Preceptorship Scholarship presented by the American Association of Avian Pathologists Foundation.
Promotions 2014

Congratulations to Dr. Lisa Pohlman for being promoted to associate professor with tenure, presented by Dean Ralph Richardson and DM/P Head Dr. M.M. Chengappa

Congratulations to Dr. David Renter for being promoted to full professor, presented by Dean Richardson and Dr. Chengappa.
Extra-curricular Fun

The annual CVM softball game took place May 10 at the KSU Rec Softball Field. The KSU CVM faculty, staff, house officers (and a few great softball players from class 2014) outscored the class of 2014.
Stem cell study - call for patients
Drs. Walter Renberg, James Roush and David Upchurch would like to announce that the enrollment period is still open for an IACUC approved clinical study evaluating the use of injectable stem cells for treatment of osteoarthritis. Stem cells derived from the patient's own fat have been used for years in human and veterinary medicine and initial reports seems promising. Potential candidates should be dogs with lameness due to arthritis of the hip joints without other confounding sources of lameness (knee disease or neurologic issues that affect the hind limbs). Candidates will need to have an initial screening by the doctors to ensure that they qualify. The study has been generously funded, and all candidate dogs will have their initial exam and subsequent procedures and visits fully funded.
If you are interested or have further questions please email Dr. Upchurch (upchurch@vet.ksu.edu).
David Upchurch, DVM
Small Animal Surgical Resident
Kansas State University
Veterinary Health Center
785-532-5690
AAVMC Call for Proposals
AAVMC is pleased to announce an exciting opportunity for faculty and students to share their work and ideas during the 2015 AAVMC Annual Conference and Iverson Bell Symposium, March 13-15, 2015, in Washington, D.C. Proposals for educational sessions and posters should be submitted no later than July 18, 2014.
The Iverson Bell Symposium is named for the first African-American veterinarian to hold the position of Vice-President in the American Veterinary Medical Association. The Symposium is held every two years and will celebrate its 19 th occurrence this coming year. The primary goal of the conference is to promote diversity and inclusion in academic veterinary medicine.
The theme of the 2015 conference is Recruiting and Selecting for the Future of Veterinary Medicine .
Proposals will be considered in, but not limited to, the following categories:
Diversity
Cultural competencies
Recruitment
Applicant assessment
Post-acceptance recruitment
Professional competencies
Behavioral competencies
Ethics
Financial literacy
The following attributes are strongly encouraged for educational sessions:
Presentations by collaborative, multi-institution teams
Presentations that feature active learning. Proposals should detail how and when active learning will be used.
Presentations that address recent research and survey trends
Audience Feedback Technology
AAVMC will have interactive audience feedback devices available during the conference. These devices, which put a microphone in the hand of every attendee, will enable speakers to engage the audience through live polling, free text response, and more. For an overview, please see this youtube video by IML Worldwide . We encourage you to consider incorporating this technology into your presentation. If you have questions about the technology and how it can be used, please contact Andrew Zoeller at azoeller@aavmc.org .
Student Poster Contest
Accepted poster proposals on a student project or topic where the student is listed as first author will be eligible to win an award at the conference. A panel of judges will review all student posters and the top three selections will be awarded a $500 honorarium. The student author must be present at the conference in order to be eligible.
Submittal Instructions
Proposals are due July 18, 2014, and should be submitted using the following website:
https://www.surveymonkey.com/s/aavmc2015proposal
Before logging in to complete your proposal, please be prepared with the following information:
Proposal type (session, individual presentation, poster
Proposal title
Proposal category
Primary contact name
Primary contact email address
Primary contact phone
Author list (please include name, degrees/certifications, title, and institution)
Speakers (please include name, degrees/certifications, title, and institution if not listed above)
Brief description of topic, message, and intended outcome (300 word maximum)
Intended audience
Preferred length (for sessions and presentations only) (30 minutes, 1 hour, 2 hours)
For session proposals only:
Session format (workshop, panel, other)
Draft agenda (1 page maximum)
Top
New Arrivals/Recent Departures
Welcome to:
Dr. Benjamin Hause, Research Assistant Professor, KSVDL
Dr. Rahul Nandre, Fellow (Post Doc), DM/P
Rachel Corn, Staff Assistant, KSVDL
Christina Rutter, Lab Tech, A&P
Jodi Dragastin, Development Coordinator, Dean's Office - Development
Ashley O'Neal, Events Coordinator, Dean's Office - Events


Farewell to:
Baoyan An, Research Assistant, KSVDL
Lana Barkman, Program Assistant, Dean's Office - Events
Lifelines is published each month by the Development and Alumni Affairs Office at the College of Veterinary Medicine. The editors are Joe Montgomery, jmontgom@vet.k-state.edu.