Dr. Alvin Eugene Melcher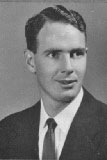 Dr. Alvin Eugene Melcher, 76, passed away at his home Monday January 28, 2008. Dr. Melcher was born May 19, 1931 in Franklin County Kansas to Elmer Clyde Melcher and Cora (Staley) Melcher.

He graduated in the class of 1949 from Ottawa Kansas Senior High School where he served as Vice President of the student body.
Dr. Melcher graduated from Kansas State University in 1953 with a bachelor degree in Biology. He received his Doctor of Veterinary Medicine in 1957.

Following graduation in 1957 he was commissioned as 2nd Lt. in the U.S. Army Air Force. He served as a base Veterinarian at Wurtzman Air Base in Oscoda, Michigan and Grand Forks, North Dakota. He was discharged with the rank of Captain in 1960.

He married LouAnn Lawrence on December 28, 1952, in Pomona, Kansas. To this union were born three children, Jeffrey Lawrence, Elizabeth Ann, and James Daniel. Mrs. LouAnn Melcher and infant son James Daniel died at Fort Scott, KS on March 1, 1962.

Dr. Melcher engaged in the practice of large and small animal Veterinary Medicine at Fort Scott from 1961 thru 1979.

Dr. Melcher wed B. Ann Wagner at Fort Scott, KS on August 3, 1963.

The Melcher family came to Smith Center in April 1980 when Dr. Melcher began his duties as a Veterinary Medical Officer in North Central Kansas with the U.S. Department of Agriculture Animal and Plant Inspection Services and Veterinary Services. In July 1986

Dr. Melcher was transferred to Topeka where he served as Federal Epidemiologist for Brucellosis in Kansas. He retired in May 1993.

Dr. Melcher was active in many civic, fraternal and church organizations. Some offices he held included President of the Fort Scott Jaycees, President of the Fort Scott Optimist Club, Fort Scott United Way Board, and the Fort Scott YMCA Board. Dr. Melcher was on the charter Committee that developed the curriculum for the Veterinarian Technician Program at Colby Community College. In Smith Center he served two terms as President of the Smith Center Lions Club, Kansas Veterinary Medical Association, and State President of the Kansas United Commercial Travelers. In 1986 he received the "Man of the Year" Award.

At the time of his death Dr. Melcher was a member of the Smith Center United Methodist Church where he was serving as President of the United Methodist Men, Secretary of the Missions Committee and a member of the Administrative Council. During his retirement years he enjoyed playing golf as a member of the Smith Center Golf Club.

He was preceded in death by his parents Elmer Clyde and Cora Staley Melcher, two brothers, George Newton, and Newell Clyde, two sisters Ruth Arlene and Mary Melcher Dean.
Survivors include his wife of 44 years B. Ann of Smith Center, KS; a son Jeffrey Lawrence Melcher and wife Diana of Lancaster, TX; two brothers, his twin Elvin W. Melcher of Newton, KS, and Col. Ralph W. Melcher of Lawton, OK and three grandchildren, Lauren, Sarah and James.