Dr. David S. Hodgson
2013 Distinguished Service Award
Dr. David S. Hodgson, DVM 1968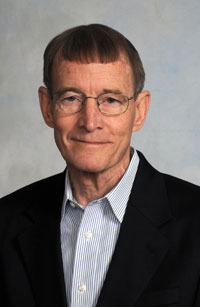 Dr. David S. Hodgson, Manhattan, is the recipient of a 2013 Distinguished Service Award by Kansas State University and the College of Veterinary Medicine at K-State. This award is in recognition of Dr. Hodgson's contributions and service within the college, the university and the international veterinary community, and is presented during the 75th Annual Conference for Veterinarians on June 2 in Manhattan.
Dr. Hodgson grew up in central Kansas on the family farm homesteaded by his great grandparents in 1871. He obtained his DVM degree from Kansas State University in 1968. After service with the military in Vietnam and California, he was in a mixed animal veterinary practice in Lyons, Kan., for 10 years. Following two years of teaching and training veterinary technicians at Colby (Kan.) Community College, Dr. Hodgson returned to K-State to pursue graduate studies in physiology. An intense interest in anesthesia led to a residency in veterinary anesthesia at the University of California-Davis. He was a faculty member at Texas A&M University and Colorado State University prior to his return to K-State in the Department of Clinical Sciences in 1989.
Dr. Hodgson is a recognized expert in anesthesia equipment design, function and use. His research interests include cardiopulmonary effects of various anesthesia manipulations in horses and other species. Dr. Hodgson's innovative ideas have been directed toward enhancing patient care and safety. Design and fabrication of novel anesthetic delivery devices have been a career-long interest. Helping students think critically and scientifically about clinical anesthesia related issues have been especially satisfying for Dr. Hodgson.
Dr. Hodgson has traveled to Afghanistan six times between 2007 and 2012, for periods ranging from two to six months each year. Recent trips to provide assistance for the veterinary education program at Kabul University demonstrate selflessness and caring for both animals and people. He has helped teach veterinary students at Kabul University and to treat patients daily at the Kabul University Veterinary Clinic. During the spring of 2012, he traveled to Nangarhar Veterinary School and Herat Veterinary School to evaluate their programs and provide guidance and support for future development.
"I have had the privilege to work with colleagues and students at Kansas State University who have been instrumental in my ability to be productive and to enjoy my professional and university life," Dr. Hodgson said. "Without their generous sharing of knowledge, skill and support my career would have little meaning. Whatever success I have had is due to our collective efforts and sharing of ideas and goals. I hope this award recognizes how important they are to me and how the success of our college is always a joint effort."
"This award recognizes that Dr. Hodgson has gone above and beyond what might be expected by our faculty," said Dr. Ralph C. Richardson, dean of the College of Veterinary Medicine. "During the last 24 years he has proven to be instrumental in establishing an outstanding veterinary medicine anesthesia service here at K-State. In addition, he has done remarkable work in Afghanistan to promote proper veterinary education, which has also allowed all of us at the College of Veterinary Medicine to have a better understanding of international programs."
Dr. Hodgson was the recipient of the E.R. Frank Award from the College of Veterinary Medicine and the Veterinary Medical Alumni Association in 2009. He is also a Diplomate and past-president of the American College of Veterinary Anesthesia and Analgesia.