Dr. Howard Erickson
2018 Distinguished Service Award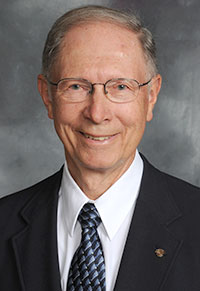 Dr. Howard Erickson, Manhattan, Kansas, has been selected for the 2018 Distinguished Service Award by the Kansas State University College of Veterinary Medicine and its Veterinary Medical Alumni Association. This award was presented during the Alumni Awards Brunch at the Alumni Reunion Weekend held June 2.
Dr. Erickson, a K-State alumnus, served as a full-time faculty member from 1981 to 2011. Now an emeritus professor, he continues to teach an elective course on veterinary history in the fall semester.
"This award was a real surprise and a distinct honor at this stage of my career," Dr. Erickson said. "I have thoroughly enjoyed my nearly 60 years in veterinary medicine. The last few years, exploring the history of veterinary medicine with alumni and students, has been most rewarding."
"Dr. Erickson's passion for students and for teaching is inspiring, and his knowledge and expertise in the history of veterinary medicine is exceptional," said Dr. Bonnie Rush, interim dean. "Even though he has retired, he continues to make meaningful contributions to our college and to the profession at large. While he usually avoids the limelight, we are very proud to present Dr. Erickson with this award, which is so appropriate for his dedication to veterinary medicine and education."
Dr. Erickson grew up nearby on his family's farm near Wahoo, Nebraska. After high school, he attended Luther College in Wahoo. A year later, he transferred to Kansas State University to pursue a degree in veterinary medicine. Dr. Erickson received his bachelor's and Doctor of Veterinary Medicine degrees from K-State in 1959. He then joined the U.S. Air Force as a commissioned officer. While with the Air Force, he received a doctorate from Iowa State University in 1966.
Dr. Erickson joined the faculty at the Air Force's School of Aerospace Medicine at Brooks Air Force Base in Texas. After nine years as a research scientist at the school, he was assigned to the Directorate of Research and Development in the Air Force's Aerospace Medical Division in 1976. During this time, Dr. Erickson also was an affiliate professor at Texas A&M University, Colorado State University and the University of Texas Health Science Center in San Antonio, where he helped train residents in laboratory animal medicine and surgery. Dr. Erickson retired as a colonel from the Air Force in 1981 and returned to K-State. Along with his teaching responsibilities, he has become a prominent researcher in exercise-induced pulmonary hemorrhage in horses.
Beginning in 2002, Dr. Erickson worked with faculty in K-State's College of Engineering on a veterinary telemedicine project. The goal of the project was to research and develop the infrastructure to support wearable remote monitoring devices that continuously assess the health of cattle in large herds and predict disease onset, whether from natural or terrorist events.
To support the centennial celebration of the College of Veterinary Medicine in 2005, Dr. Erickson co-authored a book chronicling the first 100 years of veterinary medicine at K-State.
Dr. Erickson has remained very active with alumni, keeping in touch with his classmates and serving as secretary/treasurer for the Veterinary Medicine Alumni Association.
Dr. Erickson and wife Ann have two sons, James and David, and five grandchildren, Zinnia, Dahlia, Alex, Reid, and Isabelle.