Dr. Clinton George - DVM 2001
American Veterinary Medical Association 2014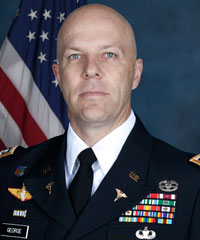 Dr. Clinton George, Aberdeen, North Carolina, is the recipient of the 2014 Alumni Recognition Award presented during the annual convention of the American Veterinary Medical Association (AVMA) held in Denver on July 28. The award is given to veterinarians whose careers have served as exemplary role models for future alumni in a professional and community setting.
Dr. George, originally from Choteau, Montana, earned a bachelor's degree in BioVeterinary Science at Utah State University in 1996 and his DVM at Kansas State University in 2001. He has spent his veterinary career in the military on multiple deployments and assignments globally.
"I am somewhat embarrassed and humbled," Dr. George said. "I hoped no one was noticing or watching. It's amazing where the professional affiliation with K-State and a DVM degree has taken me globally. And it is even more exciting for the friendships developed along the away. I thank the Veterinary Medical Alumni Association for this humbling honor. Go Wildcats!"
"It is a privilege for our college to recognize an alumnus so early in his career," said Dr. Ralph Richardson, dean of the College of Veterinary Medicine. "Dr. George has already been recognized by the military for his outstanding leadership and expertise, so we feel that the AVMA Convention gives us a perfect opportunity to share his success among other K-State veterinary alumni and professional peers."
Dr. George is a member of the Veterinary Medical Associations in North Carolina and Virginia. In 2001, he received the Col. George Richard Lynch Leadership Award and the AVMA's Outstanding Student Leadership Award. In 2003, he received the Junior Veterinary Officer of the Year Award. He has earned his Expert Field Medic Badge, Combat Medic Badge and Master Parachutist designation. He is board-certified by the American College of Veterinary Preventive Medicine.
Dr. George and his wife Mindy, have five children: Addy, Hawk, Kahn, Coop and Chuck.