Student Chapter of the American Veterinary Medical Association

SCAVMA, the Student Chapter of the American Veterinary Medical Association at Kansas State University, is the local chapter of SAVMA, the Student American Veterinary Medical Association. At a local school level, SCAVMA serves as a governing body for KSU-CVM veterinary students, and as an umbrella group for the specialty clubs. As a member of SCAVMA, students are automatically members of SAVMA, and thereby, the AVMA.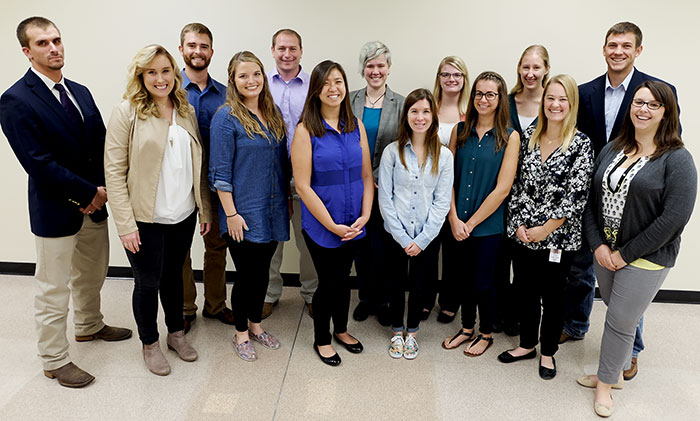 Back row (left to right): Mark Spare, Jacob Beck, Austin Paly, Sara Alves, Amanda Steele, Katherine Fiedler, and John Brandsma. Front row: Carlee Wollard, Shelbie Martel, Jaime Lee, Kat Davros, Sarah Johnson, Elana Young, and Julie Majka. Not pictured: Max Beal and Faculty Advisors: Dr. Mary Lynn Higginbotham and Dr. Dan Thomson.
SCAVMA is composed of an executive board consisting of elected officers. The SCAVMA executive board meets once a month with the SCAVMA membership at large welcome to attend. All-School meetings are held once a month throughout the semester in an effort to bring a diverse array of speakers in for the students. Additionally, SCAVMA provides funds for a variety of local school events, clubs and CE conferences.
While members of the executive board are required to attend executive board meetings, all students are encouraged and welcome to attend these meetings, and to participate and vote.
Note: Students MUST be a SAVMA member in order to participate in our KSU CVM clubs and organizations.
Why join SAVMA?
On a national level, your SAVMA membership allows you to:
Receive JAVMA and the AJVR at a reduced rate
Receive free liability coverage from AVMA PLIT for coverage for any externship or mentorship
Receive $25,000 life insurance coverage FREE from AVMA LIFE for any active SAVMA member
Eligibility for the AVMA LIFE Student Basic Protection Package including a rabies prophylaxis benefit and dental and/or vision insurance
Eligibility for the AVMA LIFE Graduate Guarantee offer for graduating SAVMA members. This exclusive program includes guaranteed coverage for 4 types of Disability, Life, Basic Protection Package including a rabies prophylaxis benefit, Hospital Indemnity, dental and/or vision, and many other professional insurance benefits. Guaranteed graduate benefits are automatically approved during the Graduate Open Enrollment period regardless of age, pre-existing medical conditions, or employment.
Free registration to AVMA Convention while you're a student
Automatically a member of the IVSA (on an international basis; still must pay KSU chapter dues to be involved with our chapter)
Your membership as a veterinary student will allow you REDUCED rates to join AVMA after graduation and will allow you a discount to attend the AVMA Convention after your graduation!
The Vet Gazette provides opportunities to get your work published and earn $$$$ for your winning entry!
Eligibility to apply for scholarships and additional funding through SAVMA committees and grants
Free access to the AVMA Career Center (https://www.avma.org/ProfessionalDevelopment/Career/VCC/Pages/default.aspx)
On a local K-State level, your SAVMA membership allows our KSU SCAVMA chapter and executive board to offer a variety of events and programs for you, including:
Hill's College Feeding Program: purchase Science Diet food at a reduced rate!
Scholarship opportunities
Funding to attend SAVMA Symposium!
Activities for KSU SAVMA members include: All-school BBQ, monthly all-school meetings with lunch provided, all-school talent show, Open House activities, Casino Night, Dodge Ball Competition, Intramural Teams, wet labs, Josh Project participation
What are you waiting for? Join-or renew-your dues today!
To join, follow the link:
https://www.avma.org/About/SAVMA/Pages/savma-join.aspx