Yulan Xiong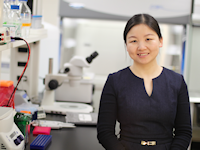 Assistant Professor
Ph.D, Lancaster University, UK
Postdoc, Johns Hopkins University School of Medicine
212 Coles Hall
Phone: 785-532-4542
Email: yulanxiong@ksu.edu
The Laboratory of Molecular Pathophysiology of Neurodegeneration
The Xiong lab focuses on understanding the mechanisms underlying aging and neurodegenerative diseases, with a specific emphasis on Parkinson's disease (PD). PD is the most common movement disorder and currently there is no effective therapy. To develop better therapeutic treatments, Dr. Xiong's group aims to understand the molecular pathophysiology of PD using various model systems including yeast, Drosophila, mice, primary and human neuronal cultures, with specific focus on four major questions:
1) How do PD-associated proteins contribute to dopamine neuron degeneration?
2) What are the new molecules and how are they involved in PD pathogenesis?
3) What is the human relevance of our findings?
4) How to develop the pharmacological strategies to slow down the PD symptoms?
To answer these questions, the lab's general approaches are to use a powerful combination of genetics, molecular biology and behavioral analysis to decipher the molecular mechanisms underlying neurodegenerative diseases in human. The lab's research goal is to identify molecular therapeutic targets that will ultimately lead to developing effective biomarkers and treatments for PD.
Dr. Xiong obtained her PhD at Lancaster University, UK and received postdoc training at the Johns Hopkins University School of Medicine. Prior to joining the faculty at K-state, she was appointed as a tenure-track Assistant Professor at the department of Neurology at the Johns Hopkins University School of Medicine.
The Xiong lab welcomes motivated postdocs and graduate students to join the team. If interested, please contact Dr. Xiong.
For postdoc positions, please visit: https://careers.k-state.edu/cw/en-us/job/507365/fellow-post-doc-anatomy-physiology
For PhD student openings, please visit: http://www.vet.k-state.edu/education/anatomy-physiology/academics/
Awards and Grants
2019-2024 R01 research grant, NIH/NINDS
2019-2022 Stanley Fahn Junior Faculty award, Parkinson's Foundation (PF)
2014-2020 K01 Mentored Research Scientist Development Award, NIH/NIA
2017-2018 Research grant, American Parkinson's Disease Association (APDA)
2015-2018 Innovation Awards, The William N. & Bernice E. Bumpus Foundation
2018-2019 Pilot grant, C-NAP COBRE center, NIH/NIGMS
2017-2018 K-INBRE Bridging Award, NIH/NIGMS
2016,2017,2018 Success for Young Investigators (SUCCESS-FYI) award, KSU-CVM
2016-2017 Innovative Research Awards, Johnson Center for Basic Cancer Research
2010-2011 Rapid Response Innovation Awards, The Michael J. Fox foundation (MJFF)
2008-2009 Postdoctoral fellowship award, American Parkinson's disease Association (APDA)
2003-2006 University Scholarship, Lancaster University, UK
Selected Publications
Li, N., Liu, Q., Xiong, Y.*, Yu, J.* (2019) Headcase and Unkempt Regulate Tissue Growth and Cell Cycle Progression in Response to Nutrient Restriction. Cell Rep. 26, 733-747 (*Corresponding authors)
Xiong, Y.*, Yu, J.* (2018) Modeling Parkinson's disease in Drosophila: What have we learned for dominant traits? Front Neurol. Apr 9;9:228. (*Corresponding authors)
Xiong, Y.*, Neifert, S., Karuppagounder, S. S., Liu, Q., Stankowski, J. N., Lee, B. D., Ko, H. S., Lee, Y., Grima, J. C., Mao, X., Jiang, H., Kang, S. U., Swing, D., Iacovitti, L., Tessarollo, L., Dawson, T. M.*, and Dawson, V.L.* (2018). Robust kinase- and age-dependent dopaminergic and norepinephrine neurodegeneration in LRRK2 G2019S transgenic mice.Proc Natl Acad Sci U S A 115(7):1635-1640. (*Corresponding authors)
Xiong, Y.*, Dawson, TM, Dawson, VL*. (2017) Animal models of LRRK2 associated Parkinson's disease. Adv. Neurobiol. (Book Chapter) pii: ENEURO.0004-17.2017 PMCID: PMC5355896 (*corresponding author)
Xiong, Y. *, Neifert, S., Karuppagounder, SS., Stankowski, JN., Lee, BD., Grima, JC., Chen, G., Ko, HS., Lee, Y., Swing, D., Tessarollo, L., Dawson, TM., Dawson, VL*. (2017) Overexpression of Parkinson's disease-associated mutation LRRK2 G2019S in mouse forebrain induces behavioral deficits and a-synuclein pathology.eNeuro 10.1523/ENEURO.0004-17.2017 (*corresponding author)
Mao X, Ou MT, Karuppagounder SS, Kam TI, Yin X, Xiong Y, Ge P, Umanah GE, Brahmachari S, Shin JH, Kang HC, Zhang J, Xu J, Chen R, Park H, Andrabi SA, Kang SU, Gonçalves RA, Liang Y, Zhang S, Qi C, Lam S, Keiler JA, Tyson J, Kim D, Panicker N, Yun SP, Workman CJ, Vignali DA, Dawson VL, Ko HS, Dawson TM. (2016) Pathological α-synuclein transmission initiated by binding lymphocyte-activation gene 3. Science Sep 30;353(6307). pii: aah3374
Karuppagounder SS, Xiong Y, Lee Y, Lawless MC, Kim D, Nordquist E, Martin I, Ge P, Brahmachari S, Jhaldiyal A, Kumar M, Andrabi SA, Dawson TM, Dawson VL. (2016) LRRK2 G2019S transgenic mice display increased susceptibility to 1-methyl-4-phenyl-1,2,3,6-tetrahydropyridine (MPTP)-mediated neurotoxicity. J Chem Neuroanat. S0891-0618(15)30038-7. [Epub ahead of print] PMID: 26808467
Martin, I., Kim, J., Lee, B., Kang, H., Xu, J., Jia, H., Stankowski JN., Kim, M., Zhong, J., Kumar, M., Andrabi, S., Xiong, Y., Dickson, D., Wszolek, Z., Pandey, A., Dawson, TM, Dawson, VL. (2014) Ribosomal protein s15 phosphorylation mediates LRRK2 neurodegeneration in Parkinson's disease. Cell157(2):472-85.
Xiong, Y., Dawson, VL, Dawson, TM. (2012) LRRK2 GTPase dysfunction in the pathogenesis of Parkinson's disease. Biochem.Soc. Trans. 40 (5): 1074-1079
Xiong, Y., Yuan, C., Chen, R., Dawson, TM. Dawson, VL. (2012) ArfGAP1 is a GTPase activating protein for LRRK2: reciprocal regulation of ArfGAP1 by LRRK2. J. Neurosci. 32(11): 3877-3886.
Nikonova, EV.#, Xiong, Y.#, Tanis, KQ., Moore, DJ., Dawson, VL., Vogel, RL., Finney, EM., Stone, DJ., Reynolds, IJ., Kern, JT., Dawson, TM. (2012) Transcriptional responses to loss or gain of function of the leucine-rich repeat kinase 2 (LRRK2) gene uncover biological progress modulated by LRRK2 activity. Hum. Mol. Genet. 21(1): 163-74. (# Contributed equally)
Xiong Y, Coombes CE, Kilaru A, Li X, Gitler AD, Bowers JW, Dawson VL, Dawson TM, Moore DJ. (2010) GTPase Activity Plays a Key Role in the Pathobiology of LRRK2. PLoS Genet. 6(4): e1000902.
Zhang, J., Wang, Y., Chi, Z., Keuss, M., Pai, YM., Kang, HC., Shin, J., Byugyenko, A., Wang, H., Xiong, Y., Pletnikov, M., Mattson, M., Dawson, TM., Dawson, VL. (2011) The AAA+ ATPase Thorase regulatesAMPA receptor-dependent synaptic plasticity and behavior. Cell 145(2): 284-99.
Stafa, K.,, Tsika, E.,, Moser, R., Musso, A., Glauser, L., Jones, A., Biskup, S., Xiong, Y., Bandopadhyay, R., Dawson, V., Dawson, T., Moore, D. (2014) Functional Interaction of Parkinson's Disease-Associated LRRK2 with Members of the Dynamin GTPase Superfamily. Hum. Mol. Genet. 23 (8): 2055-77.
Migheli, R., Giudice, M., Spissu, Y., Sanna, G., Xiong, Y., Dawson, TM., Dawson, VL., Galioto, M., Rochitta, G., Biosa, A., Serra, P., Carri, M., Crosio, C., Iaccarino, C. (2013) LRRK2 affects vesicle trafficking, neurotransmitter extracellular level and membrane receptor localization. PLoS One 8(10): e77198
Li, X., Moore, D.J., Xiong, Y., Dawson, T.M. and Dawson, V.L. (2010) Reevaluation of phosphorylationsites in the Parkinson disease-associated leucine-rich repeat kinase 2. J Biol Chem. 285(38): 29569-29576.