March 2023 - Vol. 18, No. 3
Latest Headlines — College News Feed
Phi Zeta Research Day culminates in awards and scholarships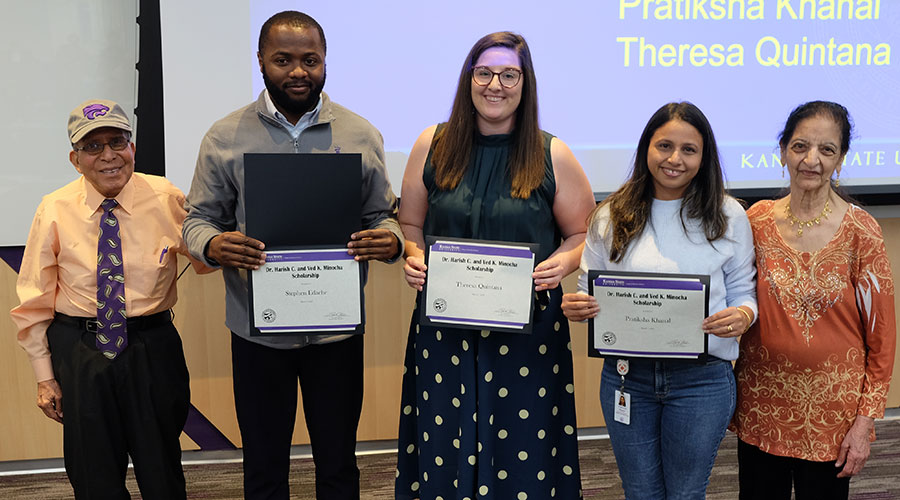 The annual Phi Zeta Research Day was held March 7 and featured oral research presentations, research posters, keynote speaker Dr. Amelia Woolums, a former intern, plus the presentation of several scholarships for DVM and doctoral/master's students. The Zoetis Research Excellence Award was also presented.
Clarenburg Lecture features distinguished physiologist Dr. Scott Powers
As part of its annual Clarenburg Lecture series, the College of Veterinary Medicine hosted Professor Scott Powers on Tuesday, Feb. 28.
Dr. Powers' lecture topic was "Ventilator-induced diaphragm dysfunction: pathogenesis and therapeutic option." He is currently a distinguished scholar in the department of health sciences at Stetson University, Deland, Florida.

University Distinguished Professor Dr. Tim Musch elected president of American Physiological Society
By Wendy Barnes
Dr. Tim Musch is the new president-elect for the American Physiological Society, or APS. According to the society, Musch will begin his term on April 23 at the closing of the 2023 American Physiology Summit. His election involves a three-year commitment.

Research by Dr. Meena Kumari and her team uncovers how exosomes demonstrate generation of nerve cells
Dr. Meena Kumari has led a newly published study that is helping unlock some of the secrets of specific cellular messengers called exosomes. The work could one day lead to therapeutic interventions against devastating neurodegenerative diseases and debilitating spinal cord injuries.
Performing a Root Canal and Placing a Crown on a "Dancing" Bear's Canine Tooth
Dr. James Carpenter shares an exciting overview about a collaboration of Veterinary Health Center clinicians and staff who collectively help perform a unique procedure on a 3-year-old sloth bear at Manhattan's Sunset Zoo. One could say it was a "crowning achievement." The sloth bear was immobilized (in the photo) and made a full recovery after the procedure.
KSVDL receives full accreditation plus Level 1 status from National Animal Health Laboratory Network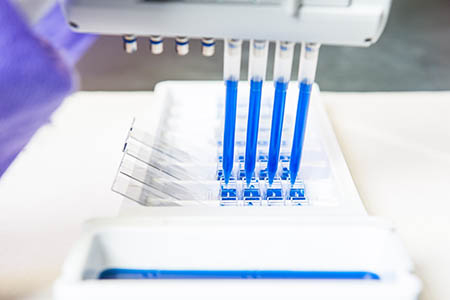 The Kansas State Veterinary Diagnostic Laboratory, or KSVDL, received notification Feb. 28 for being granted full accreditation by the American Association of Veterinary Laboratory Diagnosticians, or AAVLD, until Dec. 31, 2027 and Level 1 Laboratory status with the National Animal Health Laboratory Network, or NAHLN.
FDA antibiotic regulations will affect cattle producers
By Lisa Moser, K-State Research and Extension news service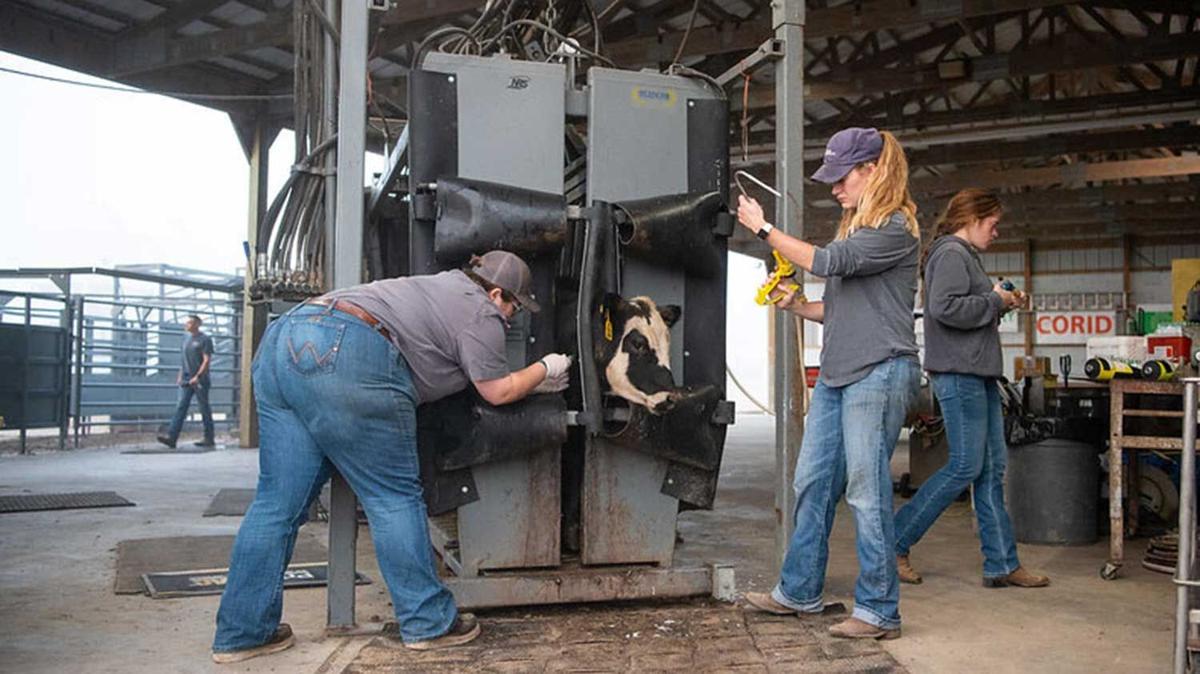 In the U.S., the regulating agency overseeing antibiotic use is the Food and Drug Administration, and it is instituting a change to antibiotic labeling that will soon go into effect, said the veterinarians at the Kansas State University Beef Cattle Institute on a recent Cattle Chat podcast. See full story online.
Alumna Dr. Tara Donovan Named AASV's 2023 Swine Practitioner of the Year
ByJennifer Shike, Farm Journal's Pork
Dr. Tara Donovan, DVM class of 1998, was honored as the 2023 Swine Practitioner of the Year by the American Association of Swine Veterinarians (AASV) during its 54th annual meeting in Aurora, Colorado. In a heartfelt address before the crowd of veterinarians from across the world, Dr. Donovan shared how special AASV has been to her life and in her development and growth in the field of veterinary medicine. See full story online.
Compana Pet Brands to unveil Technical Center of Excellence
By DVM360 staff writer
Dr. Micah Kohles, DVM class of 2001, was recently appointed chief veterinary officer for Compana Pet Brands. He is leading Compana Pet Brand's efforts to debut a Technical Center of Excellence in line with the company's continuous efforts to create new capabilities to drive transformational growth. It will support scientific research including identifying, vetting, and communicating breakthrough ingredients, applications, and technologies.
A New Level of Care, Gray County Veterinary Clinic
By Caleb Dorn, Pampa News
Catching up with 2015 grad Dr. Carrie Jo (Davidson) Koonce, now with the Gray County Veterinary Clinic in Pampa, Texas. Fun factoid: Dr. Koonce says in the story, that Pampa is the biggest city she's lived in, aside from her time in college. "Pampa actually has stop lights," Dr. Koonce said. "Where I'm from, we don't even have stop lights."
Children join Nebraska governor in naming Petunia, his metal pig
By Don Walton, Lincoln-Journal Star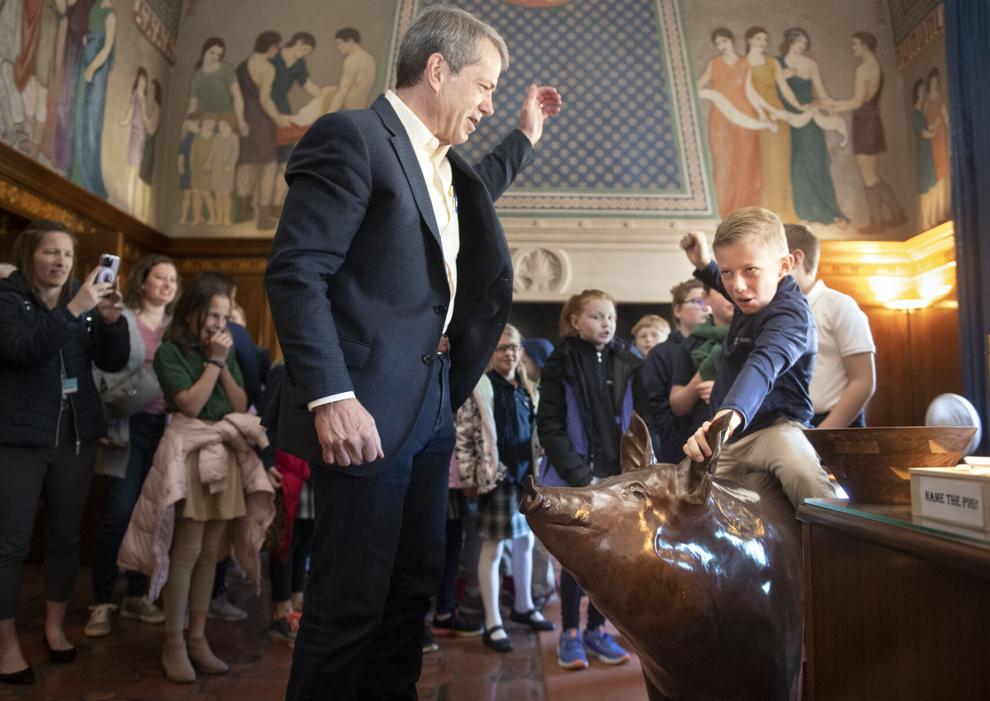 Nebraska Gov. Jim Pillen's education as a veterinarian, DVM class of 1983, is highlighted in this story from the Lincoln Journal Star. According to the story, Dr. Pillen, who is a self-described pig farmer, operates Pillen Family Farms headquartered in Columbus, Nebraska. He told children during a field trip that "it's really important to have dreams and then you go for it."
Street Cats Club celebrates 100th TNR of the year
By Shayla Gaulding, Emporia Gazette
Dr. Brad Crauer, left, and the Shelter Medicine team received a nice write-up for a recent visit to Emporia to work with the Street Cats Club. The story includes several photos, so be sure to flip through all the images. Dr. Crauer was joined by Victoria Partidge of the Street Cats Club in this photo.
By Dr. Tony Hawkins, Morning Ag Clips
Dr. Tony Hawkins, DVM class of 2016, shares 5 common signs of trouble to watch for in livestock during labor in this second part of a two-part series at Morning Ag Clips. He says, "remember to phone your veterinarian right away should you need immediate assistance that you're uncomfortable performing yourself."
Kansas Livestock Foundation scholarship application available
The Kansas Livestock Foundation (KLF) now is accepting applications for 2023-24 scholarships. The Merck Cartridges for Cash (CFC) program offers $1,500 scholarships to K-State College of Veterinary Medicine students and $1,000 awards to undergraduates studying animal sciences and planning to be engaged in livestock production.

28th Annual Dog-N-Jog - April 16th, 2023
Come join the Kansas State University College of Veterinary Medicine Class of 2023 as we raise funds for KSDS Assistance Dogs. There will be a 5k race and 1 mile pup trot. Dogs welcome, but not required!
85th Annual Conference for Veterinarians

Regular features
Alumni Events, Development and Continuing Education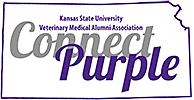 The Veterinary Medical Alumni Association organizes alumni receptions at several of the national annual conferences plus continuing education events and more.
News Ticker
More activities and accomplishments in the College of Veterinary Medicine:
Dr. Bob Larson participated in the 2023 National Cattlemen's Beef Association Convention in New Orleans Feb. 1-4. He chairs the Beef Cattle Herd Security Working Group and is a member of the Animal Health and Well-being Committee.
Drs. Chris Blevins, Warren Beard, Bryan Weaver and Adam Bassett helped provide veterinary services at the KSU Rodeo held on Feb. 17-19. Fourth year students Lance Berry, Katie Clarkson, Jaylin Rieck and Meaghan Schon also assisted.
Dr. Sue Nelson presented "Common Internal and External Parasites That Just Might Gross You Out," Feb. 22 for the Careers and Cases in Veterinary Medicine Lecture Series for the K-State Olathe campus.
Dr. Mike Kleinhenz presented the Feb. 23 DMP Seminar entitled, "Cannabinoids in Cattle: Current Knowledge and Next Steps."
Drs. Maria Jugan and Caylie Voudren received $12,000 in funding from Comparative Gastroenterology Society for their project, Glucagon-like Peptide-2 and GI Dysbiosis in Canine Chronic Enteropathies.
Dr. Phillip Lancaster was a recipient of the fiscal year 2022 Global Food Systems Seed Grant Program. Just recently, his presentation, "Enhancing the economic value and business viability of food waster to animal feed conversion" was uploaded to the KSU Global Food Systems YouTube channel. The presentation can be viewed at online.
Dr. Kate KuKanich was a contributing author on the publication, "Evaluation of serum 25‐hydroxyvitamin D, C‐reactive protein, and haptoglobin as biomarkers in dogs newly diagnosed with histoplasmosis," that was published in the Journal of Veterinary Internal Medicine.
Drs. Maria Jugan, Kate KuKanich and Leah Freilich published, "Clinical Response in Dogs with Acute Hemorrhagic Diarrhea Syndrome Following Randomized Probiotic Treatment or Fecal Microbiota Transplant" in Frontiers in Veterinary Science.
Drs. Lisa DiGiovani, James Roush and Kara Berke published, "Preoperative and postoperative stance analysis in dogs with patellar luxation confirms lameness improvement after surgery," in the American Journal of Veterinary Research.
Susan Rose is being featured in a show in downtown Manhattan's SNW Gallery which runs until April 15. The collection is called "Heartbeats of Home," where she partnered with rural Americana artist Nora Othic. It includes 25 of her newest works, primarily oils featuring Flint Hills landscapes as well as some animals. Note: SNW Gallery has recently moved one block East, and now has street-level entry at 328 Poyntz Ave.
New Arrivals/Recent Departures
CVM News Feed is published each month by the Marketing and Communications Office at the College of Veterinary Medicine. The editor is Joe Montgomery, jmontgom@vet.k-state.edu.