News from the College of Veterinary Medicine at Kansas State University
November 2022 - Vol. 17, No. 11
Top Stories
Fall teaching awards put spotlight on first-time recipients
Three faculty members have been recognized for preclinical teaching excellence in the College of Veterinary Medicine at Kansas State University. Drs. Lynn Abel, Brian Herrin and William Whitehouse were each named as the top teachers for the first, second and third years of instruction, respectively, as voted on by the students they taught in the 2021-2022 school year.
Lifetime of achievements leads to ACZM recognition for Dr. James Carpenter
Dr. James W. Carpenter was recently honored by the American College of Zoological Medicine, or ACZM, with the Murray E. Fowler Lifetime Achievement Award, presented at the annual business meeting Nov. 7. The award recognizes one of the organization's diplomates who has demonstrated exceptional commitment and contribution to the ACZM while making significant lifetime contributions that have advanced the discipline of zoological medicine.
Second-year student accepts Throlson American Bison Foundation scholarship
Mikayla Lacher, second-year veterinary student at Kansas State University, Christine, North Dakota, is one of three students selected nationally for the Throlson American Bison Foundation scholarship. The Throlson Foundation scholarship review committee considered several applications and narrowed it down to three stand-out students.
More Headlines
CVM grad student Dr. Kamilyah Miller finds success at research forum
A CVM grad student was among a group of participants for a campus research forum. Featured projects included research on food science and safety, climate change, family therapy, and energy as well as the research by Dr. Kamilyah Miller, a pathobiology Ph.D. student under Dr. Brian Herrin. She had one of the winning research presentations by Kansas State University graduate students in the Graduate Student Council's annual Research and the State poster forum, which took place on Oct. 27.
Dr. Susan Nelson gives

tips to prevent holiday weight gain in pets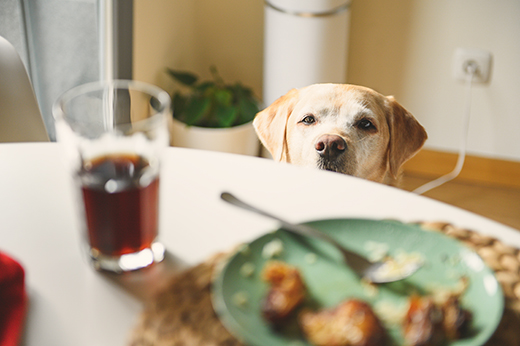 The holiday season is filled with hearty, delicious food, visiting with friends and family, decreased physical activity, busy schedules and weight gain. According to a Kansas State University veterinarian, it is also a time for our family pets to gain weight as well. According to the CVM's Dr. Susan Nelson, many pets gain weight during the holidays due to special treats being consumed and/or a few of those delicious table scraps making it into their bowls as well.
Cattle Chat: Unexpected cow death questions answered
By Lisa Moser, K-State Research and Extension news service
No matter whether it is a pet or livestock, an animal dying unexpectedly is sad and concerning. It often leaves owners with questions about what happened and whether other animals will be impacted. To get to the bottom of what is going on, Kansas State University beef cattle veterinarians emphasize the importance of a producer working with their local veterinarian to determine the cause of death.
F

rontier students follow 'clues of contamination' for

38

th

a

nnual f

ield trip
Story by Amelia Brady, graduate student MPH program
Twenty K-State students took part in the 38th Frontier Field Trip, and second annual excursion, to Council Grove, Kansas, where they experienced, "Clues of contamination: An overnight disease investigation," as part of the field trip model developed by Dr. Justin Kastner. He and longtime colleague, Dr. Jason Ackleson, have paved the way for students to meet and work together across multiple disciplines since 2004.
Regular features
Alumni Events, Development and Continuing Education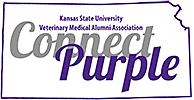 The Veterinary Medical Alumni Association organizes alumni receptions at several of the national annual conferences plus continuing education events and more.
News Ticker
More activities and accomplishments in the College of Veterinary Medicine:
Dr. Michael Kleinhenz presented at the Hemp Feeds Workshop at Oregon State University, held Oct. 25-27. His presentation was, "High cannabinoid plant materials as a cattle feed," and he served as a member of the analytical standards panel.
Dr. Jim Carpenter hosted a darting wet lab for Exotic, Wildlife Zoo Med interested students on Oct. 16.
Drs. Katie Delph Miller and Chris Blevins hosted the Guiding Wildcats into Future Equine Vets on Oct. 1.
Dr. Mike Apley presented continuing education lectures Oct. 1-2 at the Georgia Veterinary Medical Association in LaGrange, Georgia. His lectures included: "Pharmacology: Application and Misapplication of Antimicrobial Principles in Practice," "Antimicrobial Resistance as We Understand It Today," "Pharmacology: Understanding of Antimicrobial Susceptibility Testing (AST) and a Drug-by-Drug Discussion of How AST May Be Used," "Pharmacology: The Use of Antimicrobials and Ancillary Therapy in the Treatment and Control of Anaplasmosis, Bovine Respiratory Disease, Musculoskeletal Disease, CNS Disease, and Enteric Disease," and "Pharmacology Regulations: extralabel use, upcoming changes, and VFDs."
Dr. Thomas Schermerhorn served on the Elanco Diabetes Advisory Panel on Oct. 5-6. He also presented lectures at the Wild West Vet Show in Reno, Nevada, from Oct. 12-15 on these topics: "Applying Insulin Fundamentals to Clinical Practice," "Highs and Lows: Understanding Lab Results in Patients with Endocrine Disease," and "Beyond Clinical Signs: Laboratory Monitoring in Diabetic Dogs and Cats."
Susan Rose gave a short presentation as part of the 16th online Show & Tell Clinical Skills and Simulation Forum's program hosted by Bristol University in the UK. On Nov. 9, she gave a short talk and instructions on how to make a "Low Cost But High Learning Value Anal Sac Expression Model." She said the idea seemed to be well received by an audience of more than 60 people from all over the world.
Dr. Katie Reif was featured in the Nov/Dec 2022 edition of the Kansas Stockman Convention Issue! She provided an update on the infectious blood disease and discussed best management practices to reduce its impact at K-State's Ranch Management Field Day. Dr. Reif is also mentioned in an article from the Kansas Livestock Assocation.
Dr. Ellyn Mulcahy has been elected to the Kansas Public Health Association Board of Directors, to serve a two-year term as director at-large, starting in 2023.
Discussing 'Unthinkable' situations and scenarios

Dr. Christen Skaer (right), DVM class of 1999 and practitioner with Skaer Veterinary Clinic in Wichita, talks about her involvement with emergency animal response in Kansas as part of an "Unthinkable" panel that also features faculty members Dr. Leslie Weaver and Dr. Susan Nelson. This dicussion was part of a continuing series of campus events to celebrate the K-State common book entitled "The Unthinkable. Who survives when disaster strikes – and why" by New York Times bestselling author Amanda Ripley. The panel reviewed preparations for taking care of animals during disasters and how to care for animals in the event of a disaster.
K-State Olathe features professional development in animal health topics
Roadmap to Market: Supply Chain in Animal Health | Dec. 8
Join us for a discussion on how to best navigate the supply chain and still get products to market in a timely manner, amidst ever-changing barriers. Examine examples and applications of how to overcome the challenges through best practices and planning. Featured instructor: Adam Hill, The Scarbrough Group

Join the College of Veterinary Medicine on LinkedIn and add us to your profile under education and/or employment to help build and engage our online social community! Follow the LinkedIn page here: www.linkedin.com/company/kstatevetmed
New Arrivals/Recent Departures
Lifelines is published each month by the Marketing and Communications Office at the College of Veterinary Medicine. The editors are Joe Montgomery, jmontgom@vet.k-state.edu.