News from the College of Veterinary Medicine at Kansas State University
September 2022 - Vol. 17, No. 9
Top Stories
Veterinary Health Center thanks Merck Animal Health with ribbon-cutting for livestock receiving
Livestock health and welfare recently took center stage for a special event at the Veterinary Health Center. Guests from Merck Animal Health visited K-State Sept. 16 to cut the ribbon for the recently renovated Livestock Services receiving and treatment area. "The Livestock receiving area had been virtually unchanged since 1978. We needed to build cattle-handling facilities that are more cattle friendly and student friendly," said Dr. Bonnie Rush, Hodes Family Dean for the College of Veterinary Medicine.
P
rofessors zoom in on unique way to answer anatomy questions
A new initiative at Kansas State University shows how virtual meeting tools can be being used to address a longstanding challenge for educators. "With certain classes being large and not always having enough instructors, we realized that students in laboratory groups in our anatomy courses were often unable get speedy answers to their questions," said Dr. Judy Klimek, clinical professor of anatomy and histology in the College of Veterinary Medicine.
K-State Alumni Association presents Iman Research Award to Dr. Hans Coetzee
Two Kansas State University faculty members, Dr. Hanz Coetzee from the College of Veterinary Medicine and Dr. Dawn Deeter in the College of Business Administration, were each chosen as recipients of the annual Iman Award, incuding a $5,000 honorarium in recognition of their outstanding research and teaching accomplishments, respectively, during a ceremony at the K-State Alumni Center on Sept. 8.
More Headlines
KSVDL names Seetahal as rabies section head
The Kansas State Veterinary Diagnostic Laboratory, or KSVDL, has hired Dr. Janine Seetahal as section head for the Rabies Laboratory. Previously Seetahal served as a state veterinarian in Trinidad and Tobago since 2009, with operational responsibilities broadly encompassing zoonotic diseases surveillance and control, animal import and export regulation, trade in livestock products and disaster management.
North Dakota students receive Dr. Roger Meisner scholarship
A group of 11 K-State veterinary students from North Dakota were among a group of recipients of more than 400 scholarships totaling more than $705,000, as awarded through the North Dakota Community Foundation. The Dr. Roger Meisner Veterinary Medicine Education fund is presented annually to qualified students from North Dakota.
Rebirth of the Birthing Center at the Kansas State Fair
A longtime fall tradition was renewed this year - teams from the Veterinary Health Center's Livestock Services made daily trips to the Kansas State Fair in Hutchinson to meet with the public and provide expertise at the Birthing Center. Team members also took turns "broadcasting" reports via livestream on the college's Facebook, on a couple of occasions during the act of birth for the cows and pigs in the Birthing Center.
MPH and new undergraduate public health programs receive national accreditation
The Bachelor of Science in public health and the Master of Public Health degree programs have both received national accreditation through the Council on Education for Public Health. The master's degree program, housed in the College of Veterinary Medicine, is a long-standing K-State program, preparing individuals to better address health issues on local, state, national and international levels.
Regular features
Alumni Events, Development and Continuing Education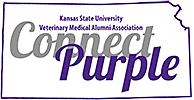 The Veterinary Medical Alumni Association organizes alumni receptions at several of the national annual conferences plus continuing education events and more.
News Ticker
More activities and accomplishments in the College of Veterinary Medicine:
Dr. Jessica Meekins served as a mentor for the summer 2022 Specialized Programs for the Recruitment of Indigenous, Native, and Tribal Students (SPRINTS).
The CVM recently hosted the 2nd Summer Program for Aspiring Rural Kansas (SPARK) Veterinarians. Drs. Matt Miesner, Warren Beard and all the equine and large animal clinicians, nurses, veterinary assistants, house officers and fourth-year students provided learning opportunities for the participants.
Getting back into Dodge
Dr. Chris Blevins (not pictured) and fourth-year students Cora Farley, Tabitha Tschenz (veterinary assistant), Kylee Nelson, Shiloh Murray, Lane Forge and Lance Berry served as the veterinarians at the Dodge City Roundup Rodeo Aug. 1-7.
Dr. Elizabeth Davis served as an expert panelist for "Vaccinations for Prevention of Infectious Respiratory Conditions in Performance Horses" for a European seminar on Aug. 23.
Dr. Brad Crauer presented a webinar, Saving Lives and Providing Humane Care – A One Health Approach, for the 1st International Companion Animal Welfare Conference that was held in Hangzhou, China. Initially the conference was to be held in person, but due to COVID, presentations were recorded or held remotely.
Shelter Medicine visits Santee Sioux Nation
From Aug. 26-28, the K-State Shelter Medicine Program partnered with the Santee Sioux Nation to provide wellness services, spay/neuter and dentistry services at this semi-annual event. The team was comprised of K-State veterinary assistant Melissa Dalton, two first-year veterinary students, Elizabeth Scarbrough and Chloe Capodagli; five fourth-year veterinary students, Kacey Cooper, Jennifer Schneider, Meagan O'Brien, Delaney Kinford and Alexis Kehs; three K-State veterinarians, Drs. Cody Dressler, Tichaona Murambinda and Ron Orchard); and a customer service representative, Logan Linenberger. The team served 89 pets and performed 20 surgeries and four dental procedures. They are looking forward to returning to the reservation in the spring!
Sand and Sun!

K-State's SAVMA chapter recently held a sand volleyball event at the Recreation Complex, just across the street from the veterinary college. "It was a way for students to take a break from studying and come meet new people, get outside, and eat some good food!" said third-year student and SAVMA intramural chair Elizabeth Brann.
Photo fun: Starting the semester by learning new clinical skills
The classes of 2025 and 2026 have spent the first few weeks of the fall semester working on subcuticular suturing and olfaction exercises, among other important clinical skills.
Coppoc One-Health Lecture

debuts with researcher from down under

Dr. Mark Hutchinson (in inset, above right) delivered the Coppoc One-Health Lecture at Kansas State University on Sept. 13. He and two of his colleagues from Australia, Drs. Charlotte Johnston and Dan Barratt, along with K-State Anatomy & Physiology Department Head Dr. Hans Coetzee, met with KSU President Richard Linton (in center of photo on Anderson Hall steps) before the seminar presentation, after which Dr. Coetzee awarded Dr. Hutchinson a plaque to commemorate the inaugural Coppoc address (inset, above left).
K-State Olathe features professional development in animal health topics
Pesticides in Animal Health | Oct. 12-13
Environmental Protection Agency (EPA) product approval is key to developing and maintaining pesticide products in the United States including herbicides, insecticides and rodenticides. Knowing how the regulatory process works is a key component to product success both in terms of time and profit. Claim your spot today for the two-day workshop happening Oct. 12-13. Featured instructor: Nader Elkassabany, Ph.D., EPA Regulatory Expert
Advanced Animal Pharmaceutical | Nov. 9-10
This workshop provides a detailed, practical and experienced based review of veterinary drug approval processes. It focuses on four major technical sections comprised of five topics of a U.S. Food and Drug Administration and Center for Veterinary Medicine product submission. Featured instructor: Rob Hunter, Ph.D., One Medicine Consulting
Roadmap to Market: Supply Chain in Animal Health | Dec. 8
Join us for a discussion on how to best navigate the supply chain and still get products to market in a timely manner, amidst ever-changing barriers. Examine examples and applications of how to overcome the challenges through best practices and planning. Featured instructor: Adam Hill, The Scarbrough Group

Join the College of Veterinary Medicine on LinkedIn and add us to your profile under education and/or employment to help build and engage our online social community! Follow the LinkedIn page here: www.linkedin.com/company/kstatevetmed
New Arrivals/Recent Departures
Lifelines is published each month by the Marketing and Communications Office at the College of Veterinary Medicine. The editors are Joe Montgomery, jmontgom@vet.k-state.edu.