News from the College of Veterinary Medicine at Kansas State University
February 2022 - Vol. 17, No. 2
Top Stories
Hodes family invests in naming the deanship of the College of Veterinary Medicine
Dr. Steve and Colleen Hodes, Andover, Kansas, have given a gift to name the deanship in Kansas State University's College of Veterinary Medicine. This is the third named deanship at K-State and the fourth deanship named of all 33 American Veterinary Medical Association accredited Colleges of Veterinary Medicine.
BRI researchers receive international award in biomedicine
Three researchers from Kansas State University have received the BIAL Award in Biomedicine for a publication focused on mRNA technology, which is now used in the two vaccines approved by the Food and Drug Administration to prevent COVID-19.
CEEZAD research helps protect zoo animals from SARS-CoV-2 spread
Testing done by Kansas State University's Center of Excellence for Emerging and Zoonotic Animal Diseases is helping protect more than 100 mammalian species of animals in zoos around the world from SARS-CoV-2 infections.

More Headlines
K-State physiology graduate joins national list of Young Scholars
A former CVM graduate student, Dr. Miriam Martin, was recently selected for the Animal Science Young Scholars Award by the American Society of Animal Science (ASAS) Midwest. Dr. Martin, who graduated with a Ph.D. in physiology in December, was one of three K-State students chosen for the award this year and one of nine awardees overall.
College of Veterinary Medicine to host Phi Zeta Research Day
The College of Veterinary Medicine and Sigma Chapter of the Phi Zeta Veterinary Honors Society invites the university community to attend its annual Research Day, from noon to 6:30 p.m. Tuesday, March 1.
Beef cattle experts offer advice on how to prepare for spring and summer grazing in a drought
By Lisa Moser
Just as the mail carrier delivers the letters in all types of weather, so too must beef producers be able to respond to the climate impacts on the herd. With the low amounts of moisture that Kansas has experienced in the fall and winter, the experts at Kansas State University's Beef Cattle Institute said now is the time to be thinking about management strategies for a drought, on a recent Cattle Chat podcast discussion.
Regular features
Alumni Events, Development and Continuing Education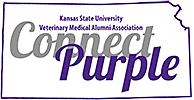 The Veterinary Medical Alumni Association organizes alumni receptions at several of the national annual conferences plus continuing education events and more. This month's section includes the monthly listings of recently departed alumni and links to their obituaries, plus a new link for submitting nominations for Alumni Recognition Awards.
News Ticker
More activities and accomplishments in the College of Veterinary Medicine:
Congratulations to Dr. Emily Reppert, the new president elect for the Phi Zeta Sigma Chapter! Dr. Reppert will serve in the role through the end of the Spring 2022 semester, then she will assume the role of president of the chapter for the 2022-2023 academic year.
The continuing education event Horse Care 101, was provided virtually this year. Equine faculty member, Dr. Dylan Lutter, provided a session called, "An Integrative Approach to Managing Lameness and Regaining Soundness." Dr. Judy Klimek also provided a session, "Assessment Criteria to Know Your Horse." Three other sessions were provided by outside experts. Video are posted at the Horse Care 101 link.
Dr. Katie Delph Miller presented at the Veterinary Meeting & Expo 2022 in Orlando, Florida, in January. She gave four presentations: Equine kidney and liver disease: case discussions, Hepatic toxins in horses, Hepatic lipidosis in equids, and Theiler's disease: an update.
Drs. Mary Lynn Higginbotham and Gabrielle Rands received $41,611 from Hill's Pet Nutrition for their collaborative investigation, "Evaluate a highly palatable, new food in dogs with different types of malignant cancer that are currently undergoing any conventional anti-cancer therapy."
Dr. Kate KuKanich received $20,000 sponsored by Boehringer Ingelheim for the 2022 Boehringer Ingelheim Veterinary Scholars Program (BIVSP), this student will serve as a member of the KSU CVM VRSP in 2022.
Dr. Justin Thomason received $3,000 from CEVA Animal Health LLC. for his study, "Owner perceived quality of life and monetary value of combination therapy (spironolactone and benazepril hydrochloride) compared to conventional therapy (enalapril / benazepril and spironolactone alone) in dogs with progressive myxomatous mitral valve disease.
Shelter Medicine team partners with T. Russell Reitz Animal Shelter and others at local community event
More than 400 dogs and cats receive free vaccines & microchips
Drs. Brad Crauer and Hayley Barkoviak drove the K-State Wellness on Wheels (WOW) vehicle to the Douglass Center in Manhattan this February to help the T. Russel Reitz Animal Shelter (TRR), city of Manhattan and PetCo in an event to to provide routine vaccines, microchips and city licensing for local owners of cats and dogs.
"Our goal is to work with TRR to make this a monthly event rotating through two to three different locations," Dr. Crauer said. "It will coincide with our community outreach rotation and will include a significant student involvement in the future."
Reports after the event said that more 400 cats and dogs were brought in. The city has another event planned in April at the Wefald Pavilion in City Park.
K-State CVM hosts pre-veterinary student symposium in March
The Kansas State University College of Veterinary Medicine is honored to be selected as the host school for the American Pre-Veterinary Medical Association — APVMA 2022 Symposium. The symposium will include keynote speakers Dr. Temple Grandin and Dr. David Franz, a 1970 K-State DVM alumnus, along with intriguing wet labs and social events. Participants will have the opportunity to interact with attendees, exhibitors and speakers from all over the world.
VetMed Rocks Summer Day Camps 2022

Save the Date - July 31 - August 3
Vet Med ROCKS camp will consist of daylong activities at Kansas State University College of Veterinary Medicine!
July 31 Virtual day for high school/college

August 1 in-person day high school/college

August 2 in-person day middle school

August 3 in-person grade school
In-person camps will be held at the Kansas State University College of Veterinary Medicine in Manhattan, Kansas.
Technician Internships offered at KSVDL for Summer 2022
Do you have students looking to gain more experience in veterinary diagnostic medicine or explore career options?
The Kansas State Veterinary Diagnostic Laboratory (KSVDL) is offering multiple paid technician internships for Summer 2022. This competitive program offers individuals the opportunity to gain experience and training within the KSVDL, as well as observe career possibilities in our laboratories first-hand.
The technician internships are open to both students and non-students. This includes individuals enrolled in universities, community colleges, certificate programs and technical schools as well as recent graduates and individuals looking to expand their career options.
To apply, please submit the following items with the subject line: Summer Internship Opportunities at KSVDL
letter of interest
resume
letter of recommendation
Applications must be submitted to:
Review of applications will begin April 1 in anticipation of an early June start date.
K-State Olathe announces animal health professional development series
Includes pharmacovigilance, roadmap to market and other topics
Kansas State University Olathe is announcing its 2022 offerings in its animal health professional development series. It consists of six workshops and two seminars. See full announcement here.
Join the College of Veterinary Medicine on LinkedIn and add us to your profile under education and/or employment to help build and engage our online social community! Follow the LinkedIn page here: www.linkedin.com/company/kstatevetmed
New Arrivals/Recent Departures
Lifelines is published each month by the Marketing and Communications Office at the College of Veterinary Medicine. The editors are Joe Montgomery, jmontgom@vet.k-state.edu, and Piper Brandt, pnbrandt@vet.k-state.edu.