News from the College of Veterinary Medicine at Kansas State University
January 2022 - Vol. 17, No. 1
Top Stories
CVM team collaborates to improve COVID-19 vaccine stability
Researchers at Kansas State University in the College of Veterinary Medicine are expanding on an industry partnership to increase stability in mRNA vaccines — including those against COVID-19 — during transport and storage.
Kansas State Veterinary Diagnostic Laboratory exercises readiness for African swine fever outbreak
On Jan. 24-25, the Kansas State Veterinary Diagnostic Laboratory, or KSVDL, and the Biosecurity Research Institute, or BRI, conducted a functional, collaborate exercise focusing on surge capacity testing for African swine fever.
K-State recognizes t
hird
-year veterinary student
for diversity efforts
Shumin Li, third-year veterinary medicine student, is one of two individuals being honored as recipients of the Commerce Bank and W.T. Kemper Foundation Presidential awards for diversity excellence at a virtual reception Jan. 25.
More Headlines
Veterinary

student among group of 27 campuswide chosen for cancer research training award
The Johnson Cancer Research Center at Kansas State University recently selected 27 undergraduate students for its Cancer Research Award program, which provides faculty-mentored research training and monetary awards. Among this group was a a second-year veterinary student, Grace Calo, and an undergraduate student, Morgan Phillips, who both mentor under Dr. Masaaki Tamura, professor in anatomy and physiology.
KSVDL's Dr. Gregg Hanzlicek reviews steps for cattle producers before and after calving
By Shelby Varner
Kansas State University veterinarian Dr. Gregg Hanzlicek said being prepared ahead of calving season is the best way for producers to assure they will bring home the newborn calves successfully.
Frontier students re-enact microbiological mystery in Council Grove
Parts of story reprinted with permission from the Council Grove Republican
A group of students hit the road this past fall in an effort to solve a great public health mystery. Dr. Justin Kastner, associate professor in diagnostic medicine and pathobiology, played a leading part while the community of Council Grove, Kansas, served as the backdrop for an unique re-enactment exercise.
Regular features
Alumni Events, Development and Continuing Education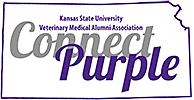 The Veterinary Medical Alumni Association organizes alumni receptions at several of the national annual conferences plus continuing education events and more. This month's section includes the monthly listings of recently departed alumni and links to their obituaries, plus a new link for submitting nominations for Alumni Recognition Awards.
News Ticker
More activities and accomplishments in the College of Veterinary Medicine:
The Conference of Research Workers in Animal Diseases took place Dec. 3-7 in Chicago. Five Clinical Sciences faculty and their colleagues presented abstracts: Drs. Raghavendra Amachawadi, Emily Reppert, Michael Kleinhenz, Bob Larson and Brad White.
Thank you to Drs. Gabby Rands, Sue Nelson, Justin Thomason, Marjory Artzer and Doug Winter for presenting at the 3rd Annual Clinical Nutrition Symposium on Dec. 7. The event hosted by Hill's Pet Nutrition and the College of Veterinary Medicine was entitled: Small Paws, Big Problems: A Collaborative Approach to Dental Disease, Heart Disease, and More!
The Shelter Medicine trailer and WOW vehicle with Drs. Codi Dressler, Kate KuKanich, Kelsey Decker, Kara Smith and others once again participated in the Spirit of the Holidays Lighted Parade in Manhattan, Kansas, Dec. 3.
Congratulations to Drs. Brad White, Brian Lubbers and Mike Apley for receiving $230,762 from Elanco Animal Health for their project, "Antimicrobial Stewardship in BRD Management."
Congratulations to Dr. Anne Lovett (and faculty mentor Dr. Emily Reppert) who received the Society for Tropical Veterinary Medicine Best Student Presentation Award as well as a $500 student travel award.
Staff Spotlight: Lance Noll

Lance Noll works as a lab coordinator in the Diagnostic Medicine/Pathobiology
department. Lance has been with the college since July 2017. He really enjoys the camaraderie among the staff and faculty at the college.
Lance is an avid turkey and white-tail hunter. He also enjoys fishing for trout.
A fun fact about Lance: "My wife, two daughters and myself are working feverishly to finish construction on a chicken coop for our 14 hen chicks that are quickly outgrowing their brooder."
Join the College of Veterinary Medicine on LinkedIn and add us to your profile under education and/or employment to help build and engage our online social community! Follow the LinkedIn page here: www.linkedin.com/company/kstatevetmed
New Arrivals/Recent Departures
Lifelines is published each month by the Marketing and Communications Office at the College of Veterinary Medicine. The editors are Joe Montgomery, jmontgom@vet.k-state.edu, and Piper Brandt, pnbrandt@vet.k-state.edu.