News from the College of Veterinary Medicine at Kansas State University
December 2021 - Vol. 16, No. 12
Top Stories
CVM plays significant role in K-State's plan to increase jobs, investment in Kansas
You can plan on it: Kansas State University is launching a new strategic initiative to help people and businesses in Kansas. The university's Economic Prosperity Plan will add thousands of jobs and billions of dollars into the Kansas economy by leveraging K-State's strengths in four key areas: food and agriculture systems innovation; digital agriculture and advanced analytics; biosecurity and biodefense; and extension and outreach.
Drs. Ganta and Nagaraja join new class of international research fellows
Two faculty members in the College of Veterinary Medicine were recently inducted into the inaugural class of fellows of the Conference of Research Workers in Animal Diseases.
Fourth
-year veterinary student
receives
Lowrie
Diversity Scholarship
from national association
The American Association of Veterinary Medical Colleges, or AAVMC, has announced the recipient of the 2022 Patricia M. Lowrie Diversity Leadership Scholarship: Ron Orchard, a fourth-year veterinary student and recent graduate of Kansas State University's Master of Public Health Program.
Special Video: Happy Holidays from the College of Veterinary Medicine
More Headlines
AAEP Honors Dr. Elizabeth Santschi with Distinguished Educator – Academic Award
The American Association of Equine Practitioners honored Kansas State University Professor of Equine Surgery Elizabeth Santschi, DVM, DACVS, with its Distinguished Educator – Academic Award for her substantial influence on veterinary students, interns, residents and the practice of veterinary medicine during three decades in academia.
K-State veterinary team burrows toward safer care for prairie dogs
A group of veterinary faculty and students in the College of Veterinary Medicine at Kansas State University are digging deep to make medical care safer for a species commonly found on Kansas prairies.
Trio of veterinary students among scholarship winners at Kansas Livestock Association Convention
Three veterinary students were among 29 scholarship winners statewide recognized during the annual Kansas Livestock Association (KLA) Convention Dec. 1 in Wichita. A total of $30,000 was presented by the Kansas Livestock Foundation (KLF) and its partners.
CVM researchers join multidisciplinary cancer research project
The Johnson Cancer Research Center at Kansas State University has launched a Cancer Research Collaboration of Excellence in Tumor Microenvironment Studies. The multidisciplinary collaboration (which includes a pair of researchers from the CVM) will examine how environmental conditions within tumors impact their development, growth and aggressiveness, and apply the findings to improve cancer therapies.
First-year student gives her life trying to help someone in need
Our prayers and condolences to the family and friends of Autumn Johnson, a first-year veterinary student from Wasilla, Alaska, who worked part-time in the Veterinary Health Center, in Central Prep and Small Animal Surgery.
Regular features
Alumni Events, Development and Continuing Education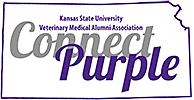 The Veterinary Medical Alumni Association organizes alumni receptions at several of the national annual conferences plus continuing education events and more. This month's section includes the monthly listings of recently departed alumni and links to their obituaries, plus a new link for submitting nominations for Alumni Recognition Awards.

We recently opened Wildcat Corner with CVM merchandise, next to Trotter Hall, and now we're happy to announce these items in the store are also available online! We are excited to offer a wide variety of College of Veterinary Medicine-logo-imprinted products. Check back often for new products! https://wildcatcorner.myshopify.com/
News Ticker
More activities and accomplishments in the College of Veterinary Medicine:
Virtual Assessment
Four students represented K-State at the 21st annual AVMA Animal Welfare Assessment Contest, held virtually Nov. 19-21. Brad Hill, Tessa van Buren, and Kaitlyn Rhine competed as a team in the Undergraduate Senior Division, and Madeline Hall (Class of 2024) competed as an individual in the Veterinary Division. The contest species this year were boar studs, psittacines as pets, and cats in a research setting.
Dr. Abbie Viscardi served as the lead coach with Eduarda Mazzardo Bortoluzzi (PhD Ca
ndidate in Animal Sciences) serving as the assistant coach. They met with students every week from the beginning of September to teach them animal welfare assessment techniques in preparation for the contest. At the competition, K-State placed secondin the Undergraduate Senior Division (out of 28 competing universities) and Kaitlyn Rhine placed thirdoverall in her division (out of 44 students)! Brad Hill and Tessa van Buren also placed in the top 25%! "I could not be more proud of these students and their dedication to the team this semester. Their hard work really paid off!" said Dr. Viscardi.

Grad students excel at CRWAD in Chicago

At the Conference of Research Workers in Animal Diseases (CRWAD), Dr. Anne Lovett (middle), Master's student in Dr. Katie Reif's lab and concurrent large animal medicine resident, received the Society for Tropical Veterinary Medicine Best Student Presentation Award as well as a $500 student travel award. Jerusha Matthews (right), NSTP Master's student, received an Animal Health Institute and Joseph J. Gabarino Foundation Biosafety and Biosecurity Award. Konner Cool (not picture) doctoral student in pathobiology, also won a $500 student travel award.
Closure of the Exotic Animal Medicine Club's Teaching Herpetarium
Because of the costs (i.e., animal care, facility maintenance, and veterinary care), amount of student volunteer time and effort required in caring for the animals, and current diminished teaching opportunities, this appears to be an appropriate time to close the Teaching Herpetarium. This very difficult decision was done in consultation with the Herpetarium Managers, numerous students, and Dr. Beth Davis. Historically, our reptiles served a valuable purpose as education animals that were used in wet labs, training students, Open House, and visitor and incoming student tours. But their current limited use makes "retirement" of the animals at this time a reasonable solution. The reptiles will be adopted out to "loving" homes beginning in January.
We appreciate the support that the Administration and numerous volunteer students have provided the Herpetarium over the years.
Drs. James W. Carpenter and Sara Gardhouse
New JEDI Awards
The first JEDI awards have been given! Thank you to these JEDI Recipients for their work toward an inclusive environment where all members of our community feel valued: Reese Bailey, Lorna Bryce, Javier Funes, Jocelyn Stedman, Jen Teeter and Anne Lovett. Students, faculty or staff are eligible to receive the JEDI award. This award is intended for those who: stand up for Justice of others, provide opportunities for Equity, support and celebrate Diversity and promote Inclusion for all.
Dr. Mark Weiss was a keynote speaker at the fourth International Caparica Christmas Conference on Translational Chemistry held in Caparica, Portugal, on Dec. 6. His presentation was titled "Using Extracellular Vesicles for Cancer Detection"
The Department of Clinical Sciences Research Committee has awarded $35K in research funds in November through the Mark Derrick awards program:
Dr. Sam Hocker received $8,672 for his study titled In vitro effects of palmitoylethanolamide in canine mast cell tumor cell lines.
Dr. Nate Kapaldo received $9,000 for his study titled Evaluation of trazadone or constant rate infusion of dexmedetomidine effects on behavioral and physiologic markers of stress and autonomic function in healthy Beagle dogs.

K-State President Richard Myers congratulates Dr. Raghavendra Amachawadi for being recognized as Professor of the Week for the week of Nov. 3. He was recognized at the Nov. 4 men's basketball game and in the Nov. 5 edition of K-State Today.
Dr. Neala Boyer presented, "Taking the fear out of the veterinary visit and why it matters," at the K-State Olathe Careers and Cases in Veterinary Medicine lecture series on Nov. 10.
After months of planning, the San Diego Zoo Wildlife Alliance Academy put on their internationally-recognized "Safe Capture Chemical Immobilization Program" as a live, online course on Nov. 6-7. There were 20 K-State students enrolled and they received a certificate of completion. As a bonus, Dr. Jim Carpenter also provided the students with an on-site wet lab on darting on Nov. 14. The course and lab will help the students become more competitive in the field of zoological/wildlife medicine.
Thank you to Drs. Matt Miesner, Shaun Huser, Brad White and the BCI group for participating in Celebrate Ag Day before the Nov. 13 KSU vs. West Virginia football game.
Dr. Chris Blevins, the Equine Field Service rotation and other members of the equine section went to Fort Riley on Nov. 16 to provide dental services to approximately 25 horses that are part of the mounted color guard.
The Shelter Medicine Outreach Vehicle (Wellness on Wheels) partnered with the Community Veterinary Outreach in Kansas City. They provided veterinary care and human health care to the homeless population. The vice president of Community Veterinary Outreach is Dr. John Teeter, DVM class of 1981, who was also at the event and was wonderful with the students.
Staff Spotlight
Jennifer Klingele works in Ophthalmology as a Nurse III. Jennifer began here in Oct ober 2016.
Her favorite part of the job: "I love seeing all the different species that are brought to the VHC for care. Animals are a huge part of my life! I have a wide variety of pets, 14 chickens, two dogs, a cat, a guinea pig and a bearded dragon."
Jennifer also has three children that have small pocket pets. She says a lot of their time is spent playing with these pets and taking care of them. "I really enjoy helping my children learn how to care for their pets."
A fun fact about Jennifer: her favorite childhood pet was an iguana.
Best wishes to Allan Leikam, former director of veterinary medical facilities, who recently retired. A reception was held Dec. 2. In the group picture, Allan wanted to express to several co-workers. From left: Scott West, Gary Morgan, Nate Harstine, Allan, Joe Alter and Brandon Weber.
Join the College of Veterinary Medicine on LinkedIn and add us to your profile under education and/or employment to help build and engage our online social community! Follow the LinkedIn page here: www.linkedin.com/company/kstatevetmed
New Arrivals/Recent Departures
Lifelines is published each month by the Marketing and Communications Office at the College of Veterinary Medicine. The editors are Joe Montgomery, jmontgom@vet.k-state.edu, and Piper Brandt, pnbrandt@vet.k-state.edu.