News from the College of Veterinary Medicine at Kansas State University
September 2021 - Vol. 16, No. 9
Top Stories
New $3.68 million NIH grant supports Rocky Mountain spotted fever vaccine
Dr. Roman Ganta, director of the Center of Excellence for Vector-Borne Diseases, has received a $3.681 million grant from the National Institutes of Health to continue his longtime work on tick-borne diseases.
College welcomes new class of Early Admission Scholars
A new group of Kansas State University undergraduate students has a special opportunity to become veterinarians. The College of Veterinary Medicine recognized nine students for being selected in its Early Admission Program at the College of Veterinary Medicine on Aug. 27.
Fourth-year student receives new Aurora Pharmaceutical scholarship
Fourth-year student Colton Hull joins a nationwide group of veterinary students who were selected to receive a brand new scholarship. A company in Minnesota just announced the recipients of its inaugural Aurora Pharmaceutical DVM Student Scholarship Program.
More Headlines
K-State and Elanco Animal Health Incorporated sign strategic alliance to improve animal health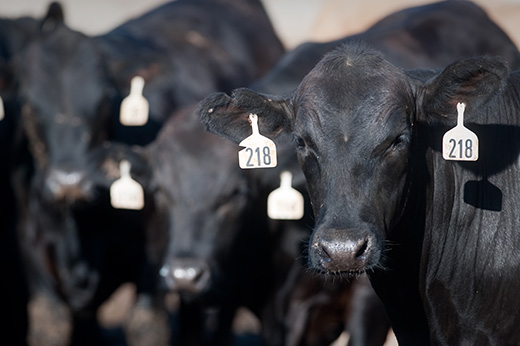 Kansas State University and Elanco Animal Health Incorporated are combining efforts to tackle innovation for companion animal and livestock health. A five-year strategic alliance agreement between the university and Elanco will allow for collaborative research and intellectual property licensing for commercialization activities.
USDA grant supports new K-State hotline for diagnosing toxic animal emergencies
Rapid response to animal health emergencies has prompted the creation of a new veterinary toxicology training program at Kansas State University. A $248,000 USDA grant will enhance the ability of researchers in the College of Veterinary Medicine to answer calls for help.
KSVDL veterinarian shares tips for handling vaccinations, maintaining effectiveness
A Kansas State University veterinarian is reminding producers that properly handling bottles containing livestock vaccinations is crucial so that it remains effective for the animal.
Clarenburg Lecture to feature molecular physiologist at College of Veterinary Medicine
As part of its annual Clarenburg Lecture series, the College of Veterinary Medicine will be hosting Dr. Walter Boron on Tuesday, Oct. 5. Dr. Boron's lecture topic is, "Molecular physiology of the NBCs: pathways for carbonate and carbon dioxide," and will be presented in the Boehringer Ingelheim Animal Health Auditorium at 4 p.m.
Cattle Chat: Factors influencing cow supplementation pre- and post-weaning
A well-balanced diet is important in human's overall health plan.
Similarly, just as our caloric needs adjust throughout the life cycle, nutritional fluctuations happen in the beef cow, said the experts at Kansas State University's Beef Cattle Institute on a recent Cattle Chat podcast.
Regular features
Alumni Events, Development and Continuing Education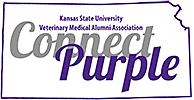 The Veterinary Medical Alumni Association organizes alumni receptions at several of the national annual conferences plus continuing education events and more. This month's section includes the monthly listings of recently departed alumni and links to their obituaries, plus a new link for submitting nominations for Alumni Recognition Awards.
The 2021 Kansas State University College of Veterinary Medicine Job Fair will be held face-to-face. From 10 a.m.-1 p.m., students will have the opportunity to briefly interact with prospective employers in a traditional Job Fair format. From 1 p.m.-2 p.m., interested students and employers may schedule indivdual 10-minute interviews based on mututal interest. For questions about the Job Fair, call Sarah Keatley at 785-532-4528 or email keatley@vet.k-state.edu.
News Ticker
More activities and accomplishments in the College of Veterinary Medicine:
Congratulations to Dr. Michael Kleinhenz for passing the American College of Veterinary Clinical Pharmacology (ACVCP) Board Certification Exam! Dr. Kleinhenz also participated as a panelist in the 2021 Virtual Cannabis Research Conference hosted by Colorado State University. His session involved FDA, state regulators and other researchers and included a discussion of the steps necessary to gain FDA-CVM approval for industrial hemp by-product. He provided a summary of the current industrial hemp research conducted at K-State including studies addressing potential efficacy and safety concerns.
Congratulations to Drs. William Whitehouse and Justin Thomason who mentored Angela Thomson-Butler (Class of 2024) this summer in the Veterinary Research Scholars Program (VRSP). Angela was named the Morris Animal Foundation Veterinary Student Scholar and Drs. Whitehouse and Thomason were awarded $5,000 to support Angela's stipend.
Thank you to the Clinical Sciences faculty and staff that helped make Vet Med ROCKS a great success! The summer camp was held Aug. 1-4 for high school, middle school and elementary school students. Clinical Sciences volunteers: Drs. James Carpenter, Kate KuKanich, Shane Lyon, Dylan Lutter, Matt Miesner, Melissa Upchurch and staff, Gina Jensen and Susan Rose.
Dr. Mike Apley presented, "What have we learned (scientifically and practically) in 50 years of antibiotic progress" at the Academy of Veterinary Consultants meeting in Amarillo, Texas, on Aug. 5-7. Dr. Bob Larson presented "50 years of progress and history-innovations in diagnostics and therapy in beef cattle" at the same meeting.
Dr. Brian Lubbers join the CattleChat podcast hosted by the Beef Cattle Institute.
Dr. Mike Apley presented at the National Cattlemen's Beef Convention in Nashville, Tennessee, Aug. 11-12. Dr. Apley's presentation, "Tipping points for changes in antimicrobial use in cattle," was given to the Cattle Health and Well-being Committee.
The freshman clinician orientation in the Veterinary Health Center was held on Aug. 20 for the Class of 2025. Current fourth-year students provided groups of 14-15 first-year students a tour of the VHC through eight different stations where a 5-10 minute activity, demonstration or talk was provided.
Dr. David Biller presented five lectures at the 35th Annual Convention Conference Puerto Rico Veterinary Medical Association in San Juan, Puerto Rico, held from Aug. 27-28. Dr. Biller's presentation titles:
Juvenile Imaging of the Young Lame Canine Patient
Old Radiographic Techniques Revisited
Interpretation of a Thoracic Radiograph – Involves More Than the Lungs and Heart
Don't Panic About Pulmonary Patterns
Unknown Cases – Cases to review principles of the lecture from the day
Dr. James Carpenter presented, "Pharmacokinetics of Cannabinoid and Cannabidiolic Acid Administered Orally in the Rabbit" at ExoticsCon 2021 in Nashville, Tennessee, Aug. 28-Sept. 2.
Join the College of Veterinary Medicine on LinkedIn and add us to your profile under education and/or employment to help build and engage our online social community! Follow the LinkedIn page here: www.linkedin.com/company/kstatevetmed
New Arrivals/Recent Departures
Lifelines is published each month by the Marketing and Communications Office at the College of Veterinary Medicine. The editors are Joe Montgomery, jmontgom@vet.k-state.edu, and Piper Brandt, pnbrandt@vet.k-state.edu.