News from the College of Veterinary Medicine at Kansas State University
August 2021 - Vol. 16, No. 8
Top Stories
CVM appoints Dr. James Roush as new Associate Dean for Academic Programs and Student Success
The College of Veterinary Medicine at Kansas State University has announced the appointment of Dr. James Roush as its new associate dean for academic programs and student success. Dr. Roush has served as the interim associate dean for academic programs and student success since January 2020.
New $3.7 million NIH grant supports collaborative research into COVID-19 treatment
As the fight against COVID-19 continues, Kansas State University has received a five-year, $3.7 million grant from the National Institutes of Health's National Institute of Allergy and Infectious Diseases to research a new treatment method for the virus.
CVM team volunteers at Everybody Counts - Manhattan
After a year off due to concerns about COVID-19, the College of Veterinary Medicine has resumed participation in a community outreach event called Everybody Counts. The event occurred Aug. 7 in Manhattan at the Douglass Community Center.
More Headlines
Summer research program includes new mentoring award
A select group of Kansas State University veterinary students spent this summer working with faculty mentors on high-level research projects. While hosting a record number of participants, the Veterinary Research Scholars Program presented a brand-new mentoring award to one of the faculty members on July 29.
Joint veterinary program with China hosts deans, leaders and Chinese veterinary students at K-State
A recent celebration of the U.S.-China Joint Doctor of Veterinary Medicine Program attracted a small but important group of national veterinary leaders and deans from partnering universities to Manhattan for an annual homecoming on Aug. 5 and 6.
Applications open for Early Admission Program at College of Veterinary Medicine
The College of Veterinary Medicine is offering interested students a chance to start their early admissions application process sooner rather than later.
Fourth annual Vet Med ROCKS day camp returns in-person
After moving to an online-only format last year, the Vet Med ROCKS day camp was able to continue in-person this year with face masks. Elementary, middle, and high school students, as well as some college students, participated in many hands-on activities. This year's theme was "preventative medicine."
Regular features
Alumni Events, Development and Continuing Education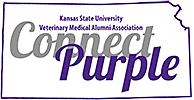 The Veterinary Medical Alumni Association organizes alumni receptions at several of the national annual conferences plus continuing education events and more. This month's section includes the monthly listings of recently departed alumni and links to their obituaries, plus a new link for submitting nominations for Alumni Recognition Awards.
News Ticker
More activities and accomplishments in the College of Veterinary Medicine:

Rodeo Roundup
Fourth-year students Katie Norris, Mikaleigh Woodward, Cierra McClure, Victoria Maurath and Vet Assistant Kayla Sims attended the Dodge City Roundup Rodeo as part of their equine field service rotation with Dr. Chris Blevins.
Welcome to Dr. Haileigh Avellar, clinical assistant professor, who was hired July 26 as the large animal emergency clinician!
Drs. Bob Larson and Steve Ensley received a USDA award of $248,000 for, "Developing a Food Animal Veterinary Toxicology Training Program at Kansas State University College of Veterinary Medicine."
Dr. Chris Blevins and fourth-year students Haley Bartlett, Jana Gigilotti, Audra Jones, Meredith Glaister, Weihan Wang, Jason Pain and Colter Haman served as the veterinarians for the Kaw Valley PRCA Rodeo held at CICO Park July 22-24.
The Veterinary Research Scholars Program hosted a poster session and recognition ceremony on July 29. Congratulations to Dr. Kate KuKanich, VRSP program director for a very successful summer of research and thank you to the following Clinical Sciences faculty members for participating and contributing to the program: Drs. Chieko Azuma, Maria Jugan, Mike Kleinhenz, Bob Larson, Dylan Lutter, Brad White and William Whitehouse.
After 32 years of dedicated service, Dr. David Hodgson retired from his position as professor of anesthesiology. A retirement reception was held on July 22 to honor his service and contributions to the KSU College of Veterinary Medicine. Congratulations, Dr. Hodgson! Although retiring, Dr. Hodgson is continuing his research project with the U.S. Navy and National Marine Mammal Foundation in San Diego. They are working to development of an anesthesia ventilator for Atlantic bottlenose dolphins and California sea lions.
Joan Burton at the KSU Foundation has been promoted to executive development officer for the College of Veterinary Medicine. She was previously the assistant director of development.
Audrey Hambright has accepted the role of director for the newly created unit combining Alumni Activities, Events and Marketing and Communications.
Susan Rose (clinical skills education technician - far right in above photo) will be featuring her artwork in an exhibit at the Volland Store Gallery in Alma from Sept. 8-29. Her art was inspired by the lyrics of Annie Wilson's song, "Peace on the Praire." There will be a special afternoon event featuring Susan's art and a concert from Wilson and her musical group, the Tallgrass String Express Band, on Oct. 16 at the Pioneer Bluffs facility near Matfield Green. To learn more, visit Susan's website.
Susan's painting, 'Waters Flow' is inspired a phrase in the chorus to Annie Wilson's song, 'Peace on the Praire': 'The waters flow, the grasses grow and everything feels right …'
Join the College of Veterinary Medicine on LinkedIn and add us to your profile under education and/or employment to help build and engage our online social community! Follow the LinkedIn page here: www.linkedin.com/company/kstatevetmed
New Arrivals/Recent Departures
Lifelines is published each month by the Marketing and Communications Office at the College of Veterinary Medicine. The editors are Joe Montgomery, jmontgom@vet.k-state.edu, and Piper Brandt, pnbrandt@vet.k-state.edu.