May - June 2021 - Vol. 16, No. 5 & 6
Top Stories
CVM presents scholarships and special awards during annual banquet
The Kansas State University College of Veterinary Medicine hosted its 2021 Senior Banquet on May 19 at the Hilton Garden Inn. The college presented more than $170,000 in scholarship awards to graduating seniors. Special awards were also presented during the banquet for distinguished faculty, house officers and staff.
KSVDL exercises readiness for African swine fever outbreak
On May 20, members of the Kansas State Veterinary Diagnostic Laboratory, or KSVDL, along with the Kansas Department of Agriculture, the Biosecurity Research Institute and many other partners across campus, the state of Kansas and the National Animal Health Laboratory Network took part in a tabletop exercise focused on laboratory activities during the various stages of a simulated outbreak of African swine fever.
Shelter Medicine program navigates safely through pandemic challenges
For the last six years, a large purple and white trailer has become a common site on highways and roadways in Northeast Kansas. And while the first five years were mostly smooth sailing, the global coronavirus pandemic effectively presented a number of metaphorical road hazards and obstacles.
More Headlines
Vet Med ROCKS resumes holding in-person day camps for youth
Vet Med ROCKS, which stands for Recruitment and Outreach Club at Kansas State University and is a registered departmental student organization, is hosting a series of in-person and virtual day camps for youth this summer. The Vet Med ROCKS summer camp will take place Aug. 1-4.
DMP provides advanced training for graduate students through stakeholder partnerships
Kansas State University graduate students are getting advanced training and are making beneficial connections with industry and government partners through the Department of Diagnostic Medicine/Pathobiology in the College of Veterinary Medicine.
Veterinary student captures second-place for history essay on Scrapie
Conrad S. Schelkopf, class of 2024, received second place in the Smithcors Veterinary History Essay Contest, for his essay entitled, "Scrapie: A Brief History of the First Prion Disease." Conrad will receive a cash prize and an opportunity to have his essay published in the Veterinary Heritage Journal.
Dr. Justin Kastner connects students with veterinary history of food trade
Students in Dr. Justin Kastner's course on Globalization, Cooperation, and the Food Trade (DMP/VDMP 888), recently had a chance to connect with some "living history." Thanks to online technology, the students were introduced to Jacqueline Williams, an accomplished London-based documentary script-writer who happens to be the great-granddaughter of Professor William Williams, who was involved in 19th-century transatlantic trade disputes over contagious bovine pleuro-pneumonia.
Regular features
Alumni Events, Development and Continuing Education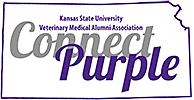 The Veterinary Medical Alumni Association organizes alumni receptions at several of the national annual conferences plus continuing education events and more. This month's section includes the monthly listings of recently departed alumni and links to their obituaries, plus a new link for submitting nominations for Alumni Recognition Awards.
News Ticker
More activities and accomplishments in the College of Veterinary Medicine:

We congratulate the class of 2021 in completing their Doctor of Veterinary Medicine degree. Commencement was held Friday, May 14, at Bill Snyder Family Stadium and was livestreamed online.
The annual White Coat Ceremony (held Friday May 7) celebrates the transition of third-year veterinary students from their preclinical education to their senior year clinical rotations within the teaching hospital at K-State, the Veterinary Health Center.
Thomas Schermerhorn provided an expert peer review of the 2020 Endocrinology Request for Proposals for the American Kennel Club Canine Health Foundation (CHF). The CHF has awarded more than $60 million in research grants and canine health projects to advance the health of dogs.
Drs. Maria Jugan and Sarah Schneider received $29,815 from the Winn Feline Foundation for their study, "Glucagon-like peptide 2 in cats with inflammatory bowel disease."
Drs. Maria Jugan and Brandon Plattner received $26,470 as a subaward from Ohio State University as part of the Winn Feline Foundation award for their project, "Impact of iron deficiency on short-term response to treatment in cats with inflammatory bowel disease."
Drs. Brad White, David Amrine and Bob Larson received $209,575 from the Foundation for Food and Agriculture Research plus $217,693 third party matching funds for their project, "Development of Bovine respiratory disease predictive models to guide metaphylaxis administration and comparisons with current standards of care in multiple feeding organizations."
Drs. Abbie Viscardi, Mike Kleinhenz and Hans Coetzee received $22,435 in funding from the American Association of Bovine Practitioners for their study, "Evaluating the efficacy of two local anesthetic options to reduce pain in calves after cautery dehorning."
Dr. Sara Gardhouse spoke at the 2021 Student AVMA Symposium regarding "Quality of Life Assessment in Exotics Pets," which led to an article written for the JAVMA News on May 15.
Dr. Megan Niederwerder's research on the pig microbiome was featured in a story in Veterinary Advanatage online: "The Future Of PRRS Defense: A Thriving Microbiome."
On May 15, the Shelter Medicine Community Outreach Vehicle, WOW (Wellness on Wheels), partnered with Community Veterinary Outreach and Street Medicine KC for a One Health Clinic. The target clientele were residents challenged with access to care barriers. The clinic served 16 patients from 14 different clients by providing wellness exams, vaccinations and three spay/neuter surgeries.
Dr. Mike Kleinhenz presented, "Plasma concentrations of eleven cannabinoids in cattle following oral administration of industrial hemp (Cannabis sativa)," at the 2021 Hemp Products & Animal Health Conference at the University of Tennessee on May 19.
The Johnson Cancer Research Center has selected 14 graduate students to receive Cancer Research Awards to support their summer research endeavors. One of these students is Deepa Upreti, doctoral student in physiology, mentored by Dr. Masaaki Tamura, professor of anatomy and physiology. Graduate Cancer Research Awards are made on a competitive basis to provide outstanding graduate students the opportunity to conduct their cancer research and publishing full-time during the summer without the interruption of classes.
Dr. Susan Hettenbach's article, SARS-CoV-2 failure to infect or replicate in mosquitoes: an extreme challenge, was one of the top 100 downloaded papers for Scientific Reports in 2020.
Dr. Kate KuKanich received $20,000 in funding from Boehringer Ingelheim for the 2021 Veterinary Research Scholars Program (VRSP). With matching funds from an NIH T35 grant, the program has received $119,080 in total.
Dr. Sarah Kaufman presented, "Veterinary Dental Case Studies" for the K-State Olathe Careers and Cases in Veterinary Medicine lecture series on April 14.
The K-State Shelter Medicine Program was able to return to the Santee Sioux Reservation for their bi-annual trip on April 16 for a wellness/surgery clinic. They saw over 100 patients for wellness exams/vaccines and performed 50 spay/neuter procedures.
Drs. Shaun Huser, Leslie Weaver and Bryan Weaver provided their services as event veterinarians to the inaugural Aggieville Showdown held on April 17. More than 200 participants competed at the Riley County Fairgrounds with the top competitors showing off their cattle in Aggieville.
Dr. Sue Nelson was interviewed for the April 22 K-State Today article, "K-State veterinarian shares facts to prevent heartworm disease in pets."
April 24 was National Prescription Drug Tack-Back Day. This day provided the community with an opportunity to properly dispose of unused or expired medications. Dr. Kate KuKanich has created a website, https://www.ksvhc.org/med-disposal.html, to provide information on the risks of potential prescription drug abuse as well as the risk for accidental ingestion by children and pets and how to safely dispose of unused or expired medications in Riley County.
The Department of Clinical Sciences has launched a new searchable database for veterinary clinics and fourth-year students to connect for externship experiences. The database allows the veterinary clinics to describe and promote their practices' services and types of educational opportunities for veterinary students and easily update their information. Veterinary students can then search the database to find a clinic that matches with the type of experience they are wanting to gain. Thank you to Kate Drew and the IT group for their hard work on this project!
The Spring 2021 issue of Seek Magazine featured an article on the Shelter Medicine program.
Dr. Brad Crauer, program director, highlighted the mobile surgery unit's mission of "Future Vets Helping Future Pets" and introduced the newest vehicle, Wellness on Wheels (WOW), that will allow the program to address animal welfare and provide medical care in communities, beyond shelters, where the need for veterinary care is substantial.
Dr. Sue Nelson was interviewed by KSNT news for a segment called, "Experts explain how to keep dogs safe at bark parks, doggy daycares." https://www.ksnt.com/news/local-news/experts-explain-how-to-keep-dogs-safe-at-bark-parks-doggy-daycares/amp/
Drs. James Carpenter and Tess Rooney took the Advanced Zoological/Wildlife Medicine elective students to the Rolling Hill's Zoo in Salina where Dr. Danelle Okeson, zoo veterinarian and KSU CVM alumn, provided tours of the veterinary hospital and the captive collection of zoo animals plus a tour of the zoo's natural history museum. The students also helped immobilize, examine and treat a white-nosed coati and received an overview of the care of white rhinos.
Join the College of Veterinary Medicine on LinkedIn and add us to your profile under education and/or employment to help build and engage our online social community! Follow the LinkedIn page here: www.linkedin.com/company/kstatevetmed
New Arrivals/Recent Departures
Lifelines is published each month by the Marketing and Communications Office at the College of Veterinary Medicine. The editors are Joe Montgomery, jmontgom@vet.k-state.edu, and Piper Brandt, pnbrandt@vet.k-state.edu.