March 2021 - Vol. 16, No. 3
Top Stories
Students present research at a safe distance during Phi Zeta Research Day
Phi Zeta Research Day represents an opportunity for the College of Veterinary Medicine community to come together and share the latest research in all fields of basic, applied and clinical sciences. Celebrated March 2, this year's event was offered in a hybrid format, combining in-person attendance with a virtual component. Several attendees, including students and faculty from Manhattan and Olathe campuses, were able to join the sessions remotely.
Veterinary Health Center team collaborates to treat spotted hyena at Sunset Zoo
By Dr. Tess Rooney
Charlie is a 12-year-old, female, intact spotted hyena who lives at the Sunset Zoo with her mate, Nia, a 6-year-old, male, intact spotted hyena. Charlie has lived at the Sunset Zoo since she was 9 months old and spent most of her life with her sister Smilia, who now lives at the Albuquerque BioPark Zoo. Smilia has had two successful sets of cubs of her own.
Shelter Medicine Community Outreach Vehicle makes its maiden voyage
A new vehicle with a special mission has recently returned to the College of Veterinary Medicine at Kansas State University. The Shelter Medicine Community Outreach Vehicle, also called "Wellness on Wheels," or WOW, successfully completed its first trip on March 13 after more than two years of fundraising, design and production.
More Headlines
Researchers find gut microbiome key to respiratory vaccine response in pigs
Dr. Megan Niederwerder, assistant professor of diagnostic medicine and pathobiology in the College of Veterinary Medicine, led a recent study aimed to identify gut microbiome characteristics associated with improved outcome in pigs immunized against porcine reproductive and respiratory syndrome virus, or PRRSV, after co-infection with PRRSV and porcine circovirus type 2, or PCV2.
Online format at KSUCVM sets record for SAVMA Symposium
Although students preferred to meet in person, an online platform allowed wider attendance for the 2021 SAVMA Symposium than might have occurred otherwise. Held March 13-15, Kansas State University's chapter of the Student American Veterinary Medical Association (SAVMA) served as hosts for the annual meeting of this national organization for veterinary students.
K-State researchers publish series of physiologically-based pharmacokinetic model manuscripts for perfluorooctane sulfonate
By Cheyenne Swoope
A team of researchers at Kansas State University focuses on applying computational modeling technologies to address food safety, toxicology and risk assessment issues. They develop and apply innovative physiologically based pharmacokinetic (PBPK) models to assess exposure to drugs, environmental chemicals or nanomaterials in the target tissue in laboratory animals, food-producing animals, companion animals and/or humans.
K-State veterinarian has tips for keeping pets safe from household dangers
By Piper Brandt
Certain everyday household items can pose a threat to pets' health, says Dr. Susan Nelson, clinical professor at the Kansas State University College of Veterinary Medicine. Here are some items and situations pets owners can watch for.
Regular features
Alumni Events, Development and Continuing Education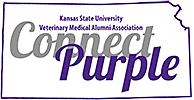 The Veterinary Medical Alumni Association organizes alumni receptions at several of the national annual conferences plus continuing education events and more. This month's section includes the monthly listings of recently departed alumni and links to their obituaries, plus a new link for submitting nominations for Alumni Recognition Awards.
News Ticker
More activities and accomplishments in the College of Veterinary Medicine:

Congratulations to Dr. Neala Boyer for earning the Elite Fear Free Certification. The status of Elite Fear Free Certified Professional is the designation for the most experienced members. Dr. Boyer also presented a lecture, "When Separation Causes Anxiety: A Discussion of Fear and Phobia in Dogs and Cats," for the K-State Olathe Careers and Cases in Veterinary Medicine lecture series on Feb. 10.
Dr. James Roush was a contributing author with Karen Marin, Marcos D. Unis and Jason E Horgan on the publication, "Risk factors for short-term postoperative complications in the 8 weeks after tibial plateau leveling osteotomy in dogs weighing less than 15 kilograms: A retrospective study," that was published in the Feb. 25 PLOS ONE.
Dr. Leslie Weaver (Wagner) was a contributing author with Melanie Boileau and Jared D. Taylor on the publication, "Evaluation of the accuracy of an electronic point-of-care analyzer to quantify blood creatine concentration in goats," that was published in the Journal of Veterinary Internal Medicine. She was also the lead author with Melanie Boileau, Lyndi Gilliam and Jared D. Taylor on the publication, "Characterization of short- and long-term morbidity and mortality of goat kids born to does with pregnancy toxemia," in the Journal of Veterinary Internal Medicine.
Drs. Kate KuKanich, Kallie Woodruff, Zackery Bieberly, Mark G. Papich and Butch KuKanich published, "Evaluation of urine concentrations of amoxicillin and clavulanate in cats," in the Journal of Veterinary Internal Medicine.
We have expanded our social channels!
Join the College of Veterinary Medicine on LinkedIn and add us to your profile under education and/or employment to help build and engage our online social community! Follow the LinkedIn page here: www.linkedin.com/company/kstatevetmed
New Arrivals/Recent Departures
Lifelines is published each month by the Marketing and Communications Office at the College of Veterinary Medicine. The editors are Joe Montgomery, jmontgom@vet.k-state.edu, and Piper Brandt, pnbrandt@vet.k-state.edu.