December 2020 - Vol. 15, No. 12
Top Stories
K-State and Hill's combine strengths to end pet obesity
A partnership between the College of Veterinary Medicine at Kansas State University and Hill's Pet Nutrition is providing new resources and facilities that will enhance medical and nutritional care for pets. The Veterinary Health Center serves as the college's teaching hospital and will benefit from a major renovation made possible through the partnership.
College of Veterinary Medicine presents annual teaching awards
Three faculty members have been recognized for preclinical teaching excellence in the College of Veterinary Medicine at Kansas State University. Drs. Zsolt Szladovits, Brad Njaa and Kenneth Harkin were each named as the respective top teachers for the first, second and third years of instruction, as voted on by each respective class of students for their teaching efforts in the 2019-2020 school year.
AAVMC selects Dr. Juergen Richt for annual research award
The Association of American Veterinary Medical Colleges (AAVMC) has announced the recipients of for its annual awards that recognize professional excellence, achievement and service in academic veterinary medicine. Among these awards was the 2021 AAVMC Excellence in Research Award, being presented to Dr. Juergen Richt from the Kansas State University College of Veterinary Medicine.
More Headlines
Recent veterinary graduate creates fund to support student parents
By Cheyenne Swoope
A new fund in the Kansas State University College of Veterinary Medicine will support veterinary students who are also parents. The fund, in alignment with the missions of the college, is committed to creating an environment for students that ensures good communication, productive collaboration, mutual respect, diversity, integrity and honesty.
Shelter medicine program performs its 25,000th surgical procedure in Wichita
The numbers keep adding up and veterinary students continue to gain valuable, hands-on surgical experience with Kansas State University's Shelter Medicine Mobile Surgery Unit. In October, the program recorded its 25,000th spay/neuter procedure on a patient named "Cat No. 3" from Willow Colony.
Master of Public Health program launches online option for prospective students
Kansas State University's Master of Public Health program, working in conjunction with K-State Online, is offering a new online degree option. The new online Master of Public Health is made up of faculty from 12 departments in five colleges. This interdisciplinary program is designed for individuals currently employed in or anticipating a career in public health.
Dr. Stephen
Higgs
receives prestigious international award for achievements in medical entomology
Dr. Stephen Higgs, Kansas State University associate vice president for research, director of the Biosecurity Research Institute and University Distinguished Professor of Diagnostic Medicine and Pathobiology, is the 2020 recipient of the Harry Hoogstraal Medal for Outstanding Achievement in Medical Entomology. 
K-State beef experts offer advice on optimizing body condition scores in the herd before calving
By Lisa Moser
In the midst of the holiday season and the increased access to sweets, many people may be observing a less than ideal change in their personal body conditions. While people may strive for a skinnier physique, holding a thin body condition over the winter may create deficits for cattle heading into calving season, said the experts at Kansas State University's Beef Cattle Institute on a recent Cattle Chat podcast.
Regular features
Alumni Events, Development and Continuing Education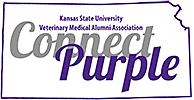 The Veterinary Medical Alumni Association organizes alumni receptions at several of the national annual conferences plus continuing education events and more. This month's section includes the monthly listings of recently departed alumni and links to their obituaries, plus a new link for submitting nominations for Alumni Recognition Awards.
News Ticker
More activities and accomplishments in the College of Veterinary Medicine:

The K-State Mobile Surgery Unit was dressed up for its apperance in Manhattan's annual lighted holiday parade.
Dr. Kate KuKanich presented a lecture, "Crisis in a Cocker Spaniel," for the K-State Olathe Careers and Cases in Veterinary Medicine lecture series on Oct. 14.
Dr. Raghavendra Amachawadi was honored by Kanas State University's Office of International Programs during International Education Week for his collaboration with colleagues in India, which led to publication in PLOS ONE. Dr. Amachawadi was recognized at the IEW Awards Ceremony on Nov. 19.
Dr. Kate KuKanich was interviewed for the Oct. 22 edition of K-State Today. The article, "Safe and timely drug disposal important to keeps kids, pets safe during COVID-19," stressed the importance of removing all unused medications from your household and highlighted the Drug Enforcement Administration's National Prescription Drug Take-Back Day that was held on Saturday, Oct. 24 in Riley County.
Dr. Maria Jugan provided a presentation, "Gastrointestinal Microbiome: What is it and how does it relate to GI disease?" for the Hill's Fall Virtual Continuing Education Series on Oct. 27, 2020.
Dr. Brad Crauer and Ron Orchard, third-year student and RVT, presented talks during for, "Creating a Community Cat Program in Manhattan, KS" on Oct. 28, 2020. The online Zoom event was organized to inform the Manhattan community about the importance of trap-neuter-return and how to start a community cat program.
Drs. James W. Carpenter, Tess Rooney and Butch KuKanich received a $20,843 gift from Canna Companion, Mill Creek, Washington, thru the KSU Foundation to support a study on the "Pharmacokinetics of cannabidiol administered orally in the rabbit (Oryctolagus cuniculus)."
Dr. Brad Crauer and Dr. Brooke Davis, shelter intern, provided two hours of CE to the Kansas Department of Agriculture's Animal Facilities Inspection Program. Topics covered included the basics of epidemiology: disease prevention and outbreak response, Common Canine Infectious Diseases: Canine Distemper Virus, Canine Parvovirus, Rabies and Brucellosis. We are very proud of the relationship the K-State Shelter Medicine Program has with the KDA.
Dr. Megan Niederwerder was an invited speaker for Dr. John Clifford's webinar series on feed as a fomite for pathogens presented by Anitox, Feed Strategy, and WATT Global Media. Her webinar "Risk and mitigation of African swine fever in feed" was livestreamed on Oct. 27 to an international audience. She was also a speaker at the Iowa State University James D. McKean Swine Disease Conference in Ames, Iowa, on Nov. 5. The title of her talk was "Reducing Risk of ASFV in Feed."
Pharmacy Technician/Compounding Manager, Molly Carstenson, BS CPhT, TPV, CSPT has received a passing score on her national Hazardous Drug Management Certification! We are excited to have her credentialed in this area, as it enhances her knowledge of defined guidelines and requirements for managing hazardous drugs and demonstrates her ability to play a vital role in helping ensure safety of dispensary personnel.
For K-State Alumni Association members, be sure to check out the story, "Keep Populations healthy in a pandemic" in the Winter 2020 issue of the K-Stater magazine. The story features alumni and members from the K-State Master of Public Health (MPH) program: Jonathan Yang '17, Chelsea Stephens Rayburn '09 & '011, Rebecca Megee '14 & '16, current MPH students Dr. Erin Petro and Jenny Masculine; and MPH program director Dr. Ellyn Mulcahy. Each person addresses different aspects of how they, as public health professionals, have played a role in responding to the COVID-19 pandemic. The story begins on Page 28 and is available at this link (for K-State Alumni Association members only): https://www.k-state.com/membership/kstatermagazine/
A Day in the Life of a K-State Veterinarian

Have you ever wondered what it's like in the day in the life of a veterinarian? In a new series of videos, you can get an inside look at the many different ways clinicians treat animals and help clients. Follow along with Dr. Chris Blevins, Equine Field Service Veterinarian for the Veterinary Health Center at Kansas State University!
We have expanded our social channels!
Join the College of Veterinary Medicine on LinkedIn and add us to your profile under education and/or employment to help build and engage our online social community! Follow the LinkedIn page here: www.linkedin.com/company/kstatevetmed
New Arrivals/Recent Departures
Lifelines is published each month by the Marketing and Communications Office at the College of Veterinary Medicine. The editors are Joe Montgomery,
jmontgom@vet.k-state.edu, and Piper Brandt, pnbrandt@vet.k-state.edu.