November 2020 - Vol. 15, No. 11
Top Stories
Boehringer Ingelheim and Kansas State University join forces to invest in the future of veterinary medicine
Boehringer Ingelheim, a leading provider of animal health products, announced a strategic collaboration with Kansas State University's College of Veterinary Medicine that will support a strong pipeline of highly skilled veterinarians and continued innovation in the heart of the Kansas City Animal Health Corridor.
Two recently published studies from Kansas State University researchers and collaborators have led to two important findings related to the COVID-19 pandemic: Domestic cats can be asymptomatic carriers of SARS-CoV-2, but pigs are unlikely to be significant carriers of the virus. SARS-CoV-2 is the coronavirus responsible for COVID-19.
By Piper Brandt
Three fourth-year veterinary students, Abby Ostronic, Kathryn Ryan and Bailey Wright, have received the Lou and Norma Jane Ball Scholarship. The scholarship is designated for students who are in the top 10 percent of their class, have an interest in small animal medicine and surgery and have an excellent chance of being accepted into a residency program at a renowned institution.
More Headlines
By Piper Brandt
Kansas State University and University of Minnesota researchers are collaborating with the Food and Drug Administration's Center for Veterinary Medicine and food animal industries to evaluate systems for collecting and evaluating antimicrobial use data in food animal production, including U.S. beef feedlot, dairy, swine, turkey and chicken production settings. The project is largely funded by the Center for Veterinary Medicine.
As our pets get older, they are at greater risk for certain diseases, especially caner. One in four dogs and one in five cats will develop some form of cancer in their lifetime with cancer being the most common cause of disease-related death in older animals. Do you know what the warning signs are for cancer in pets? Do you which types of cancer are more common in cats and dogs?
K-State beef experts offer ways to measure genetic success at sale time
By Lisa Moser
Experts at the Beef Cattle Institute say an animal's performance at sale time is often considered the test for the outcome of breeding decisions, but it is only a small consideration in measuring genetic success. Dr. Brad White, veterinarian and BCI director, laid out the following scenario to kick off a recent Cattle Chat podcast about evaluating the success of the breeding program.
Regular features
Alumni Events, Development and Continuing Education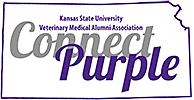 The Veterinary Medical Alumni Association organizes alumni receptions at several of the national annual conferences plus continuing education events and more. This month's section includes the monthly listings of recently departed alumni and links to their obituaries, plus a new link for submitting nominations for Alumni Recognition Awards.
News Ticker
More activities and accomplishments in the College of Veterinary Medicine:
CVM presents teaching awards - special preview

A quick congratulations to Drs. Zsolt Szladovits, Brad Njaa and Ken Harkin on being selected for the Fall 2020 Teaching Awards. Watch for a full write-up in the December issue of Lifelines. You can watch the official award ceremony, held Nov. 19, which was broadcast live on Facebook: https://www.facebook.com/watch/live/?v=197875885247759&ref=watch_permalink
Dr. Kate KuKanich presented a lecture, "Crisis in a Cocker Spaniel," for the K-State Olathe Careers and Cases in Veterinary Medicine lecture series on Oct. 14.
Dr. Taryn Pestalozzi, nutrition intern, was interviewed for the Oct. 14 edition of K-State Today in an article titled, "Kansas State University veterinarian has tips for preventing pet obesity." https://www.k-state.edu/today/announcement/?id=69361
Dr. Kate KuKanich was interviewed for the Oct. 22 edition of K-State Today. The article, "Safe and timely drug disposal important to keeps kids, pets safe during COVID-19," stressed the importance of removing all unused medications from your household and highlighted the Drug Enforcement Administration's National Prescription Drug Take-Back Day that was held on Saturday, Oct. 24 in Riley County. https://www.k-state.edu/today/announcement/?id=69731
Dr. Maria Jugan provided a presentation, "Gastrointestinal Microbiome: What is it and how does it relate to GI disease?" for the Hill's Fall Virtual Continuing Education Series on Oct. 27, 2020.
Dr. Brad Crauer and Ron Orchard, third-year student and RVT, presented talks during for, "Creating a Community Cat Program in Manhattan, KS" on Oct. 28, 2020. The online Zoom event was organized to inform the Manhattan community about the importance of trap-neuter-return and how to start a community cat program.
Dr. Sue Nelson was interviewed for the Oct. 29 edition of K-State Today in an article, "K-State vet shares tips to make Halloween a treat for furry friends." https://www.k-state.edu/media/newsreleases/2020-10/halloween-pet-safety102920.html
Drs. James W. Carpenter, Tess Rooney and Butch KuKanich received a $20,843 gift from Canna Companion, Mill Creek, WA, thru the KSU Foundation to support a study on the "Pharmacokinetics of cannabidiol administered orally in the rabbit (Oryctolagus cuniculus)."
Dr. Brad Crauer and Dr. Brooke Davis, shelter intern, provided two hours of CE to the Kansas Department of Agriculture's Animal Facilities Inspection Program. Topics covered included the basics of epidemiology: disease prevention and outbreak response, Common Canine Infectious Diseases: Canine Distemper Virus, Canine Parvovirus, Rabies and Brucellosis. We are very proud of the relationship the K-State Shelter Medicine Program has with the KDA.
Dr. Megan Niederwerder was an invited speaker for Dr. John Clifford's webinar series on feed as a fomite for pathogens presented by Anitox, Feed Strategy, and WATT Global Media. Her webinar "Risk and mitigation of African swine fever in feed" was livestreamed on Oct. 27th to an international audience. She was also a speaker at the Iowa State University James D. McKean Swine Disease Conference in Ames, Iowa, on Nov. 5. The title of her talk was "Reducing Risk of ASFV in Feed."
Dr. Raghavendra Amachawadi was honored by Kanas State University's Office of International Programs during International Education Week for his collaboration with colleagues in India, which led to publication in PLOS ONE. Dr. Amachawadi was recognized at the IEW Awards Ceremony on Nov. 19.
Pharmacy Technician/Compounding Manager, Molly Carstenson, BS CPhT, TPV, CSPT has received a passing score on her national Hazardous Drug Management Certification! We are excited to have her credentialed in this area, as it enhances her knowledge of defined guidelines and requirements for managing hazardous drugs and demonstrates her ability to play a vital role in helping ensure safety of dispensary personnel.
Third-year student selected for veterinary student loan program

Third-year student Sydney Bigger is one of two national recipient for the Illinois Farm Bureau's Illinois Veterinary Education and Training program.
Illinois Farm Bureau is lending support to the next generation of veterinary professionals through its Illinois Veterinary Education and Training program.
IFB recently selected third-year K-State veterinary student Sydney Bigger, along with Mackenzie Michels at the University of Illinois, as its two IVET recipients for 2020.
"IVET helps reduce part of the financial burden of veterinary school and makes the decision to move back home upon completion of my degree even easier," said Bigger, who grew up in Henderson County and is a third-year vet student.The IVET Program helps offset the high cost of veterinary education. The program loans up to $40,000 to as many as three veterinary students each year.
Loans are made for a period of two to three years. IVET awards recipients a $1,500 stipend during their fourth year in school to help pay expenses associated with clinical rotations.
The loans are repaid over five years, during which time graduates must commit to working in a food animal practice that services Illinois livestock producers.
"Illinois Farm Bureau encourages veterinary students to pursue a career in caring for food animals," said Tasha Bunting, IFB associate director of commodities and livestock programs.
"To succeed, farmers need the services of a food animal veterinarian to help them care for their beef cattle, swine, sheep and poultry. It's an opportunity to help bring a calf into the world and share in the love that farmers have in caring for their animals."
IFB established IVET in 2005. Since then, the organization has awarded more than $430,000 to 24 veterinary students who focus on caring for food animals in Illinois.
For more information about the program, visit www.ilfb.org/IVET.
A Day in the Life of a K-State Veterinarian

Have you ever wondered what it's like in the day in the life of a veterinarian? In a new series of videos, you can get an inside look at the many different ways clinicians treat animals and help clients. Follow along with Dr. James Carpenter and Dr. David Eshar, Exotic Animal Clinicians for the Veterinary Health Center at Kansas State University!
New Arrivals/Recent Departures
Lifelines is published each month by the Marketing and Communications Office at the College of Veterinary Medicine. The editors are Joe Montgomery, jmontgom@vet.k-state.edu, and Piper Brandt, pnbrandt@vet.k-state.edu.