August 2020 - Vol. 15, No. 8
Top Stories
CVM appoints Dr. Mike Sanderson as new W.S. and E.C. Jones Chair of Clinical Epidemiology
An analysis of data has led the Kansas State University College of Veterinary Medicine to select Mike Sanderson as the newest holder of the W.S. and E.C Jones Departmental Chair of Clinical Epidemiology. "I grew up around beef cattle and always enjoyed the production system," Dr. Sanderson said.
Second-year student to conduct mentored anaplasmosis research with national fellowship
Lauren Herd, from Wichita, a second-year veterinary student at Kansas State University, is one of 12 students selected nationally for a Veterinary Student Research Fellowship to Address Global Challenges in Food and Agriculture.
Historical research collaboration puts cute squirrel on journal cover
While it looks relatively harmless – and cute – international trade involving the five-striped palm squirrel has led to some very undesirable problems. New research in the Kansas State University College of Veterinary Medicine is helping to put this species of squirrel on the map, so to speak, and on the cover of the latest issue of the Journal of the American Association for Laboratory Animal Science.
More Headlines
USDA-NIFA grant supports research to control respiratory disease in young swine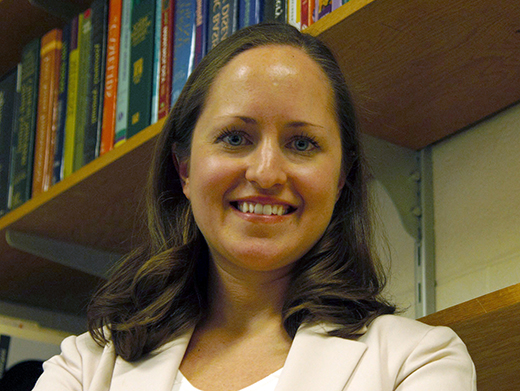 A new $500,000 grant will help Dr. Megan Niederwerder look for ways to control one of the most important viral agents in pigs: porcine reproductive and respiratory syndrome virus. She is the project director on the three-year grant from the U.S. Department of Agriculture National Institute of Food and Agriculture.
New published study from CVM virologists identifies potential COVID-19 treatments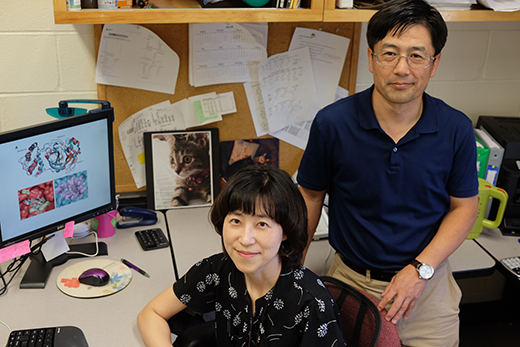 Drs. Yunjeong Kim and Kyeong-Ok "KC" Chang, virologists in the CVM, have published a study showing a possible therapeutic treatment for COVID-19. Pathogenic coronaviruses are a major threat to global public health, as shown by severe acute respiratory syndrome coronavirus, or SARS-CoV; Middle East respiratory syndrome coronavirus, known as MERS-CoV; and the newly emerged SARS-CoV-2, the virus that causes COVID-19 infection.
Determining record keeping priorities
K-State beef cattle experts advocate for data as a valuable decision-making tool
Humans consume data daily, from knowing the latest COVID-19 counts to learning which baseball pitcher threw the most strikeouts from the mound. In sports, that data can determine which player gets called up to play. Likewise, data can also help beef producers decide which cows to keep or cull.
Regular features
Alumni Events, Development and Continuing Education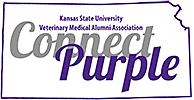 The Veterinary Medical Alumni Association organizes alumni receptions at several of the national annual conferences plus continuing education events and more. This month's section includes the monthly listings of recently departed alumni and links to their obituaries, plus a new link for submitting nominations for Alumni Recognition Awards.
News Ticker
More activities and accomplishments in the College of Veterinary Medicine:

On Aug. 14, the Association of Avian Veterinarians and staff of the Journal of Avian Medicine and Surgery surprised Dr. James Carpenter with a Zoom recognition event. The ceremony was originally planned for the September Annual Conference in Denver to acknowledge Dr. Carpenter's 26 years as editor-in-chief of the journal; but the event had to be canceled due to COVID-19. Dr. Carpenter said, "It was an amazing meeting and a humbling experience…and was quite an honor." The award/sculpture was created by Dr. Rich Nye (an exotic/avian veterinarian) and features two whooping crane (Dr. Carpenter's favorite species) eggs sitting on a mound. One of the eggs is beginning to hatch (detail is shown in the inset image above). The eggs were made from a cherry burl and the mound is a piece of Australian Gimlet burl. The piece is titled, "A New Life Begins," and signifies Dr. Carpenter's move from one passion, birds, to the next one in his life.
Drs. Hannah Turner, David Biller, J. Sago and Ken Harkin published, "Use of radiographs, ultrasound and computed tomography for diagnosis of a meningomyelocele in a dog" in the Journal of Small Animal Practice.
Drs. Matthew DiFazio, Justin Thomason, Natalia Cernicchiaro, David Biller, Sasha Thomason and Paxton Harness published, "Evaluation of a 3-dimensional ultrasound device for noninvasive measurement of urinary bladder volume in dogs," in the Journal of Veterinary Internal Medicine.
Dr. Raghavendra Amachawadi was a contributing author on the publications, "Tumoricidal Potential of Novel Amino-1, 10-phenanthroline Derived Imine Ligands; Chemical Preparation, Structure, and Biological Investigations," in the MDPI' "Coronavirus (COVID-19) forecasting in India: Application of ARIMA and periodic regression models," in the International Journal of Advanced Scientific Research; and "Indole moiety induced biological potency in pseudo-peptides derived from 2-amino-2-(1H-indole-2-yl) based acetamides: Chemical synthesis, in vitro anticancer activity and theoretical studies," in the Journal of Molecular Structure.

Congratulations to Dr. Kate KuKanich and the Veterinary Research Scholars Program (VRSP) students! From left to right (back row): Zack Bieberly, Maddie Butterfield, Jayden McCall, Cierra Roubicek and Zixuan Wang. Middle row: Laura Favreau, Lauren Herd, Martha (MJ) Wenger and Breanna Fox. Front row: Alex Zabiegala, Payton Wise, Marissa Komp and Molly Allison. (Not pictured: Shanice Harris and Ariel Carruth.) The program was able to continue this summer to provide these 15 veterinary students with impactful research projects mentored by faculty within the CVM and across campus. The students presented their research at a Poster Session on July 28. The students also presented at the virtual National Symposium in August.
Congratulations also goes to Dr. Kate KuKanich for receiving five more years of funding for the "This is How We ROLE" program! The program teaches veterinary STEM lessons to K-4 elementary students that are educationally disadvantaged due to socioeconomic status, race or ethnicity that do not have other opportunities in STEM and hope to become future veterinarians.
The Kansas State University Veterinary Health Center Dispensary announces it has another technician who has been certified in Technician Product Verification (TPV), which brings our total number up to three employees with this certification! Reagan Johnson, CPhT (Pharmacy Technician) passed her national exam for this credential! The TPV Certificate demonstrates skill in safeguarding patients from dispensing errors and expresses commitment to excellence as pharmacy technicians. "We are elated to be able to bring this level of training, service and safety to our patients," said Landa Colvin-Marion, director of the dispensary. "Reagan completed a 15-hour training program, which is a requirement to be eligible to sit for the national examination."

Congrats to Hayley on her work at the Junction City/Geary County Animal Shelter!
Welcome Class of 2024
Dean Bonnie Rush welcomes the class of 2024 in the college's new auditorium. Students are being asked to wear masks and maintain social distancing while attending classes in person, along with other measures to help mitigate potential spread of COVID-19.
We have expanded our social channels! Join the College of Veterinary Medicine on LinkedIn and add us to your profile under education and/or employment to help build and engage our online social community! Follow the LinkedIn page here: www.linkedin.com/company/kstatevetmed
New Arrivals/Recent Departures
Lifelines is published each month by the Marketing and Communications Office at the College of Veterinary Medicine. The editor is Joe Montgomery, jmontgom@vet.k-state.edu.