June 2020 - Vol. 15, No. 6
Top Stories
Research team receives $11.3 million grant to establish infectious disease research center
The National Institutes of Health is awarding a Kansas State University-led team of veterinary researchers with a prestigious five-year, $11.3 million grant under the Centers of Biomedical Research Excellence, or COBRE, program to establish a new Center on Emerging and Zoonotic Infectious Diseases, or CEZID.
Dr. Roman Ganta to use $3 million-plus NIH grant to develop vaccines for several tick-borne diseases
Dr. Roman Ganta, director of the CVM's Center of Excellence for Vector-Borne Diseases, has received a $3.125 million grant from the National Institutes of Health to continue his longtime work on tick-borne diseases.This is the second major highly competitive NIH R01 grant secured by Dr. Ganta within a year.
CVM goes live on Facebook to recognize faculty nominees for the Zoetis Distinguished Veterinary Teacher Award

Good things come to those who wait. While focusing on critical missions at the CVM this spring due to concerns over COVID-19, the annual senior honors banquet had to be postponed. Usually the Zoetis Distinguished Veterinary Teacher Award is presented at this banquet, but because of the delay and the need for social distancing, the CVM decided to present the award in a very unique way.
More Headlines
Dr. Jeff Comer's CAREER grant a first for College of Veterinary Medicine
A Kansas State University researcher is the first in the College of Veterinary Medicine to receive a CAREER award from the National Science Foundation. Dr. Jeff Comer, associate professor of anatomy and physiology, has received a $450,513 award from the NSF Faculty Early Career Development, or CAREER, Program.
Vet Med ROCKS to host virtual summer camp for youth
Due to the COVID-19 pandemic, the Vet Met ROCKS summer day camp will take place in a virtual format this year — and it's free of charge.
"We hope to still interact with campers through Facebook Live and present information on interesting topics, assign tasks to campers and allow campers to ask questions and upload photos of their projects for camp counselors to evaluate," said Michael Demmin, a third-year veterinary student and summer camp chair for Vet Med ROCKS, the Recruitment and Outreach Club of Kansas State, in the College of Veterinary Medicine.
From Aug. 3-6, students in kindergarten through the eighth grade will have the opportunity to learn about a different system/organ every day. Participants will get to enjoy fun hands-on activities using household items to enhance learning about each day's topic. Each day will end with a live Q&A session where campers can ask questions to current K-State veterinary students about the daily topic or veterinary school.
On Aug. 7, the club will host a virtual rounds session for high school and college students where clinicians will run through clinical cases. A Q&A session will also be conducted by admissions representatives and current students to get details of how to get into veterinary school and life as a vet student.
Preregister at vet.k-state.edu/asp/rocks/ and follow the Vet Med ROCKS Facebook page for updates.
Veterinary Health Center/Clinical Sciences recognize faculty and house officers
Similar to the situation with the Zoetis Teaching Award, the Veterinary Health Center and Clinical Sciences department made delayed presentations of the annual Pet Tribute Awards and Mentoring Awards. Presentations were made in early June rather than in May, since the annual honors banquet had to be canceled. Awards were presented in limited gatherings on separate occasions.
SORT Steps Up to Help with COVID-19 Efforts in Riley County
By Cheyenne Swoope
With the impact of COVID-19 on the United States, Kansas and Riley County, everyday life has been significantly impacted on many levels. Classes and extracurricular activities have been cancelled, postponed or moved to an online format, giving many students more time outside of classes.
K-State beef cattle experts share tips for treating calves
Spring branding and processing day is often a time when community members and families join together to administer vaccinations, castrate, implant calves and apply hide identification before summer pasture turnout.
Attention dog owners: Veterinary Health Center looking for K9 blood donors
By Brooke Neiberger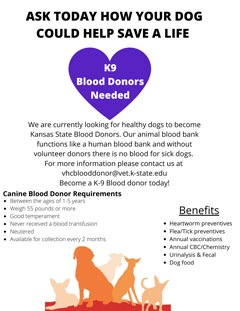 The K-State Veterinary Health Center is looking for volunteer K9 blood donors. Just like people, dogs have diseases or injuries that require blood transfusions. Many of our canine patients receive transfusions; the dogs enrolled in the Canine Blood Donor Program provide the blood products for them. The demand for blood products for our patients increases every year.
Regulatory requirements for animal drugs and vaccines are topics of upcoming workshops
Three professional development workshops about regulatory affairs in animal health are being offered this fall by Kansas State University's Olathe campus. Workshops cover the regulatory aspects of animal drug and vaccine development, with options for introductory and advanced courses.
Regular features
Alumni Events, Development and Continuing Education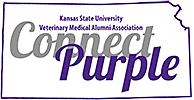 The Veterinary Medical Alumni Association organizes alumni receptions at several of the national annual conferences plus continuing education events and more. This month's section includes the monthly listings of recently departed alumni and links to their obituaries, plus a new link for submitting nominations for Alumni Recognition Awards.

The Clinical Nutrition Symposium for Small Animal Veterinarians, sponsored by Hill's Pet Nutrition, is now available online for free! To access the video, register with Continuing Education Online: http://vet.ksu.edu/onlinece/index.aspx. The symposium can be found under the Small Animal icon.
News Ticker
More activities and accomplishments in the College of Veterinary Medicine:
Drs. Kate KuKanich, Greg Grauer, Christopher George and James Roush published, "Effects of low-dose meloxicam in cats with chronic kidney disease" in the Journal of Feline Medicine and Surgery.
Dr. Chieko Azuma (Co-Investigator) with Dr. Masaaki Tamura (PI), Jeffery Comer (Co-Inv), Brian Geisbrecht (Co-Inv) were awarded $20,700 from the Johnson Cancer Research Center through the Innovative Research Award for their project, "Cancer-targeted dendritic cell-based immunotherapy with PD-L1 inhibitory peptide for the treatment of lung cancer."
Congratulations! The awards for the Best House Officer Seminar by an Intern or Resident went to:
Dr. Tess Rooney for her presentation, "Comparing dromedary camel seroprevalence to Coxiella burnetii with C. burnetii DNA in ticks collected from camels in Laikipia, Kenya"
Dr. Clay Hallman for his presentation, "ECG-gated 64-slice computed tomography of coronary artery morphology in brachycephalic dogs with pulmonic stenosis"
Several Clinical Sciences members presented at the 82nd Annual Conference for Veterinarians that was held remotely on May 31 – June 1.
Dr. Warren Beard – "Analgesia and Standing Chemical Restrain in Horses"
Dr. Chris Blevins – Pre-recorded presentation, "Standing oral Procedures"
Dr. Maria Jugan – "A How-To Guide: A Case-Based Approach to Utilization of Feeding Tubes in Small Animal Patients" and a pre-recorded presentation, "A How-To Guide: Placement and Management of Nasogastric and Esophageal Feeding Tubes in Small Animal Patients"
Dr. Jessica Meekins - "Feline Uveitis: Ocular Manifestations of Systemic Disease in the Midwestern United States"
Dr. Matt Miesner – "Field Anesthesia and Surgery Techniques – Food Animal"
Dr. Jordan Roberts – Pre-recorded presentation, "Recognizing and Treating Corneal Ulcers in Horses"
Dr. Leslie Wagner – Pre-recorded presentation, "An update on pregnancy toxemia in small ruminants"
Dr. Will Whitehouse – "Management of Hypertension in Dogs and Cats" and a pre-recorded presentation, "Update on Proteinuria in Dogs and Cats"
Dr. Doug Winter – "Pediatric Dentistry" and a pre-recorded presentation, "Feline Oral Pathology"
Dr. Raelene Wouda – "The Emergence of Atypical and Indolent Lymphomas in Dogs" and a pre-recorded presentation, "Immunotherapy for Veterinary Cancer Patients"

Dr. Callie Rost and Dave Hoffman conducted a Virtual Admissions Town Hall event live in June on the KSUCVM Facebook page. Their goal was to connect with prospective students and answer questions about how to prepare and apply for veterinary college.

We have expanded our social channels!
Join the College of Veterinary Medicine on LinkedIn and add us to your profile under education and/or employment to help build and engage our online social community! Follow the LinkedIn page here: www.linkedin.com/company/kstatevetmed
New Arrivals/Recent Departures
Lifelines is published each month by the Marketing and Communications Office at the College of Veterinary Medicine. The editor is Joe Montgomery, jmontgom@vet.k-state.edu.