May 2020 - Vol. 15, No. 5
Top Stories
College celebrates 2020 graduates and new fourth-year students with virtual ceremonies
Due to circumstances in response to COVID-19, large gatherings were suspended and/or canceled in the state of Kansas this spring. This impacted in-person commencement exercises at Kansas State University. While some of the university's graduation exercises were being postponed, the CVM decided instead to schedule "virtual" ceremonies, which were held in May.
Veterinary faculty target new ways to confront
COVID-19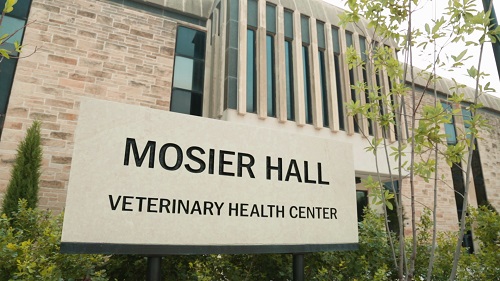 Scientific work continues in the College of Veterinary Medicine at Kansas State University to better understand and confront the virus that causes the COVID-19 disease. Faculty, staff, students and postdocs in the college are utilizing their respective areas of expertise to explore different aspects of the novel coronavirus, which reached pandemic levels this spring.
National veterinary student association recognizes
Dr. Kate KuKanich for outreach efforts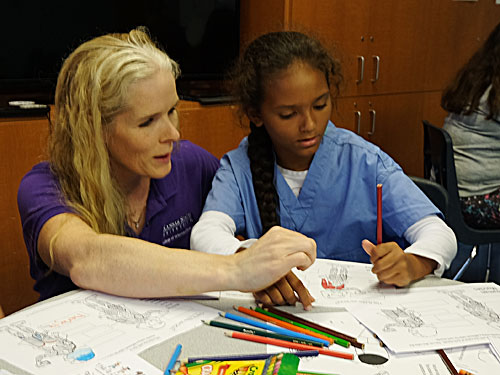 This spring, while unable to have its annual in-person symposium as scheduled at Cornell, the Student American Veterinary Medical Association gathered online using Zoom, a virtual meeting platform, to conduct Student AVMA–related business and elections. The organization also recognized several national faculty members for their work.
More Headlines
Student joins search for reliable test to confirm marijuana exposure in dogs
Alyson Fitzgerald, fourth-year veterinary student and toxicology student worker, spent the past year collecting blood and urine samples from dogs exposed to marijuana at the Veterinary Health Center at Kansas State University, as well as other veterinary hospitals and colleges across the country.
Register for Annual Conference for Veterinarians
Due to concerns with COVID-19 the novel coronavirus, this year's Annual Conference will be held remotely. We recognize that this is a vastly different experience from previous years, but we hope that you will explore this new learning environment for 2020!

Due to the nature of remote learning, we will offer 5 hours of CE on May 31 and 5 hours of CE on June 1. Continue to check our website, for additional information as it becomes available. 10 hours of CE will be offered during the conference. You will also receive access to additional lectures for free for the months of June and July 2020.

Registration for Annual Conference is now open! Click here to register today. Please stay tuned for details on class reunions!
Student receives American Veterinary Medical Foundation scholarship
MaRyka Smith, second-year veterinary student, Hoyt, was chosen as Kansas State University's recipient of the Auxiliary to the AVMA Legacy Endowed Scholarship. The $1,000 scholarships are awarded to students at each of the 32 American Veterinary Medical Association-accredited veterinary colleges in the United States, the Atlantic Veterinary College in Canada and St. George's University and Ross University in the Caribbean to support their educational endeavors.
Dr. Roman Ganta tours India to build international partnerships
By Piper Brandt
Dr. Roman Ganta, director of the Center of Excellence for Vector-Borne Diseases, visited his home country of India in late February to early March to build partnerships and present research at three conferences and his alma mater. Dr. Ganta's first stop was BioSangam, a conference aimed at promoting innovation in biotechnology to motivate young researchers, held in Prayagraj.
Dr. Susan Nelson shares tips for a bite-free quarantine
By Cheyenne Swoope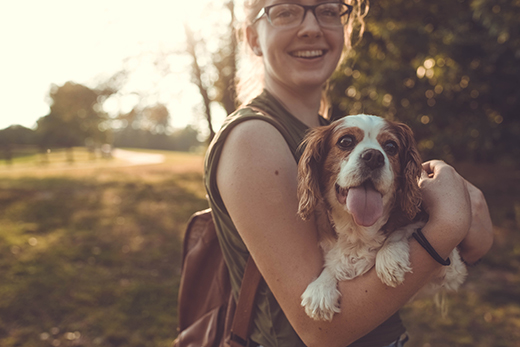 A lot of pets and pet owners have been spending more time together because of COVID-19. But while the extra time together can be fun for both pets and their owners, a Kansas State University veterinarian says that it also can be a stressful time for dogs that results in unusual behavior, including biting.
Fourth-year student's externship in Nepal cut short by COVID-19
By Dr. Sara Wilkes

During the summer of 2018, I traveled to Kathmandu, Nepal to spend a month working with the Kathmandu Animal Treatment (KAT) Centre. That trip united my love of veterinary outreach and international travel, as well as encouraging my interest in animal welfare and forensic investigation.
Regular features
Alumni Events, Development and Continuing Education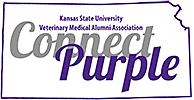 The Veterinary Medical Alumni Association organizes alumni receptions at several of the national annual conferences plus continuing education events and more. This month's section includes the monthly listings of recently departed alumni and links to their obituaries, plus a new link for submitting nominations for Alumni Recognition Awards.

The Clinical Nutrition Symposium for Small Animal Veterinarians, sponsored by Hill's Pet Nutrition, is now available online for free! To access the video, register with Continuing Education Online: http://vet.ksu.edu/onlinece/index.aspx. The symposium can be found under the Small Animal icon.
News Ticker
More activities and accomplishments in the College of Veterinary Medicine:
Dr. Megan Niederwerder was an invited author contributor to the Blueprint issue of National Hog Farmer. Her article, entitled "Foreign animal disease: The risk in feed" was published on May 7, 2020 and can be read here: https://www.nationalhogfarmer.com/feed/foreign-animal-disease-risk-feed
Nine MPH students graduated in Spring 2020. In place of the graduation ceremony and the MPH celebration for students and their families, Dr. Ellyn Mulcahy visited with each student individually over the past two weeks, and the MPH program recorded a graduation video outlining the student projects. Please click on the link for more details: www.k-state.edu/mphealth. Dr. Ellyn Mulcahy was recently interviewed with Dr.‍‍ Elaine Johannes for an episode of The Extension Files podcast about the partnership between Extension and Public Health in Kansas. https://extensionfiles.libsyn.com/elaine-johannes-and-ellyn-mulcahy-public-health-in-kansas. She also participated in a national project of the de Beaumount Foundation (https://whypublichealthmatters.org/) to highlight public health efforts across the country. Dr. Mulcahy talked about her work with the Flint Hills Wellness Coalition in Riley County, Kansas. https://www.youtube.com/watch?v=wgcMJx85zUI.
Congratulations to Ariel Carruth, DVM class of 2023, who has received funding as a Morris Animal Foundation Veterinary Student Scholar for her research with Dr. Katie Reif in this summer's KSU Veterinary Research Scholars Program titled "Identifying Cytauxzoon felis infections through detection and evaluation of immunodominant C. felis antigens."
Dr. Susan Nelson receive Pritchard Service and Outreach Award

Dr. Susan Nelson was selected to received the 2020 Dr. William and Deanna Pritchard Veterinary Service and Outreach Award. This award was established in 2012 to emphasize the importance of service and outreach to the veterinary profession.
Dr. Nelson has been actively involved with many outreach activities over the years. She has contributed to the success of Everybody Counts, the Kansas State Disaster Animal Response Team (KSSART) during the Manhattan floods in 2019 (serving as a founding member and current contributor, 2011-present), Riley County Health Department's Okt-FLU-ber Fest, Bug-a-Palooza, the microchip clinic for Dog-N-Jog (annually), the Mayor's Spirit of the Holidays Lighted Parade, VetMed ROCKS, GROW events and planning and organization for Operation Santee (2018 and 2019), plus many more for nearly 17 years.
Congratulations to Dr. Nelson for this well-deserved recognition for all of her contributions in the areas of service and outreach as a member of the K-State CVM.
COVID-19 Testing at the KSVDL: New information to share
Working with several partners, within and outside the university, the Kansas State Veterinary Diagnostic Laboratory has moved several pieces of equipment and personnel into the Biosecurity Research Institute (BRI) to conduct human testing. Testing human samples has to be completed in a highly controlled environment to protect the laboratory staff and allow for continued operation of our veterinary testing. You can read about current efforts with human testing here.
Although human testing procedure requirements established by the CDC are very similar to the requirements KSVDL has to fulfill to be accredited by the American Association of Veterinary Diagnosticians, the KSVDL did complete test validation procedures and staff training to perform testing on human samples. The KSVDL rabies human titer testing performed in the rabies section, which is CLIA certified, assisted in getting the human testing established. Another important part was the foreign animal disease planning preparation including training KSVDL personnel at BSL3.
The KSVDL has adjusted operational hours and staffing schedules to assure it can continue to provide all of its normal diagnostic services to its veterinary clients and animal owners.
All laboratory sections, including the KSVDL rabies laboratory, continue to test incoming samples under normal business hours. The KSVDL anticipates only very minor changes to normal test turnaround times.
The KSVDL thanks you for using the lab for your diagnostic needs and appreciates your business! If you have questions, please continue to contact KSVDL at clientcare@vet.k-state.edu or 866-512-5650.
We're expanding our social channels!
Join the College of Veterinary Medicine on LinkedIn and add us to your profile under education and/or employment to help build and engage our online social community! Follow the LinkedIn page here: www.linkedin.com/company/kstatevetmed
New Arrivals/Recent Departures
Lifelines is published each month by the Marketing and Communications Office at the College of Veterinary Medicine. The editor is Joe Montgomery,
jmontgom@vet.k-state.edu.