April 2020 - Vol. 15, No. 4
Top Stories
Tackling COVID-19
K-Staters taking on the challenge to help locally and globally
By Joe Montgomery and Erin Pennington
Kansas State University faculty and staff have been helping local and state efforts to battle COVID-19 by contributing their time and expertise as well as university resources. "As the state's land-grant university, it is K-State's mission to serve our state, nation and world, so it's not surprising to see how K-Staters have stepped up to take on this fight," said Richard Myers, K-State president.
CVM continues to offer essential services to Kansas and beyond
The College of Veterinary Medicine at Kansas State University has made accommodations to continue providing the best service possible in animal care and diagnostic services during this time of need. The college's recent actions are in line with recommendations from the American Veterinary Medical Association, the World Organization for Animal Health and the World Veterinary Association, who have collectively identified veterinary services as essential.
Dr. Jianzhong Yu receives $1.58 million NIH grant to explore pathway for better cancer therapies
By Piper Brandt
New research at Kansas State University is following a unique pathway that could lead to innovative therapies for treating cancer and other human disorders. Dr. Jianzhong Yu, an assistant professor in the College of Veterinary Medicine, recently received a National Institutes of Health R01 Grant totaling $1,580,922 over five years to uncover how an evolutionary pathway may affect tumor development and cancer.
More Headlines
Second-year student receives top exotic animal medicine scholarship
Tori Matta, second-year veterinary student at Kansas State University, was recently chosen for the first place scholarship award of $2,500 from ZuPreem, a Kansas-based manufacturer of food for zoo animals and specialty pets. Eligibility for the scholarship requires being enrolled at a US or Canadian accredited veterinary school.
Annual Conference for Veterinarians to go online instead of in-person
Due to concerns with COVID-19 the novel coronavirus, this year's Annual Conference will be held remotely. We recognize that this is a vastly different experience from previous years, but we hope that you will explore this new learning environment for 2020!

Due to the nature of remote learning, we will offer 5 hours of CE on May 31 and 5 hours of CE on June 1. Continue to check our website, https://www.vet.k-state.edu/education/continuing/conferences/annual-con20/index.html, for additional information as it becomes available.

10 hours of CE will be offered during the conference. You will also receive access to additional lectures for free for the months of June and July 2020.

Registration for Annual Conference is now open! Click here to register today.

Please stay tuned for details on class reunions!
University launches online public health graduate certificate
By Grant Guggisberg
Kansas State University is launching an online graduate certificate in public health in fall 2020 designed to provide a pathway for professionals seeking a career in public health. Students completing the certificate will gain knowledge in the five core areas of public health: biostatistics, epidemiology, environmental health, health services administration and social/behavioral sciences.
Beef Cattle Institute celebrates 100th Cattle Chat Podcast
By Lisa Moser
This conversational format offers practical advice for those involved in the commercial beef industry
BCI Cattle Chat is a 25-30-minute podcast lead by moderator Brad White, BCI director and veterinarian posted its 100th episode on March 27.
K-State beef cattle experts share tips on preparing bulls for breeding
By Lisa Moser

Spring bull buying season is an exciting time as cattle producers select bulls that they hope will improve the genetic composition of the herd. However, what many producers may not realize is that they could be bringing home more than just good genetics.
Regular features
Alumni Events, Development and Continuing Education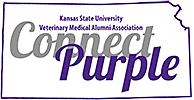 The Veterinary Medical Alumni Association organizes alumni receptions at several of the national annual conferences plus continuing education events and more. This month's section includes the monthly listings of recently departed alumni and links to their obituaries, plus a new link for submitting nominations for Alumni Recognition Awards.

The Clinical Nutrition Symposium for Small Animal Veterinarians, sponsored by Hill's Pet Nutrition, is now available online for free! To access the video, register with Continuing Education Online: http://vet.ksu.edu/onlinece/index.aspx. The symposium can be found under the Small Animal icon.
News Ticker
More activities and accomplishments in the College of Veterinary Medicine:
Jayden McCall, first-year DVM program and MPH student, has been awarded an Adel Malak Scholarship, a training program/working internship where Jayden will work alongside a public health veterinarian at a plant operated by the FSIS (Food Safety Inspection Service) starting in summer 2020. He will complete 640 hours of work with FSIS before he graduates with his DVM, and receive $15,000/year for school as a scholarship as well as placement as a Public Health Veterinarian with the USDA FSIS when he graduates.
Dr. Raghavendra Amachawadi presented at the American Society of Animal Sciences 2020 Annual Meeting in Omaha, Nebraska, March 2. He presented, "Impact of in-feed vs. in-water antibiotic administrations on the fecal prevalence and antimicrobial susceptibilities of Campylobacter and Salmonella in piglets" and "Evaluating the route of antibiotic administration and its effect on nursery pig growth performance."
The Frank W Jordan Seminar was held remotely on Sunday, March 22. via Zoom with several DCS faculty presenting, there were up to 214 attendees throughout the course of the day:
Food Animal Antimicrobial Stewardship - Dr. Michael Apley
Antimicrobial Resistance Diagnostic Testing - Dr. Brian Lubbers
Companion Animal Approaches to Stewardship - Dr. Kate KuKanich
Panel Discussion- Dr. Apley, Dr. Lubbers, Dr. KuKanich of K-State among others.
Dr. Sue Nelson presented remotely, "Common Internal and External Parasites in Cats and Dogs That Just Might Gross You Out" for the K-State Olathe Veterinary Medicine Lecture Series on March 25, 2020.
Dr. Megan Niederwerder was an invited speaker at the American Association of Swine Veterinarians Annual Meeting in Atlanta, Georgia. She delivered a talk entitled "Survival and transmission of foreign animal diseases in feed" on March 9. She was also invited to be interviewed for the Global Food Systems Initiative podcast Something to Chew On. Her interview "Welcome to the New Normal - what are viruses and how do they impact the animal and human world with Dr. Megan Niederwerder" can be listened to at: https://www.youtube.com/watch?v=9Q_FbF3eKko
Kudos to Dr. Bruce Schultz who has served as a reviewer for the 2020 Ford Fellowship Program. The Fellowships Office of the National Academies of Sciences, Engineering, and Medicine administers the evaluation of applications in the Ford Foundation Fellowship Programs. These fellowships are highly competitive and are awarded on the basis of recommendations made by the reviewers. In advance of the two-day meeting, reviewers were asked to read 20 or more applications in addition to the readings completed during the onsite meeting. Reviewers were asked to make difficult decisions in selecting a small number of meritorious applicants who will contribute to the diversity of the academic pipeline.
We're expanding our social channels!
Join the College of Veterinary Medicine on LinkedIn and add us to your profile under education and/or employment to help build and engage our online social community! Follow the LinkedIn page here: www.linkedin.com/company/kstatevetmed
New Arrivals/Recent Departures
Lifelines is published each month by the Marketing and Communications Office at the College of Veterinary Medicine. The editors are Joe Montgomery,
jmontgom@vet.k-state.edu, and Piper Brandt, pnbrandt@vet.k-state.edu.