February 2020 - Vol. 15, No. 2

Top Stories
Staff Council hands out High Five and more!
By Piper Brandt
What's better than a free lunch? How about special recognition from your peers along with the chance of being chosen for a special award.
This was the case for a select group of 23 employees in the College of Veterinary Medicine (CVM) at the end of January.
Diagnostic team develops new method to improve food safety
By Piper Brandt
Researchers recently developed a faster, more efficient method of detecting Shiga toxin-producing E. coli, or STEC, in ground beef, which often causes recalls of ground beef and vegetables. The new method developed by Dr. Jianfa Bai and colleagues requires only a day to obtain confirmatory results using a new system called the partition-based multi-channel digital polymerase chain reaction system, or dPCR.
Uncovering a new function in protein biology of E. coli
The conventional wisdom behind the biological activity of a group of E. coli bacterial proteins has been upturned due to new research at Kansas State University's College of Veterinary Medicine. Dr. Philip Hardwidge, a microbiologist and biochemist, and Dr. Samir El Qaidi, postdoctoral associate, published the results of their newest investigations in the article "An intra-bacterial activity for a T3SS effector" in Scientific Reports.
More Headlines
Study develops new vaccine method to fight cattle disease
By Piper Brandt
Researchers at the Kansas State University College of Veterinary Medicine, in collaboration with Iowa State University, have developed a new vaccine delivery platform to produce long lasting protection against anaplasmosis infections.
Bovine anaplasmosis, caused by the blood-borne parasite, Anaplasma marginale, is the most prevalent tick-transmitted disease of cattle worldwide and causes significant disease loss to beef producers in the United States.
Research exposes risks for possible spread of classical swine fever and pseudorabies through feed
Newly published research from the CVM provides the first investigation into how feed and feed ingredients may be playing a role in the spread of two swine viruses of global significance.
"Classical swine fever virus (CSFV) and pseudorabies virus (PRV) are two of the top four transboundary animal diseases of importance to swine," said Dr. Megan Niederwerder, lead researcher and assistant professor in diagnostic medicine and pathobiology.
First milk important to successful calving experience
By Lisa Moser
Once the calves are born into a beef cattle herd, there is no better sight than watching them get up and begin to nurse their mamas. However, experts in Kansas State University's Beef Cattle Institute (BCI) say that difficult deliveries, inexperienced dams and calves born without vigor sometimes keep that connection from happening.
National Agricultural Biosecurity Center awarded USDA grants for agricultural disease preparednesss
By Erin Pennington
The National Agricultural Biosecurity Center, or NABC, at the Biosecurity Research Institute at Kansas State University, received two grants from the United States Department of Agriculture's Animal and Plant Health Inspection Service. These grants, which are funded by the 2018 Farm Bill, will be used to fund two projects at K-State pertaining to agricultural disease preparedness and response.
Upcoming workshop to provide an introduction to animal health regulatory affairs
By Gregg Tammen, K-State Olathe
Kansas State University's Olathe campus is once again offering its popular "Animal Health Regulatory 101" workshop. This two-day workshop serves as an introductory course about the regulatory aspects of animal drug and vaccine development. The workshop is from 8:30 a.m. to 4:30 p.m. April 1-2 at K-State's Olathe campus.
Regular features
Alumni Events, Development and Continuing Education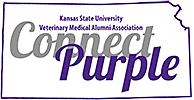 The Veterinary Medical Alumni Association organizes alumni receptions at several of the national annual conferences plus continuing education events and more. This month's section includes a bio on the upcoming Alumni Recognition Award to be presented at the WVC conference in Las Vegas, a profile about an alumni couple and their new TV series on Nat Geo Wild, plus the monthly listings of recently departed alumni and links to their obituaries.
News Ticker
More activities and accomplishments in the College of Veterinary Medicine:
Dr. Bob Larson presented at the Nebraska Veterinary Medical Association Meeting Jan. 23-25. He provided three presentations, "Adding Value to Pregnancy Diagnosis of Beef Herds," "Reproductive Services for Purebred Herds" and "Role of Momentum in Beef Herd Fertility."
Dr. Kate KuKanich was awarded a $15,000 grant from the 2020 Boehringer Ingelheim Veterinary Scholars Program that will support student stipends for the program. She was also selected as the 2020 recipient of the Faculty Community Outreach Grant sponsored by SAVMA. This award allows students to publicly acknowledge faculty members who have gone above & beyond to make a difference in the local/global community. She was nominated by third-year veterinary student Rebecca Tomasek.
Drs. Laurie Beard and Katie Delph received $15,000 in funding from Boehringer Ingelheim for their research, "Efficacy of Disinfection of Endoscopes Contaminated with Streptococcus equi subsp. equi."
Ron Orchard, second-year veterinary student and public health graduate student, will be a keynote speaker at the KSU 2020 Community Engagement Symposium on March 23.
Dr. Roman Ganta reports the Livestock Memorial Research Foundation from California provided $15,000 to assist efforts to develop a bovine anaplasmosis vaccine. The California Cattlemen's Association sent the check. "It is an exciting news because our recent vaccine research from the CEVBD for controlling various tick-borne diseases in companion and agricultural animals caused by Anaplasma, Ehrlichia and Rickettsia species continue to attract support from industries, foundations as well as from the NIH," Dr. Ganta said.
Drs. Mike Apley and Matt Miesner along with other K-State faculty members, Drs. Daniel Thomson, Fadi Aramouni, Dale Blasi, Steve Ensley, Mark Haub, KC Olson, Travis O'Quinn, and Anthony Tarpoff received $48,500 in funding from the Kansas Beef Council for their research study, "A comparison of chemical composition, toxicology screening, estrogenic activity, taste panel evaluation and price of meat substitutes compared to ground beef."

Drs. Chris Blevins and Dylan Lutter, with the assistance of Ashley VanMeter and Alison Brunner, presented Barn Night at High Horse Stables on Jan. 15. In addition to those in attendance, 440 viewed it through Facebook Live. Dr. Lutter presented about equine performance medicine and demonstrated stretches that clients can do with their horses. Dr. Blevins discussed preventative medicine, biosecurity, nutrition and more!
The 2020 Dog N Jog 5K & 10K and 1-mile Pup Trot will be held Saturday, April 4 in the morning! The event will be raising money for KSDS assistance dogs!
Spring commencement moves to Bramlage

File photo: Dr. Mike Apley speaks at the 2018 commencement exercises.

The 2020 spring commencement for veterinary medicine, which has traditionally been held in McCain auditorium, has been moved to Bramlage Coliseum. The ceremony will take place on Friday, May 15, at 4:00 pm. Please mark your calendars and plan accordingly.
Oz to Oz lecture series

The Department of Anatomy and Physiology hosts Dr. Michael Fahey (center) as part of the Oz to Oz lecture series at K-State. Dr. Yulan Xiong (left) introduced Dr. Fahey. On the right is Dr. John Leslie, director of the Oz to Oz program, University Distinguished Professor of the biology department at K-State.
Technician Internships offered at KSVDL for Summer 2020
Explore a Career in Veterinary Diagnostic Medicine
Are you looking to gain more experience in veterinary diagnostic medicine or explore your career options?
The Kansas State Veterinary Diagnostic Laboratory (KSVDL) is offering multiple paid technician internships for Summer 2020. This competitive program offers individuals the opportunity to gain experience and training within the KSVDL, as well as observe career possibilities in our laboratories first-hand.
The technical internships are open to both students and non-students. This includes individuals enrolled in universities, community colleges, certificate programs and technical schools as well as recent graduates and individuals looking to expand their career options.
To apply, please submit the following items with the subject line: Summer Internship Opportunities at KSVDL
letter of interest
resume
letter of recommendation
Applications must be submitted to:
Dr. Barbara Lutjemeier
blutjeme@vet.k-state.edu
913-522-4183

Dr. Sasha Thomason
sthomason@vet.k-state.edu
785-340-5046

Shawna Fitzwater
sshawna@vet.k-state.edu
785-473-6539
Purple Pantry
The CVM recognizes food insecurity is a reality for a proportion of our students, house officers and staff. At the university level, this challenge has been addressed by Cats Cupboard, but it is underutilized by CVM personnel due to distance and hours of operation. The CVM has worked with Cats Cupboard to establish a satellite food pantry in the CVM called the Purple Pantry. The Purple Pantry takes food donations during regular business hours at 001 Trotter Hall.
Examples of recommended non-perishable food items for donation: Canned tuna, canned chicken, canned beans (black, pinto, garbanzo), peanut butter, whole wheat pasta, plain oatmeal, plain cream of wheat, brown rice, quinoa, canned vegetables, canned fruit, tomatoes (diced, sauce, paste), canned soup, granola bars, cooking oils, and microwave meals.
A giving link has been also set up for the Purple Pantry where you can make financial donations to support this effort: https://give.evertrue.com/ksu/purplepantry
Thank you for supporting CVM family members in need!
New Arrivals/Recent Departures
Lifelines is published each month by the Marketing and Communications Office at the College of Veterinary Medicine. The editors are Joe Montgomery, jmontgom@vet.k-state.edu, and Piper Brandt, pnbrandt@vet.k-state.edu.
Lifelines index

Download Lifelines LITE (this is a condensed legal-sized PDF and has less information than above)