January 2020 - Vol. 15, No. 1
Top Stories
CVM presents annual teaching awards
Veterinary students voted for the following three faculty members to receive the 2019 preclinical teaching excellence awards in the College of Veterinary Medicine. Drs. Matt Basel, Ryane Englar and Dan Thomson were each named as the respective top teachers for the first, second and third years of instruction. Votes were cast by each respective class of students for the 2018-2019 school year.
New research sheds light on drug resistance in cattle disease
By Piper Brandt
A new study from Kansas State University on the treatment of non-responding cases of bovine respiratory disease, known as BRD, conducted by Dr. Hans Coetzee and his collaborators from Iowa State University, sheds light on the relationship between drug treatments and the emergence of antimicrobial resistance.
Dr. Annelise Nguyen to serve as associate director of Johnson Cancer Research Center
The Johnson Cancer Research Center at Kansas State University announces the appointment of Dr. Annelise Nguyen, associate professor of diagnostic medicine and pathobiology in the College of Veterinary Medicine, as the center's new associate director, starting Jan. 13. She succeeds Mark Weiss, professor of anatomy and physiology in the veterinary college.
More Headlines
Wichita Police Department awards KSVDL's dynamic duo for lifesaving diagnosis
Drs. Steve Ensley, veterinary toxicologist and clinical professor of anatomy and physiology, and Scott Fritz, research associate with the Kansas State Veterinary Diagnostic Laboratory, have received the Outstanding Citizen Assistance Plaque. Matthew McKernan, horticulture agent with K-State Research and Extension — Sedgwick County, has received the Certificate of Appreciation.
By Dr. Chris Blevins, VHC Equine Field Service
During the winter, we rarely think about ticks. In most cases ticks are only a problem in the warmer seasons of spring, summer and fall. However, horse owners are noticing many ticks on their horses this winter. This "winter tick", also known as the Ghost Moose Tick, is different from the tick we see in the summer months. The scientific name is Dermacentor albipictus.
Balancing calving ease priorities in heifer matings
By Lisa Moser
One of the most exciting times of the year on cow/calf operations is when the calves are born and producers can see the results of their breeding decisions. Experts from the Beef Cattle Institute at Kansas State University say it can also be stressful and costly if those mating decisions lead to calving difficulties, which is why much care needs to be taken when planning those matings.
Regular features
Alumni Events, Development and Continuing Education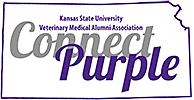 The Veterinary Medical Alumni Association organizes alumni receptions at several of the national annual conferences plus continuing education events and more. This month's section includes a bio on the upcoming Alumni Recognition Award to be presented at the VMX conference in Florida, a profile about an alumnus and a book he wrote about rural high schools, plus the monthly listings of recently departed alumni and links to their obituaries.
News Ticker
More activities and accomplishments in the College of Veterinary Medicine:
Drs. Emily Reppert and Nora Schrag presented at the Academy of Veterinary Consultants 2019 winter conference in Kansas City on Dec. 6 with a presentation titled, "Recent research related to use of Chlortetracycline (CTC) for Anaplasmosis control."

Dr. Mike Apley was appointed to a second term on the Presidential Advisory Council on Combating Antibiotic Resistant Bacterial (PACCARB) for an additional three years. His four years in his first term.

Dr. Bob Larson presented two talks, Calf Health and Nutrition for Beef Cows, at the Tri-State Beef Conference in Oberlin, Kansas, on Dec. 3. He also presented, "Irreproducible results is a problem for veterinary medicine" Dec. 7 at the Academy of Veterinary Consultants conference.

Dr. Megan Niederwerder delivered two talks as an invited keynote lecturer at the Annual Finnish Veterinary Association Congress in Helsinki, Finland on Dec. 12. The titles of her talks were "Role of the gut microbiome in porcine respiratory disease complex" and "Risk of feed in the introduction and transmission of viral diseases." She also delivered the invited keynote address at the South Dakota State University Swine Day in Brookings, South Dakota on Nov. 5. The title of her presentation was "Risk of African swine fever and other foreign animal diseases through feed." Highlights of her presentation have been published by several news outlets, including Tri-State Neighbor found here: https://www.agupdate.com/tristateneighbor/news/livestock/imported-feed-could-bring-african-swine-fever-to-u-s/article_fa8353fe-2b40-11ea-a015-1fbefe35885d.html Dr. Niederwerder was an invited speaker at the Feedinfo News Service Feed Additives Americas in Miami, Florida on Nov. 15. The title of her presentation was "The Relationship between Animal Health, Nutrition and the Microbiome."
Dr. Hans Coetzee was nominated and accepted to be a speaker for the National Coalition for Food and Agricultural Research 2020 Lunch–N–Learn Hill Seminar Series. The purpose of the seminar series is to inform Hill Staff and other policy stakeholders about the value of public investment in food and agriculture research.
Congrats to Molly Carstenson, CPhT (Compounding Manager), from the Veterinary Health Center Dispensary, who is now a Certified Compounded Sterile Preparation Technician (CSPT). Her certification allows the Dispensary to be able to bring this level of training and service to its patients. The Pharmacy Technician Certification Board (PTCB) recently began offering advanced training for pharmacy technicians in the area of sterile compounding, and Molly was ready to commit as soon as the training program launched.
SAVE THE DATE: The 2020 Dog N Jog 5K & 10K and 1-mile Pup Trot will be held Saturday April 4th in the morning (Official time to be announced at an upcoming date)! The event will be raising money for KSDS assistance dogs!

The Zoological Medicine Service presented a Teddy Bear Clinic to preschool students at the Sunset Zoo on Dec. 6. (Left to right) The VHC Team consisted of Sarah Quick (CVT), Kaylyn Hruska, Dr. James Carpenter, Mary Post and Tallin LaRue.


Faculty members from the Sokoine University of Agriculture visited the CVM in January for a special workshop as part of the ongoing twinning program between Sokoine and K-State. Above, Dr. Rudovick Kazwala talks about the ecology of wildlife diseases in Tanzania, where Sokoine is located.
Dr. Mike Dryden, also known as "Dr. Flea," received a thank-you plaque from the Class of 2022 for his outstanding teaching skills. He has also recently published a new book, "Top 100 Questions and Answers about Fleas and Pets." Dr. Dryden is the course coordinator of second-year DMP Veterinary Parasitology.
Purple Pantry
The CVM recognizes food insecurity is a reality for a proportion of our students, house officers and staff. At the university level, this challenge has been addressed by Cats Cupboard, but it is underutilized by CVM personnel due to distance and hours of operation. The CVM has worked with Cats Cupboard to establish a satellite food pantry in the CVM called the Purple Pantry. The Purple Pantry takes food donations during regular business hours at 001 Trotter Hall.
Examples of recommended non-perishable food items for donation: Canned tuna, canned chicken, canned beans (black, pinto, garbanzo), peanut butter, whole wheat pasta, plain oatmeal, plain cream of wheat, brown rice, quinoa, canned vegetables, canned fruit, tomatoes (diced, sauce, paste), canned soup, granola bars, cooking oils, and microwave meals.
A giving link has been also set up for the Purple Pantry where you can make financial donations to support this effort: https://give.evertrue.com/ksu/purplepantry
Thank you for supporting CVM family members in need!
New Arrivals/Recent Departures
Lifelines is published each month by the Marketing and Communications Office at the College of Veterinary Medicine. The editors are Joe Montgomery, jmontgom@vet.k-state.edu, and Piper Brandt, pnbrandt@vet.k-state.edu.
Lifelines index

Download Lifelines LITE (this is a condensed legal-sized PDF and has less information than above)