CVM Graduate Biographies - 1910
John B. Gingery
John B. Gingery was born September 18, 1887, Washington County, Kansas. The 1910 Royal Purple notes that "Gingery" is a name befitting this worthy hero of the gridiron, Captain of the team of 1909. He was no exception to the rule, that to every hero there are many hero-worshipers, for any bright sunny day he may be found strolling on the campus, and many nights he takes to the fields and woods for roasts and toasts. The 1910 Royal Purple noted that Gingery played left tackle. Gingery was also one of the speakers at the First Annual Athletic Banquet, January 25, 1910, attended by 240 faculty members, athletes, townspeople and students held in the Women's Gymnasium. The Industrialist, Volume 36, No. 32, Saturday, June 25, 1910, issued weekly by KSAC, noted the forty-seventh Commencement, comprising an extensive program of exercises covering the week from June 11 to 16, was the most successful ever held at KSAC. It was estimated that over eight thousand people were on the campus during the afternoon of Thursday, the closing day for the graduating class that numbered nearly 150. Gingery was first employed as a Field Agent in Scabies Eradication, Bureau of Animal Industry in 1910. From 1910-11 he was employed by the Live Stock Sanitary Commissioner of Kansas. Gingery was Superintendent of Hog Cholera Serum Production, KSAC, 1911-13. In 1913, Gingery was appointed Assistant Professor of Veterinary Medicine, University of Missouri, Columbia, Missouri. In 1920, he moved to Iowa to practice veterinary medicine. He bought out the practice of R. O. Byerum at that time. The Kansas Industrialist, Volume 48, February 1, 1922, reported "Dr. John B. Gingery, '10, writes from 1616 Mulberry, Muscatine, Iowa, where he is practicing veterinary medicine. Jack, who ranks as one of the best tackles on a Kansas Aggie football team, still is subject to delusions. He notes the class of '10 as 'best class ever,' Doctor Gingery was married in 1913 to Mary E. Austin, ('07-'10). They have one child, Madge Willodine, 5 years old." On December 5, 1960, The Muscatine Journal and News-Tribune reported that Dr. Gingery was honored by the Iowa Veterinary Medical Association for his 50 years to the veterinary profession. John B. Gingery, 94, Muscatine, Iowa, died on March 20, 1976.
Amos H. Gish
Amos Herr Gish was born October 17, 1886 near Abilene, Dickinson County, Kansas. The Gish family lived on a farm in Newbern Township, but moved to Manhattan, Kansas sometime before 1910.The 1910 Royal Purple said Gish is another of the '10 boys whose mission in life will be to ease the pain and smooth the pillow of some sick horse or dying dog, and it is our firm belief that he will live to gladden the heart of many a noble steed. He has shown great interest in the societies and their work. The 1914 Record of the Alumni of KSAC notes Gish was a veterinary surgeon at 116-120 North Main Street, Eldorado, Kansas. There was an established veterinary surgeon already practicing in Eldorado, Charles G. Saunders, when Gish arrived in 1910. Gish likely collaborated with him over the years. Saunders was listed in the 1910 federal census as a 61-year-old English immigrant who had worked as a veterinary surgeon. His obituary published in the Eldorado Times on November 6, 1925, said he was born in 1849, educated in the schools of London, served six years as an apprentice in the study of veterinary surgery. He graduated from the Kansas City Veterinary College in 1893, and was working in Eldorado when Amos Gish arrived in 1910. Gish married Merle Gifford of Eldorado on November 12, 1914. According to the 1915-1916 City Directory, Gish operated his new veterinary practice out of a livery stable at first. The building was modified for automobile use at about the same time his new building was being constructed at 317 South Main. In 1917, T.R. Reed was commissioned by Amos Gish to construct the Amos H. Gish Building. Amos Gish operated his veterinary practice out of a second-story office and leased the first-story retail and rear garage space to various auto and storage business over the years. Gish and his family lived in an apartment on the second floor while renting the additional apartments. The Amos H. Gish Building was approved on the National Register of Historic Places in 2012 under Criterion A in the area of Commerce. Their son, John, graduated from KSC in 1941 and joined his father's practice in 1941. Amos Gish retired in 1960, but the hospital remains in business today as the Eldorado Animal Clinic. Amos Gish served as president of the KVMA in 1919 and was on the Kansas Board of Veterinary Examiners in 1939. He also served one term on the Eldorado City Commission in the 1930's and was particularly active in the formation of the rural electrification association serving Butler County. He served as president of that organization from 1939 to 1959. Amos Gish died on November 18, 1969 and is buried in Belle Vista Cemetery, Eldorado, Butler County, Kansas.
John W. Lumb
John Wallace Lumb was born in 1884 in Clay County, Kansas near the town of Wakefield. His father and mother had immigrated to Kansas in 1869 from Yorkshire, England. When he was about six years old, the family moved to a ranch north of Alta Vista, Kansas where they engaged in cattle ranching. Lumb's first memorable experience with animal disease and KSAC occurred in 1894, when he went with his father to KSAC to a purebred shorthorn bull sale. They purchased a bull and proceeded home with it tied behind their buggy. When they got to Godwin Hill, the bull refused to go any further. They later discovered the bull had tuberculosis and infected many of the ranch animals which died. No clinical tuberculosis developed in the Lumb family of two adults and seven children which drank the milk from an infected cow. In 1905, Lumb went with his father to KSAC by horse and buggy from Wakefield, Kansas. His father had sold the ranch and retired to Wakefield. They met with President Nichols who outlined a course of study and gave him a list of rooming houses. After completing a Dairy Short Course, Lumb decided to enter the course in veterinary medicine. At least 35 students started the course in anatomy, but most fell by the wayside during the first two years. The horse was used for dissection in anatomy; preservation was not sophisticated so when the odor became unbearable they were buried behind the Armory in a pit and a new horse procured. The 1910 Royal Purple notes, "This tall, slender, intellectual-looking young man gladdened the hearts of his parents by the announcement that he was going to college, while yet a boy. Accordingly, about the fall of '05, having decided that for him it was 'K.S.A.C. or bust,' he packed his duds and hiked across the hills to old Manhattan, there to drink at the fountain of knowledge and he was wise. While his career has not been all sunshine, yet his ready smile and firm handshake proclaim him for what he is and as a man of medical skill and ability he stands second to none in his class. Lumb was President of the Athenian Literary Society during the Spring Term, 1909-10. The Athenians were the youngest Literary Society at KSAC, organized on January 12, 1907. After graduation in 1910, Lumb was Assistant Veterinarian at the H. K. Mulford Company, Glenolden, Pennsylvania which later became Sharp and Dohme. His starting salary was $100 per month. Lumb was responsible for the supervision of the horses and other animals used in the production of tetanus and diphtheria anti-toxins as well as production of anti-streptococcic and dysentery serum. Later he started their hog cholera serum production and helped produce small pox vaccine sold world-wide. Lumb resigned in 1912 and went into private practice for a year with Dr. James Benner (1911) in Lawrence, Kansas. This was followed by a year at Iowa State College as Assistant in pathology and Bacteriology while he worked toward a master's degree. From 1914-16, Lumb was Veterinarian-in-Charge of production of anti-hog cholera serum for the Peoria Serum Company, Peoria, Illinois. In 1916 the worst outbreak of foot and mouth disease occurred in the U.S. Illinois was the state with the most infected animals. The Federal Government was concerned the serum from the Peoria plant would become contaminated with foot and mouth disease virus so they shut the plant down. In 1916, Lumb moved to Wichita, but was soon contacted by Dr. Thomas P. Haslam (1914) at KSAC who was doing research on the production of an aggressin for blackleg. A partnership was formed with Haslam to manufacture the aggressin in Amarillo in 1917; however, financing was limited. Lumb joined the staff of the Purity Biological Laboratories in Sioux City, Iowa in 1917. In 1919, he married Edna Biddleson, a high school teacher. William V. Lumb (1943) was born in 1921. In 1924, Lumb joined the Extension Division of KSAC. John Wallace Lumb, 86, Fort Collins Colorado, died May 17, 1970. He was a member of the faculty at Kansas State University for more than 30 years. He was a pioneer in the production of blackleg aggressin and hog cholera anti-serum. Following a short private practice, he worked as an industrial veterinarian until 1924 when he joined the faculty at Kansas State University as Extension Veterinarian. He initiated statewide programs in animal disease control; he remained in this position until 1947, when he became professor of anatomy in the KSU College of Veterinary Medicine. He retired in 1957. Dr. Lumb was the author of numerous publications and co-authored two books: Bovine Anatomy and Avian Anatomy. He was a past president of the Kansas Veterinary Medical Association and an honor roll member of the AVMA. (Some information from J. Wallace Lumb, DVM, MS, 1884-1970, Memoirs, Compiled by William V. Lumb, DVM, PhD).
Charles W. McCampbell
Charles Wilber McCampbell was born on his father's farm near Frankfort, Kansas, in Marshall County on February 1, 1882. McCampbell attended the public schools at Alma, Kansas, and then attended the Normal University at Salina, and later KSAC. The 1906 Yearbook, The Banner, notes McCampbell earned a B.S. in General Science in 1906 from KSAC. He was a member of Tau Omega Sigma Fraternity, Hamilton Literary Society, Rooters Club, and the Athletic Association. The topic of his thesis was "Interest as an Agency in Mental Development." The year following his graduation from KSAC was spent in the employment of the USDA Bureau of Animal Industry. The 1914 Record of the Alumni of the KSAC notes McCampbell was Secretary, Kansas State Live Stock Registry Board, 801 Laramie Street, Manhattan, Kansas, Government Quarantine Service, 1906-07. With this practical experience he returned to KSAC and continued his studies in veterinary medicine. McCampbell was a member of R. J. Kinzer's livestock judging team. McCampbell earned the second highest judging honors at the International Livestock Exposition, Chicago in 1908. The 1910 Royal Purple notes in old "Mac" this world is going to find a man that is a wise old owl. He is full of ginger, never backs down for anything and is always there with at least a mighty good bluff. According to the gentle sex, "Mac" is a crook and is not to be trusted, but for his misdeeds he is always penitent and says he is "awful sorry." In spite of his alleged ill-treatment, the girls all love him, so there are but two paths open for him in this world: either sting them all and enjoy single blessedness or move to Utah. Oh, at stock judging he's a "horse," At nursing sick dogs he's a "gun," And when you've said all that, Why, I guess you're not near done. McCampbell was a member of the Tau Omega Sigma Fraternity, Kansas Alpha Chapter, founded in 1901, located at 821 Osage Street. McCampbell was also Chairman of the committee in the Dramatic Club that put on the play, "Half Back Sandy." He was also Chairman of the Committee for the Senior Class Play, June 14, 1910. After receiving his DVM degree, McCampbell worked as an Assistant or Instructor in the Department of Animal Husbandry from 1910-1912. He then served as a professor before being appointed Head of the Department which he held for 26 years, longer than anyone else to date. Charles M. McCampbell, Manhattan, Kansas, died after a long illness September 19, 1962. Dr. McCampbell was a member of the animal husbandry faculty of Kansas State University from 1910 until his retirement in 1952. Dr. Charles Wilber McCampbell died on September 20, 1962. He is buried in Sunset Cemetery, Manhattan, Riley County, Kansas. Williard in his History of the Kansas State College of Agriculture and Applied Sciences in 1940 said "It was fortunate for the College that in the department of animal husbandry Dr. Charles W. McCampbell was on the staff as associate professor. He was made head of the department July 1, 1918. Professor McCampbell has the unique distinction of having been graduated from three curricula in this College, general science, 1906, veterinary medicine, 1910, and agriculture, 1918. He has been connected with the department of animal husbandry since 1910, and his suavity, common sense, education, practical experience, and readiness in written and oral speech have combined to create notable success for him in his departmental cork as a teacher and investigator and in his contacts with the public."
Robert M. Platt
Robert Mortimer Platt was born on December 29, 1885 in Coldwater, Kansas. The 1910 Royal Purple stated, "This young son of the plains is just as steady as he looks and a great deal wiser. Some may say that 'Old Bob' is slow and easy; maybe he is, but in the end he is 'there with the goods.' According to reports, the last words of advice given him before leaving the parental roost to go out into the world in search of knowledge were, 'Beware of grafters.' Accordingly, when he arrived at K.S.A.C. for the first time the cries of the trunk man and the pleadings of the boarding house shark fell on deaf ears." Platt was president of the Franklin Society during the Spring Term, 1909-10. Their motto was "Life without Literature is Death." The object of the Franklin society was improvement of debate, literature, and parliamentary practice and the promotion of moral and social attainment. The 1914 Record of the Alumni of the KSAC notes Platt was a Veterinary Surgeon and Ranchman, Coldwater, Kansas, in 1910. There was a notice in the May 29, 1942, The Western Star, Coldwater, Kansas, Dr. R. M. Platt, Veterinary, Office Phone 50, Protection, Kansas. The Kansas City Times, May 24, 1955, reported Dr. Robert M. Platt's death.
William P. Shuler
William Preston Shuler was born on February 2, 1887.The 1910 Royal Purple noted that Billie is said to have been christened "William," but this fact is of such a remote date that the present generation does not recall it. Although not from Missouri, Billie has been there enough so that you have to show him. Billie, alias "Doc," is a great wind-jammer, and 'tis said that class meetings would be dry if it was not for his "weakly" spiels. He is considered one of the most entertaining fellows in College, for the time has never been when he did not have a story to just match the occasion. He gets top grades, but is never found studying. The 1914 Record of the Alumni of KSAC notes Shuler was a Postgraduate Student and a Laboratory Assistant, Bacteriology Department, KSAC, 1910-12. In 1913 he was an Assistant in Zoology and Veterinary Medicine and later Instructor, Oklahoma Agricultural and Mechanical College, Stillwater, Oklahoma. On January 5, 1918, Shuler was commissioned a 2nd Lieutenant in the U.S. Army Veterinary Corps with duty at Camp Greenleaf, Georgia, then assigned a Transport Veterinarian, Port of Embarkation, Newport News, Virginia on October 25, 1918. He was discharged on January 25, 1919. In 1920, the JAVMA listed Shuler as a member with an address at P. O. Box 335, Stillwater, Oklahoma. The 1920 Federal Census lists Shuler living in Oklahoma City working as a Stockyards veterinarian. William Preston Shuler died on December 24, 1923 at age 36. He was buried in Mitchell Cemetery, Hutchinson, Reno County, Kansas.
John T. Wilson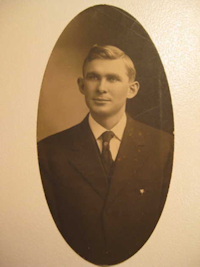 John Thomas Wilson was born on August 30, 1888 in Winfield, Cowley County, Kansas The 1910 Royal Purple states, "First of all you will notice by his photo that he is rather good looking and not much accustomed to hard usage. "Kids" accomplishments are many and of a varied nature. Naturally, you can guess that he is exceedingly fond of ladies, his cases having been many, and he recovers from one only to suffer a relapse or be the victim of an attack from some other source. He poses as something of an actor and appears well on stage. As a Veterinarian we believe that he will be a success because he 'has it in him.' He has been a good man wherever tried and we predict a great future for him in his chosen field. The Record of the Alumni of the KSAC notes Wilson was a Veterinary Surgeon and Stock Raiser, Winfield, Kansas in 1910. John T. Wilson died in an automobile accident in Alva, Woods County, Oklahoma, on October 4, 1940. His residence was 1900 Pawnee, Pawnee, Oklahoma. Dr. Wilson was a member of the AVMA.