Support Us
The Miles Fund
Every day, someone says goodbye to their best friend at the Veterinary Health Center because of a disease such as cancer, diabetes or colic. The question is, how many more of our best friends like Miles do we have to lose much too soon?
While we've come a long way in detecting and treating diseases, we have miles to go. That is why the hospital is naming its primary development fund, "The Miles Fund." Any gift that is made to the hospital will go into The Miles Fund, and donors can direct their gift to support any area of the hospital they wish. A donor can choose to support large animal or small and any specialty area through the Wish Lists below or they can create a memorial through a naming opportunity.
Small Animal Internal Medicine
How Many Miles to Heaven?
By Patrice Scott, AnimaLIFE Fall 2004
For this gregarious Golden Retriever, it was 14,000.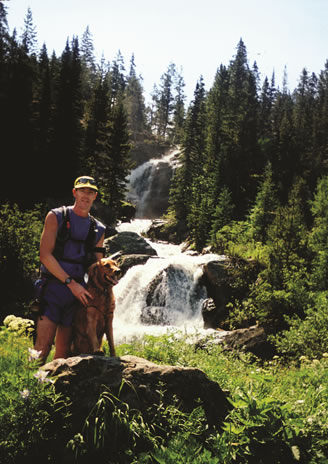 Was he unwanted? Did he run away? No one will ever know exactly how the energetic 1-year-old Golden Retriever arrived at the Helping Hands Humane Society shelter in Topeka, Kan., in May 1998. But when Dann Fisher saw him in the last cage in the last wing of the shelter, he silently professed, "that's my dog."
Dann, an associate professor of accounting at K-State and long-distance runner, took the happy dog home. While reading a book about famed marathon runner, Johnny Miles, Dann had an epiphany. He announced to his wife, Shannon, the dog's name: Miles.
Miles was a natural athlete. He and Dann ran more than 14,000 miles in six years. Together, they've run marathons, been to mountain tops, across mountain divides, along and through streams and rivers and lost in forests.
"I became known as 'the guy with the red dog,'" Dann says. "Miles' favorite day was Sunday when our friends with the Flint Hills Harriers would meet in our driveway for a group run." Dann quickly learned not to put Miles, an extrovert, on a leash before he had greeted everyone.
Otherwise, Dann, an introvert, was entangled in the leash and spinning in circles to free himself.
From remission to mission
In October 2003, Dann noticed that Miles was slowing a bit. It seemed only natural since they had been running partners for six years. However, one afternoon, Dann was petting Miles' neck and felt bumps. The couple took Miles to see their veterinarian, Dr. John Lyons.
"I was sitting with Miles, tears streaming down onto his red fur when the phone rang," Dann recalls. "Shannon answered. From her tone, I could tell the news was confirming my worst fears. I braced myself as she hung up the phone. Tears were flowing down her cheeks. 'Dr. Lyons thinks Miles has lymphoma.'"
Dr. Lyons referred them to the Veterinary Health Center​ (VHC). Dann and Shannon were at times overwhelmed by the situation. Cancer. Hospital. Decisions. Chemo. Life. Time. Their uncertainty vanished when they met Dr. Stacy Santoro, Miles' oncologist.
"Our first meeting with Dr. Santoro relieved many of our fears," Dann says. "She was so reassuring, and we all agreed that the emphasis of Miles' treatment would be on quality of life."
Miles began chemotherapy and was in remission for four weeks. "Dr. Santoro called me at the office and informed me that Miles was out of remission and was in for a struggle," Dann says. "She felt so bad for him that she kept him in her office and was sharing her lunch with him."
During his five months on chemotherapy, Miles averaged running 50 miles per week. "We understand medically and scientifically that many of the patients we treat are terminal," Dr. Santoro says. "Our goal is to treat the cancer but to preserve the patien's quality of life at 100 percent. If Miles wasn't running, he wasn't happy."
On a run at Randolph State Park, the situation hit Dann. "I sat on a rock, and feeling very sorry for myself, I began to cry," Dann says. "Miles came up and licked my face. At that moment I decided it was my responsibility to make sure that Miles had the best experience possible in his remaining days. This was my mission."
Teacher becomes student
"During our trail runs, Miles would stop for no apparent reason and lie down next to the trail. I'd join him in the grass. Without fail, the spot would have a spectacular view that I had never noticed before.
Our runs were no longer about training. They were about spending quality time together. At the trailhead upon finishing a run, he would flash me that Golden Retriever smile that told me he was enjoying and appreciating another day in the woods. I was learning to enjoy each day, learning to live in the moment."
The two who had spent so much time running together were now running out of time. "Before bed each night, I would sit with Miles for an hour or more. I told him that I loved him and that I appreciated the courage he was showing. I asked him to give me a sign when it was time to let go. The bond we built through all those hours on trails was so strong that I know he understood."
On a mid-March day, Dann and Miles completed a 10-mile run. "I can still see him waiting impatiently for me, coaxing me to catch up," Dann says. "He insisted on running another three miles with Shannon."
That evening, the couple noticed his lymph nodes were swollen, and he had spiked a temperature. They took him to the VHC where he spent the night. Dann and Shannon, in turn, spent a sleepless night at home. The next morning, they shared their decision with Dr. Santoro.
She put Miles to sleep at their home. Miles drifted away on the front porch—the very place that he had drifted off after so many enjoyable runs with his Harrier friends.
"The first time I ran without Miles, it was like I'd lost my left leg," Dann says. "Not hearing the jingling of his tags next to me..."
Sometimes medicine heals, sometimes it cures. Sometimes it just keeps us who we are and able to do the things we enjoy for a little longer. That's what it did for Miles, and Dann and Shannon couldn't ask for more. "What I got out of those last five months with Miles is priceless to me," Dann says.
Losing Miles was crushing. But it was their love for him that ultimately encouraged them to get another dog. "Miles would say, 'It took me a long time to train you. There are a lot of us out there who need a good home. Go!'"
In May, six years to the month after adopting Miles, Dann and Shannon adopted Bart, an Australian Sheperd in need of a home because his owner was moving. Dann has eased Bart into a running regimen as they have embarked on a new journey together.
With the inception of The Miles Fund and gifts from people who love animals, perhaps we will all enjoy more years with our pets. And, Dann and Bart will be together for more than 14,000 miles.