Small Animal Surgery Service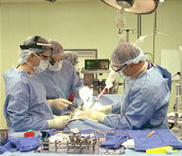 The Small Animal Surgery service at Kansas State University offers complete surgical services and care facilities for small animal patients owned by local clients and clients referred from veterinarians throughout the Midwest.
Small animal patients are seen by appointment Monday through Friday, and the service also provides 24-hour emergency surgical service to referred clients.
At Kansas State University, board certified small animal surgeons diagnose and perform Orthopedic, General, and Neurologic surgeries assisted by surgical residents and senior veterinary students. The surgery service and the surgeons are further divided into two separate specialty services,
the Orthopedic and
General surgery services.
These surgeons operate from a surgical facility consisting of 4 sterile surgical suites with accompanying anesthetic induction and recovery units. Surgical equipment is available to provide a complete range of surgical procedures from Total Hip Replacement to Portosystemic shunt to Ear Canal Ablation, including bone plating equipment, joint replacement equipment, neurologic surgery instruments, and a surgical laser.
The Small Animal Surgery service operates within the K-State Veterinary Health Center, a fully-staffed 24-hour clinical veterinary hospital that provides state-of-the-art veterinary care for small animal patients. Surgical patients benefit from access to other services within the hospital including
a 24-hour staffed Intensive Care Unit (ICU),
a complete radiology service including ultrasound, fluoroscopy, and CT staffed by radiology specialists,
an internal medicine service available for consultation, and a
renowned oncology service which can provide chemotherapeutic and radiation therapy support for surgical oncology patients.