Livestock Medicine and Surgery Service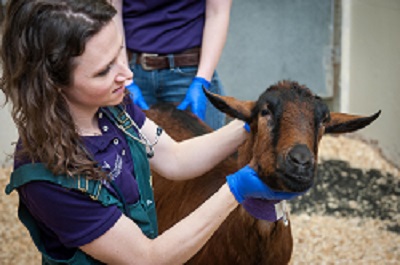 Welcome to the Livestock Medicine and Surgery Service where we provide state-of-the-art veterinary care for the treatment of cattle, sheep, goats, camelids and pigs. Our board-certified internal medicine specialists and livestock veterinarians work with a team of resident veterinarians training to be livestock specialists, veterinary students and licensed veterinary technicians. All cases are examined and treated with a team approach to determine the best course of action for your animal.
Through the Veterinary Health Center at Kansas State University, the Livestock Service can provide care for any health problem that develops with your animal. The VHC's advanced diagnostic laboratories can provide rapid results and advance diagnostics including radiography, ultrasound and endoscopy.
The VHC is also well equipped to provide care 24-hours a day, 7-days a week for any animals that may need to be hospitalized.
Call the VHC Large Animal desk at 785-532-5700 to schedule an appointment.
Medicine Services

The Livestock Service provides advanced diagnosis and treatment for metabolic, gastrointestinal, urinary, respiratory, neurologic and musculoskeletal diseases in all livestock species. Utilizing specialized diagnostic equipment including ultrasound, endoscopy and radiography enables us to provide an accurate diagnosis and to develop a therapeutic plan specific to your animals' needs. Should a patient need to be hospitalized, the Livestock Service can closely monitor their response to treatment and make necessary adjustments to each animal's therapeutic plan in an attempt to maximize a successful outcome. The Livestock Service also provides primary care to all livestock species which includes routine vaccinations and pregnancy diagnoses.

Surgical Services

The Livestock Service is well equipped to perform routine surgical procedures such as correction of displaced abomasum, caesarean section, rumenotomy, castration, dehorning, urinary surgery, ocular surgery including cancer eye mass removal and penile surgery. For more complex fracture and gastrointestinal surgical procedures, board-certified large animal surgeons are utilized.