Farm Animal
Mission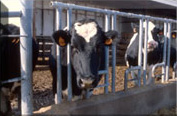 Farm Animal serves both local producers as primary care veterinarians and more distant producers through referral services. Field service clinicians are available to make farm calls, and hospital clinicians are available for client animal care in-house. Beef, dairy, swine, sheep, goats, and camelids are all possible patients. Specialists in surgery, medicine, reproduction, preventive medicine, and production consultation are on staff to meet the needs of clients.
The K-State College of Veterinary Medicine Food Animal Program will be at the forefront of food animal education and research, with particular emphasis on the beef cattle industries. It shall represent the cutting edge of contemporary food animal medicine/surgery and production medicine, and demonstrate leadership in relevant areas such as food safety/Quality Assurance, Integrated Resource Management, and producer organizations such as National Cattleman's Beef Association and the Kansas Livestock Association.
It should forge mutually beneficial linkages with producer groups, related academic programs and disciplines, allied animal industries and institutions. It should be pro-active in developing and presenting innovative and relevant educational programs for veterinarians and industry, and in marketing its expertise. It should conduct recognized, applied, programmatic research, including graduate training and education.