VHC Veterinary Technicians
The Veterinary Health Center is a state-of-the-art specialty hospital and the only facility in the state offering routine care, emergency care and 14 different specialties.
For position information, follow the links below.
---

Several VHC Vet Techs help out at the Everybody Counts community event on Aug. 4.
---
---
Meet our Technician of the Month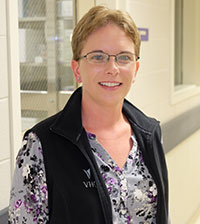 Name:
Lisa Bryant
Service:
Director of Surgical Support Services & Veterinary Technician Internship Program

What are your hobbies?
Hiking, biking, cooking, attending my kids activities

Do you have any pets?
5 cats, 2 dogs

Why did you want to become a Veterinary Technician?
Growing up on a farm in central Kansas, it was the most exciting day when the vet came to work cattle! I grew up helping the veterinarians on our farm and thoroughly enjoyed my time in 4H showing horses and cattle. Although I was very musical through my school years, I chose veterinary nursing, specifically academia, due to the opportunity to teach the veterinary students and nurses. I love the science of the vocation, the fact that I'm able to help the animals and their owners are perks of the job!

Why did you choose this specific specialty?
My passion has always been critical care but I really enjoyed the client aspect of oncology, which was not as prevalent in ICU. I've been administrative for four years, and have enjoyed helping people. I'm still asked to put in the occasional catheter, which makes my day!

What is your favorite part about your job?
Teaching!

What advice do you have for others who are wanting to become a Vet Tech?
I was told on orientation day at Bel-Rea, "This isn't pet the puppy school." This career isn't a walk in the park, it often requires long hours, and hard work. If you're looking for a rewarding career that offers the opportunity for lifelong learning, veterinary nursing is for you!