Basic Research Immersion Training Experience (BRITE)
About the Program
The BRITE program is sponsored by the National Institutes of Health (NIH) and designed for DVM students who are considering careers in research. The BRITE program offers an academic-year mentored research experience distinct from the professional curriculum. BRITE students are provided with stipend support, so that they may apply their rigorous didactic basic science training to a research problem relevant to human and animal health. All applicants must be currently enrolled in a DVM or VMD program. The BRITE program is open to veterinary students enrolled in the College of Veterinary Medicine at KSU as well as those in other colleges of veterinary medicine in the United States.
For KSU-CVM students, the program can begin after the 1st or 2nd year of DVM curriculum. The BRITE scholar selected for is expected to begin no later than August 1. The start time for this program may be more flexible for applicants from other institutions. Applicants must be U.S. citizens or have permanent residency status.
Multiple curricular formats are possible: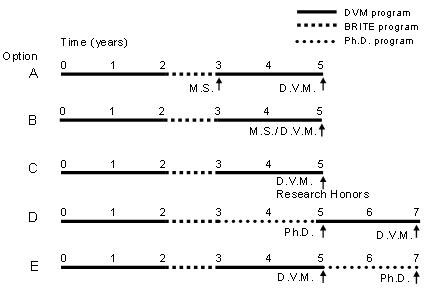 BRITE veterinary students can easily obtain a MS degree after the 12 month, mentored research experience without detracting from their bench experience with excessive course requirements:
Sample Program of Study
| | |
| --- | --- |
| Course/Activity Description | Credit Hours |
| Research (AP 899) | 12 |
| Responsible Conduct of Biomedical Research | 1 |
| Topics or Problems in | |
| Kinesiology/Physiology/Pharmacology | |
| (AP 796; AP 890; AP 895) | 3 |
| Seminar (AP 803) | 2 |
| Course Credit Transfer from | |
| D.V.M. Program | 12 |
| TOTAL | 30 |
We expect a majority of BRITE students to choose a combined DVM/MS program. However, as indicated, BRITE students have the additional options of performing non-degree research in pursuit of a D.V.M. degree with honors in research, a DVM/MPH, or using BRITE to initiate a PhD program.
For the training period (August 1, 201X-May 10, 201X), BRITE Veterinary Students Receive:
| | |
| --- | --- |
| $20,976 | Stipend Support |
| $ 4,200 | Research Training Expenses |
| $ 1,000 | Travel |
| | Tuition/Fees - appropriate tuition/fees paid in full |
Students participating in the BRITE program will be encouraged to present their research at Phi Zeta Day and to publish their results in a peer-reviewed journal.
Participating Research Mentors

Faculty members representing six departments/units at Kansas State University have agreed to participate in the BRITE veterinary student program. Their names and research interests are listed at the link above. Students may seek training experiences with additional faculty members at Kansas State University or other institutions, if prior approvals are obtained from the proposed research mentor, the BRITE program director (Dr. Schultz), and the National Institutes of Health. Dr. Schultz is available to facilitate laboratory placement for interested students.