Jessica Meekins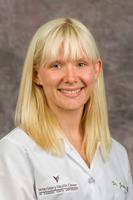 Assistant Professor, Ophthalmology
DVM, MS, DACVO
Phone: 785-532-5690
E-mail: jslack@vet.k-state.edu
Education and Professional Training
Residency: Purdue University
MS: Purdue University
Internship: VCA Veterinary Care Referral Center, Albuquerque, New Mexico
DVM: The Ohio State University
BS: Spalding University
Teaching
Medicine I (3rd year)
Ophthalmology (4th year)
Research
Novel therapeutic approaches for the management of feline viral ocular diseases.
Clinical
Dr. Meekins' clinical interests include management of viral surface ocular diseases in cats and investigating comparative ophthalmology in exotic/non-domestic species. She is interested in aspects of medical and surgical treatment of ophthalmic conditions in a variety of species.
Selected Publications
Evaluation of systemic absorption and renal effects of topical ophthalmic flurbiprofen and diclofenac in healthy cats.
Lanuza R, Rankin AJ, KuKanich B, Meekins JM.
Vet Ophthalmol 2015 Jun 29. doi: 10.1111/vop.12295. [Epub ahead of print]
Ocular findings in a flock of captive American flamingos (Pheonicopterus ruber ruber).
Meekins JM, Stuckey JA, Carpenter JW, Rankin AJ, Armbrust L, Higbie C.
J Avian Med Surg 2015 June;(29)2:95-105
Retinopathy associated with ivermectin toxicity in five cats.
Meekins JM,Guess SC, Rankin AJ.
J Am Vet Med Assoc 2015 June 1;246(11):1238-1241.
Clinical and histologic description of ocular anatomy in captive black-tailed prairie dogs (Cynomys ludovicianus).
Meekins JM, Henningson JN, Eshar D, Rankin AJ.
Vet Ophthalmol 2015 Mar 19. doi: 10.1111/vop.12266 [Epub ahead of print].
Measurement of plasma gentamicin concentrations post chemical ciliary body abilation in dogs with chronic glaucoma.
Rankin AJ, Lanuza R, KuKanich B, Crumley WC, Pucket JD, Allbaugh RA, Meekins JM.
Vet Ophthalmol 2015 Feb 17. doi: 10.1111/vop.12258 [Epub ahead of print].
Tear production, intraocular pressure and conjunctival bacterial flora in a group of captive black-tailed prairie dogs (Cynomys ludovicianus).
Meekins JM, Eshar D, Rankin AJ.
Vet Ophthalmol 2015 Jan;18(Suppl 1):132-6.
Subconjunctival hibernoma in a dog.
Stuckey JA, Rankin AJ, Romkes G, Slack JM, Dubielzig RR.
Vet Ophthalmol 2013 Jan;18(1):78-82.
Effects of topical ocular administration of high doses of human recombinant interferon alpha-2b and feline recombinant interferon omega on naturally occurring viral keratoconjunctivitis in cats.
Slack JM, Stiles J, Leutenegger CM, Moore GE, Pogranichniy RM.
Am J Vet Res. 2013 Feb;74(2):281-9. doi: 10.2460/ajvr.74.2.281.
Comparison of a rebound tonometer with an applanation tonometer in dogs with glaucoma.
Slack JM, Stiles J, Moore GE.
Vet Rec. 2012 Oct 13;171(15):373. doi: 10.1136/vr.100967. Epub 2012 Aug 22.
Serological study of selected vector-borne diseases in shelter dogs in central Spain using point-of-care assays.
Couto CG, Lorentzen L, Beall MJ, Shields J, Bertolone N, Couto JI, Couto KM, Nash S, Slack J, Kvitko H, Westendorf N, Marin L, Iazbik MC, Vicario FC, Sanz P, Ruano R.
Vector Borne Zoonotic Dis. 2010 Nov;10(9):885-8. doi: 10.1089/vbz.2009.0063. Epub 2010 Apr 26.